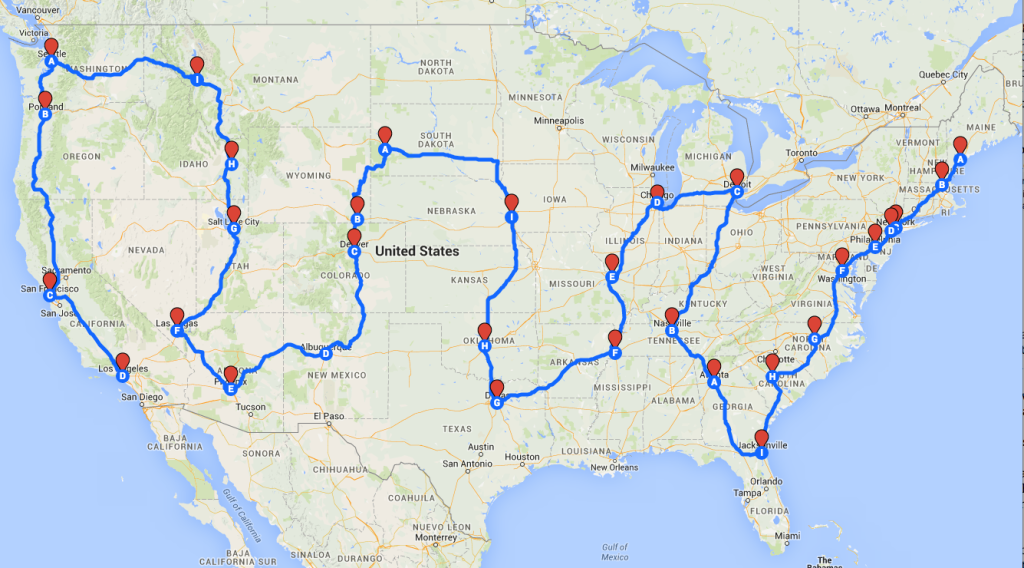 The following blog post is part of The Road to Financial Wellness Blog Tour. Over a period of 30 days, the Phroogal team will go to 30 locations to raise awareness about financial empowerment. Today they will be in Portland! Our goal is to help people learn about money by starting the conversation. We understand that local conversations can help bring about national awareness.
If there is one thing I have learned in the past few years, it is that mastering your money is a journey.
You are never quite in the same place you used to be, usually not quite where you want to be.
For a long time, when I was younger, I never really thought of the importance of money. I wanted to believe that I was a creative type that could be beyond this thing called money.
In my mind, money meant greed, capitalism, power, and class. It meant difference. In some ways, it still means those things to me, but I realized the power money had as I got older. And that it wasn't all evil.
My Journey Into Debt
As soon as I became an adult, I took on student loans to go to college. I didn't think twice about it, because it's what I had to do. I worked all throughout college, but spent nearly all of my money because I was so young and had "forever" to save.
Now I find myself in even more student loan debt than I was back then, with practically no retirement savings at the age of 30. Sometimes I'm scared shitless about this.
But the one thing that keeps me going is seeing my progress on this journey. I can now look behind me and see how far I've come. I'm close to the finish line. In less than one year, I will be debt free.
At that time, I plan to use the $2,000 I am putting towards debt each month and really invest in my future. I was scared of investing before, but now I am excited. I'm excited to have my money work for me. I'm excited to pursue this idea of financial independence — a term I had never heard before I entered the personal finance community — and hope to have enough money where I can quite literally do whatever I want.
Journey to Financial Wellness
My relationship to money has completely changed and in large part, it's because my mindset has changed too. I take responsibility for my mistakes and I have a clear vision of what I want.
I want travel, adventure, and creativity. I want to work on things I love, not because I need to get paid. Most importantly, I want to give. No, really. I want to give back and help others get out of debt. I want to give back to underserved communities, now that I no longer work with them face-to-face.
My journey to financial wellness has taken a lot of twists and turns. It hasn't been perfect (and no one's journey is), but I've learned a lot.
I've learned about the importance of saving, investing, paying off debt, and having a clear goal for what you want. Without a clear goal, those other things don't mean a damn thing.
Today, I would like to encourage you to continue on your road to financial wellness. Take one step forward. Start by saving five more dollars. Open a brokerage account. Pay $10 more to debt. Read a book about money. Start a conversation with your partner about money. Take one little step towards financial wellness.
What does financial wellness and empowerment mean to you?
p.s. The lovely folks at Payoff are the national sponsor for #TheRoad to Financial Wellness. They have this super rad Financial Personality quiz. Try it out!
p.p.s If you are in the Portland area, we are meeting at TaborSpace in SE at 9am today! Come join us. If you are in Corvallis, join the meetup here.
Melanie is a freelance writer currently living in Portland, Oregon. She is passionate about education, financial literacy, and empowering people to take control of their finances. She writes about breaking up with debt, freelancing, and side hustle adventures at DearDebt.com.

Currently she puts more than 50% of her income towards debt, while living a frugal, fun life. In addition to her love of personal finance, art and music, she is also a karaoke master. Follow the adventure @DearDebtBlog.
Latest posts by Melanie (see all)