I started working as a Brand Ambassador two years ago while living in NYC. I was working part-time, but things were slowing down and I needed to supplement my income. So what did I do? I looked to Craigslist, of course! I found a gig that needed Brand Ambassadors for a Pet Adoption event.  The requirements were that you were friendly, showed up on time and liked pets. Check, check, check!
I applied and got it! I worked my first Brand Ambassador gig in Central Park greeting people coming to the pet adoption event. It was really easy, fun and different. It didn't hurt that it was $20/hr either! As soon as it was done, I couldn't believe how easy it was and I was determined to find more gigs. I've come to find out that if you can breathe, and have a personality and can show up on time, you can have a job doing this work. You will be amazed at how many people cannot follow these simple edicts. In turn it makes you look really good just for showing up!
If you'd like more information on becoming a Brand Ambassador, read on!
Name: Brand Ambassador, Events Specialist, Promotional Staff/Models, BA (short for Brand Ambassador, not Buenos Aires! I was so confused when I first started doing this).
What is a Brand Ambassador: A person that can represent a brand or a product to the public at a specific event. Brand Ambassadors implicitly sell things, but never explicitly. I love that I never have to deal with money and I give away free swag! Recommendation: Only work for brands that you actually like. It will make your job a lot easier and you won't hate yourself for it.
What do BA's do: Talk to people, give out swag.  The agency you work for provides you with talking points about the product and/or event.
Some brands I've promoted:
Starbucks
Keurig
Naked Juice (so bummed out by their current scandal. Yuck.)
Columbia Sportswear (got $500 worth of free clothes. The promotion was to get people to try on the Omni-Heat jackets, and go into a freezer and sing karaoke. People could really see for themselves if the jackets worked, while having fun. Sometimes this is called experiential marketing because you want to create a memorable experience for the consumer. This was by far the best gig I've had!)
Petco
Rite Aid
Ghirardelli (I had chocolate for months after this event!)
Dress Code (99% of the time, you will need one or more of these):
Black pants
Khaki pants
Black flats or Black dress shoes
White tennis shoes
White, long-sleeved button down
More often than not, you will be provided with a branded t-shirt
The way it works:
Once you start working one event, that agency will notify you when there is more work in your area.
Sign up with multiple agencies. The more agencies, the more emails and offers!
If you get an email about work, if you are available, apply. If not, it's fine! I love that it's so flexible.
Just because you apply doesn't mean you will get it. I recommend applying for gigs as soon as you get the emails. Work goes fast!
You are not booked for an event until you get a confirmation email.
Most of the time you are booked for work by people who you will never meet in person.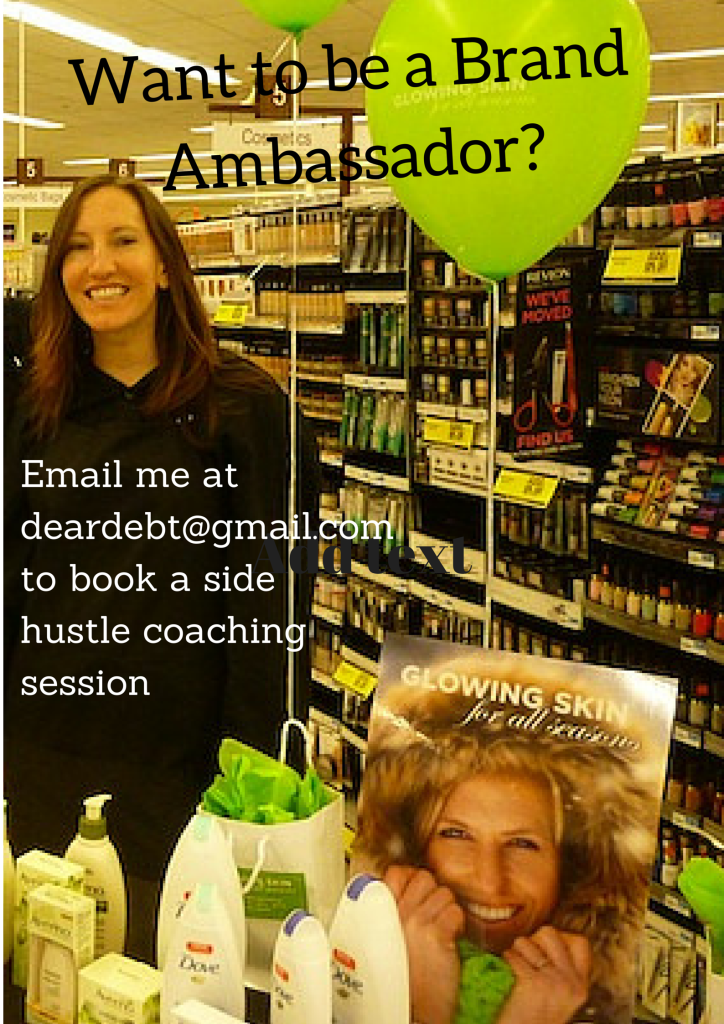 Where to look:
Start with the Craigslist gigs section. Type in Brand Ambassador in the search function. You can generally get an idea of how much work there is in your city, by how many posts are on CL. Most companies go to CL as a last resort, and there is still work there! The larger the city, the more work there is.  I know people in NYC and LA that do this full-time. Now that I am in Portland, there is less work, but it's a side hustle and it's fairly consistent.
Go to StuckforStaff and create a profile.
Start signing up for marketing agencies. I would recommend signing up with Attack, GC, Victory, Team and others.
Join the 'Brand Ambassadors of __(your city)_______' facebook group. A lot of jobs are posted there! It's also a great way to find out about more agencies.
What you will need:
1-3 photos, at least one headshot.
1 events résumé (when I first started, I just made one up listing any work I ever did related to working with people and logistics)
Cell phone
Camera (for reporting)
Scanner (for reporting and paperwork)
What you should know:
The jobs are usually fairly easy, but it requires being on your feet for long periods of time and talking to the public. Saying the same thing over and over again can get tiring.
The pay is good, but because you are working for a company who is hired by a client, pay can be delayed until the client pays the company that is hiring you. Most marketing agencies pay you within 2-8 weeks. Yes, up to 8 weeks. I've seen it happen. Keep a calendar of when you expect to get paid.
Pay should be between $15-$20/hr. I don't recommend working for less than that, regardless of the market. If you live in a low-cost of living area, brand ambassador work is consistent in pay so you might just take home a little more dough!
You are an independent contractor, which means no taxes will be taken out. Keep a log of your income and report it when you do your taxes.
You are representing the client at all times, even if you don't work for them. It's amazing what wearing a branded t-shirt will do.  People think you work for the actual company and may ask you obscure or obvious questions that you don't have the answers to. I've worked promotions for cars and appliances and I have exactly zero knowledge about either. People may seem shocked at first, but you can give them your best answer based on the knowledge you have and then refer them to someone who DOES know the answer.
Most gigs are for one or two days, between 2-10 hours. The longest gig I've worked is one month. There are several long-term, touring gigs that are usually management positions.
Attitude and appearance are important. Looks aren't super important in regards to being attractive, unless you are promoting liquor or swimwear (note: don't). However, people want you to comb your hair. Brush your teeth. Look presentable. Remember you are representing the client (i.e. the brand). Smiling and being friendly makes you more engaging.
The brand (the client) works with an advertising company (or marketing agency) that hires you directly.
This job attracts a lot of actors, models, freelancers, and students.
Most of the time, you get free $hit!
Some people are rude. When dealing directly with the public, sometimes you see this more than you'd like.
Filling out the applications online can be time intensive, but totally worth it in the long run. Spend an hour a day signing up for different agencies. Within a week, you'll start to get emails for work.
Summer and Xmas time are the busiest for Brand Ambassadors. It's pretty dead from January to March, so budget accordingly.
Most of all, the job is pretty easy and fun. It's always something different, in a new environment, with new people.  Most of the time it's just one day, so if it's not going well, you never have to go back! You can meet a lot of interesting characters people doing this and make some money on the side.
Lastly, this video is probably not funny to people who haven't done this kind of work, but I find it HILARIOUS. It can give you a glimpse into the Brand Ambassador world.
If you have any other questions about getting started, let me know!
Melanie is a freelance writer currently living in Portland, Oregon. She is passionate about education, financial literacy, and empowering people to take control of their finances. She writes about breaking up with debt, freelancing, and side hustle adventures at DearDebt.com.

Currently she puts more than 50% of her income towards debt, while living a frugal, fun life. In addition to her love of personal finance, art and music, she is also a karaoke master. Follow the adventure @DearDebtBlog.
Latest posts by Melanie (see all)