Hello frugal friends and debt-fighting warriors! I'd like to cordially invite you to another awesome #DumpDebt chat, co-hosted by myself and LaTisha from Young Finances. Our guest this week is Jackie Beck from The Debt Myth, who paid off $147,000 in debt! Talk about an inspiration!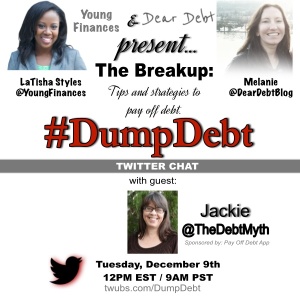 Here are the deets:
Are you ready to #DumpDebt? Join us on Tuesday, December 9th at 12pm EST for strategies, tips, as well as success stories from those who have made the commitment to dump debt!
RSVP here: http://goo.gl/forms/fFlaFlPkyx
Then follow @DearDebtBlog, @YoungFinances, and
@TheDebtMyth to join in on the conversation!
To participate in the Twitter chat other than using Twitter by searching keyword #DumpDebt; you can use
http://twubs.com/dumpdebt. Sign in using your Twitter account for an easy way to keep up with the chat.
During the chat, you'll have a chance to win a free copy of the Pay Off Debt app!
Share the info and send out a tweet to share how excited you are to participate in the #DumpDebt chat on Tuesday. Ex. "I'm ready to #DumpDebt on Tuesday @ 12PM EST w/ @YoungFinances, @DearDebtBlog, and @TheDebtMyth"
If you can't make it, please share via social media, or invite a friend! Thank you!
Melanie is a freelance writer currently living in Portland, Oregon. She is passionate about education, financial literacy, and empowering people to take control of their finances. She writes about breaking up with debt, freelancing, and side hustle adventures at DearDebt.com.

Currently she puts more than 50% of her income towards debt, while living a frugal, fun life. In addition to her love of personal finance, art and music, she is also a karaoke master. Follow the adventure @DearDebtBlog.
Latest posts by Melanie (see all)