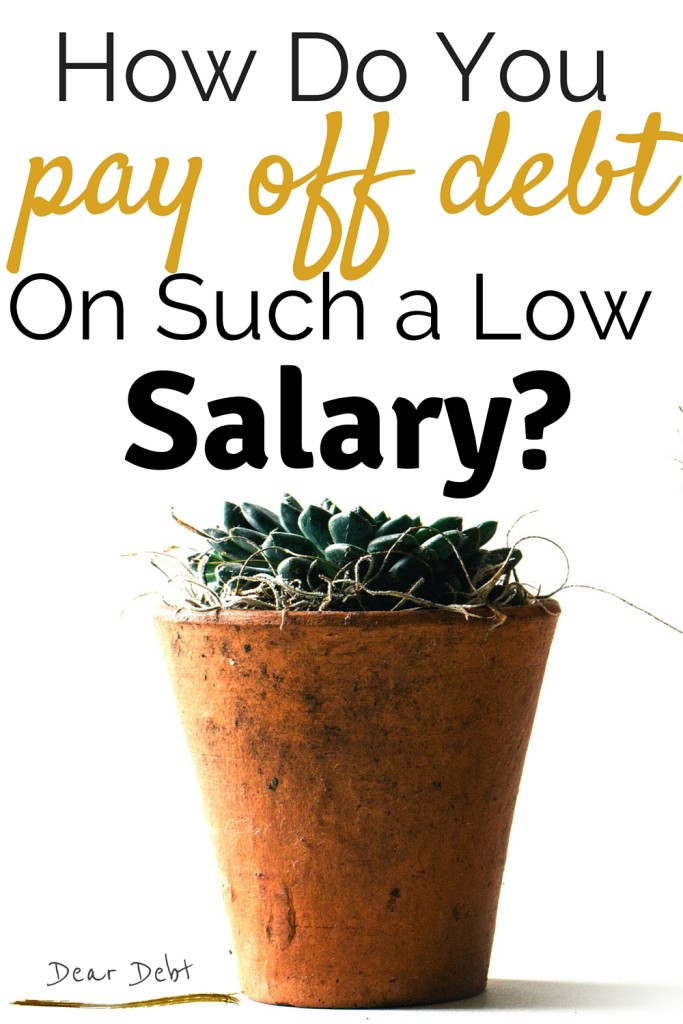 Many people ask me how I pay off so much debt on such a low salary. Sometimes it baffles me too, but I figure that I would share some numbers with you, to help illuminate how I can do it.
I don't talk about budgets that often here and there is a reason. I don't love budgets. Budgets may be sexy, but sometimes they are hard to commit to and feel restricting.
I prefer to have a "spending plan" as other bloggers have called it, which focuses on my main goal of putting money towards my emergency fund and debt, while living on a minimal salary.
Here are my main expenses each month:
$450 for rent and utilities (my half — electricity, internet, gas, (water is included in rent)– could increase to $500 in winter)
$218 for health insurance
$300 for groceries and restaurants (it's been higher at points too — my bad area. I consider eating out my entertainment)
$0 – $30 Transportation (only if I need to take the bus somewhere because it's gross out — but I tend to bike or walk everywhere)
That's it. For full disclosure, my mom pays for my phone. I've tried for years to pay, but since we are on a family plan, they insist I am saving them money by being on their plan. I also have the cheapest, most basic Samsung around and don't really use data — because hello, I'm at home most of the time! I am sure this will change at some point soon.
I thought I'd share that because I believe in transparency — I always find it annoying when I read someone who pays $4,000 per month to debt and only later do you find out they live at home with their parents, or are making $100,000 per year. It's important to look at the context of the situation.  We all have our own financial privileges, which need to be taken into consideration.
I don't buy clothes or cosmetics. I don't have a gym membership or a car. I don't really buy gifts. I don't have kids or pets. My expenses are pretty minimal, which is how I can pay off debt on a low salary. This is how I've been able to pay off over $30,000 in debt in 3+ years, making that amount of money, or much less.
Let's say that after taxes I make $2,000 a month (this of course fluctuates and I'm hoping to make much more soon, but this is a reasonable number to work with).
My basic expenses are about $1,000, leaving me with another $1,000 to put to debt, EF, and savings.
A few years ago, when I first moved to Portland, I brought home $800 a month. How did I do it then? I was on a food stamps and decided to go without health insurance, so then my basic expenses were around $500. I also side hustled a lot to help that number.
A few months later, I got a "better" paying temp job making $12/hr. I was bringing home $1320 a month. I was now ineligible for food stamps, but still went without insurance.
During both of these times when I was low-income, I was able to pay off debt because:
I moved to a low-cost of living area (this is so important for me right now)
I had food assistance, when I really needed it
I went without health insurance (which I don't recommend — I did end up going to the ER while I was uninsured)
I had $10,000 in savings which I depleted over time to $1.5K — that is huge to consider. I obviously don't make a ton of money, so during those really rough times I made the choice to deplete my savings to pay off debt
I biked or walked everywhere — not having a car, insurance, or fuel payments helped tremendously
I never stopped hustling
Hopefully that gives you some context on how I'm able to do it. Now that I'm freelance, I won't touch my savings. So now, my main priority is to make more money, which I have been doing month after month since being freelance. In the next year, I want to double my income. I know that is ambitious, but I can will do it.
It's important to note that this is "my half" of the budget. My partner and I do not have joint finances. I just included my basics at the top, because those don't change. With what is left over, I put nearly everything to debt and some to savings.
My spending plan helps me reach my goals — living on less, so I can put as much as possible to my debt.
Let me know if you have any questions — I don't think I missed anything. But feel free to ask away!
p.s. If you want to hear about me being on food stamps, walking invisible dogs, side hustling, and fake laughs, then check out my girl Shannon's podcast.
Melanie is a freelance writer currently living in Portland, Oregon. She is passionate about education, financial literacy, and empowering people to take control of their finances. She writes about breaking up with debt, freelancing, and side hustle adventures at DearDebt.com.

Currently she puts more than 50% of her income towards debt, while living a frugal, fun life. In addition to her love of personal finance, art and music, she is also a karaoke master. Follow the adventure @DearDebtBlog.
Latest posts by Melanie (see all)