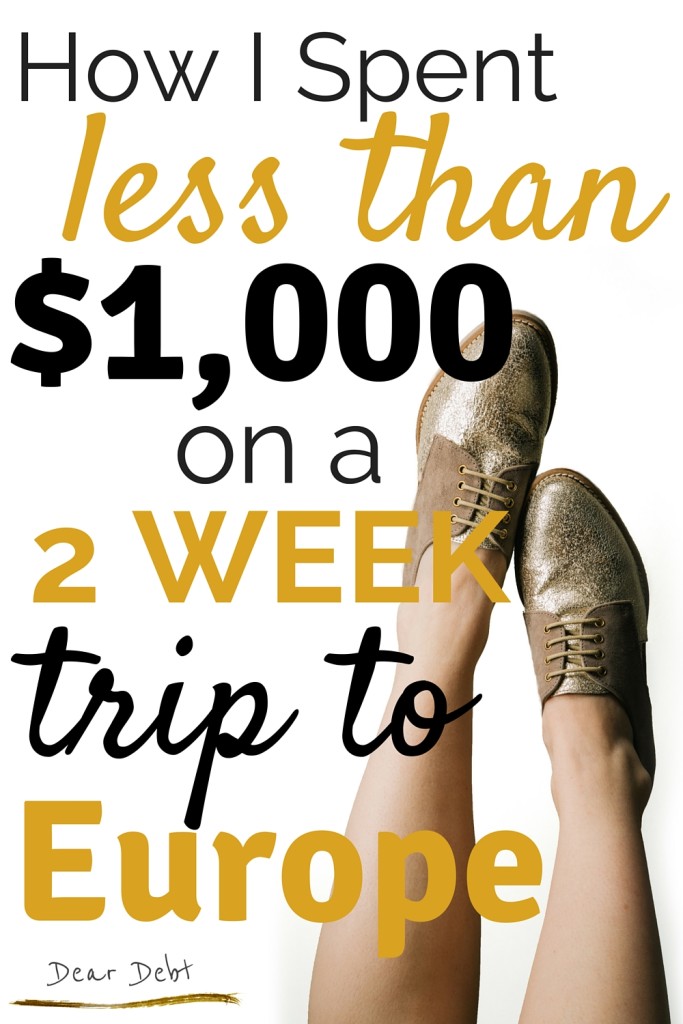 If you think you need to be rich to travel, think again. For my two-week European solo adventure, I saved up $1,100 — and still came under budget.
How did I keep it so cheap? First of all I travel hacked my flights. My main flight was close to $63 and my other two smaller flights were paid for completely with points. This is noteworthy as the value of my flight was $1400.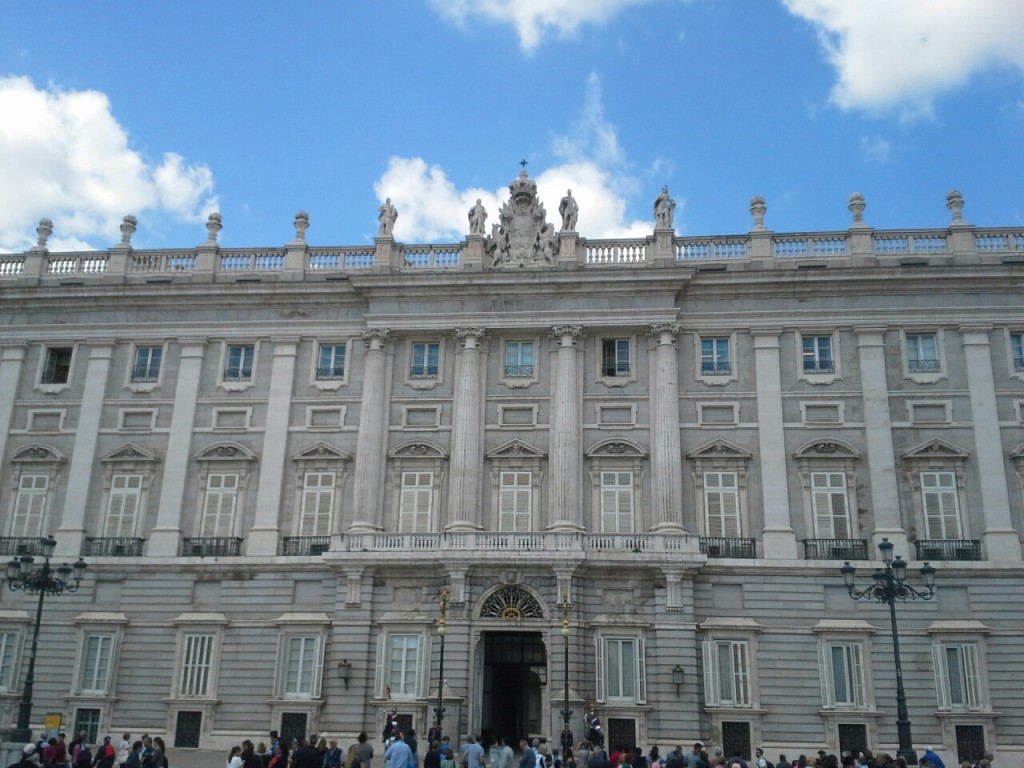 I stayed in hostels most of the time, with the exception of staying with my friend for a few days, and splurging on a hotel my last night in Madrid to avoid sleeping in the airport for 12 hours (best $73 I spent).
It also helps that the dollar is strong right now and that Spain and Portugal are ridiculously cheap. Did you know that you can get a small glass of beer for fifty cents? Or a delicious bottle of red wine for $2?
In Madrid, my frugal go-to meal was this $2.77 ham sandwich and beer. I couldn't believe it. I was continually aghast with how cheap the prices were. I also enjoyed free museum hours at the Prado, which I believe are every night from 6pm-8pm. It was so nice to be back in Madrid — the very place I got my travel bug nine years ago when I studied abroad. It all felt so different, yet so familiar. I was surprised how much Madrid felt like New York City. Now that I've lived there, I had a different frame of reference. Madrid has great public transportation, there is art everywhere, and people are cosmopolitan. There is a hustle and bustle about the city, but with a signature Spanish vibe.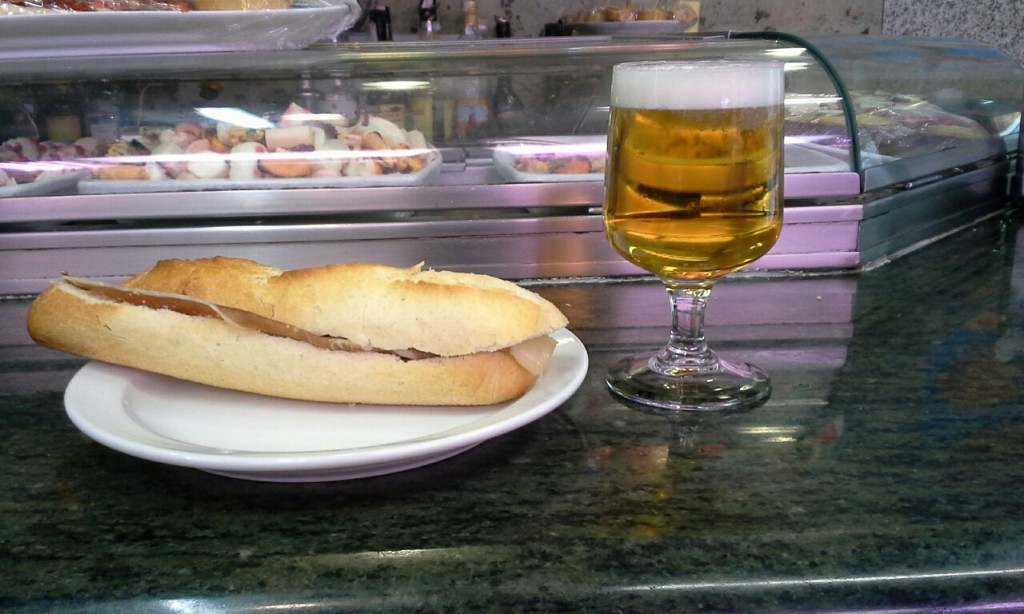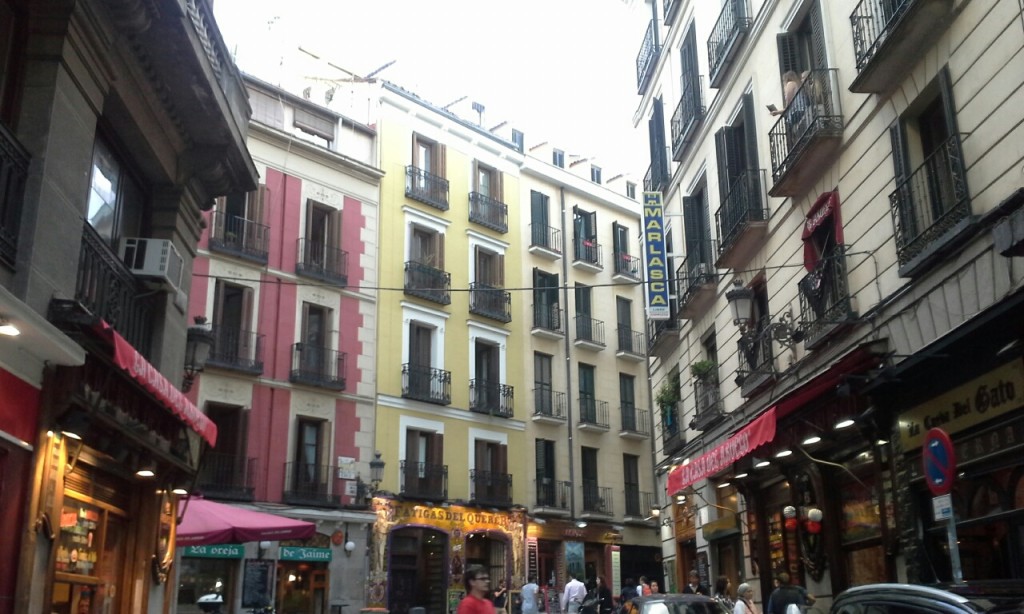 I completely fell in love. After Madrid, I went to visit my friend in Southern Spain. We enjoyed drinks for dirt cheap prices, with free amazing tapas. The first night I arrived in Nerja she took me on a tapas tour. Four places, good drinks, even better food. I think we spent about $16 that night.
The next day we enjoyed lounging on the beach and enjoying more tapas. We chatted and laughed, shared stories and talked about how different our lives were when we first met three years ago.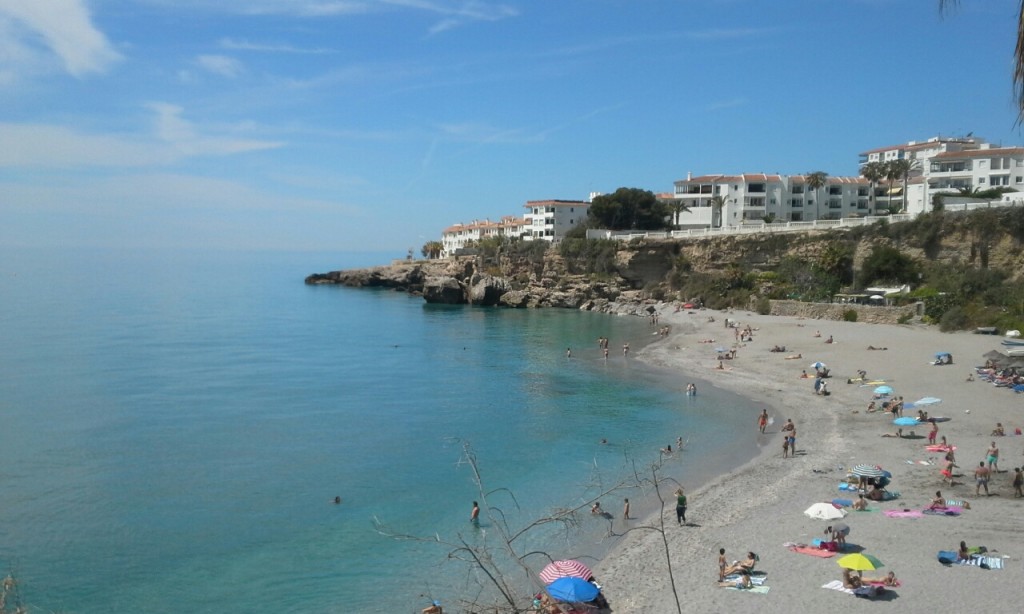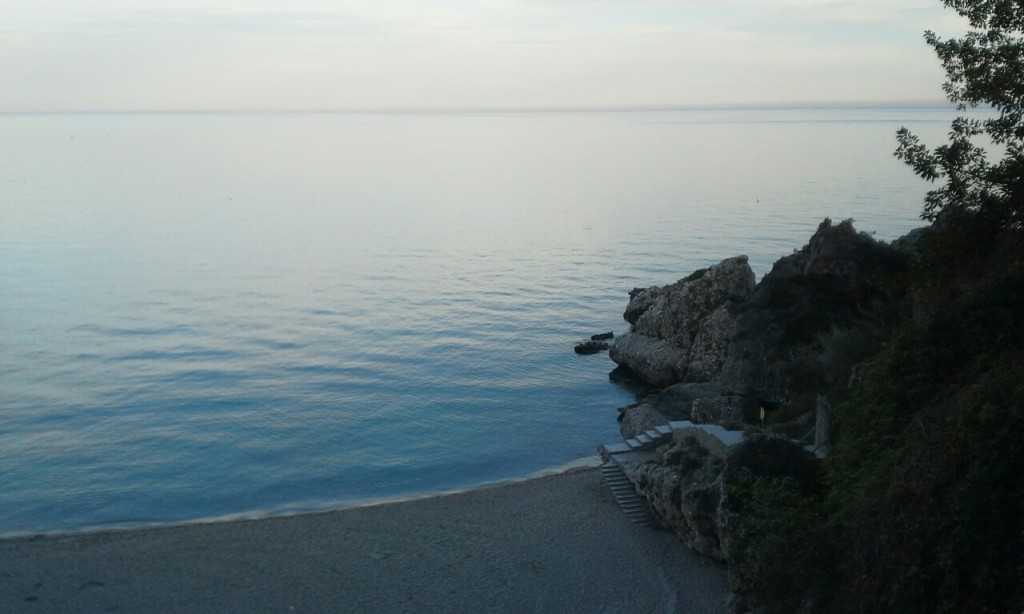 After leaving Nerja, I had a brief stay in Malaga and spent the day in Gibraltar. To be honest, I could've passed on both and stayed longer with my friend, but I thought I'd check it out. They were both nice enough, but I didn't love it.
Then I went to Lisbon and my heart was completely pierced. Lisbon is so damn charming. It looks like the Paris I imagine in my mind (I've never been though). Cobblestone streets, sidewalk cafes, musicians in alleys, rivers, oceans, and street art. I was surprised that people in Lisbon spoke a lot more English than in Spain. I was impressed. In Spain, I did my best to always speak in Spanish, but even so I found myself a bit rusty seeing as I no longer speak the language every day (fun fact: in nearly all of my jobs before this, speaking Spanish was a daily part of my life).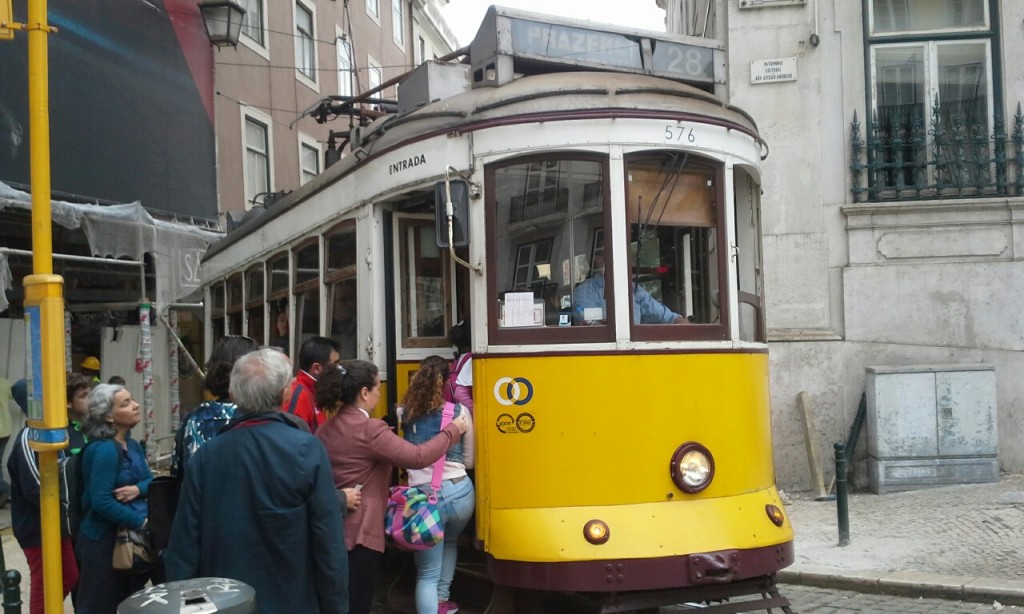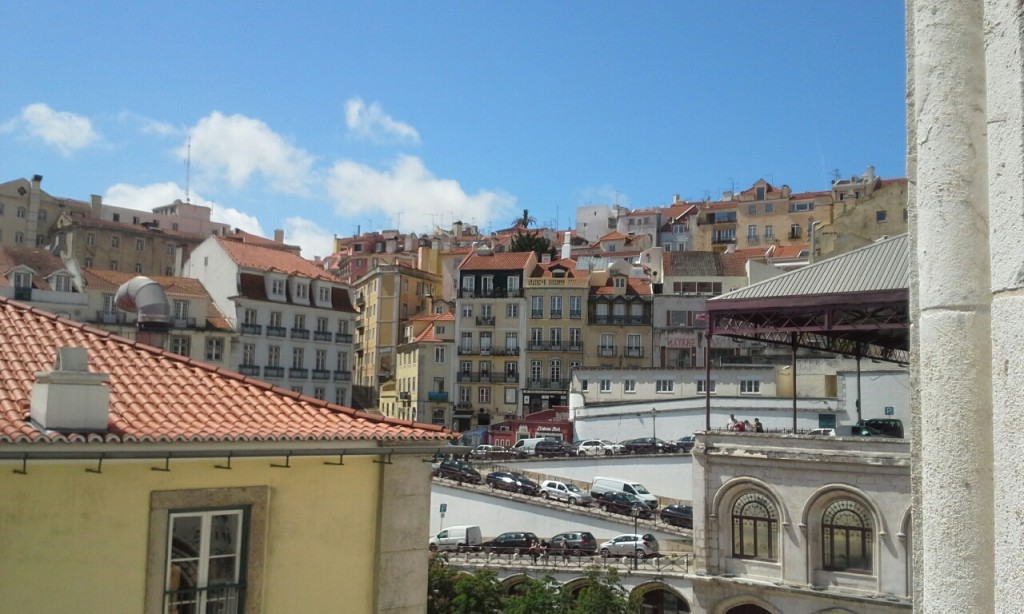 During my stay in Lisbon, I stayed at the best hostel ever. If you go to Lisbon, stay in one of the Lisbon Destination Hostels. They have three hostels and all of them have their unique charms. I stayed at one that was inside a train station and it was awesome. The free breakfast was more than just cereal and the whole vibe was great. I loved that you could freely hang out at all the hostels — especially after I found out that the other hostel had a rooftop terrace with a pool overlooking the river. I spent nearly every night watching the sunset there.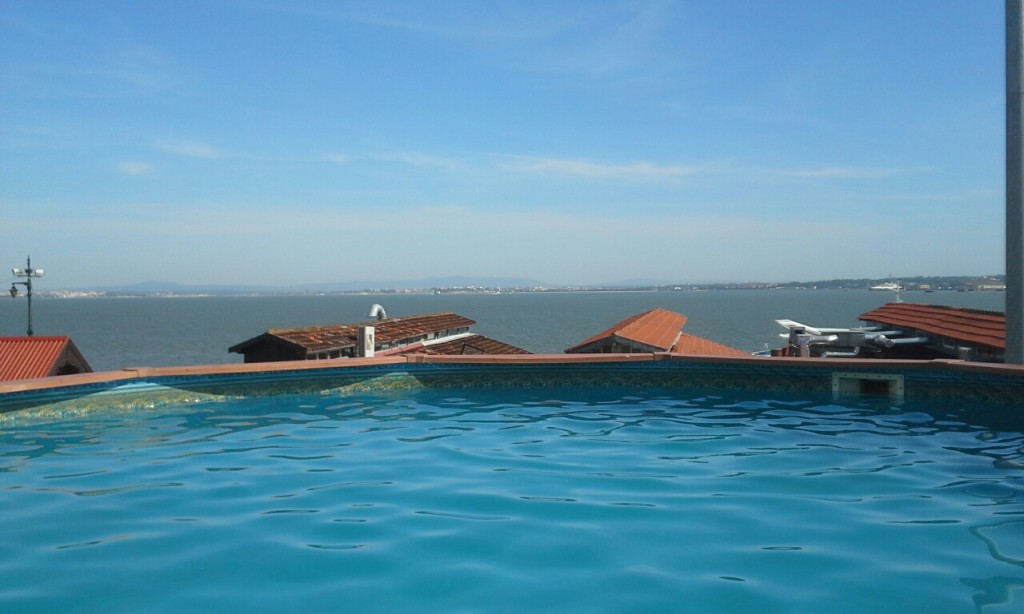 While in Lisbon, I checked out the town of Sintra, spent time on the beach, went to a FREE music festival, enjoyed a rooftop brunch and ate to my heart's content. I'm very epicurean and love to eat and drink my way through a culture. Spain and Portugal were such great, yet affordable choices for that.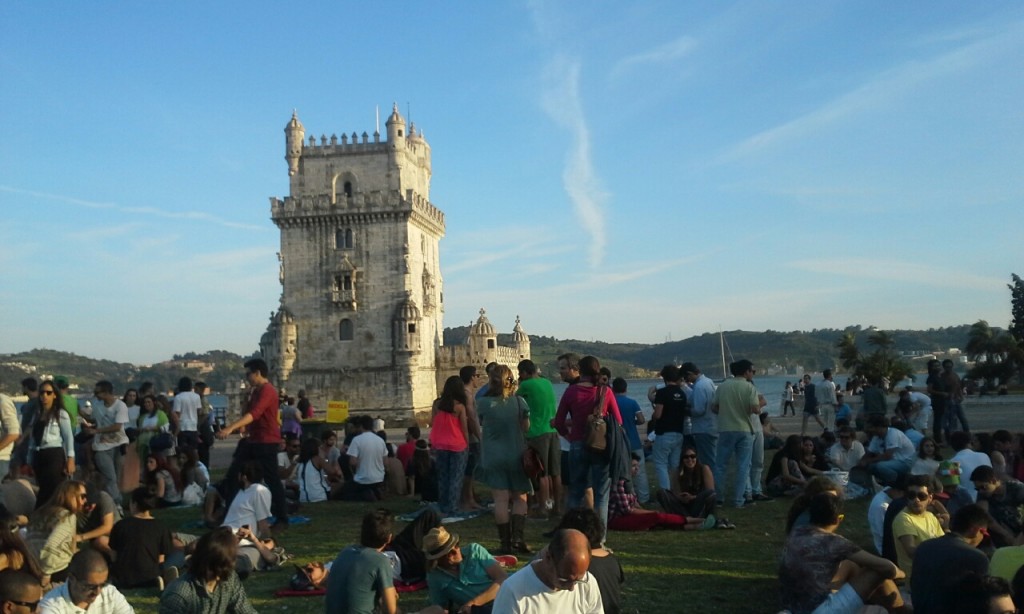 I have so many stories, so many moments, so many memories I could share. But the pictures will have to do. I want to hold them close so I can cherish this energy that I got from this trip.
I've already said I don't regret traveling one bit, even though I'm in debt. It's because of this trip I feel ready to commit to such an audacious goal of getting out of debt in a year.
I am a different (better) person because of this trip. And it was worth every penny. Now, on to the numbers.
Flight: $62.80 (the other two flights were paid for in full with points)
Hostels: $184.22 (I stayed in hostels for 10 nights and spent 3 nights with a friend)
Hotel: $73 (because of my last-minute, haphazard planning I ended up having a 12-hour layover. I thought about sleeping in the airport, but decided against it)
Transportation: $157.18 (this includes the train from Madrid to Malaga and the bus to Nerja to see my friend. I kind of failed and booked the train last-minute, so it was about $100, which makes up the majority of this price. The rest includes buses from airports to hostels and intra-city buses. I never once took a taxi)
Gibraltar Tour: $49.76 (I took a day trip to Gibraltar. It was fun, but I honestly would have rather spent this money on a massage and stayed in Spain. I already knew this, but I am so not a tour bus person. I thought I could hang for just a day, but I was annoyed that I spent more time on a bus, than actually seeing Gibraltar)
Cash: $419 (ok, don't throw stones at me, but I did not track every single penny of my spending money. I wanted a break and didn't want to analyze everything. I just knew what I took out in cash and had in spending money. I know that this included $8 for the Picasso Museum, $10 for a gift, cafes, churros, wine, dinner, jazz, and a walking tour. I pretty much ate and drank very well and this spending money comes out to about $30 per day)
The grand total for a two-week, life-changing trip? $945.96
Could I have done it for cheaper? Sure. I made a few rookie mistakes that cost me and I did not hold back on food or drink, even though it was generally very cheap.
If you are interested in traveling and keeping it really cheap and getting a more immersive experience, consider volunteering at a hostel. I met a lovely American who volunteered at the hostel and in exchange received free accommodation and food. Through travel hacking and volunteering, you could have your main expenses covered.
So, what are you waiting for?
Melanie is a freelance writer currently living in Portland, Oregon. She is passionate about education, financial literacy, and empowering people to take control of their finances. She writes about breaking up with debt, freelancing, and side hustle adventures at DearDebt.com.

Currently she puts more than 50% of her income towards debt, while living a frugal, fun life. In addition to her love of personal finance, art and music, she is also a karaoke master. Follow the adventure @DearDebtBlog.
Latest posts by Melanie (see all)