Hey debt fighters and money mavens! It's been a wild ride in 2015 and we're not even at the three-week mark. I've experienced the good, the bad, the ugly, along with the strange and unfortunate — it's been a whirlwind.
I'm so grateful I took that time off to be with family and friends for 2 weeks in LA over the holidays.
But aside from everything that is going on, you know that I'm committed to paying off debt right? I'm so excited to say that in the last month, I put $1,000 towards my debt! It's been a while since that happened, so I'm super jazzed about it.
My student loans are now at: $33,740.36
Woo hoo!
I look forward to getting rid of more debt this year, so I can accomplish my financial dream. What is my financial dream — or life after debt? It means more traveling and less worrying, more generosity and less fear, and more security. Later this week I'll be talking about WHY I want to get out of debt, so stay tuned.
In the meantime, come join me and LaTisha Styles for a fun and inspiring Twitter chat this Wednesday, January 21st at 8pm EST/5pm PST. The chat will be with Payoff, an awesome company that focuses on uplifting people and empowering them to think about life after debt. They merely don't want to focus on debt payoff but life after payoff.  We'll be chatting with the CMO, Carey Ransom, who is a pretty rad guy. We'll be talking about making progress on your financial dream in 2015 and how dumping debt can get you there.
We're hoping the later time will help folks who work during the day be able to attend — and you won't want to miss it! It will be great fun AND we are giving away $125 in prizes (SUH-WEET!).
If you can attend, please RSVP here (you can still attend if you don't, but it is suggested): http://goo.gl/forms/fFlaFlPkyx
If you can't, would you mind sharing? Thanks debt-fighting friends. May all your debt free dreams come true.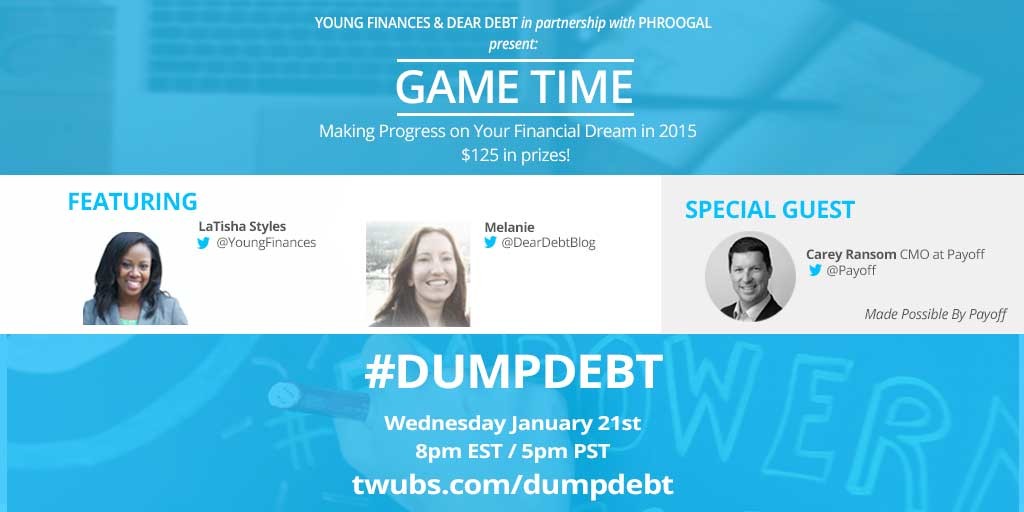 It's Game time!
Are you ready to #DumpDebt? Join us on
Wednesday, January 21st at 8pm EST
for strategies and tips to make progress on your financial dreams in 2015.
RSVP Here: http://goo.gl/forms/fFlaFlPkyx
Then follow @DearDebtBlog, @YoungFinances, and
@Payoff to join in on the conversation!
To participate in the Twitter chat other than using Twitter by searching keyword #DumpDebt; you can use
http://twubs.com/dumpdebt. Sign in using your Twitter account for an easy way to keep up with the chat.
(http://www.tchat.io/rooms/dumpdebt is also an option)
During the chat, you'll have a chance to win! $125 in prize money will be awarded. (Must RSVP to be eligible)
Share the info and send out a tweet to share how excited you are to participate in the #DumpDebt chat on Tuesday. Ex. "I'm ready to #DumpDebt on Wednesday @ 8PM EST w/ @YoungFinances, @DearDebtBlog, and @Payoff"

Melanie is a freelance writer currently living in Portland, Oregon. She is passionate about education, financial literacy, and empowering people to take control of their finances. She writes about breaking up with debt, freelancing, and side hustle adventures at DearDebt.com.

Currently she puts more than 50% of her income towards debt, while living a frugal, fun life. In addition to her love of personal finance, art and music, she is also a karaoke master. Follow the adventure @DearDebtBlog.
Latest posts by Melanie (see all)