While I was in graduate school, I was already deeply troubled with my indebtedness. Even though I knew I made the choice to go to an expensive school, I couldn't quite grapple with what I was getting into.  I am still grappling with those ramifications to this day.
At the time I was taking an Arts and Politics class, which wanted us to come up with a socially engaged project. We had read a lot about class, capitalism, art, commercialism and the like and I just had this strong feeling like I should beg for tuition money as a project (definitely one of the strangest things I've done for money)
As soon as I thought about it, I felt sick. It didn't feel right. It scared me.  And because of that I decided to do it. New York brought so many things and one of them was to face my fears head on and get out of my comfort zone. If it was scary, I knew I should do it.
I picked the day before Thanksgiving. I planned to stand outside of my graduate school begging for tuition money. I was scared I might run into a classmate, or a professor, but it meant much more to me to do it there.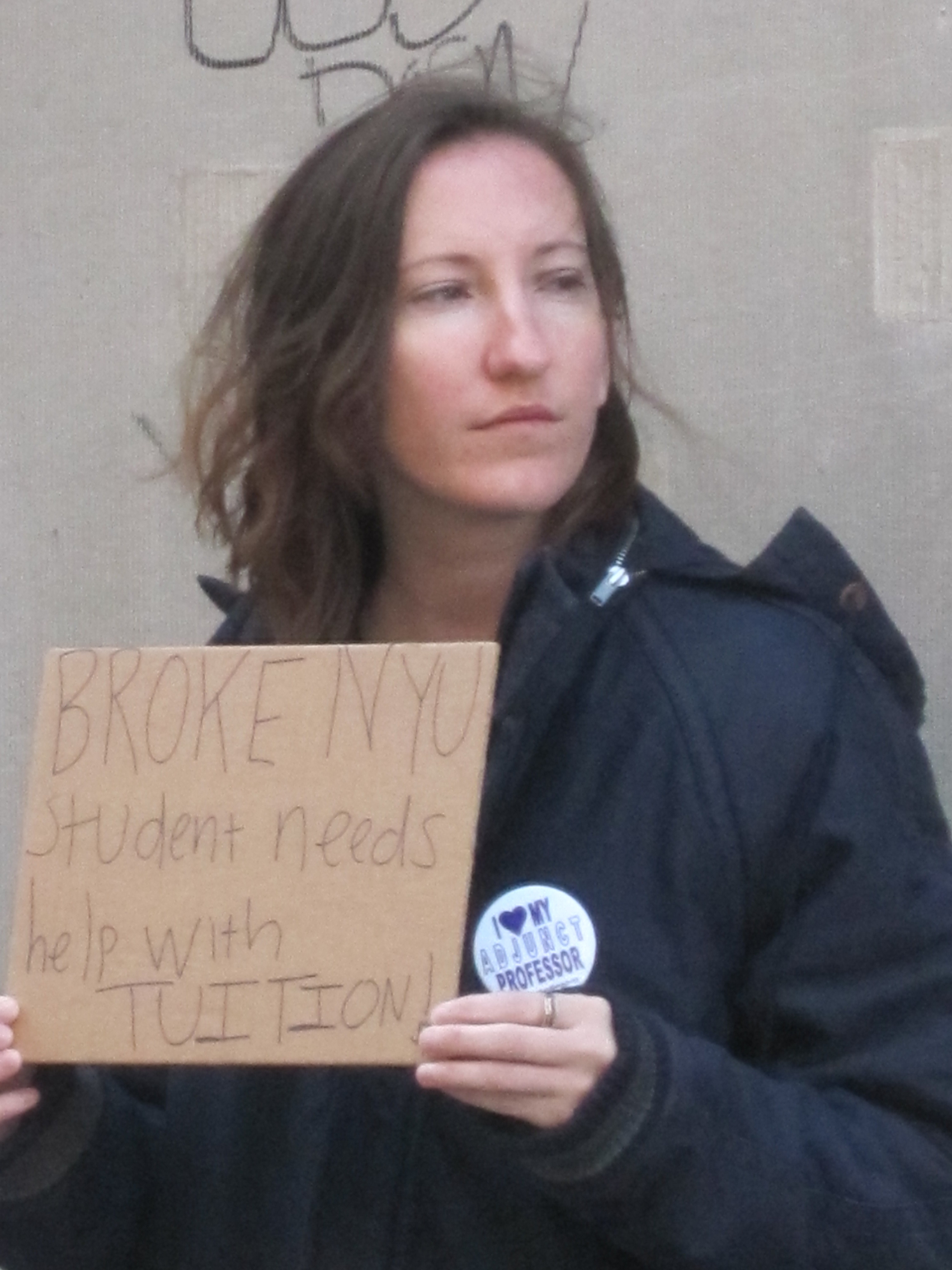 I held a sign "Broke NYU student needs help with tuition" and dressed in my everyday clothes. I wasn't trying to be anything but myself.  This was November 2010, one full year before Occupy Wall Street made it mainstream to talk about student loans. At the time, there was still very little dialogue around student loans, predatory universities, and unfair lending practices. There didn't seem to be a lot of information about how crippling student loans can be, but I felt it.
I wanted to change the idea of what a beggar looks like. People have preconceived notions about what beggars are supposed to look like. Being a young, white, female, outside of a prestigious university, I knew I changed that dynamic.
The first few people to walk by completely ignored me. I could sense how lonely it was to stand alone and ask for help.  The seconds felt like minutes and were drawn out in empty breaths and sly glances.
An NYU employee left the building, looked at my sign and chuckled. Within ten minutes, a woman who could probably be my mom's age stopped and gave me $5. I wasn't expecting it at all, and I started tearing up. I had envisioned my time out there as a grand experiment and expected largely to be ignored.
What happened was amazingly surprising.
In thirty minutes, I was given $29 by four different people. One man bought me a coffee and bagel.  Originally I had planned to be out there all day, but I started to feel overwhelmed with emotion. I hadn't expected such generosity.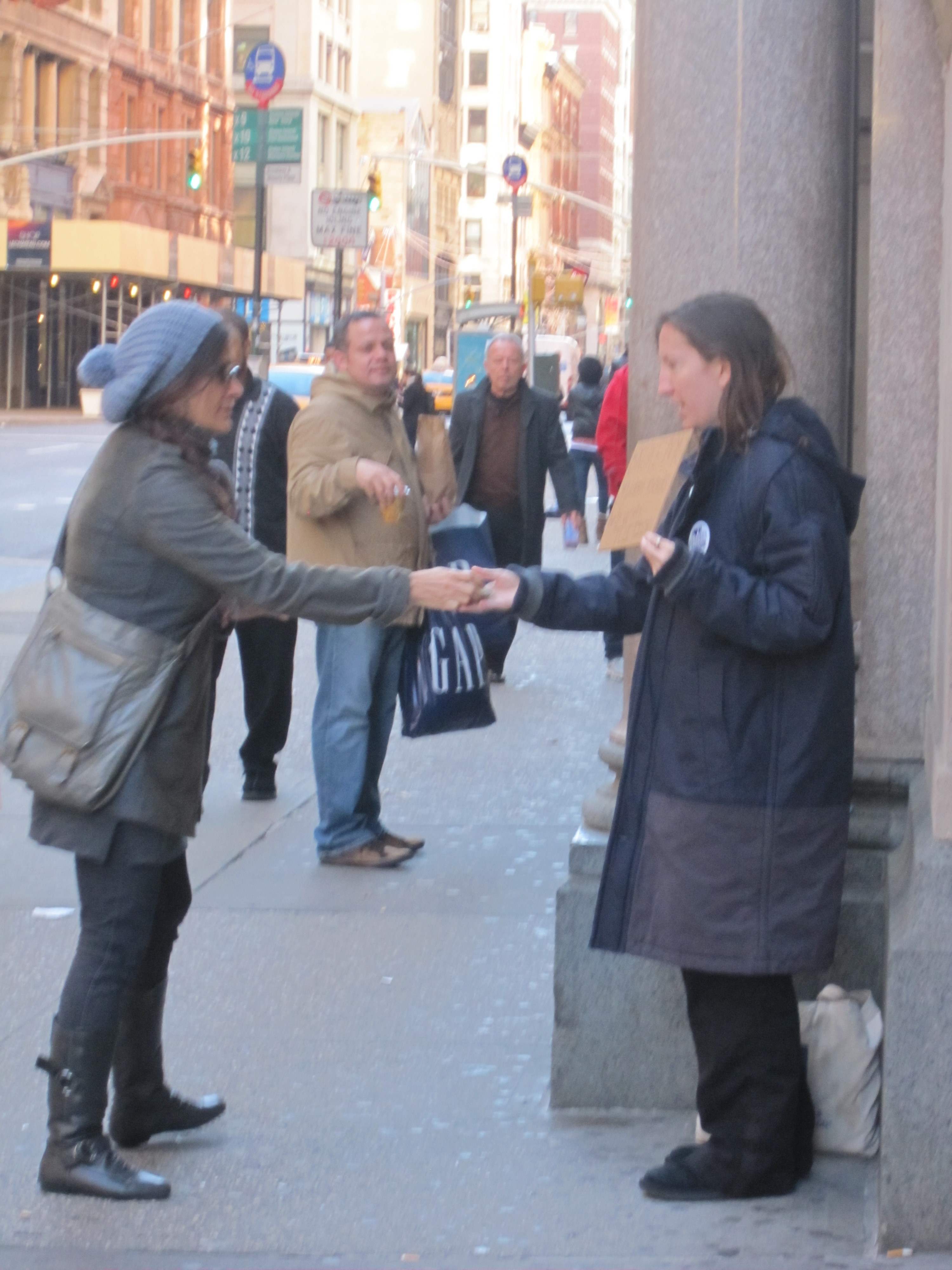 My critical mind started to kick in and I thought about the situation. Why did I make so much money? Surely this is not what others are getting. In that moment, I owned my privilege. My white, privileged, educated self felt "safe" for other people to give money to.  I didn't look homeless, or on drugs, so I was a safe bet.
Although the project stemmed from my own experience and interest, at the end of the day I didn't really need to be out there. Far more people needed that money. Throughout the day, I gave out the $29 to several people who I knew could use it more than me.
All in all, it was exactly what I thought it would be; a grand experiment. I got out of my comfort zone, changed some people's perception, accepted generosity, and owned my own privilege.
Sometimes I think about starting up the project in Portland and other locations, seeing how people respond. But I think that chapter is done and I'd like to make my own money.
Would you beg for tuition money? Do you know anyone who has done it online or in real life?
Melanie is a freelance writer currently living in Portland, Oregon. She is passionate about education, financial literacy, and empowering people to take control of their finances. She writes about breaking up with debt, freelancing, and side hustle adventures at DearDebt.com.

Currently she puts more than 50% of her income towards debt, while living a frugal, fun life. In addition to her love of personal finance, art and music, she is also a karaoke master. Follow the adventure @DearDebtBlog.
Latest posts by Melanie (see all)