I am slowly coming back from the dead. After FinCon, I felt like I was run over by a truck and was so exhausted. Just a few days later, I realized it was more than exhaustion — I was actually sick.
I knew I was going to be traveling to New York for my girl Shannon's Financial Gym opening, so after a few days I went to the doctor. I got a dose of antibiotics and steroids and thought I was on the right track to healing.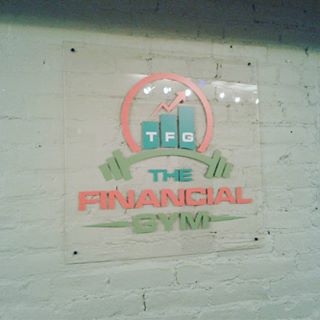 Unfortunately, the medication didn't really help that much and I was sick during my whole trip in New York. I pretty much stayed inside except the five or so hours I supported Shannon with her event.
I was so relieved to come home, but wasn't getting any better. So I went to the doctor again as I thought it was odd I wasn't getting any better, even after medication (which I hate, but felt compelled to go along with because of the travel).
Luckily, I didn't have pneumonia or mono or anything serious….just a serious, viral flu and I was ordered to rest.
For the five days after that I cleared my schedule, asked for extensions, and pretty much just apologized to everyone who emailed me and laid in bed. It was really tough as I felt like I wasn't getting better, even with the rest.
But eventually, it lessened and I'm mostly healed now. I say mostly, because I still seem to be more tired than usual.
I'm on the mend now, catching up furiously — what sucks is I lost thousands of dollars in productivity being sick for two weeks. And it's bad timing as I have a pre-planned vacation to New Orleans next week for my birthday.
I plan on writing a separate post about this, but it's so important if you are self-employed to fund your own sick and vacation time. I just started a few months ago and didn't have enough in there, but now I plan on stashing more away so I'm not stressed about money when illness strikes.
That's the update with me, but really I've been meaning to tell you all about FinCon for weeks! But that damn illness delayed things a bit.
FinCon Recap
Even though I got deathly ill after FinCon, I had a blast….and got very little sleep, which probably was part of the reason I got so sick.
This was my third FinCon — and the biggest yet. Around 1200 people attended. You could definitely tell it's grown leaps and bounds in just a few years.
Every day was jam-packed, and I wouldn't have it any other way. I arrived on Wednesday – just in time to help set up a booth for my client Centsai. My colleague, Tonya Rapley, and I created this park/patio theme for the booth, which was fun. I drove down with my own patio furniture, picnic basket and snacks. Overall, I'd say it was a success.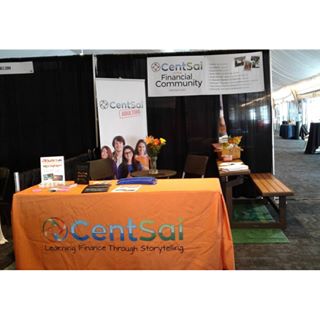 It's funny, for so many years my main side hustle was being a brand ambassador. To be able to help design a booth experience was a new challenge though.
That evening, I helped my friend Jason Vitug with the Road to Financial Wellness finale. As some of you may know, I've been working behind the scenes on a lot of this and helped out with events in select cities. This is my second year working with Jason on this crazy project, and I can't help but say yes because Jason is just the type of person that draws you in with his passion.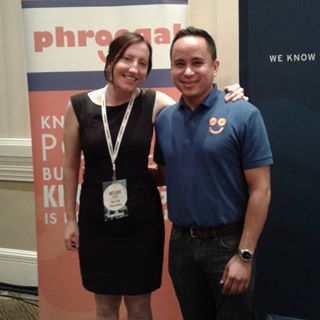 I am so happy to report it was a success. I was there for the first event in New Jersey and the second one in New York, so to be there for the final event in San Diego was really special. I was so proud of Jason and all he's accomplished. Even though it's been crazy, it's been an awesome opportunity to work on this. We're already talking about The Road 3.0.
Thursday, I went back to my brand ambassador roots and worked the Centsai booth for a while.
In the evening, my colleague Tonya and I hosted a Women and Money conversation with Fidelity and 30+ female personal finance bloggers. We hosted a dinner on a yacht in the harbor, and there are pretty much no words for how perfect it was.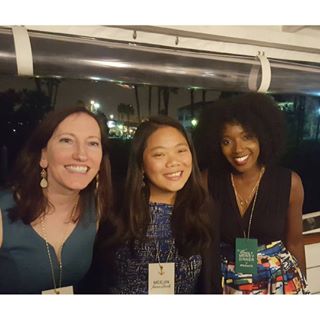 I couldn't believe this was my job. My favorite thing about self-employment is being able to turn ideas into something concrete, and I definitely did that this FinCon.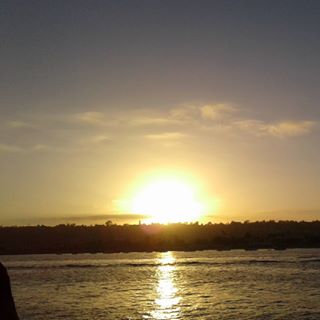 I love that my ideas and opinions matter. In previous jobs, I always felt like I was muted. My thoughts didn't matter. There was a chain of command to get approval and the answer was always "no."
Friday, me and the ladies of Martinis and Your Money happy hour recorded a live podcast. Of course, there were crazy stories and shenanigans, but it was so great to hang out and chat live.
That night, I went to a lovely dinner with PenFed, a happy hour with SoFi, and then to Ignite. Ignite is an event with 5-minute talks, and it was so good!
Afterward, there was a dance party, and I was definitely one of the last ones standing. I think I danced for five hours straight. You see, I love working for myself, but am by myself at home a lot. I'm an extrovert, so seeing everyone and dancing just made me so happy. Good times.
Saturday was the Plutus Awards. I was shocked that I was nominated for four Plutus Awards — best debt blog, best book, best freelancer, and blog of the year.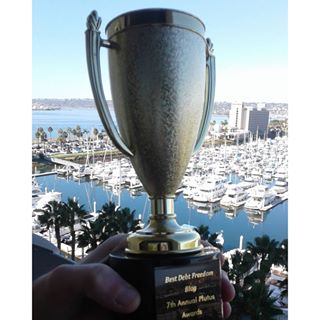 I ended up winning best debt blog again. I have to say, I was pretty shocked. Since becoming debt-free and building my business, I haven't given this blog the attention I want. And I hate that.
But I am still passionate about helping people get out of debt and breaking the emotional stigma around debt. I am so grateful for this community and all the support. Thank you to everyone who has believed in this project and supporting me!
Lastly, I was talking with J Money from Budgets Are Sexy. He has been a great support of my Pay It Forward project, and we're planning some big things in the future, so stay tuned.
The sessions
Truth be told, I didn't go to many sessions and that's because I was working a lot. I did end up going to some sessions to increase my productivity, enhance my website and more. I saw Jean Chatzky record live which was great. I heard my girl Patrice Washington rock the stage. When I did participate, I always learned something and left feeling inspired.
But mostly I went to work and connect with old friends and meet new people. I loved meeting so many new bloggers!
Should you go to FinCon?
You're probably wondering, "Should I go to FinCon?" If you were creepin' on the #FinCon16 hashtag and feeling overwhelmed with FOMO…I hate to break it to you, but you missed out! #sorrynotsorry.
I have always said it and I will say it again. FinCon is 1000% worth it. I went for the first time two years ago when I was in debt and had just quit my job. As someone eager to pay off debt, I wondered if it was really worth the investment.
The answer? Unequivocally, yes. Of course, I don't recommend getting into more debt just to go to a conference, but if you can afford it, it can do wonders for your business and blog. While my blog is my baby and I try to keep it pretty simple and not too salesy, it has led to my freelance writing and event planning career. I can honestly say I would NOT be here today with my success, with my book deal, with all of this work without FinCon.
I have made lifelong friendships. It's funny – I have more "internet" friends than real-life friends.
At FinCon, I was able to connect with my current editors…and pitch new ones. There is something to be said about meeting face-to-face and having a chance to connect. It can solidify relationships and boost your career.
The knowledge, networking and fun you can have at FinCon are all worth the price in my opinion. Especially now, when the price is dirt cheap.
Also, the hotel may seem expensive, but I think staying at the hotel is key to networking success. You have no idea how many late-night lobby sessions there are. And those are typically the best. So even though I could save money by staying elsewhere, splurging on the conference hotel is totally worth it in my opinion.
I am still trying to savor the moment of all the success and fun of FinCon, even though it was muffled with this damn sickness.
So in short, FinCon was a busy, crazy, awesome success, and I'll definitely be back. Will I see you next year in Dallas? Any questions about FinCon you want me to answer? Do you have any recommendations for New Orleans?
Melanie is a freelance writer currently living in Portland, Oregon. She is passionate about education, financial literacy, and empowering people to take control of their finances. She writes about breaking up with debt, freelancing, and side hustle adventures at DearDebt.com.

Currently she puts more than 50% of her income towards debt, while living a frugal, fun life. In addition to her love of personal finance, art and music, she is also a karaoke master. Follow the adventure @DearDebtBlog.
Latest posts by Melanie (see all)