Hey everyone! We have a moving dear debt letter from Kelly. Kelly has been in an abusive relationship with debt since her teenage years, when her father introduced her to credit cards and other debt. She had allowed debt to control her life, leading her down the paths of consumer credit consolidation, bankruptcy, and financial ruin. For some time, she has been trying to break free and leave debt behind for good. She has been unable to do so until now. Kelly likens her situation to having had an addiction that she is realizing for the first time. Today, she is releasing herself from the fierce grip debt has had on her for all these years. With over $30k in debt still weighing on her, she welcomes the freedom of becoming debt-free, climbing onward and upward.
——
Dear Debt,
I don't recall exactly how old I was when we were first introduced. However, I do recall feeling immediately enamored by your wit, charm and seductive ways. You told me the world was my oyster, and all I had to do was pay the minimum balance each month. Brilliant, I thought. We began to get to know each other and I fell in lust immediately.
However, your sweetness quickly faded, and you began controlling and manipulating me with false promises. I began to feel shame that you were in my life. I was embarrassed by my lack of self-control around you. Yet, your tentacles were in deep, and each time I tried pulling them from my flesh, I would bleed and cry. You just laughed knowing the power you had over me. You snarled and snickered in delight knowing I didn't have the strength, determination or confidence to rip free from your grasp.
And so I stayed. Again and again, I tried to leave, making a little progress each time, but always falling back, scared to really leave you for good. You convinced me I was nothing without you, and I believed you. Fuck! I BELIEVED you. I believed I needed you to succeed, to enjoy life, to really LIVE. Oh the lies! How did I believe so many lies? You have caused me financial ruin, and I have allowed it. I have been addicted to you like someone on crack, always awaiting their next fix.
What an "a ha"! I never realized I was addicted to you until now. What an incredible epiphany realized. It's like the light switch has been in a perpetually off position. It was taped down and all I needed to do was remove the tape, flip the switch and see the light eradicating darkness of the lies within. All this time I thought I had issues with money. You were deceiving me all along.
Today, November 6, 2016- I take my power back. The truth has been revealed. You can deceive me no longer. I am complete without you. No more seductive games shall you win. I free myself from your bondage and walk away never to return, never to look back.
I hear you mumbling that it's not over and that I will come back to you. I hear you and acknowledge that this has been my pattern. You are right. I had many lessons to learn, and I thank you for what you taught me. We made this agreement a long time ago, I realize this now and today is the day we say goodbye. I bless you for the lessons.
I release myself in grace and gratitude knowing that I am free, completely free from this moment forward and forever more. It is my time to amass wealth beyond my wildest imaginations. I am a money magnet. Thank you again for all the lessons.
In Self Love and Freedom,
Kelly
Hey everyone! We have a fantastic dear debt letter from Brittney. Brittney took out student loans to get her undergraduate degree, then promptly did everything wrong. She spent years in denial before finally coming to terms with, then learning how to manage, her debt. She now works as a writer and editor for BadCredit.org, where she uses her personal financial journey as inspiration to help others overcome their own mistakes, and make better financial decisions.
p.s. check out my profile on BadCredit.org!
——–
Dear Debt,
I owe you an apology.
I hate to admit it, but for the longest time, I hated you. I couldn't even stand the thought of you — except to pass blame.
Every time I made a financial stumble, you were my go-to excuse. For years I blamed you. Each silly, ignorant, or downright stupid mistake became entirely your fault. I was so sure that without you, everything would have been exactly as I wanted it to be. I convinced myself that you were the source of my troubles — and you had done it all on purpose.
But none of it was your fault. It was mine.
It took a while, I'm ashamed to say, but I finally accepted the truth. I realized that you weren't out to get me. You didn't try to ruin my credit, or put me behind in my financial goals. You couldn't have known that I would make so many poor decisions, and get into so much trouble.
You just wanted to help me go to school — and you did.
You helped me venture away from home for the first time, to cross the country to the big city, where I could see my academic dreams unfold. You helped pay for classes, books, and even the roof over my head. You gave me the education for which I had been pining, and all I gave you was grief.
So, I'm sorry.
You weren't the bad guy in our relationship; I was. I'm sorry I blamed you for all these years, when I should have taken responsibility for my own mistakes. I'm sorry I spent so long hating you, instead of fixing me. (Oh, and I'm sorry for all the horrible things I said about you to my friends.)
I've learned a lot since we first met. I'm done blaming you, and I'm done hiding from you. In fact, I'd even like us to be friends. I think we could accomplish some really amazing things, working together.
Here's to the future.
-Brittney
I am slowly coming back from the dead. After FinCon, I felt like I was run over by a truck and was so exhausted. Just a few days later, I realized it was more than exhaustion — I was actually sick.
I knew I was going to be traveling to New York for my girl Shannon's Financial Gym opening, so after a few days I went to the doctor. I got a dose of antibiotics and steroids and thought I was on the right track to healing.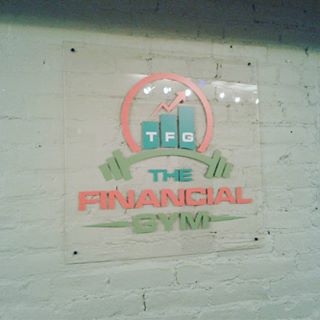 Unfortunately, the medication didn't really help that much and I was sick during my whole trip in New York. I pretty much stayed inside except the five or so hours I supported Shannon with her event.
I was so relieved to come home, but wasn't getting any better. So I went to the doctor again as I thought it was odd I wasn't getting any better, even after medication (which I hate, but felt compelled to go along with because of the travel).
Luckily, I didn't have pneumonia or mono or anything serious….just a serious, viral flu and I was ordered to rest.
For the five days after that I cleared my schedule, asked for extensions, and pretty much just apologized to everyone who emailed me and laid in bed. It was really tough as I felt like I wasn't getting better, even with the rest.
But eventually, it lessened and I'm mostly healed now. I say mostly, because I still seem to be more tired than usual.
I'm on the mend now, catching up furiously — what sucks is I lost thousands of dollars in productivity being sick for two weeks. And it's bad timing as I have a pre-planned vacation to New Orleans next week for my birthday.
I plan on writing a separate post about this, but it's so important if you are self-employed to fund your own sick and vacation time. I just started a few months ago and didn't have enough in there, but now I plan on stashing more away so I'm not stressed about money when illness strikes.
That's the update with me, but really I've been meaning to tell you all about FinCon for weeks! But that damn illness delayed things a bit.
FinCon Recap
Even though I got deathly ill after FinCon, I had a blast….and got very little sleep, which probably was part of the reason I got so sick.
This was my third FinCon — and the biggest yet. Around 1200 people attended. You could definitely tell it's grown leaps and bounds in just a few years.
Every day was jam-packed, and I wouldn't have it any other way. I arrived on Wednesday – just in time to help set up a booth for my client Centsai. My colleague, Tonya Rapley, and I created this park/patio theme for the booth, which was fun. I drove down with my own patio furniture, picnic basket and snacks. Overall, I'd say it was a success.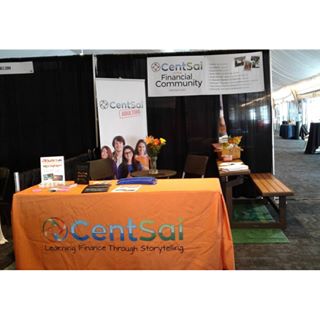 It's funny, for so many years my main side hustle was being a brand ambassador. To be able to help design a booth experience was a new challenge though.
That evening, I helped my friend Jason Vitug with the Road to Financial Wellness finale. As some of you may know, I've been working behind the scenes on a lot of this and helped out with events in select cities. This is my second year working with Jason on this crazy project, and I can't help but say yes because Jason is just the type of person that draws you in with his passion.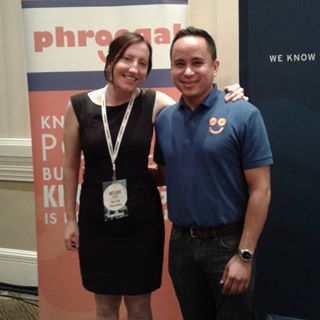 I am so happy to report it was a success. I was there for the first event in New Jersey and the second one in New York, so to be there for the final event in San Diego was really special. I was so proud of Jason and all he's accomplished. Even though it's been crazy, it's been an awesome opportunity to work on this. We're already talking about The Road 3.0.
Thursday, I went back to my brand ambassador roots and worked the Centsai booth for a while.
In the evening, my colleague Tonya and I hosted a Women and Money conversation with Fidelity and 30+ female personal finance bloggers. We hosted a dinner on a yacht in the harbor, and there are pretty much no words for how perfect it was.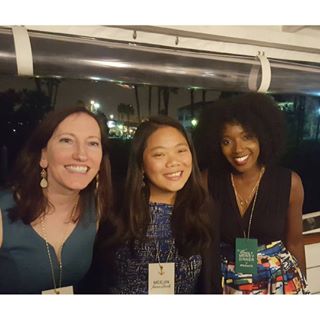 I couldn't believe this was my job. My favorite thing about self-employment is being able to turn ideas into something concrete, and I definitely did that this FinCon.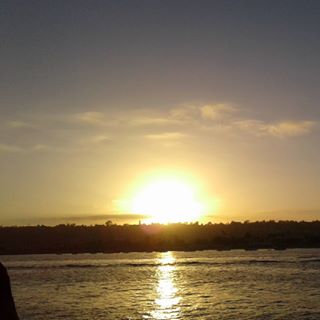 I love that my ideas and opinions matter. In previous jobs, I always felt like I was muted. My thoughts didn't matter. There was a chain of command to get approval and the answer was always "no."
Friday, me and the ladies of Martinis and Your Money happy hour recorded a live podcast. Of course, there were crazy stories and shenanigans, but it was so great to hang out and chat live.
That night, I went to a lovely dinner with PenFed, a happy hour with SoFi, and then to Ignite. Ignite is an event with 5-minute talks, and it was so good!
Afterward, there was a dance party, and I was definitely one of the last ones standing. I think I danced for five hours straight. You see, I love working for myself, but am by myself at home a lot. I'm an extrovert, so seeing everyone and dancing just made me so happy. Good times.
Saturday was the Plutus Awards. I was shocked that I was nominated for four Plutus Awards — best debt blog, best book, best freelancer, and blog of the year.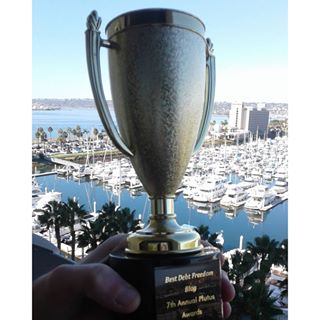 I ended up winning best debt blog again. I have to say, I was pretty shocked. Since becoming debt-free and building my business, I haven't given this blog the attention I want. And I hate that.
But I am still passionate about helping people get out of debt and breaking the emotional stigma around debt. I am so grateful for this community and all the support. Thank you to everyone who has believed in this project and supporting me!
Lastly, I was talking with J Money from Budgets Are Sexy. He has been a great support of my Pay It Forward project, and we're planning some big things in the future, so stay tuned.
The sessions
Truth be told, I didn't go to many sessions and that's because I was working a lot. I did end up going to some sessions to increase my productivity, enhance my website and more. I saw Jean Chatzky record live which was great. I heard my girl Patrice Washington rock the stage. When I did participate, I always learned something and left feeling inspired.
But mostly I went to work and connect with old friends and meet new people. I loved meeting so many new bloggers!
Should you go to FinCon?
You're probably wondering, "Should I go to FinCon?" If you were creepin' on the #FinCon16 hashtag and feeling overwhelmed with FOMO…I hate to break it to you, but you missed out! #sorrynotsorry.
I have always said it and I will say it again. FinCon is 1000% worth it. I went for the first time two years ago when I was in debt and had just quit my job. As someone eager to pay off debt, I wondered if it was really worth the investment.
The answer? Unequivocally, yes. Of course, I don't recommend getting into more debt just to go to a conference, but if you can afford it, it can do wonders for your business and blog. While my blog is my baby and I try to keep it pretty simple and not too salesy, it has led to my freelance writing and event planning career. I can honestly say I would NOT be here today with my success, with my book deal, with all of this work without FinCon.
I have made lifelong friendships. It's funny – I have more "internet" friends than real-life friends.
At FinCon, I was able to connect with my current editors…and pitch new ones. There is something to be said about meeting face-to-face and having a chance to connect. It can solidify relationships and boost your career.
The knowledge, networking and fun you can have at FinCon are all worth the price in my opinion. Especially now, when the price is dirt cheap.
Also, the hotel may seem expensive, but I think staying at the hotel is key to networking success. You have no idea how many late-night lobby sessions there are. And those are typically the best. So even though I could save money by staying elsewhere, splurging on the conference hotel is totally worth it in my opinion.
I am still trying to savor the moment of all the success and fun of FinCon, even though it was muffled with this damn sickness.
So in short, FinCon was a busy, crazy, awesome success, and I'll definitely be back. Will I see you next year in Dallas? Any questions about FinCon you want me to answer? Do you have any recommendations for New Orleans?
This article was sponsored by SelectQuote, but all thoughts and opinions are my own.
Let's face it, life insurance can seem like a dirty term. Images of smarmy salesman may come to mind, or you might just think that it's a totally unnecessary expense.
The reality, though? Life insurance can be one of the best investments you make for you and your family.
No one wants to spend their time thinking about what would happen if they died, but if you have family that depends on you for their livelihood, it's worth some consideration.
Imagine a scenario where your loved ones are dealing not only with the loss of you, but also with the financial implications of your death. No one wants their family to go through something like that, but with the right life insurance policy, the transition can happen with a lot less financial worry.
What is life insurance?
Life insurance is a type of protection, that allows you to ensure you and your loved ones are covered in life if a tragedy should take place. There are different types of life insurance, but one of the most affordable life insurance options is term life insurance.
According to SelectQuote, "Term life insurance provides coverage for a specific period of time. You can generally buy term life insurance for periods of five years or more, and your policy is active until that period passes. Because you only pay for it as long as you need it, term life insurance is considerably more affordable than whole or permanent life insurance."
Through term life insurance, you buy a policy for a certain amount of time — let's say twenty years or so. You choose your policy amount and pay a monthly or annual premium. Should anything happen to you during that "term", your beneficiaries will receive financial help in order to pay for any final expenses such as funeral costs, debt, and more. A life insurance policy can also help recoup the loss of income from a primary breadwinner or income earner.
Should you get life insurance if you're in debt?
When you're paying off debt, it can seem like you should forego every last expense in order to pay it off as quickly as possible. But depending on your situation, term life insurance may be just what you need, especially if you're in debt.
Why? Because the debt you carry may be passed on to your spouse or family should something happen to you. Of course, some debt like federal student loans have a death discharge, but not all debt does.
Some private lenders will not offer a death discharge for student loans. If you have a co-signer on the loan, the balance could transfer to them. While many of the larger private student loan lenders do offer a death discharge on loans, it's important to know if your lender does. Credit card debt and other types of debt may be passed on to your estate.
So if you're in debt,  term life insurance can be a very good safeguard to ensure no one else is burdened by your debt. You can purchase a policy for the amount of time to be insured to match the amount of time you estimate it will take to finish paying your debt.
Leaving on a good note
Even without debt, having the assurance that your family can pay for funeral expenses and take care of any lingering financial matters can provide the ultimate peace of mind for some people. 
Not only that, but life insurance can also be seen as a way to take care of the next generation and leave a positive legacy. For example, if you have a family, you can leave behind the gift of financial security. After all, responsibility doesn't end after death.
You can get a policy that will help your family pay off the rest of their debt or ensure your kids can go to college without taking on their own debt.
If you are single, your term life insurance payout can help your family pay for your final expenses and ensure that everything is taken care of.
Getting life insurance 
While life insurance may seem like it's only for certain populations, nearly anyone can benefit from it. Nobody likes to think of their death and the costs associated with it — which could be several thousand dollars, but the fact of the matter is that we're all headed toward the same destination. These are things we all need to plan for sooner or later.
A term life insurance policy can be a generous sum of money that provides peace of mind for everyone. One common misconception is that life insurance is expensive, but that's actually not true. If you're young and healthy, your life insurance policy could be under a dollar a day!
To get started, you can get a quote for a life insurance policy from SelectQuote. SelectQuote has been around for 30 years. They have the expertise to find you the best policy for you, at the best price. Aside from life insurance, they also offer home and auto insurance as well.
Life insurance may not be a fun or sexy topic to talk about — but it can be one of the safest and smartest tools to protect you and  your finances.
Hey everyone! We have a great dear debt letter from Monica. Monica took on student loans for college, but didn't find the career job that she had hoped for afterward. Instead, she flipped burgers for minimum wage, while living with her parents and taking care of her baby. Eventually, she would find the job she had been waiting for as an accounting clerk, and is now living with her fiancé and their daughter. While they both work in their fields, they are struggling with car payments, credit card debt, and student loan payments in order to move out into a home of their own. But today, she is taking a stand against debt. 
---
Dear Debt,
When I imagined my life at 30, I expected living in my own place, married, maybe a kid or two. I did not imagine living with my mother in law who is NOT my biggest fan because I couldn't buy a house. I did not imagine dreading payday because all it means to me is sitting at my dining room table writing checks.
I did not imagine having to decide between buying that yogurt my daughter loves like most women love chocolate, and buying an extra loaf of bread so I could make enough sandwiches for my work lunches.
I never wanted to be that mom that says "I can't take you to the zoo because I don't have the money," but here we are. I pay my bills, but it always feels like a pinch, and with vision therapy starting, it's only going to get tighter.
I knew that going in, but how do you tell your child, "you're going to have to have a lazy eye forever because we can't afford to pay for the therapy that could fix it"? You don't. You grit your teeth, cut your spending wherever you can, and you make it work.
I've grown tired of you over a long period of time, but this is the last straw. I've cried myself to sleep too many nights. I've fought with the love of my life more times than I care to admit over you. I've found myself wishing I'd have a heart attack and die so my life insurance could pay you off and give my family a fresh start.  Nothing in life is worth me wanting to die just to get rid of it, and that includes you.
I've been through unemployment, abuse, and being a single parent. I've been though anorexia and suicidal tendencies. If I've survived all of that, I can survive you. I will survive you. I guess I just needed to hear myself say it.
I'm taking a crazy step to make this happen. It won't be be today or tomorrow, but one day I'm finally going to give you the swift kick in the butt you deserve. And I'm not coming back. I'm going to have my off days when I'm not sure of myself. I'm going to have days when I'll scream into my pillow. But I will not quit. I will survive you.
Packing my emotional bags,
Monica
When my friend Jason Vitug asked me to speak for the Road to Financial Wellness, more than anything I wanted to say "No."
I was full of excuses.
I don't have experience as a speaker.
I'm too busy.
I've worked behind the scenes on the road, not in the spotlight.
Saying Yes
But I also didn't want to be lame, so I said "Yes" instead. And I am so glad I worked through my fear and did it! I now want to pursue more speaking opportunities to share my story and inspire others to get out of debt.
Though I have a theatre background, I haven't been in the spotlight with just me up there for more than a few minutes at a time, so this was definitely a bit out of my comfort zone.
But it was a great way to connect with others and tell my story in a new way. Also, it was like a homecoming.
Some of you may know that I've helped out with the Road to Financial Wellness for the past two years. I've been inspired by the mission and love helping Jason make this project happen. I helped organize the NYC event, the Chicago event and am planning the San Diego finale this week.
So it was a nice change to be on the other side of the stage. I am so grateful for this opportunity.
My friend Patrice Washington recorded me. It's funny, I told her not to record it, because I was too scared. But since she knew it was my first public speaking gig she thought it would be good so I could get feedback. It's nice when friends do what is best for you, even when you're scared and just want to say no.
So, I'm getting out of my comfort zone even more and posted this on YouTube. We all have to start somewhere right? I hope you enjoy the video and it inspires you to get out of debt.
P.S. I'll be in San Diego this week at FinCon. If you see me, say hi!
This blog post is part of the World Suicide Prevention Day blog tour. If you or someone you know is feeling suicidal, please call the National Suicide Prevention Lifeline at 1-800-273-8255 or visit www.Suicide.org
—-
"I don't know how I can go on with all of this debt."
"I'm worth more dead than I am alive."
"I'm so stressed out, I'd rather die than deal with this debt."
Over the past couple of years, I've received numerous emails from people searching "I want to kill myself because of debt" and finding my blog. Some I never hear from, some leave comments, and some send me emails.
I spent a portion of my vacation in Italy responding to someone who was getting hounded by creditors and wanted to absolve his family of the shame of being in debt. Last Christmas Eve and Thanksgiving I responded to more emails as well. During the holidays, I see a spike in traffic.
I answer every single email, no matter what day or time it is. It doesn't get any easier to get these emails. My heart still hurts and I want to help. But why do I care? Because it's personal.
My relationship with suicide
I will never meet my maternal grandfather. I know him vaguely through photos and stories, but mostly I know him because what he did.
He committed suicide when my mother was five years old, leaving my grandma alone to raise six kids. Though I am happy to report that my mother and her siblings have become happy, healthy adults, this one event is a stain on our family history.
There's an emptiness. A hole. A branch of the family tree, abruptly cut off. We try to grow branches on our own, but come up short.
Aside from that, I had my own issues with suicide as a teenager. I was a depressed, awkward teenager and had trouble finding my place in the world. A puzzle piece that didn't fit.
Through pills and razors, I flirted with ending it all. It would be easier that way. Or so I thought. One of the toughest conversations I've ever had was telling my parents how I felt. I could see the horror on my mom's face, as she contemplated the potential of losing not only her father, but also her daughter to suicide.
I got the help I needed and got better. But even though I recovered from my suicidal feelings, depression has been a major character in the play of my life.
When I was deep in debt a few years ago, some of the thoughts came back. "It would be easier to end it all."
Paying off debt felt so enormous. I felt trapped, stuck, and mostly ashamed of getting myself into this situation.
But I realized that killing myself over debt wasn't worth it. It's a permanent solution to a temporary problem. Back to counseling I went and ultimately I created a plan to get out of debt.
I started this blog as a lifeboat. I began to side hustle. I chose to believe that my only option was to get out of debt. And I made it happen.
What to do if you're feeling suicidal because of debt
If you or someone you know is feeling suicidal because of debt, first let me tell you, you are not alone. You are not a loan. You are not crazy, you do not "deserve this" and you can overcome this.
I know how hopeless everything feels. The weight of debt is strong and the world looks bleak. Any ray of hope is hard to find. Your life feels like it's controlled by something else. You feel an inner turmoil so deep, it's hard to put into words.
But if you are really feeling hopeless because of debt, here's what you can do:
1. Talk to your creditors. Can you lower your payments? Lower your interest rate? Go on temporary deferment? If your debt is causing you financial stress and you are unable to pay, talk to your creditors first.
2. Consider a debt management plan. There are nonprofit credit counseling agencies out there that can work with you to help you pay off debt. Make sure it's a legit company. It could help.
3. Is bankruptcy or student loan forgiveness an option? I am NOT a financial planner, so I am not recommending these options but, they are something you should look into. I literally had someone tell me bankruptcy would be worse than death because of the shame. But I know several people who have filed bankruptcy, and they have moved on to have happy, productive lives. Your life isn't over. Will it be tough? You bet. But it's not over. Also, there are student loan forgiveness options for federal student loans through an income-driven plan or through Public Service Loan Forgiveness. If you have medical debt, call your lender and see if you can negotiate a payment plan or get some forgiven. As I mentioned in my book, I got an ER visit completely covered when I was uninsured.
4. Talk to a counselor. When I was deep in debt, finding myself in tears every day I went to therapy. There is NO shame in therapy. I honestly think everyone should go to therapy. Why? We all need a non-biased third party to help us see things differently. Our friends and family can help, but having someone else to talk to can offer a new perspective. I couldn't afford traditional therapy, so I went to the local graduate school and got low-cost counseling. I was able to negotiate the sessions to $5 as I was on food stamps. Look for help at your church, graduate schools, community centers, and more.
5. Realize you are not your debt. For so long, I hated myself because of my debt. It represented all my mistakes. It represented the past that I was trying to move on from. The number consumed me with shame and guilt. Then one day, I realized I am not my debt. With or without debt, I am still a good person. It's important to separate yourself and realize there's more to life than this one number. And it's important to enjoy your life now, even with debt on your shoulders.
"We have to connect with a new story and a new sense of self. We need to feel grounded in our life today, not waiting until the debt is paid off to start living." says financial therapist Amanda Clayman.
Debt affects us in many ways — but it doesn't have to be forever
Debt can feel all-consuming and take over our lives, affecting us in numerous ways.
"Living under the burden of debt affects us in numerous ways. We can break these down into regret, feeling trapped, and feeling like "our real life" is out of reach because of our financial obligations," says Clayman.
It feels like we are working only to pay off debt, so what is the point? The point is to conquer debt and continue to live your life. Realize that life goes on and debt does not have to be forever. That with help, a plan, and a budget you can overcome this difficult period.
It's important to remember, you are not alone. You are not a loan. Debt is NOT a death sentence.
Seek help, reach out, and don't suffer in silence.
Resources:
National Suicide Prevention Lifeline: 1-800-273-TALK (8255)
Info about Debt Management Plans
Info about bankruptcy
Directory for low-cost counseling
Hey everyone! Today, we have a great dear debt letter from W. Like many millennials who set their sights on graduating from college, the monetary cost of that milestone was not lost on W*. In total, she accumulated $65k in student loan debt. However, even as a quintessential product of the lower-middle class X-Generation, W* figured out soon after graduation that the typical path was not for her, and she is now well on her way to financial freedom and extremely early retirement. W and their marital partner K blog about their journey at Financially Free Millennials.
—–
Dear Student Loan #1,
This may be a little blunt, but WOW! It's unapologetically GREAT to see you go!
For the past 7 years, you have – frankly – been a huge burden. I don't mean to sound ungrateful, but seriously…
Like, at first, having you around was amazing. I'll never forget the day I met you. You were a big, fat check made out to ME…in the amount of $25,600. I had never felt so…worthy (or wealthy). I felt like it was the beginning of something great.
And it was great…for a while. You helped me pay for a year of college, my apartment, food that wasn't Top Ramen or yogurt. You bought me a DSLR, which helped me progress my passion for photography. You even helped my parents pay off their car!
But then something changed.
See, when we first met, I still had my rose colored glasses on. I had a lust for you…for what you could buy me (and others)…for getting me out of jobs…for getting me through school.
What I didn't realize, is that it all came with a price. And the moment I realized that, it was like a light turned on, and it was the beginning of the end for you.
For the next five years or so, you hung around like an awkward friend. I admit, I should have been upfront with you from the beginning. But part of me wanted to hang on, to relish in what we once had. I was being selfish.
But today is the day. There's really no reason to keep you around any longer. You have put me through enough frustration, anger, sadness, and resentment to last a lifetime. You've also hindered me financially.
I won't discredit you entirely, though. A lot of good came out of this relationship. You taught me to become accountable and responsible. You taught me dedication. The best take-away, however, was how my mind was widened enough to see through the bullshit game that "money" really is. You've given me the motivation to beat the system, to become my own boss, to reclaim 100% of my time, and to become location independent. And for that lesson, I am eternally grateful!
So let's leave this on a high note. Thank you for the experiences and lessons, Student Loan #1.
Goodbye.
Hello everyone! Today, we have a great dear debt letter from Sam. Sam graduated in May of 2013 from the University of Illinois Urbana-Champaign with roughly $25000 of debt. Living at home for a year allowed her to nearly cut that amount in half, but once she moved out, Sam developed a few bad habits and managed to rack up a grand total of $35,000 between her student loans, credit card debt, a car loan, and a personal loan from her parents. She was able to get the total down to $23,800 at the start of 2016, and is trying to knock out the last $10700 before the beginning of 2017. Follow Sam and her experiences on her blog.
---
Dear Debt,
I like to think I've handled you better than most, but I know that our relationship is more one-sided than I'd like it to be. Though now I can't wait to get rid of you, I still remember the times when I was so grateful for you and your help. I know that without you I wouldn't be who I am today.
Because of you, Debt, I was able to continue my education when my parents had to give me some tough love my freshman year of college. You allowed me to realize that I hadn't ruined my life, just learned a lesson the hard way, and because of that, I was able to forgive myself. After my first year back at school, though, I forgot a bit about the price I had to pay to be in your favor, and so I kept our abusive friendship.
Debt, even though I had three jobs in college, I used YOU to fund my drinking, my wants AND my needs, thinking that it was enough to use my income from my jobs for schooling. I was being mostly good — that counted, right? I knew that there was a (literal) price to pay to being friendly with you, Debt, but at the same time, that was FUTURE Sam's problem, not present Sam's, and so I ignored the negatives and only enjoyed your positives.
I know I am luckier than most people who graduated with me. I only had about $25,000 of debt, which, compared to others, is not much. The first year out of college, I had a job where I earned commission and I did very well. Couple that with living with my parents, and I was ready to start attacking you.
My parents always taught me to save a chunk of my paycheck, spend a small amount, and use the rest to pay off my loan. Sure I could pay it off in 20 years, but why accrue the interest? They told me that the sooner I paid you off, the better my life would be. So I did. I was putting over $1000 towards you every month. I had the idea that I would pay you off in less than two years.
But I didn't, obviously. I was commuting over an hour and a half one way to work, and you knew the drive was killing me AND my car. So you helped me come up with a plan to move closer to work. My best friend had a similar idea, and we ended up moving in together in a nicer neighborhood, closer to both of our jobs.
Splitting the costs of housing and cutting down on transportation should make it cheaper, shouldn't it? Technically yes, but it was around this time that I started developing bad habits. Bad habits like drinking more out of college than I did in college. Bad habits like getting drunk and buying lots of things off of Amazon (I both love and hate you, Prime). Bad habits like eating out for lunch EVERY DAY (Gasp! Such a no-no). You funded all of this, Debt. You allowed me to live above my means and yet hide the truth from everyone.
So even tho I had reduced you originally, Debt, before moving out of my parents by almost half, I managed to get seduced by you in a worse way – high interest credit card debt. Originally, I was racking up my credit card balance, but still paying it off in full every month. Eventually, it caught up to me and went to the point where I was carrying a balance. Instead of trying to pay off the balance, I started ignoring it. Long story short, I ended up with over $8000 of credit card debt. Couple this with my 2003 Dodge Neon dying randomly (RIP Thundercat), I had to find a way to get a new car.
Having stupidly assumed that my old car would die after I had saved enough for a new car (and without actually saving anything for a new car), I was in a bad position. I made sure to always have at least $1000 in both my checking and savings account, but I wasn't trying to drain all of my accounts. So I had to awkwardly ask my parents to help me. Which, since they are amazing, they did. But that left me with $5000 that I owed them on top of the $14500 on my car.
This was my wake up call, Debt. I realized that you were controlling me, not the other way around. You had grown too much for me to handle on my own. I was so embarrassed, Debt. I was living like a fraud, making more than I thought I would two years out of college, and yet it wasn't enough.
I started taking action to paying you down, never once telling my roommate, boyfriend, or even my parents how bad you have gotten. I think if I did, they might have helped, but at the same time, I didn't want their judgement. I got myself into this mess, and I knew I could get myself out. And it's that belief in myself that has gotten me this far.
At the beginning of 2016, I owed $23500ish between my student loan, credit card debt, car loan, and the loan from my parents. As of today, both the student loan and credit card debt are gone, and I have about $9000 left on my car and about $3000 to my parents.
I'm not as far as I wanted to be at this point in the year, but I'm determined to end our relationship, Debt. You keep trying to draw me back, but I'm smarter this time. I have a plan. I know how much I need to dedicate to you per paycheck to be rid of you. I don't need you anymore, and I don't intend on seeing you again once 2017 starts.
Bye forever,
Sam
After many months, I have an exciting announcement: MY BOOK IS HERE! Can you believe it? If you would have told me three years ago when I started this blog that it would lead to a book deal, I'd laugh in your face.
I am really excited to share my baby with the world and hope it inspires people to dump debt and take control of their finances.
Instead of just mentioning my book, I thought I'd share the five best books to help you get out of debt. Sometimes you need a little extra guidance so here are some of my favorite resources to help you pay down debt and get your money in order. (p.s. these are affiliate links and I'll make a small commission if you purchase something, which helps support Dear Debt)
1. Dear Debt: A Story About Breaking Up with Debt
Okay, so shameless plug here but I do think my book is one of the best books to help you get out of debt. Why?
I paid off $81,000 in student loans. It was the hardest thing I've ever done, but I'm proof it can be done. The book chronicles my journey of getting into debt and how I managed to get out of it after struggling with low-paying jobs, making $10-$12 per hour after graduation.
The book is part memoir, part actionable advice and every chapter ends with a dear debt letter! I was so excited because I was able to share some of the killer letters that others have written in the book!
If you're looking for inspiration, motivation, and actionable advice on paying off debt, cutting back, and earning more, my book is for you.  And remember…you are not a loan. You are not alone.
2. Hustle Away Debt
You guys know I'm all about the side hustle. Side hustling pretty much changed my life and helped me get out of debt. Not only that, it led to a new career.
Everything you want to know about side hustles is in Hustle Away Debt by David Carlson. He shows you how you can pay down your debt using side hustles and provides guidance on how to find the best hustle for your lifestyle, how to fit it into your schedule, and how to make real money at it. This is an essential guide if you're looking to earn more!
3. You Only Live Once: The Roadmap to Financial Wellness and a Purposeful Life
I can't tell you how proud I am of my boy Jason Vitug! Jason wrote You Only Live Once (YOLO — get it?) to help inspire millennials to get purposeful about their money. Throughout the book Jason shares his personal story and experience and discusses the importance of knowing your money why.
Once you understand your money why and how it can serve you, Jason hands you the tools you need to reach it in this book. For Vitug, it's all about using your money to take you to the next level. He teaches you how to take control of your money through budgeting and strategic savings. With your money under control, you can move toward reaching your bigger purpose.

4. The Recovering Spender: How to Live a Happy, Fulfilled, Debt-Free Life
Ok, this book isn't even out yet, but I'm excited to read it. With a tagline like "how to live a happy, fulfilled, debt-free life" how could you go wrong? I'm putting this on the list as I know several blogger friends who've gotten a sneak peek at the book and they're raving about it. Also, Lauren is just cool.
Lauren Greutman speaks from her own experience with credit card debt and chronic overspending in this book. Using her personal story of financial recovery ($40,000 in debt, and an underwater mortgage) and its effect on her marriage, she shares the steps she took to get her money into shape, and stop the overspending. You can pre-order now! 
5. Your Money or Your Life
Early on in my personal finance journey, I read Your Money or Your Life, considered one of the personal finance Bibles. This book has endured and stayed relevant for over twenty years. Vicki Robinson and Joe Dominguez focus heavily on finding satisfaction and peace with both your money, and your contribution to the world.
They believe your money should be a tool to bringing happiness into every area of your life. With their big picture approach, this book is about radically shifting your thought process surrounding your money, and the direction of your life.
Some of the things I got out of the book include looking at your after-tax salary and what you really take home and also quantifying purchases in hours worked. For example, a purchase isn't just $20. It's trading one hour of your life to make $20, to afford that purchase. This book can really shift your thinking when it comes to spending and money management!
Have you read any of these books? Any others you'd recommend? 
Image courtesy of Death to the Stock Photo