Hey debt fighters! Today we have a lovely dear debt letter from E. E is a personal finance blogger at Joyfully Frugal where she blogs about aggressively paying off nearly $70,000 in debt while working to live a more minimalist, simple, and fruitful life. She has sought inspiration in all corners of the internet for this journey and would love to connect with you to find common ground and hear your story.
—
Dear Debt,
Thank you. Have I said that yet? I know I've spent a lot of time bemoaning your presence in my life (like, A LOT of time), but really I owe you some gratitude. Every month when I see your little payment notification pop up I feel no small measure of dread and stuck-ness. Like we'll be together 'til death do us part. I don't want that. In fact, I'm aggressively trying to get rid of you. But that doesn't mean I'm not thankful.
Kate Northrup talks about bills as invoices for blessings already received. I love that concept and the reframe it implies. In fact, I love it so much that it has shifted my entire way of thinking about you, Debt. You see, your presence in my life is really just an indicator of some pretty major blessings that I've received – chief among them a high-quality education, a new nesting place with my partner, and a jump on some professional development for my future business.
So yes, I'd like you gone. I'd like to not be indentured to anyone or anything. That's a fact. AND I'm also, simultaneously, grateful – grateful that I had the opportunity to take you on so that I could afford myself numerous other opportunities. Weird how one little switch of perspective can take you from shame and blame and sadness to lightness and appreciation and even (dare I say it) joy.
So, while you're still in my life, I'd like the opportunity to thank you. You deserve that. And now, if you'll excuse me, I'm off to reduce you to a zero balance.
With appreciation for blessings already received,
E
One year later.
365 days since I made my last payment on my student loans.
Two degrees. $81,000 in student loans. Nine years of repayment. Nine years of having my money pay for my past, rather than my future.
I paid the minimum on my debt for the first five years, but after graduating from NYU and taking on a lot more debt, I knew I had to get serious. I ended up paying off $68,000 in 4.5 years.
My journey into debt was easy. Getting out of debt? It was the hardest thing I've done (aside from building a business).
There were moments when I felt so overwhelmed by my debt. When I realized I had taken on so much debt, but no full-time job was in sight. I felt consumed by debt and felt that every choice I made was predetermined by what I owed.
The lack of choice felt so limiting, so constricting. Finding myself on food stamps shortly after moving to Portland was a personal low. The master's degree from a fancy private school — which I thought would be the key to career success — suddenly seemed meaningless.
I couldn't help but think that everything I had done up to that point was a mistake. I was stupid for quitting my job and going to New York. I was an idiot for getting a performing arts degree from a private school and taking on more debt than I ever made in any previous annual salaries.
I carried the shame, guilt, depression and anxiety with me. The burden was heavy and the financial cost, very real. At my highest, I paid over $300 a month in interest.
When I found myself feeling hopeless and alone — after trying therapy and dealing with daily bouts of tears and anxiety fits — I turned to writing. I started this blog on January 3, 2013.
In many ways, this blog saved my life. I don't say that lightly or with a hint of a hyperbole. It helped me climb out of the deep, dark place I found myself in.
It helped me acknowledge the feelings I had and made me realize I was not alone. I found cheerleaders, a community, and a creative outlet.
Through this blog, I created a new career as a freelance writer and event planner. How everything changed.
Making that last payment a year ago was such a surreal experience. I was in debt my entire adult life and for the first time, I was free.
Once I saw my balance at zero, I started to hyperventilate. It was not the reaction I was expecting.
But it felt like the last straw, the final "goodbye" in a love affair that was both exhilarating and tumultuous. Though I started a blog about breaking up with debt, actually breaking up with debt turned out to be far more emotional than I thought.
Who was I without debt? What would life be like without monthly payments? The fear of the unknown scared me. After about ten minutes of freaking out, I started to move toward excitement. I screamed and jumped up and down like a child on Christmas day. In twenty minutes, I went through all the emotions. Then, a breakthrough.
A feeling of lightness. A burden lifted. A breath of fresh air. I will never forget that feeling.
Over the past year, I have been able to keep that lightness and actually live the life I dreamed of. No longer was debt my master. I was in control of my choices.
This year, I finally got to act on what I wanted — I moved back to Los Angeles to be near family and be in a big city again. I celebrated and finally got to take my mom abroad to Italy. I traveled more than I ever have, both for business and pleasure. It was everything I wanted and everything I dreamed of. The guilt of spending money on things I wanted or needed was magically gone. I could use money for things I wanted. I started investing and saving for my future. My money belonged to me.
Though all my debt-free dreams did come true, it has still been a tough year in many ways. I had to start a new relationship with money. I had to figure out who I was without debt.
I increased my income even more and hadn't realized I went into another tax bracket. After dealing with the expenses of moving and going to Italy, I then found out I owed the tax man everything I saved up. My savings went back to zero and I had to start over. It felt like a financial setback, though I was grateful to at least have the money in my account and not go back into debt.
I also found myself as the sole income earner. We knew moving to LA was a risk, but it was worth it. Luckily, I have a job I can do from anywhere, but my partner has struggled to find consistent work. Things are starting to change, but as you can imagine this affected my finances.
On top of the financial stress of taxes and making sure bills are paid, I experienced so many business growing pains this year. The more successful I got, the harder things got. I've dealt with some setbacks that have made me rethink everything. Some things that have deeply affected me. All of this affected my mental and physical health, too. I don't think I've ever been so sick in my whole life as I was this year.
I am starting to make changes so that I can stay well and continue to thrive in my career and continue to be debt-free. There's no doubt, though, that my first year being debt-free had the highest highs but also the lowest lows.
In the end, it was all worth it. To be here. With this blog, this book, this community that changed my life.
For everyone still fighting the good fight out of debt, I want you to know that it is possible. Life is much sweeter after debt and choices open up for you. Getting out of debt is so hard, but once you do, your whole life is waiting for you.
Hey everyone! I'm so happy to introduce you to Jennifer, who's a new blogger and share her dear debt letter with you all. Say hello! Jennifer Dane is a personal finance blogger at Debt Free Utopia and has a passion for inspiring and educating others through blogging about her journey to overcoming $78,000 worth of debt. Her philosophy is that being debt free will lead to being a fulfilled person and community member.
—-
Dear Debt,
We are not friends. You came into my life like a slimy, smug boyfriend in my teenage years. I did not know the damage you caused until I couldn't pursue my passions. My parents never warned me about the dangers of you, and after they had known I was with you, they never even said a word.
You have followed me with every move I have made and have grown more unmanageable every year. We've even yo-yo money dieted with no avail, and I think it is the time we part ways. You are constantly on my mind, and I want to be able to live my life without your restrictions.
When you are in my life, I cannot fulfill my dreams. So, I am done. I know it will take me years to move on, and it will be a challenge, but it is over. I want you to be completely out of my life by the end of 2022 (hopefully sooner). Farewell, debt. You are not welcome here anymore.
-J. Dane
I've been quiet here and for good reason. These past few weeks have been the toughest. A perfect storm of political nightmare, professional setbacks, and personal turmoil set the tone for my days. It seemed as soon as I would recover from one thing, another thing occurred. I couldn't quite fully recover. So I've been trying to keep up with my work, but also practice extreme self-care. I'm trying to ride out this tough moment and find the hope and silver lining somewhere.
I wanted to write an eloquent post about what to do when everything goes wrong, but I realized I still don't have any answers. I'm only left with questions.
Where do you find the words when words don't seem enough?
How do you move on after falling on your face?
How do you let go when you're not ready?
How can you forgive yourself for mistakes?
How do you recover from the hurt, the anger, the fear?
Where can you put all your disappointments when you no longer want to carry them?
How do you get out of bed when hardly anything seems worth it?
How do you stay strong when you feel anything but?
How can you remain vocal when you feel shut down?
How do you get over foreboding uncertainty?
I guess through time the answers will present themselves some way, some how, but for now, I do the work. I show up. I try not to recoil under the stress and difficulties of certain situations. I try to not let certain setbacks affect my confidence or derail my productivity.
But after all, I am human. A sensitive one at that. One of my greatest assets is my ability to feel and be empathetic toward others — I think it's what makes me relatable and has added to my success. On the other hand, when things go wrong, I feel them deeply. I beat myself up about it and continue to question everything. I want to do well in everything I do. I want people to like me. I want everything to work out. In life, bad things can happen, and instead of dwelling on those things, it's time to persevere.
As Bukowski said, "What matters most is how well you walk through the fire."
Hey everyone! We have a moving dear debt letter from Kelly. Kelly has been in an abusive relationship with debt since her teenage years, when her father introduced her to credit cards and other debt. She had allowed debt to control her life, leading her down the paths of consumer credit consolidation, bankruptcy, and financial ruin. For some time, she has been trying to break free and leave debt behind for good. She has been unable to do so until now. Kelly likens her situation to having had an addiction that she is realizing for the first time. Today, she is releasing herself from the fierce grip debt has had on her for all these years. With over $30k in debt still weighing on her, she welcomes the freedom of becoming debt-free, climbing onward and upward.
——
Dear Debt,
I don't recall exactly how old I was when we were first introduced. However, I do recall feeling immediately enamored by your wit, charm and seductive ways. You told me the world was my oyster, and all I had to do was pay the minimum balance each month. Brilliant, I thought. We began to get to know each other and I fell in lust immediately.
However, your sweetness quickly faded, and you began controlling and manipulating me with false promises. I began to feel shame that you were in my life. I was embarrassed by my lack of self-control around you. Yet, your tentacles were in deep, and each time I tried pulling them from my flesh, I would bleed and cry. You just laughed knowing the power you had over me. You snarled and snickered in delight knowing I didn't have the strength, determination or confidence to rip free from your grasp.
And so I stayed. Again and again, I tried to leave, making a little progress each time, but always falling back, scared to really leave you for good. You convinced me I was nothing without you, and I believed you. Fuck! I BELIEVED you. I believed I needed you to succeed, to enjoy life, to really LIVE. Oh the lies! How did I believe so many lies? You have caused me financial ruin, and I have allowed it. I have been addicted to you like someone on crack, always awaiting their next fix.
What an "a ha"! I never realized I was addicted to you until now. What an incredible epiphany realized. It's like the light switch has been in a perpetually off position. It was taped down and all I needed to do was remove the tape, flip the switch and see the light eradicating darkness of the lies within. All this time I thought I had issues with money. You were deceiving me all along.
Today, November 6, 2016- I take my power back. The truth has been revealed. You can deceive me no longer. I am complete without you. No more seductive games shall you win. I free myself from your bondage and walk away never to return, never to look back.
I hear you mumbling that it's not over and that I will come back to you. I hear you and acknowledge that this has been my pattern. You are right. I had many lessons to learn, and I thank you for what you taught me. We made this agreement a long time ago, I realize this now and today is the day we say goodbye. I bless you for the lessons.
I release myself in grace and gratitude knowing that I am free, completely free from this moment forward and forever more. It is my time to amass wealth beyond my wildest imaginations. I am a money magnet. Thank you again for all the lessons.
In Self Love and Freedom,
Kelly
Hey everyone! We have a fantastic dear debt letter from Brittney. Brittney took out student loans to get her undergraduate degree, then promptly did everything wrong. She spent years in denial before finally coming to terms with, then learning how to manage, her debt. She now works as a writer and editor for BadCredit.org, where she uses her personal financial journey as inspiration to help others overcome their own mistakes, and make better financial decisions.
p.s. check out my profile on BadCredit.org!
——–
Dear Debt,
I owe you an apology.
I hate to admit it, but for the longest time, I hated you. I couldn't even stand the thought of you — except to pass blame.
Every time I made a financial stumble, you were my go-to excuse. For years I blamed you. Each silly, ignorant, or downright stupid mistake became entirely your fault. I was so sure that without you, everything would have been exactly as I wanted it to be. I convinced myself that you were the source of my troubles — and you had done it all on purpose.
But none of it was your fault. It was mine.
It took a while, I'm ashamed to say, but I finally accepted the truth. I realized that you weren't out to get me. You didn't try to ruin my credit, or put me behind in my financial goals. You couldn't have known that I would make so many poor decisions, and get into so much trouble.
You just wanted to help me go to school — and you did.
You helped me venture away from home for the first time, to cross the country to the big city, where I could see my academic dreams unfold. You helped pay for classes, books, and even the roof over my head. You gave me the education for which I had been pining, and all I gave you was grief.
So, I'm sorry.
You weren't the bad guy in our relationship; I was. I'm sorry I blamed you for all these years, when I should have taken responsibility for my own mistakes. I'm sorry I spent so long hating you, instead of fixing me. (Oh, and I'm sorry for all the horrible things I said about you to my friends.)
I've learned a lot since we first met. I'm done blaming you, and I'm done hiding from you. In fact, I'd even like us to be friends. I think we could accomplish some really amazing things, working together.
Here's to the future.
-Brittney
I am slowly coming back from the dead. After FinCon, I felt like I was run over by a truck and was so exhausted. Just a few days later, I realized it was more than exhaustion — I was actually sick.
I knew I was going to be traveling to New York for my girl Shannon's Financial Gym opening, so after a few days I went to the doctor. I got a dose of antibiotics and steroids and thought I was on the right track to healing.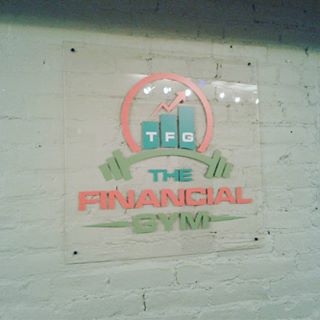 Unfortunately, the medication didn't really help that much and I was sick during my whole trip in New York. I pretty much stayed inside except the five or so hours I supported Shannon with her event.
I was so relieved to come home, but wasn't getting any better. So I went to the doctor again as I thought it was odd I wasn't getting any better, even after medication (which I hate, but felt compelled to go along with because of the travel).
Luckily, I didn't have pneumonia or mono or anything serious….just a serious, viral flu and I was ordered to rest.
For the five days after that I cleared my schedule, asked for extensions, and pretty much just apologized to everyone who emailed me and laid in bed. It was really tough as I felt like I wasn't getting better, even with the rest.
But eventually, it lessened and I'm mostly healed now. I say mostly, because I still seem to be more tired than usual.
I'm on the mend now, catching up furiously — what sucks is I lost thousands of dollars in productivity being sick for two weeks. And it's bad timing as I have a pre-planned vacation to New Orleans next week for my birthday.
I plan on writing a separate post about this, but it's so important if you are self-employed to fund your own sick and vacation time. I just started a few months ago and didn't have enough in there, but now I plan on stashing more away so I'm not stressed about money when illness strikes.
That's the update with me, but really I've been meaning to tell you all about FinCon for weeks! But that damn illness delayed things a bit.
FinCon Recap
Even though I got deathly ill after FinCon, I had a blast….and got very little sleep, which probably was part of the reason I got so sick.
This was my third FinCon — and the biggest yet. Around 1200 people attended. You could definitely tell it's grown leaps and bounds in just a few years.
Every day was jam-packed, and I wouldn't have it any other way. I arrived on Wednesday – just in time to help set up a booth for my client Centsai. My colleague, Tonya Rapley, and I created this park/patio theme for the booth, which was fun. I drove down with my own patio furniture, picnic basket and snacks. Overall, I'd say it was a success.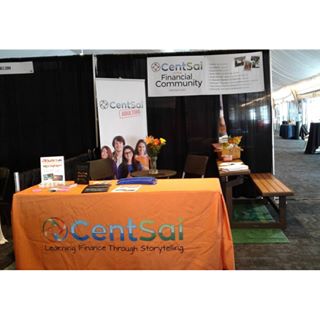 It's funny, for so many years my main side hustle was being a brand ambassador. To be able to help design a booth experience was a new challenge though.
That evening, I helped my friend Jason Vitug with the Road to Financial Wellness finale. As some of you may know, I've been working behind the scenes on a lot of this and helped out with events in select cities. This is my second year working with Jason on this crazy project, and I can't help but say yes because Jason is just the type of person that draws you in with his passion.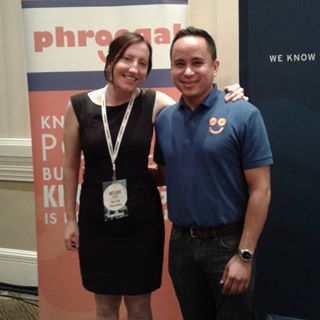 I am so happy to report it was a success. I was there for the first event in New Jersey and the second one in New York, so to be there for the final event in San Diego was really special. I was so proud of Jason and all he's accomplished. Even though it's been crazy, it's been an awesome opportunity to work on this. We're already talking about The Road 3.0.
Thursday, I went back to my brand ambassador roots and worked the Centsai booth for a while.
In the evening, my colleague Tonya and I hosted a Women and Money conversation with Fidelity and 30+ female personal finance bloggers. We hosted a dinner on a yacht in the harbor, and there are pretty much no words for how perfect it was.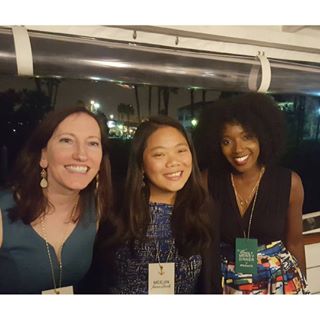 I couldn't believe this was my job. My favorite thing about self-employment is being able to turn ideas into something concrete, and I definitely did that this FinCon.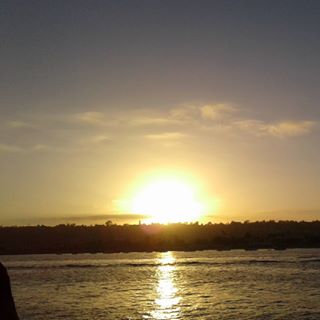 I love that my ideas and opinions matter. In previous jobs, I always felt like I was muted. My thoughts didn't matter. There was a chain of command to get approval and the answer was always "no."
Friday, me and the ladies of Martinis and Your Money happy hour recorded a live podcast. Of course, there were crazy stories and shenanigans, but it was so great to hang out and chat live.
That night, I went to a lovely dinner with PenFed, a happy hour with SoFi, and then to Ignite. Ignite is an event with 5-minute talks, and it was so good!
Afterward, there was a dance party, and I was definitely one of the last ones standing. I think I danced for five hours straight. You see, I love working for myself, but am by myself at home a lot. I'm an extrovert, so seeing everyone and dancing just made me so happy. Good times.
Saturday was the Plutus Awards. I was shocked that I was nominated for four Plutus Awards — best debt blog, best book, best freelancer, and blog of the year.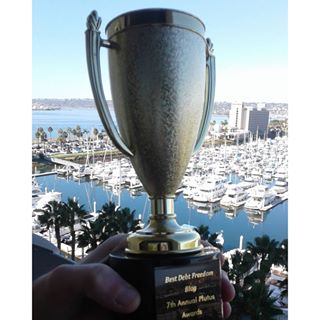 I ended up winning best debt blog again. I have to say, I was pretty shocked. Since becoming debt-free and building my business, I haven't given this blog the attention I want. And I hate that.
But I am still passionate about helping people get out of debt and breaking the emotional stigma around debt. I am so grateful for this community and all the support. Thank you to everyone who has believed in this project and supporting me!
Lastly, I was talking with J Money from Budgets Are Sexy. He has been a great support of my Pay It Forward project, and we're planning some big things in the future, so stay tuned.
The sessions
Truth be told, I didn't go to many sessions and that's because I was working a lot. I did end up going to some sessions to increase my productivity, enhance my website and more. I saw Jean Chatzky record live which was great. I heard my girl Patrice Washington rock the stage. When I did participate, I always learned something and left feeling inspired.
But mostly I went to work and connect with old friends and meet new people. I loved meeting so many new bloggers!
Should you go to FinCon?
You're probably wondering, "Should I go to FinCon?" If you were creepin' on the #FinCon16 hashtag and feeling overwhelmed with FOMO…I hate to break it to you, but you missed out! #sorrynotsorry.
I have always said it and I will say it again. FinCon is 1000% worth it. I went for the first time two years ago when I was in debt and had just quit my job. As someone eager to pay off debt, I wondered if it was really worth the investment.
The answer? Unequivocally, yes. Of course, I don't recommend getting into more debt just to go to a conference, but if you can afford it, it can do wonders for your business and blog. While my blog is my baby and I try to keep it pretty simple and not too salesy, it has led to my freelance writing and event planning career. I can honestly say I would NOT be here today with my success, with my book deal, with all of this work without FinCon.
I have made lifelong friendships. It's funny – I have more "internet" friends than real-life friends.
At FinCon, I was able to connect with my current editors…and pitch new ones. There is something to be said about meeting face-to-face and having a chance to connect. It can solidify relationships and boost your career.
The knowledge, networking and fun you can have at FinCon are all worth the price in my opinion. Especially now, when the price is dirt cheap.
Also, the hotel may seem expensive, but I think staying at the hotel is key to networking success. You have no idea how many late-night lobby sessions there are. And those are typically the best. So even though I could save money by staying elsewhere, splurging on the conference hotel is totally worth it in my opinion.
I am still trying to savor the moment of all the success and fun of FinCon, even though it was muffled with this damn sickness.
So in short, FinCon was a busy, crazy, awesome success, and I'll definitely be back. Will I see you next year in Dallas? Any questions about FinCon you want me to answer? Do you have any recommendations for New Orleans?
This article was sponsored by SelectQuote, but all thoughts and opinions are my own.
Let's face it, life insurance can seem like a dirty term. Images of smarmy salesman may come to mind, or you might just think that it's a totally unnecessary expense.
The reality, though? Life insurance can be one of the best investments you make for you and your family.
No one wants to spend their time thinking about what would happen if they died, but if you have family that depends on you for their livelihood, it's worth some consideration.
Imagine a scenario where your loved ones are dealing not only with the loss of you, but also with the financial implications of your death. No one wants their family to go through something like that, but with the right life insurance policy, the transition can happen with a lot less financial worry.
What is life insurance?
Life insurance is a type of protection, that allows you to ensure you and your loved ones are covered in life if a tragedy should take place. There are different types of life insurance, but one of the most affordable life insurance options is term life insurance.
According to SelectQuote, "Term life insurance provides coverage for a specific period of time. You can generally buy term life insurance for periods of five years or more, and your policy is active until that period passes. Because you only pay for it as long as you need it, term life insurance is considerably more affordable than whole or permanent life insurance."
Through term life insurance, you buy a policy for a certain amount of time — let's say twenty years or so. You choose your policy amount and pay a monthly or annual premium. Should anything happen to you during that "term", your beneficiaries will receive financial help in order to pay for any final expenses such as funeral costs, debt, and more. A life insurance policy can also help recoup the loss of income from a primary breadwinner or income earner.
Should you get life insurance if you're in debt?
When you're paying off debt, it can seem like you should forego every last expense in order to pay it off as quickly as possible. But depending on your situation, term life insurance may be just what you need, especially if you're in debt.
Why? Because the debt you carry may be passed on to your spouse or family should something happen to you. Of course, some debt like federal student loans have a death discharge, but not all debt does.
Some private lenders will not offer a death discharge for student loans. If you have a co-signer on the loan, the balance could transfer to them. While many of the larger private student loan lenders do offer a death discharge on loans, it's important to know if your lender does. Credit card debt and other types of debt may be passed on to your estate.
So if you're in debt,  term life insurance can be a very good safeguard to ensure no one else is burdened by your debt. You can purchase a policy for the amount of time to be insured to match the amount of time you estimate it will take to finish paying your debt.
Leaving on a good note
Even without debt, having the assurance that your family can pay for funeral expenses and take care of any lingering financial matters can provide the ultimate peace of mind for some people. 
Not only that, but life insurance can also be seen as a way to take care of the next generation and leave a positive legacy. For example, if you have a family, you can leave behind the gift of financial security. After all, responsibility doesn't end after death.
You can get a policy that will help your family pay off the rest of their debt or ensure your kids can go to college without taking on their own debt.
If you are single, your term life insurance payout can help your family pay for your final expenses and ensure that everything is taken care of.
Getting life insurance 
While life insurance may seem like it's only for certain populations, nearly anyone can benefit from it. Nobody likes to think of their death and the costs associated with it — which could be several thousand dollars, but the fact of the matter is that we're all headed toward the same destination. These are things we all need to plan for sooner or later.
A term life insurance policy can be a generous sum of money that provides peace of mind for everyone. One common misconception is that life insurance is expensive, but that's actually not true. If you're young and healthy, your life insurance policy could be under a dollar a day!
To get started, you can get a quote for a life insurance policy from SelectQuote. SelectQuote has been around for 30 years. They have the expertise to find you the best policy for you, at the best price. Aside from life insurance, they also offer home and auto insurance as well.
Life insurance may not be a fun or sexy topic to talk about — but it can be one of the safest and smartest tools to protect you and  your finances.
Hey everyone! We have a great dear debt letter from Monica. Monica took on student loans for college, but didn't find the career job that she had hoped for afterward. Instead, she flipped burgers for minimum wage, while living with her parents and taking care of her baby. Eventually, she would find the job she had been waiting for as an accounting clerk, and is now living with her fiancé and their daughter. While they both work in their fields, they are struggling with car payments, credit card debt, and student loan payments in order to move out into a home of their own. But today, she is taking a stand against debt. 
---
Dear Debt,
When I imagined my life at 30, I expected living in my own place, married, maybe a kid or two. I did not imagine living with my mother in law who is NOT my biggest fan because I couldn't buy a house. I did not imagine dreading payday because all it means to me is sitting at my dining room table writing checks.
I did not imagine having to decide between buying that yogurt my daughter loves like most women love chocolate, and buying an extra loaf of bread so I could make enough sandwiches for my work lunches.
I never wanted to be that mom that says "I can't take you to the zoo because I don't have the money," but here we are. I pay my bills, but it always feels like a pinch, and with vision therapy starting, it's only going to get tighter.
I knew that going in, but how do you tell your child, "you're going to have to have a lazy eye forever because we can't afford to pay for the therapy that could fix it"? You don't. You grit your teeth, cut your spending wherever you can, and you make it work.
I've grown tired of you over a long period of time, but this is the last straw. I've cried myself to sleep too many nights. I've fought with the love of my life more times than I care to admit over you. I've found myself wishing I'd have a heart attack and die so my life insurance could pay you off and give my family a fresh start.  Nothing in life is worth me wanting to die just to get rid of it, and that includes you.
I've been through unemployment, abuse, and being a single parent. I've been though anorexia and suicidal tendencies. If I've survived all of that, I can survive you. I will survive you. I guess I just needed to hear myself say it.
I'm taking a crazy step to make this happen. It won't be be today or tomorrow, but one day I'm finally going to give you the swift kick in the butt you deserve. And I'm not coming back. I'm going to have my off days when I'm not sure of myself. I'm going to have days when I'll scream into my pillow. But I will not quit. I will survive you.
Packing my emotional bags,
Monica
When my friend Jason Vitug asked me to speak for the Road to Financial Wellness, more than anything I wanted to say "No."
I was full of excuses.
I don't have experience as a speaker.
I'm too busy.
I've worked behind the scenes on the road, not in the spotlight.
Saying Yes
But I also didn't want to be lame, so I said "Yes" instead. And I am so glad I worked through my fear and did it! I now want to pursue more speaking opportunities to share my story and inspire others to get out of debt.
Though I have a theatre background, I haven't been in the spotlight with just me up there for more than a few minutes at a time, so this was definitely a bit out of my comfort zone.
But it was a great way to connect with others and tell my story in a new way. Also, it was like a homecoming.
Some of you may know that I've helped out with the Road to Financial Wellness for the past two years. I've been inspired by the mission and love helping Jason make this project happen. I helped organize the NYC event, the Chicago event and am planning the San Diego finale this week.
So it was a nice change to be on the other side of the stage. I am so grateful for this opportunity.
My friend Patrice Washington recorded me. It's funny, I told her not to record it, because I was too scared. But since she knew it was my first public speaking gig she thought it would be good so I could get feedback. It's nice when friends do what is best for you, even when you're scared and just want to say no.
So, I'm getting out of my comfort zone even more and posted this on YouTube. We all have to start somewhere right? I hope you enjoy the video and it inspires you to get out of debt.
P.S. I'll be in San Diego this week at FinCon. If you see me, say hi!