One of my main goals this year was to go to FinCon. I wasn't sure how I would get there, but I was determined. A few months later, I felt doubtful and confused and wrote the post, Should Debt Bloggers Go to FinCon?
If my message is to get out of debt, how could I justify it?
Well, two things happened that made FinCon absolutely worth it for me:
I started freelancing more, and eventually quit my job. FinCon would be a networking dream.
I got a unique opportunity to partner with a company and host a special event (more on that later).
So let's give you a rundown on everything that happened:
Tuesday:
I flew into New Orleans and it's balmy and grey. It felt like a humid Portland, at least weather wise. I checked into the hotel and sighed with relief.
I made it, I thought.
Knowing that my online pal Shannon had already arrived, I texted her so we could explore the town.
We hit it off instantly! The one nerve-wracking thing about meeting people in person is, what if you just don't click? I have to say that didn't happen at all with anyone, but Shannon and I were like insta BFFs. We went to a dive bar called Sneaky Pete's and were talking and catching up. We strolled through Bourbon street and got a greasy, yet delicious slice of pizza. While we there we were totally suckered into getting a large daiquiri and jello shots (don't judge).
After that, we saw some live music, and hung out with PT and the gang for a pre-camp party.
Bedtime: 1:30am
Wednesday:
I woke up bright and early because I wanted to get my hands on those hot little beignets at Café Du Monde, before FinCon camp started. The walk was nice – I got to see the old streets and cultural influences of New Orleans. I had some delicious beignets and a café au lait.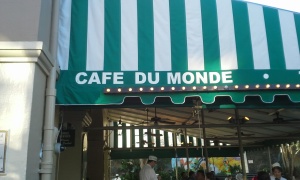 Honestly, a city hasn't pierced my heart as much as New Orleans since New York. I just loved it there and you can really feel the heart and soul of the city.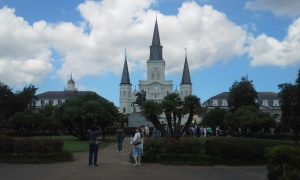 I got back to the hotel and we started camp! Camp was great because I could get to know a small group of 75 people, before the other 500 people showed up on Thursday. There was a great session on writing, SEO, and making money.
But let's be real. My absolute favorite part of the first day was the karaoke party! I told you all that I LOVE karaoke.
I sang 4 songs and sung my little heart out. What did I sing?
The Nearness of You by Norah Jones
Just a Girl by No Doubt
Bohemian Rhapsody by Queen
Midnight Train to Georgia by Gladys Night
Tom Drake from Canadian Finance Blog told me that it was like watching a play when I performed Bohemian Rhapsody. Best compliment ever! Tom, who was the KJ, asked me to sing another song as it was slow, but I wasn't sure what to do. I had exhausted all my "go-to" songs. Then I decided on Midnight Train to Georgia. Holy whoa was that fun! I got really into it and I think I found my new song.
Then we all headed back to the hotel to party some more. At this point, I'm realizing that personal finance bloggers are not nerds, but intense partiers in disguise. Or at least that's what being in NOLA and being at FinCon will do to you.
Bedtime: 2am
Thursday:
Finished up camp and was interviewed by the ReadyForZero team for their podcast, which was so freakin' awesome. I love them! Then went on a brewery/cocktail tour! My favorite was the Carousel bar, which was so darn classy and lovely. I also got to meet Michelle from The Shop My Closet Project, Erin from Broke Millennial, Stefanie from the The Broke and Beautiful Life and Cat from Budget Blonde and so many others (including J. Money heyyyyy). It was so awesome to meet everyone in person.
That night we went to Ignite, but it was so loud that I could barely hear. I cut out early and then had some fun conversation with JD and Shannon in the lobby.
Bedtime: 1:30am
Friday:
I was magically able to wake up in time for the keynote speech by Jeff Goins. And I'm so glad I did! He talked about doing the work of a dream and building a bridge between where we are now and where we want to go. It's easy to reach a goal and stop dreaming, but we have to let our dreams evolve. Jeff was magical and was officially my first FinCon crush.
I then got my network on at the Freelancer's Marketplace, and went to a session about the Power of Stories and How to Create a Thriving Community.
One of the main quotes that stuck out for me was from JD Roth, "Everything is in service of the reader."
I want to make Dear Debt a great place for you, the readers. So please let me know if you have any feedback. I got some great feedback from the survey a while back, but I'm open any time to chat.
After the sessions, I got to meet the whole Careful Cents team, including Kali, Cat, and Erin! It was a great time to connect — I simply adore these ladies.
Then I got all gussied up to host a very special dinner! In partnership with Perfect Circle® Jewelry Insurance by Jewelers Mutual I co-hosted a dinner with Tonya from My Fab Finance and Farnoosh Torabi! We invited some of my favorite bloggers and had a blast.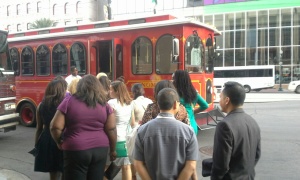 We started off taking a trolley tour of New Orleans, which I am eternally grateful for. I hardly left the hotel at that point, so it was nice to see parts of the city I wouldn't otherwise see. This is where my heart started to swell again, just falling deeper in love with New Orleans.
After the tour, we arrived at NOLA, i.e. Emeril Lagasse's awesome restaurant. BAM! It was amazingly delicious. Farnoosh shared her top tips for financial wellness, including protecting the things we don't often think of, like jewelry.
This dinner was the absolute highlight of my trip. We had planned for months to make it an awesome experience for everyone involved and I think it was great. I got to have a nice dinner with some of my favorite old and new friends AND got to meet one of my inspirations, Farnoosh Torabi. In case you don't know, she was the keynote speaker and also is the author of When She Makes More, a book about being a female breadwinner. I'm so excited to read the book, as I am also a female breadwinner.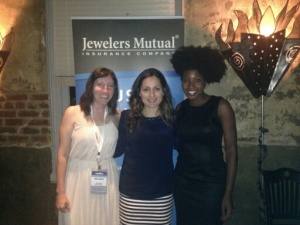 After the dinner, I was spent. I went for a short walk and caught up with some other bloggers for yet another trip to Café du Monde. I then went to bed "early" as I knew Saturday, the last night would be crazy.
Bedtime: 1am
Saturday:
I attended the Freelancer's session A Better Way To Work, and also the How to Make Editors Fall in Love with Your Work. My girl Carrie did an amazing job at the first session! The second session with the editors was so invaluable for me.
I then went to sessions about an Auto Responder Sequence (email marketing) as I really need to kick it into gear and get started with an email list, which was followed by LaTisha's talk on how to supercharge your brand with video. Video is something I'm curious about integrating into my work – mostly so you all can experience for yourself just how silly I can be.
Then it was time for the Plutus Awards! I sadly didn't win Best Debt Blog, but I was happy to be nominated. I was so happy that my friends Laurie and Cat did win though!
Right after the awards, I had dinner with the awesome folks from PenFed. They are such a great, awesome group of people and have a ton of great promotions going on. We had a delectable meal and some yummy drinks.
After the dinner, we headed to the final party on Bourbon street. I arrived and my senses were overloaded. It was straight up club status in there. Like people dancing on stage, drinks everywhere, and people having a REAL GOOD TIME.
After getting oriented to my now high-energy environment, I got a drink and got down with my bad self. I had so much fun dancing! Like, too much fun.
Seriously, if you could see that party…but what happens in New Orleans, stays in New Orleans. But damn it was a good time.
Bedtime: 4am
Sunday:
I set my alarm for 10am thinking 6 hours would be "sleeping in" at this point, but somehow I woke right up at 8am. Ugh. My legs were so sore and my voice was hoarse. I hung out with some cool bloggers in the lobby for a while, then decided I needed some me time. As extroverted as I am, I just needed some time to chill, so I walked to the French Market and just walked around, which is one of my favorite things to do in any new city. I had lunch by myself, and then caught up with Shannon yet again for a last day adventure.
She let me know that the Palace Café had bananas foster beignets. I had mentioned the whole week that I really wanted bananas foster. So I met her there and ordered them. Then we realized that they actually had the REAL bananas foster, so we ordered that too. Shannon, as baller as she is, wanted to celebrate our newfound friendship and awesomeness, so we got some champagne.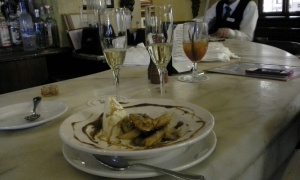 After a few hours, we had to head back to the airport, so we got our to-go cups and took the rest of the champagne (New Orleans has an open container policy where you can drink on the street!!). We booked a shuttle, which was over 30 minutes late, so ended up taking a taxi instead. Luckily, the shuttle is refunding my money.
Then I slept on both flights. I kept waking up though, excited and full of ideas.
Now I'm back and so re-energized and happy! Meeting everyone in person and solidifying these online relationships was 100% worth everything to me. I learned a lot, got out of my comfort zone, partied, made new friends, and connected with old ones.
I can't believe my first FinCon was this awesome; a dream come true, really.
I loved it so much, I bought my early bird ticket for next year.
I found my family – a bunch of money loving nerds who DEFINITELY know how to party.
See you next year?
Melanie is a freelance writer currently living in Portland, Oregon. She is passionate about education, financial literacy, and empowering people to take control of their finances. She writes about breaking up with debt, freelancing, and side hustle adventures at DearDebt.com.

Currently she puts more than 50% of her income towards debt, while living a frugal, fun life. In addition to her love of personal finance, art and music, she is also a karaoke master. Follow the adventure @DearDebtBlog.
Latest posts by Melanie (see all)