Dear Debt,
The end is near. I see myself breaking free from your chains in the not-so-distant future.
While my heart yearns to break free from you and get my life back on track after you've bankrupted me, I'm scared.
I'm scared to be alone. You were my first love right after college. You made me feel important, like I was worth something.
Everything I've ever known in this life, I've known it with you.
Who am I, if not standing in your shadow? After nearly a decade together, I don't know who I am without you.
Debt, you were there to get me through college. You helped me go to my dream school. You pushed me harder and harder, just so I could keep up with you.
You've pushed me so hard, that I thought I might never come back. But I also don't want to focus only on the bad stuff. I know you've given me many opportunities, too. Without you, I might have never gone to college. I wouldn't have the career I have today.
It's all because you pushed me. For better or worse. But it's my time now to figure out who I am without you.
I don't love you anymore and quite frankly, I don't need you anymore either. I'm scared to be without you, but this is a path I must walk alone.
It's over,
Melanie
—
Do you want to write your own dear debt letter? I'm always accepting submissions!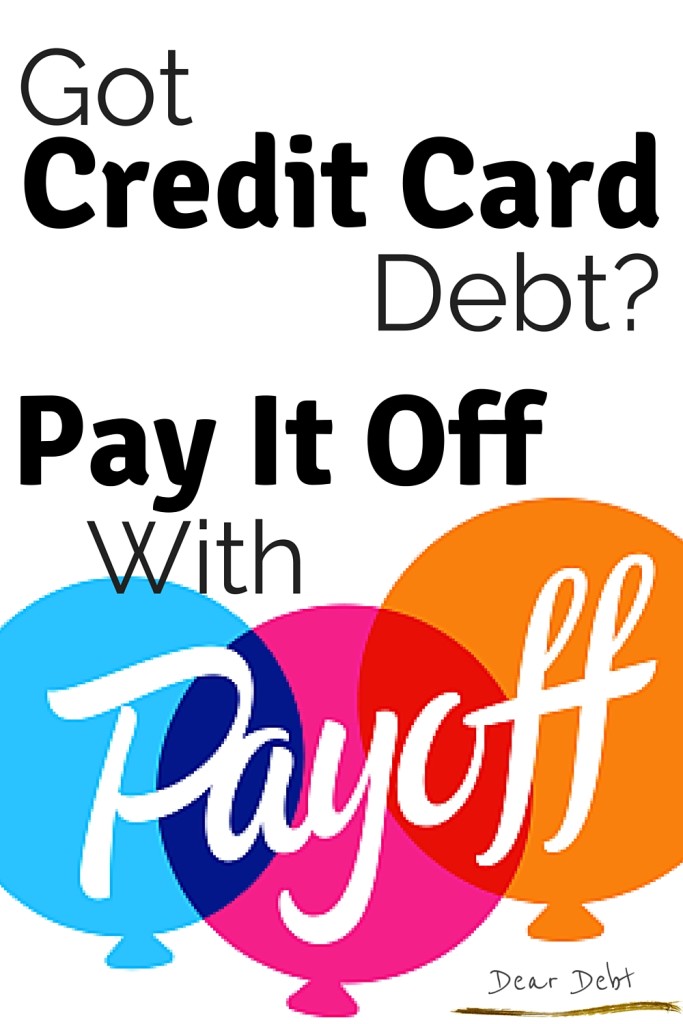 One of the main reasons I started Dear Debt was to inspire people to get out of debt — to create a community of like-minded people, who shared their struggles with debt, as well as their dreams about what life is like after it's all paid off.
I've been "lucky" in that my only debt is from student loans. Heck, I didn't even get my first credit card until two years ago! But I know many of you out there are struggling with sky-high interest rates and are buried in credit card debt.
I can only imagine how frustrating it is — especially with interest rates that can be around 20 percent or more.
A year ago, I would have told you to hunker down and limit your spending and hustle like crazy to pay down your credit card debt. That part is still true.
But there's an extra layer that I think can make the process a whole lot easier: the Payoff Loan™.
The Payoff Loan™ may help borrowers with credit card debt simplify their payments and pay much less in interest. So instead of paying multiple credit cards and paying exorbitant interest rates, you'd pay one loan at a (potentially) better rate.
Borrowers can get a Payoff Loan™ from $5,000 to $25,000 at fixed rates between 8 and 22 percent APR with a repayment term of 2-5 years (your choice). If you can get a better rate with Payoff than your credit card, this makes financial sense.
Currently, the Payoff Loan™ is not yet available in Alabama, Arizona, Colorado, Connecticut, Delaware, Illinois, Indiana, Iowa, Kansas, Louisiana, Maine, Massachusetts, Minnesota, New Hampshire, New Jersey, Pennsylvania, South Dakota, Texas, Vermont, Wisconsin, and Wyoming.
To be eligible, candidates need to have a FICO score of 660 or higher with a debt-to-income ratio less than or equal to 50 percent.
Aside from making financial sense, I've worked closely with the people at Payoff, and they are legit.
They are real deal people (Yes! You can talk to real people from their awesome member experience team!) who care about getting people out of debt, because they realize that life is so much more than a debt payment.
What I like about them is their transparency. They clearly state there are no application fees, no prepayment penalties, no late fees, no annual fees, and more.
You can fill out a quick application to check out your potential rate, with no impact on your credit score. If you find something you like, you choose an offer and receive the money in the bank.
Pay off those pesky cards, save money on interest, and simplify your bills.
So, who do I think this is right for? People struggling with credit card debt who are ready to dump that debt.
However, here's the crucial part. You have to be ready and understand the root cause of why you got into debt in the first place. No consolidation or refinancing plan will work if you keep borrowing as a band-aid.
So, if you have treated the root cause of being in debt (living beyond means, not making enough, not having an emergency fund, etc.), I think this can potentially be a great option.
As I mentioned, I don't have credit card debt, so don't have firsthand experience with the loan, but I do know that I trust Payoff and they are good people. They get what it's all about and want to see people succeed.
So, if you are in credit card debt, Payoff is another option to look into. As always, do your research, understand the terms, and do what is best for your situation. Remember, I'm not a financial expert 😉
But I do want to share cool products and services, knowing that they could potentially help someone.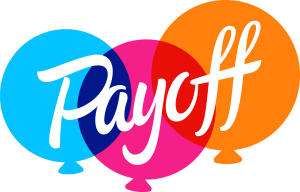 I'm an affiliate of Payoff, so if you use my link, I'll get a bonus to help Dear Debt keep going. As always, I only write about things I'm truly passionate about — because let's be honest, ain't nobody got time for that!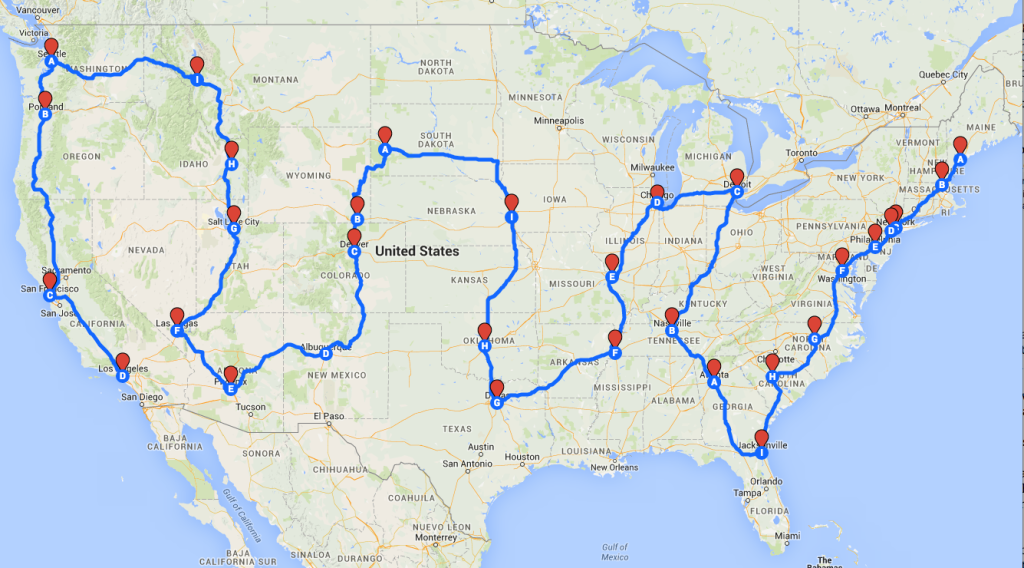 The following blog post is part of The Road to Financial Wellness Blog Tour. Over a period of 30 days, the Phroogal team will go to 30 locations to raise awareness about financial empowerment. Today they will be in Portland! Our goal is to help people learn about money by starting the conversation. We understand that local conversations can help bring about national awareness.
If there is one thing I have learned in the past few years, it is that mastering your money is a journey.
You are never quite in the same place you used to be, usually not quite where you want to be.
For a long time, when I was younger, I never really thought of the importance of money. I wanted to believe that I was a creative type that could be beyond this thing called money.
In my mind, money meant greed, capitalism, power, and class. It meant difference. In some ways, it still means those things to me, but I realized the power money had as I got older. And that it wasn't all evil.
My Journey Into Debt
As soon as I became an adult, I took on student loans to go to college. I didn't think twice about it, because it's what I had to do. I worked all throughout college, but spent nearly all of my money because I was so young and had "forever" to save.
Now I find myself in even more student loan debt than I was back then, with practically no retirement savings at the age of 30. Sometimes I'm scared shitless about this.
But the one thing that keeps me going is seeing my progress on this journey. I can now look behind me and see how far I've come. I'm close to the finish line. In less than one year, I will be debt free.
At that time, I plan to use the $2,000 I am putting towards debt each month and really invest in my future. I was scared of investing before, but now I am excited. I'm excited to have my money work for me. I'm excited to pursue this idea of financial independence — a term I had never heard before I entered the personal finance community — and hope to have enough money where I can quite literally do whatever I want.
Journey to Financial Wellness
My relationship to money has completely changed and in large part, it's because my mindset has changed too. I take responsibility for my mistakes and I have a clear vision of what I want.
I want travel, adventure, and creativity. I want to work on things I love, not because I need to get paid. Most importantly, I want to give. No, really. I want to give back and help others get out of debt. I want to give back to underserved communities, now that I no longer work with them face-to-face.
My journey to financial wellness has taken a lot of twists and turns. It hasn't been perfect (and no one's journey is), but I've learned a lot.
I've learned about the importance of saving, investing, paying off debt, and having a clear goal for what you want. Without a clear goal, those other things don't mean a damn thing.
Today, I would like to encourage you to continue on your road to financial wellness. Take one step forward. Start by saving five more dollars. Open a brokerage account. Pay $10 more to debt. Read a book about money. Start a conversation with your partner about money. Take one little step towards financial wellness.
What does financial wellness and empowerment mean to you?
p.s. The lovely folks at Payoff are the national sponsor for #TheRoad to Financial Wellness. They have this super rad Financial Personality quiz. Try it out!
p.p.s If you are in the Portland area, we are meeting at TaborSpace in SE at 9am today! Come join us. If you are in Corvallis, join the meetup here.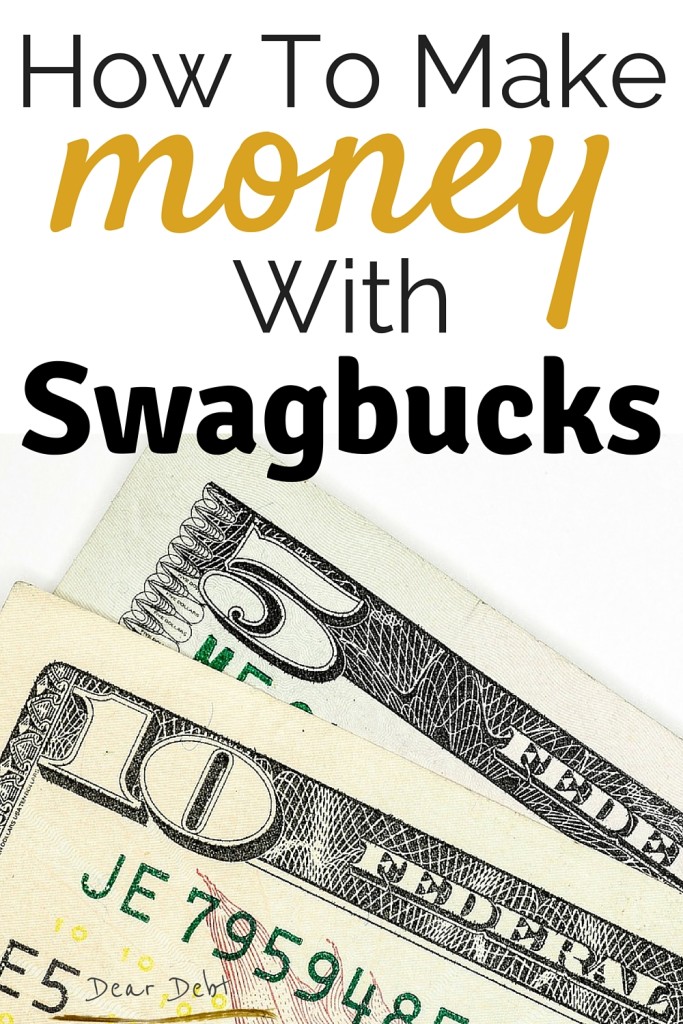 If you're like me, you're spending a lot of time online. But what if you could get paid doing stuff you'd probably do anyway, like search the internet? That's where Swagbucks comes in.
I've already talked about how Swagbucks is one of my favorite things. But I just briefly touched on it, so today I thought I'd talk about how exactly you can make money with Swagbucks.
I know that Swagbucks saved me a few months ago when I was in Las Vegas — I was getting bombarded with insane prices, so was relieved that I had enough points, called SB to get a Starbucks card and get a free breakfast. Score!
If you want in on the fun, here are some simple ways you can start earning today.
Answer the Daily Poll
Want a quick (swag) buck? Answer their daily poll, which guarantees one SB. Every single day there is a new question and sometimes they are just funny or silly. You can also see the results of the poll, which is always very interesting.
To get started, simply go to your Swagbucks dashboard, go to Answer and then click on Daily Polls.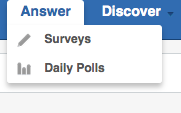 Search the Internet
As a freelance writer, I am always looking up sources, spelling for certain words, and quick grammar tips. Using the Swagbucks search engine, you can get paid to search the internet. Now, you don't get paid every time you search. I would venture to say you earn points for every ten searches or so. Usually the amount you earn is between 6-12 SB.
Look, I just earned some more just looking for frugal recipes!

They use the Yahoo search engine, so if you are spoiled by Google you might need some time to adjust. I'll admit, if I get weird search results, I will go to Google, but in general, I have very few issues with the Swagbucks search engine, especially for casual browsing of the internet.
Follow them on Social Media
Are you on social media? Then follow Swagbucks on Facebook, Twitter and Instagram. They often have time-sensitive Swag Codes, that are only good for a few hours. You never know when they will post them, but if you are a regular social media user, you are bound to see them once in a while.
Here's an example of a Swag Code alert on Instagram: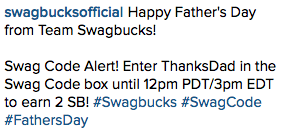 Once you get your Swag Code, enter it here:


The Swag Code box is on the right hand side of your dashboard, next to your inbox. Simply input your Swag Code and then enter Redeem Swag Code. Be sure that you enter the Swag Code carefully, as one typo can throw it off.
Shop
Now, I'm not one to buy something just to earn points, miles, bucks, whatever. That would defeat the purpose wouldn't it? But, there are occasions when you know you are going to buy something and it makes sense to check through Swagbucks first, to see if you can get points.
A few months ago, my favorite restaurant was on Groupon. I knew I had to get the deal. I checked with Swagbucks and was pleasantly surprised that Groupon was on there, so I could get a deal AND earn more SB.
They have name brand retailers like Walmart, Old Navy, Groupon, Living Social, Amazon, Expedia and more. Like I said, don't go spend money just to earn Swag Bucks. But if you are making a purchase, check with Swagbucks first!
What Can You Buy with Swag Bucks?
SB are typically worth a penny. Yeah, nobody's getting rich here, but it all adds up. I have made over $20 in just a few months.
Using SB, you can buy a variety of things in their Rewards Store. You can get Starbucks cards, Amazon cards, and even money via PayPal! Also, Chipotle. Mmmm burritos. You'd be hard pressed to find nothing you like — and if you really don't want a gift card, use it for cash via PayPal.
So, I think Swagbucks is a pretty cool way to earn and also have a little fun. There are so many other ways to earn too, these are just the ways I use Swagbucks to earn gift cards.
If you aren't signed up, sign up for Swagbucks and start earning. The cool thing is that I can offer readers a $5 signup bonus, if you earn 2500 Swag Bucks in sixty days, which you can totally do.
  Oh YES I want to earn Swagbucks!
I am an affiliate of Swagbucks, which means if you signup using my link, I'll get a little bonus, too. As always, I only write about things I'm passionate about or personally use myself.
Hey everyone! I'm back from my crazy two-week vacation. My goodness it was glorious. A few days before my vacation, I was driving myself crazy with all the work I had to do that it hardly seemed worth it. I wanted to throw my computer in the trash and just go run and hide.
Luckily I survived 😉 And it paid off. For two weeks, I spent time in Madrid, Nerja, Malaga, Gibraltar and Lisbon. I got to see my friend who is teaching in Spain and it was so great to relax on the beach with her and just enjoy life.
I feel like a completely new person from this vacation. The trip really illuminated some things for me about what I want in my life and what I don't — and how I want to go forward.
I have some juicy posts coming up about my big plans and also the nitty-gritty on how much I spent (hint: I spent less money than the value of my round trip flight).
But today I want to bask in the glory of travel and remember why exactly I love it so much — and why I encourage you to go deeper and seek other skies than the ones you call home.
Traveling abroad can be a wonderful and disorienting experience. It disrupts your routine and immerses you in a way of life completely different from your own. In my case, I felt more at home in Spain than I do in Portland. I loved eating dinner at 9pm and going out at midnight. I enjoyed long walks and espresso and a slower pace. I was reminded that the point of living is not to just work. There is so much more to life and so much of the world to discover.
During this trip I had several "good" cries. I simply felt overwhelmed with happiness, the beauty of art, the strange yet comforting feeling of being somewhere new, yet feeling totally at home. It's been a minute since I've had a "good" cry. I'm used to the depressed cry, the stressed cry, or the-whole-world-is-caving-in-on-me cry — those are shadows of myself that sit on the sidelines, waiting for an opportune moment, but I try to keep them at bay.
But the good cry felt so good. I probably looked like an insane person walking down the streets of Lisbon, crying from a  beautiful church, and just giggling at myself at how ridiculous I looked.
I felt happy. I felt like I was taking care of myself. For the first time this year, I wasn't glued to the computer for 60+ hours a week. I got actual sunlight instead of the deceptive glare of my computer.
It was so refreshing. This trip has really got me thinking. Ya'll know I'm all about the hustle. Hustling is my MO and just part of my DNA. But I'm starting to realize we glorify hard work to a gross degree. We act like it's okay to work until you pass out, live on your computer and phone, and always "be on".
I don't think it's right. We need to take time to practice self-care and not get caught up in the productivity propaganda. In the States I feel like I'm always fed this constant jargon of be productive, wake up early, blah blah blah. You know what? People in other countries don't necessarily live like this and I think they enjoy life a lot more (personal observation).
I'm ready to lay down my badge of workaholism and really try to focus on me — meditate, exercise, read, rest, and have time to do "nothing". I am so uncomfortable with doing nothing, which is exactly why I need to practice sitting still with myself and rejuvenating.
Another great thing about this trip was that it was completely confidence boosting. Although I did go see a friend in Spain for a few days, the majority of my trip I was alone. No boyfriend, no family, no other friends. There was just something about traveling by myself, navigating a new country, speaking and stumbling in another language, that made me feel confident. If I can travel the world by myself and turn out just fine, why can't I do other things?
That's not to say that traveling alone was easy. I can't tell you how many times I got lost, there was a miscommunication, or an awkward encounter. But as I found myself wandering the streets, with no real direction, not knowing where I was or where I was going, I felt strength in feeling lost — I knew I'd find my way again. You always do. It felt like the perfect allegory for life and my business.
Sometimes I wonder "Where the hell am I going with this? What am I doing?" but I have to remember that I always find my way.
So, I'm back and ready to work. But also to take care of me, too. I urge you to take care of yourself as well. Work will be there. I promise you when you are on your death-bed, you won't be thinking, "I wish I would have worked more!"
Tell me. What will you do for yourself this week? When is your next vacation?
p.s. check out some of my photos from the trip on Instagram.
I can't believe the end of March is approaching and in just a few days I fly to Vegas to see Tonya for 48 hours and then in a month I am going to Spain and Portugal. Say what? All because of travel hacking, too.
I have to say that things have been increasingly busy here and ever-changing. I've gotten some new opportunities that I'm really excited about and I've moved on from some others. It's been a time for change and growth for me — getting uncomfortable and trying new things, letting go of things that were safe and comfortable.
In addition to giving you a brief update about my life, I want to share with you the state of my debts. I regret not posting updates sooner, and quite frankly it's because I haven't loved my progress.
Life has gotten in the way in some cases, but it just feels like an excuse. Just because I don't love my progress doesn't mean I shouldn't share it with you, right? I know that paying off debt is a journey. There are stops and starts, setbacks and times of great momentum. I guess lately I've just been so incredibly bored by the idea of debt. Like, oh, I'm going to bed next to you AGAIN?
Dear debt, put some spice back into my life. I think my upcoming adventures will do just that and I'm really proud of myself that I have money saved and am essentially flying for free.
Anywho, last time I updated you, my debt was at $33,740.36.
It is currently at $32,343.80.
Although nearly $1,400 is nothing to sneeze at, that took me 2 months to do. I'm still getting used to this freelance payment schedule where things seem to come at the end of the month, or sporadically throughout the month. I will say it has made my payments more difficult, but I'm committed nonetheless.
Luckily, my income is growing and as it grows, so will my debt repayments. Because I want these things gone, yesterday. Even though I say I'm bored with my debt, I'm still passionate about being debt free. I don't want you to think I'm giving up, despite my recent musings about how tough life is.
Things are better and it just reminds me how quickly things can change. What a difference a day makes (one of my favorite songs by jazz goddess Dinah Washington). I've also come to realize that hard work largely is invisible while you are in the thick of it. Then ONE thing can happen that affirms that you are doing the right thing and headed in the right direction.
So, the point is, have faith. Keep going. Work hard and continue trying. You may not see the results, today, tomorrow, or even in a year. But you are building something. And it will rise, and weather the storm.
What's new with you?
p.s. need some more debt motivation? Check out Fruclassity from my dear friends Laurie and Ruth.
Life is expensive.
Life is hard.
Life is a work in progress.
This is what feels true for me right now. It feels like this past week, with the wild full moon, that everything has been out of whack (anyone else?).
It seems every day there was something new. An unexpected expense, a miscommunication, a misunderstanding, or something else to add to the pile.
All in all, each frustrating moment was small in and of itself — but compounded over time, these things have added up and have chipped away at my strength.
I don't want to write a total Debbie Downer post, but you know I'm never one to put on a front. I'm a pretty emotional creature that wears my heart on my sleeve (for better or worse). And this week has been tough. I'm actively taking steps to take care of myself and put myself first. But in the process of doing so, I have to wrap up several things and hustle to make things happen. Change doesn't happen overnight.
This was the first week since being self-employed that I felt like giving up. It was the first time that I thought maybe going back to a real job would be easier and I could just work 9-5 and call it a day. I also thought about giving up on debt. Looking at my repayments, I see that so much is going to interest, it feels so pointless.
But I have to remember the wisdom of my friends: hard work sucks, but quitting sucks harder. I'm just going through some growing pains. It's like I've grown 6 inches in 6 months and I'm in that awkward, clumsy phase.
Life is also changing so quickly. We were notified that our month-to-month lease would go up $120 per month if we didn't sign another 6 or 12 month lease. So we signed a 6 month lease, paying $60 more each month, and then we'll probably move. Back to LA or NYC? Somewhere else? We're not sure yet, but we're 98% certain we're not staying here. I'm ready for a change. But I'm beyond stressed about the financial part of it, as we need to boost our income significantly to make this happen. Luckily, I can move anywhere and make money, but my income still needs to grow.
So, that's what's going on with me. I apologize for the silence here and will be posting some more debt updates soon. Even though I've felt like giving up, this community keeps me going. I haven't been as active as I want to be, but I'm so inspired by bloggers and readers alike. Keep rockin' the journey. I guess this is part of the adventure.
For some further reading/listening:
The Privilege Of Pursuing Financial Independence by the FrugalWoods (a super important part that is often glaringly missing from conversations).
Why Are We Deferring Our College Loans? by the brilliant satirists at the Onion.
If you saw me at FinCon, you know I LOVE dancing. So this story about a group of women that are throwing a party for a man who was body shamed while dancing, completely warmed my heart and made my day.
I was featured in this article about weird jobs that can help you pay off debt, talking about my experience walking invisible dogs as a brand ambassador.
I sat down with my friend Eric and talked about quitting my job to pursue my dream. Listen to the podcast.
I also set down with my gal pals in the PF world for a hilarious happy hour. Listen to me talk about my cheap ex-boyfriend.
I hope you have a great weekend!
This post is part of the TaxACT How I Save blog tour which teaches you ways to keep more money in your pocket. Last year, TaxACT saved America over $240 million on tax preparation. How much can you save? To learn more about tips and strategies on saving, click here.
If you are anything like me, one of your goals for this year is to save more money. Saving money can help you get off the debt roller coaster and cushion your finances when an emergency occurs. Not only that, but saving money means more possibilities — things like quitting your job, traveling the world, and saving for your first house.
But let's face it: saving can seem like a chore. Spending is often seen as the sexier, more fun option. However, there are easy ways to save money on just about everything.
Saving, like anything that you want to master in life, requires persistence and practice. Saving money will stop being something that you force yourself to do, and will become a lifestyle.
For me, I had to learn early on how to save money. As a perennial nonprofit worker turned freelancer who also happens to be fighting off the beast of student loan debt, saving money was always part of my lifestyle — especially because I didn't have a credit card until I was 28, so I relied solely on the money I had.
Here is how I save on nearly everything:
Housing
Housing costs can often eat up a large chunk of your budget. When I lived in LA and NYC, I could feel it with my rent costs inching up to 50% of my income. I now live in an area with a lower cost of living in a modest studio apartment with my partner. As we have gotten older, we have said "no" to lifestyle inflation. While many of our friends are buying houses and enjoying large 2 and 3 bedroom apartments, we are content with our small, yet cozy space. We save thousands of dollars each year by choosing to live in a modest space.
I know living in such a small space won't work for everyone, but here are some tips to save on housing:
Ask yourself, what do you really need space wise? Can you afford to downsize?
Consider moving to a lower cost of living area
If you are in a larger city, consider a cheaper neighborhood or living with roommates
Live close to work
Food & Drink
This year, I plan on saving more money than ever by eating at home more and drinking less. Eating at restaurants is my Achilles' heel, but eating and drinking out is just so expensive. I am looking up cheap recipes on Pinterest, doing more meal planning, and buying mostly fresh produce and beans in bulk. We don't eat much meat, which also helps the bottom line.
If we do go out, it is often with some sort of coupon or for happy hour. Also, we like to have a rule that we either go out to eat, or go out for drinks, but not both. We've learned that doing both can quickly lead to a hefty bill.
To save money on food and drink:
Transportation
Ever since leaving LA, I have been carless, and it's been fabulous. Between insurance, gas, repairs, and potential car payment, cars are money-hungry beasts. I am saving thousands of dollars per year opting to bike, walk, and take public transportation everywhere.
If going carless is not an option for you, consider being a one-car household, or commit to taking public transportation a few days per week. Buy used, instead of new and use sites like GasBuddy to find cheap gas in your area.
To save money on transportation:
Go carless
Take public transportation
Walk or bike if possible
Carpool
Become a one-car family
Buy used instead of new
Compare prices on insurance
Entertainment
Because I am in serious debt pay off mode, my entertainment budget is abysmally small. As much as I'd love to go to more concerts, more movies, and see more live art, it's a luxury I often can't afford.
But I still do manage to have fun and get my fill of culture on the cheap. I save money on entertainment by:
Going to museums on 'pay what you can' days
Attending my local art walk
Using Netflix over cable
Attending free movie screenings
Volunteering to be an usher to see a live show
Business
Now that I'm a full-time solopreneur, I'm always looking for ways to save money. This means that when possible, I prefer checks over PayPal, or even better, direct deposit. I know PayPal fees are the cost of doing business, but it doesn't hurt to ask your client if they offer another method of payment.
In addition, I make sure to keep track of business expenses, like computer repairs, so I can deduct them from my taxes. After all, you want to save as much money as possible on your taxes, so be sure to keep your receipts and stay organized with your finances!
How I Do It
After saving so much money in all aspects of my life, I make sure to pocket that money and not go out and spend it. Remember, it's not how much money you make, but how much you keep. I am a firm believer in targeted savings accounts, which can align with your financial goals.
Personally, I automate my savings so that money is deducted from my checking account each month to fund my goals. That way I don't have to think about it and there are no excuses. I use targeted savings accounts to fund all my short, medium, and long-term goals such as my emergency fund, travel, taxes, and retirement. This way, I know exactly what that money is for.
As you can see, saving money doesn't have to be hard or even painful. You can still live an awesome life AND save money. Start by saving as much as you can (10-50%+ of your income) and choose to spend on your values, while cutting out the rest.
Use these tips to start saving today so that you can rock your goals this year. If you want to save even more money by saving on your taxes, enter to win a free copy of TaxACT below:
How will you save money this year?
Photo credit: http://deathtothestockphoto.com
Hey party people, happy Monday! I am thrilled that today we have a very special How My Blog Changed My Life. If you're new here, this series was born after my realization of just how much my own life has changed because of this blog — which spurred me to reach out to others and showcase how this unique medium can truly be a life altering experience. This is especially true for today's guest, J.D. Roth, founder of Get Rich Slowly.
J.D. has gone from being deep in debt to being a renowned personal finance expert who has built one of the most popular personal finance blogs around.  I am inspired by everything he has accomplished and am grateful to call him a friend.
Read more about his journey below and on his blog, jdroth.com.
What was the inspiration for starting your blog?
I started "Get Rich Slowly" to share what I was learning about saving and investing. I'd already been blogging for NINE years when I started the site (I was blogging before "blog" was even a word), so I had a handle on how to write for the web. But I was just learning about personal finance. I was deep in debt and trying to figure things out. I'd written a popular post at my personal site about how it wasn't possible to get rich quickly, but it WAS possible to get rich slowly. Based on the response to this article, I decided to start what I thought would be the first-ever personal-finance blog. Little did I know that folks like Jim and Harlan and Ramit had already been doing this for a couple of years. In time, this new hobby became my main blog — and then my main job.
What has been the most challenging part of having a blog?
Blogging can be challenging in many ways.
For one, there's the decision about how public and/or private to be. How much information is TOO much to share with readers? And how opinionated should you be?
Some folks are so scared of stalkers that they try to be completely anonymous. That's fine, but I think anonymity makes it more difficult for an audience to connect with you. They want to know who you are and what you're like. It's perhaps no surprise that the most successful bloggers I know are the least anonymous. And, in fact, here's a little secret that we very public folks seldom reveal: The blog posts in which we bare our souls the most are often the most successful. When I write something vulnerable that I'm scared to share, that's what usually makes my readers most excited and loyal.
It can also be tough to know which opinions to share — and how strongly. Obviously, you have to share your opinions on the subject you cover. What's a financial blog without a position on debt reduction or investing? But what about your private life? Should you share your political views? Your religious views? Your views on sex and dating? Some people would argue that it's good to share your opinions, even if you make people angry. These folks argue that controversy grows an audience. I see their point, but I'm not sure it's necessary to take a stand just to spark interest. I've always tried to be very even-handed, only taking a stand when I'm moved on a particular issue (not an entire platform). For instance, I rarely discuss my religious and political ideals, but I have no problem saying that the U.S. health care system is FUCKED UP and as imperfect as it is, nationalized medicine is a better option. See? I'm taking a stand on an issue, but not revealing my complete political leanings. (For the record, I'm a small-l libertarian. IN GENERAL, I'm an economic conservative and a social liberal — very Oregonian — but that's not always true. Like, I support socialized medicine.)
One other ginormous challenge is keeping a blog fresh without it becoming a chore. Blogging is work. Too many people jump into blogging with the belief that they'll make money online quickly. Well, guess what? To do well, you have to be able to write well. You have to be able to network. You have to be able to market yourself. You have to exercise a lot of self-discipline and develop skills in many areas in order to succeed. I believe strongly that MOST bloggers would profit from taking a writing course from their local community college. Learn to tell a story. That's the best way to make your content relatable for other people.
In what ways, direct or indirect, has your life changed because of your blog?
My life has changed completely because of Get Rich Slowly. Ten years ago, I was fat, deep in debt, and increasingly unhappy with my marriage. After getting out of debt, I sold Get Rich Slowly, and that took my financial well-being to another level. (I often say that I no longer need to save for retirement. I still have to work to cover my day-to-day expenses, but my retirement is taken care of because I sold the site.) My financial success gave me confidence to lose fifty pounds and to start traveling the world. And, ultimately, it gave me the courage to make some deep changes with my personal relationships. Plus there are all of the great people I've met (like you, Melanie!) and the places I've been able to go as a result of my blog. And the opportunities, such as writing a book and magazine column.
What have you learned from blogging?
Because of my blogging success, I've become MUCH more confident (and extroverted) than I was when I was younger. I've come to believe all of those obnoxious self-help tropes: If you don't try, you can't succeed. You make your own luck. It's hard work that creates change (see: http://i.imgur.com/xWzjHUQ.jpg). Etcetera. Etcetera.
Here's one important lesson, especially as your blog audience grows: Never assume anyone reads your blog; but, at the same time, always assume everyone reads your blog. What I mean by this is that you can't assume that your friends and family read what you write. You can't assume that your colleagues read what you write. Maybe they do, but maybe they don't. When you see folks in real life, don't be offended if they haven't been following you online. (My girlfriend doesn't read my blog, for instance.) On the other hand, EVEN IF YOU BLOG ANONYMOUSLY, you should assume that everyone reads your blog. You shouldn't publish anything for which you're unwilling to accept the consequences. I've heard tons of real-life examples from friends and colleagues who thought it was safe to grouse about a person or organization only to have their comments create terrible drama.
What advice would you give to new bloggers who are thinking of starting a blog?
When people approach me about starting a blog, my advice is to start small. Don't dive in thinking you're going to post three articles a week. Don't place any expectations on yourself at all! Write when you feel like writing. Write what you feel like writing. Do it for love. Don't do it for the money.
If you're doing it for the money, you're most likely going to give up in a few months (or a few weeks). But if you're motivated by some other passion — you just want to write, you want to share what you know with a certain audience — you'll be much more motivated to continue. You'll also make better decisions, decisions that are more in line with the interests of your readers. Usually folks who blog for money do desperate things to enhance income, which simply discourages their readership from growing.
Thanks for sharing your story, J.D.! I also wanted to share with my readers J.D.'s awesome Get Rich Slowly course, which offers one lesson each Monday for an entire year, to master your money and build wealth. I am an affiliate and will make a small commission if you purchase from the link above. As always, I only share things with you that I think are worthwhile, because I don't believe in wasting time or money! 
Make 2015 your best year yet and learn how to save, pay off debt, invest, and more — and learn from the best! You can get the basic course for as low as $39, which is a total steal for 52 weeks of lessons. 
Two years ago today, I published my very first post. I shared my story, my struggle with student loans, and my desire to get out of debt.
At that time, my blog was not so much a form of self-expression — it was a lifeboat. It was an outlet, to have someone, anyone, listen to these thoughts that were driving me insane.
You see up until that point, I thought I did everything right. I went to college, worked hard, had a career, and went to a prestigious graduate school. I thought the world was my oyster. I played by the rules. While I have always opposed debt, I thought education was different. I truly believed that education would lead me to the biggest, and best opportunities out there.
But it didn't quite happen that way. After graduating from NYU, I stayed in the city for six months looking for full-time work. After 30 interviews, I was exhausted of being on the merry-go round. So I moved to Portland, Oregon to be with my love, after miraculously surviving a long-distance relationship.
I thought I'd arrive in Portland as a big fish in a small pond, but then I realized that Portland is more like an aquarium. The job market was even worse — there was hardly any funding in the arts, or nonprofit sectors, and for the year and a half I looked for full-time work, I had a total of 5 interviews.
So I jumped from temporary job to temporary job, doing anything to get by. It was also the time I did what I previously thought as unthinkable. I went on food stamps.
To have a master's degree to being on food stamps was a startling and humbling jump. Every day I felt like I was drowning in debt. Without a career, I didn't know who I was. My career and my identity were so inextricably linked, I felt lost and wandering. What did all of this mean? Who was I without a career? Who was I with all this debt?
I felt like one sad sap. Every day, I would cry and complain about my situation. After crying one too many times to my family and my partner, I sought professional help. Since I was on food stamps, I couldn't afford much. Luckily, the local counseling graduate school had low-cost sessions as part of the students' training, so I negotiated $5 therapy sessions.
Therapy was great in that it gave me someone to talk to. But after six months of treatment, I felt like I was rambling in circles. I hardly felt any better.
After a few months of continuing to feel this way, I was absolutely sick and tired of myself. I was selfish, sad, and lost in debt, unable to truly see the great things around me. So I started searching for some answers.
How could I get out of debt? How could I turn my life around? And so I started lurking and became an avid reader of personal finance blogs. I felt like I found a community. Every day at my seasonal job, I would sneak around  to read the latest posts. I loved it.
After lurking for a few months, I finally got the guts to email Kathleen and invite her to dinner. I was thinking about starting a blog, but I was scared. I didn't know what to do. At that time, I was so embarrassingly inept with technology, having a blog sounded like mechanical engineering.
A few days later Dear Debt was born. But the first iteration was called Do or Debt, because for me, it felt like a do or die situation. I had to get out of debt. My blogger friends make fun of me now, because it looks like door debt. For the first seven months of blogging, I fell in love, but also felt like I wasn't exactly myself. I was talking in vague notes and petrified of people knowing who I really was. After all, I was on the job search too, and didn't want people to find me whining about my debt and not finding a job.
Funny enough, I finally found a job, which allowed me to loosen up a bit. I started to think of ways I could recharge my blog and make it more me.
I'm a sucker for relationships of all kinds, and I truly believe many of our financial decisions are deeply rooted in our emotions. From this, Dear Debt was born, and I started writing break up letters to debt.
I've been astounded with the feedback and grateful for the people who have participated in the project, by submitting their own dear debt letter.
I want to empower people to express themselves and break up with debt, once and for all. Flash forward another year, and I quit that job that I was desperate to find. In the end, it wasn't a place that was right for me, and I was on a different course. My talents weren't being utilized to their full advantage.
And so with that, I've been a full-time freelancer for six months and I can't believe it. This year has brought so much joy, so many opportunities, and so many friendships.
This blog has turned into so much more than just a place to keep myself accountable. It's turned into a place of friendship, community, hope, love, support, and guidance. I've been mentored by some great people in this community and I've received some truly heartwarming feedback from people who have told me my writing is helping them get out of debt and feel less alone.
In my first post 2 years ago, my total debt was: $57, 426.14.
Today it is at $34,640.53, which means in 2 years, I've paid off $22,785.61 or roughly $949 per month on average. Before that, I had already paid $23k over six years by paying slightly over the minimum, which accounts for my $81,000 total. It wasn't until I graduated with my M.A. that I realized I had to do things differently this time.
While I wish my debt pay off number was bigger, I have to remember that I've been able to do this on a very small salary. When I started this blog, I was making $12/hr. Through hard work, pay increases, cutting back,  and depleting my savings I've been able to do this.
And of course, with all your generous support. I would have given up blogging long ago if it weren't for the bright stars in this community guiding me towards debt freedom.
So whether you are a new reader, or have stuck with me since the beginning, thanks for your support. It really does mean the world to me. I found a place where I felt like my voice mattered.
Thank you and may all your debt free dreams come true.