As you might have noticed, it's been awhile since I posted. I'm not proud of that but sometimes life just gets in the way.
Sometimes it's about surviving what's ahead and dealing with "in real life" stuff rather than my ramblings online.
I love this space and want to continue to nurture it but I also need to take care of myself. This year has brought physical health issues, mental health issues and most recently, the dissolution of my 9-year partnership.
Though it is for the best, I am completely devastated. It's been a rough couple of weeks that have tested me in many ways. At times, I could not stand to take it "day by day" but only minute by minute. It's been difficult to eat. To sleep. To let go of those dreams that you held so dear. The ones that will never happen the way you imagined.
I feel like I've lost a limb and I'm learning how to function again. I'm learning how to stand on my own two feet again without having an emotional crutch. Now that everything has cracked, I see all my faults come to light and am trying to become the best person I can be.
It's a journey. If you want to follow along, you can keep up with my personal writing.
While my love life was imploding, I was trying to keep it together for Lola Retreat, the love + money retreat Emma and I have been planning the last 10 months.
And let me tell you. It was beyond anything I could've imagined. It filled me up with so much joy and hope to be around so many incredible women. We laughed. We had fun. We got deep about the issues around love + money (I may have lost it during that session), money mindset and more.
Check out these amazing pics by my friend Kathleen Celmins. And if you want a serious case of FOMO, listen to the Martinis and Your Money episode we recorded live at Lola.
Lastly, I decided to organize the Suicide Prevention Blog Tour again this year. This is an issue near and dear to my heart and more relevant than ever. If you're a blogger, there's still time to contribute, so contact me!
Anyway, that's why I've been radio silent here. Between the big projects and events and the overwhelming grief, I'm taking it minute by minute.
I am focusing on being resilient (oh yeah, I got my first tattoo a few months ago. Semicolons in honor of Project Semicolon).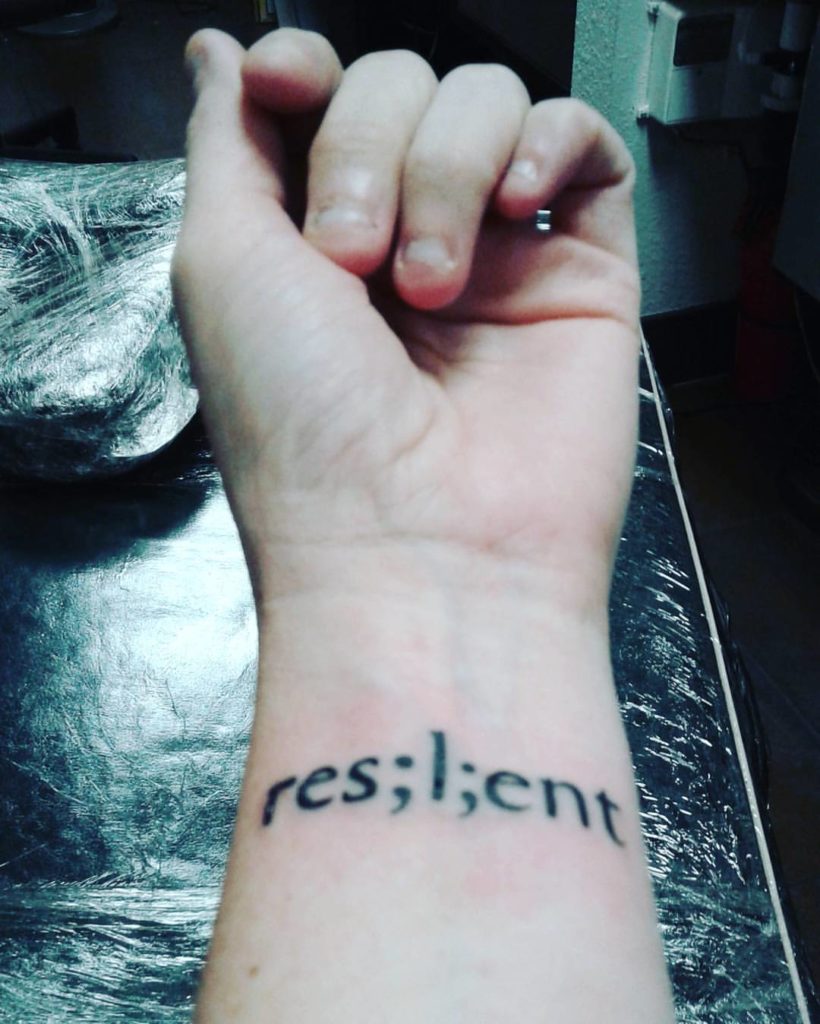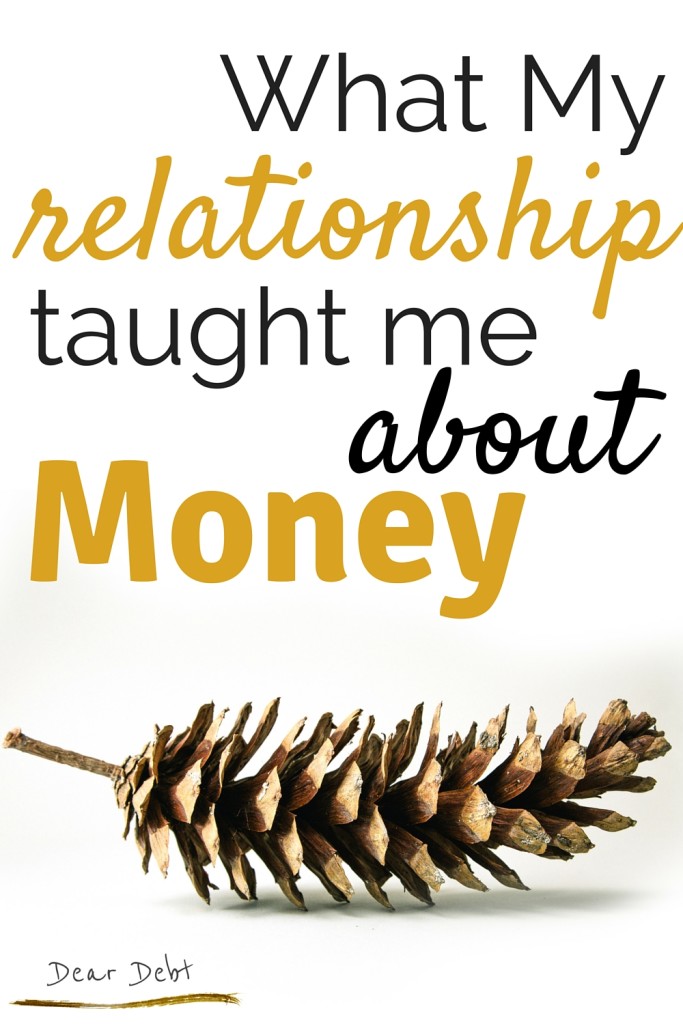 On Monday, my partner and I celebrated our six-year anniversary. It's been an amazing, life-changing ride. We met on a blind date that was set up by a friend and we hit it off immediately.
Six years, three states (California, New York, and now Oregon), many jobs, and ups-and-downs later, we have had quite an adventure. I'm excited for our future, as both of us are now doing well with work and following our dreams. Things are less stressful and we can enjoy just being together.
In many ways, my relationship has taught me a lot about money. My philosophies for both have been informed by my experiences and values. Here are three things my relationship taught me about money.
Protect It
No one should care more about your money than you. So invest in yourself, save money, spend on your values and protect it. The same goes for a relationship. A relationship, like money, needs to be preserved, and constantly worked on. You should protect it and care for it. The dividends paid on taking care of your money and relationship will be so rewarding.
There Will Be Good Times and Bad Times
Relationships can be hard work. You are taking two different people and creating a life together. Things like jobs, values, family, and dreams can become conflicts in creating your future together. You are no longer only taking care of yourself — you are living your life, always thinking about another person. Relationships require care, maintenance, and in my opinion requires learning and growing together to keep going.
Life is a roller coaster, and there will be good times and bad times. In our six years, we've dealt with him being unemployed, me being unemployed, me being a breadwinner, both of us being in school at the same time, and being long-distance. We are finally at a place where we are both working and somewhat stable and it feels so nice. During the bad times it can feel like they will never end. You can easily lose perspective of the love and deep affection that keeps you together. But remember, things get better.
The same thing goes for money. I never thought in my wildest dreams that I would be unemployed and on food stamps after graduate school. It was a very low moment for me and our relationship, especially as I had just moved from NYC to Portland to be with him. Everything felt like a struggle. But eventually, things started to get better.
Regardless of your current financial situation, there will be good times and bad times. Don't rest on your laurels if you are enjoying success. Don't feel like your life is over if you have unexpectedly dealt with a frustrating money challenge.
In relationships and money, there are good times and bad. Prepare for both, and practice gratitude to get you through it all.
It's Personal
One of my favorite things about personal finance? It's personal. I know it's somewhat cliché to say at this point, but it's true. There are no two financial blueprints that look the same. My relationship, and our decisions on how to live our lives, are all personal decisions as well.
We have decided not to have kids. We are not interested in buying a house. We want a creatively fulfilling, engaging, adventure-filled life. We don't need a lot. We just need each other and some money to get by. Perhaps our way of life sounds immature, rebellious, or just plain boring to some, but it works for us.
In the end, you have to do what is right for you. Invest in what is important to you, and value relationships above all (yes, even over money).
What has your relationship taught you about money? If you are single, what lessons might you share with us "committed" folk? 🙂
A few years ago I worked with a man who was going through a divorce. He and his soon-to-be ex-wife had a kid, and he was coming to terms with his newly single life, and being independent.
He was also dealing with a much different financial situation.  His then wife had spent their kids' entire college savings on online video games – to the tune of $30,000. Gone, just like that.
I was shocked.
$30,000 on video games, right under his nose? To make matters worse, she became a total recluse, and found an online lover. You can't make this shit up.  Of course he decided to end it and left.
My heart broke for the kid. He could very well be in the same position that I'm in, mired in student loan debt, because his mom spent all his college money on online distractions.
Just last week, I was at a café and overheard a woman venting to her friend. You could tell she was pissed.
"He said he was going to stop, but I found out he spent $10,000 on video games and beer last year!". Her friend was trying to politely console her.
I kept thinking about financial infidelity, or when your partner actively breaks your trust, hides things from you, and spends your money in a selfish and destructive manner.
How can you get over that? When the money is gone, it's gone.
We like to think that love transcends money, but money is a key player in our relationships. It's the number one cause of divorce, and people are scared to talk about it. Money becomes a symbol of power, oppression and privilege.  People use it to fuel secret desires, hidden addictions, and foolish hobbies.  Money can be the demise of your relationship, because unfortunately, sometimes love isn't all you need.
Make money a key player in your relationship.  Have a ménage a trois with it.
Don't let financial infidelity happen to you. Be honest with each other. Share your interests and hobbies. Come up with a savings plan. Attack your debt. Think of the big picture, and most importantly think of each other. Actions are not without their consequences. A partnership requires trust, and money is not excluded from that equation. Communicate. Again and again and again. Not all of it is easy or fun. But no one wants to feel like they are being duped or becoming resentful of their partner's actions.
Have you been financially cheated on? Or know someone who has?
Want to know how I really felt about being in a long distance relationship? Here's a post straight from the graduate school vault. At least I know this blog will reach more people than I did in school (ha!). No, this is not becoming a relationship blog, but I do believe personal finance is all about relationships. Our relationship to money, others, ourselves and things. Take a look inside. Will be back to our regular scheduled program shortly.
It has been 312 days, 10 hours and 6 minutes since we departed.
That day was awful.
I had my whole life in two bags, we were late for the airport with the ever-present traffic that defines Los Angeles, and either from nerves or too many goodbye parties, I was also sick on the way there. Our goodbye was not romantic, not even memorable as I ran towards my departing flight. I told him I loved him as I left for my new life. I came to New York City, June 1st, 2010, 3 days before my master's program started. Everyone thought I was either crazy or brilliant to leave a job, a nice boyfriend and what some call security behind. I couldn't tell which one I was either. Ryan and I dated two years living in the same city and fell hard and fast for each other. It is a love that consumed me in all the right ways and made me experience friendship and love differently from previous relationships. I always thought I would never be one of those people who were in long distance relationships. I could never understand it. But, when I got my acceptance letter to NYU we had a long talk, the sort of talk that is uncomfortable because on the table is the prospect of losing the one you love, the prospect of throwing everything away just because of geography. After several days of going back and forth, we decided I would move to New York and we would stay together and make it work.
The first nights in New York City were the loneliest. I knew no one and I missed his smell and everything I had defined myself by in Los Angeles was suddenly amiss. The pangs of longing set in as I ached through my daily life; a new life, without him; a life where I defined myself, by myself. As alone and independent as I felt, he was everywhere. I saw mirages of him in the concrete, I heard music that reminded me of his bass playing hands, words triggering flashes of memory stuck between the nostalgic past and the hopeful future.  I missed waking up next to him, laying my head on the nook of his chest. These are mundane delights I long for. LONG for. Long distance. Longing. Longing and desire.  How much/so much longing and desire. He has stained my skin with his presence, the vapors of his love in the depths of my lungs.
After 3 weeks of adjusting to my whirlwind new life, he came to visit and everything was back to normal. Life was wonderful again and our physical memory reminded us of this. How many memories were stored in the nape of his neck, the follicles of his hair and the hands, which dexterously mastered my body and his bass. When he left, it was as if a band-aid had been ripped off my wounded, stained skin.
More recently, parting becomes increasingly difficult. Usually things get easier, but not leaving the one you love. It's always a question in the back of your mind, "could this be the last time I see you?" The doubt fades as reality sets in, and tears pour out. Sometimes I think I can't do it anymore —  I can't live without him. Why did I decide to leave everything behind? My ambition? My dreams? For what? When people hear that I am in a long distance relationship, after a while people usually ask, "How is your boyfriend?" in a tone that reveals the tragedy of how most of these relationships end up. It's as if they are checking up on me. I smile and say we are fine. We ARE fine! I am both in a relationship, while by all practical purposes, single. I am in a relationship that is held together by the glue of the past, and dreams of the future. The present is something we live and tell each other about through stories.
—-
Boy am I glad that is over…and we survived! Have you ever taken a risk in your relationship? Did it cost you the relationship? Money? Both?
I never thought I'd be in a long distance relationship. I was one of those of people who thought people in long distance relationships were ridiculous.
Why would I do that to myself? That's so silly! Find someone new, find someone local!, I thought.
But sometimes things happen in life that make you re-evaluate everything. When I got into my dream school in NYC, I was living in LA and my boyfriend and I had been dating for 2 years. We had talked about me applying to grad school in NYC, but because it was my dream school I really didn't think I had a chance. I thought for sure I'd get into my safe school, which was in LA.
I ended up not getting into my safe school, so I put my thoughts of grad school on the shelf. Then in a surprise move, I found out I did get into my dream school. My options were to move to New York or not go to graduate school at all.
To make a long story short, moving to New York for graduate school made sense at the time. My partner was also in school and was planning to transfer to another school. Before I moved to New York, we went on vacation to Portland, Oregon. We both really enjoyed the place, and I flippantly said he should look into schools there.
As life would have it, I moved to NYC for school and he moved to PDX for school. It was one of the hardest decisions we had to make, but we both didn't want one of us to not follow our dreams and feel resentful. But what were we going to do?
At this juncture in time our options were to stay together or break up. I decided to go with the least painful option, which was to stay together. Suddenly, I was going to become one of those people in a long distance relationship and I was determined to make it work. Here are the tips that got me through it:
Come up with a game plan: How long will you be long distance? How often will you communicate? How will you communicate? How often will you see each other? These questions are so important to figure out on the front end, to avoid confusion and heartache later on.
Create a routine: Routine can be immensely helpful in feeling stable amidst so much change. Find out what works best for you two. Maybe you will decide to start the day off with a text, and end the night with a goodnight phone call or Skype session. Once you decide what that is, stick to it and if you can't for some reason, communicate about it.
Sign up for air miles, train points, etc: When I was doing long distance I had an airline mile accruing debit card, and I also joined all the clubs to get miles for each flight. Because Portland and New York City are at opposite ends of the country, we accumulated quite a few miles during each trip. We were able to get three flights for free during our long distance adventure and that was extremely helpful. Also, empower yourself and know when the best time to buy is, and find deals. Buying flights on Monday and Tuesday is much better than buying them Thursday-Sunday. I also used TravelZoo to find deals. Flying on Thursday or Saturday is much cheaper than leaving on a Friday and coming back on a Monday, is much cheaper than coming back on a Sunday. Learn these tricks to save some money.
Schedule Visits: For me, the worst thing about doing long distance was not knowing when I'd see my boyfriend again. It's a really unsettling feeling. We would schedule our visits months in advance, just so we'd have something to look forward to. Knowing exactly when you will see each other helps ease the pain and shortens the time between visits.
Find a support system: Make new friends, find others in long distance relationships, and make sure to have a steady support system. It's important to feel independent, but also connected despite the distance. Have a friend to call if you need to vent. I don't recommend that you talk to your partner about how hard it is doing long distance. Save those conversations for friends and do your best to keep conversations with your love positive.
Make visits fun and frugal: Seeing your loved one arrive at the airport (or train/bus station, etc) is one of the most glorious feelings in the world, especially if it's been months since you've seen them. You look at your partner with a new curiosity, a renewed love, and a happy heart. Conversely, sending your loved one off to go back is utterly heart wrenching. I can't count how many times I broke down and cried in the airport or train home. The time together is never enough, so make it fun! Go on walks, go to dinner using groupons, find cheap happy hours and stay inside a while 🙂 The primary cost with long distance is transportation, so save up your money for that. Being together should be your first priority, and not spending all your money like it's your last night alive (I've done that).
Keep the romance alive: Being in a long distance relationship can be really lonely. You are technically in a relationship, but in a lot of ways you feel single, but you can't act like it. It's really important to keep the romance alive when you are apart, so you don't move your relationship to the friend zone. My boyfriend and I set up this system where we would count down the days until we saw each other with a sweet note, or email. I'd send an email (62 days until….), the next day he'd send an email (61 days until….) and we would send each other love notes, songs, pictures, etc. I still have all the emails and they are really fun to go back and read. I know it sounds cheesy, but keeping the romance alive is SO important when distance is a barrier to physical connection.
Move or Breakup: I know that sounds harsh, right? But you are not going to be doing long distance forever. No one starting a long distance relationship intends for it to be a permanent thing. There was a point in my relationship where I wasn't sure if I was going to stay in New York. I really wanted to, but the financial cost and missing my love was weighing heavily on me. After giving New York my best, I decided to move to Portland and be with my partner. Many of my classmates started graduate school in long distance relationships and to my knowledge I was the lone survivor. Everyone else broke up. Long distance is not easy, but if you are committed, you can make it work.
Adjusting to being together again: Ryan and I were inseparable for the first two years of our relationship in LA, which made doing long distance that much harder. But after a year and a half of being apart, you are forced to be really independent. I didn't have to check in about dinner or plans, and I could take care of myself. When I moved to Portland, we both had to adjust to being together on a full-time basis and dealing with some of the unglamorous parts about living together: Who pays the bills? Who cleans what?  What are we having for dinner? After doing our own thing separately, it took a while to get back to our groove of being together. After one month of settling back in, everything was great! Now that we've lived together for two years, things are in a rhythm and really wonderful.
Are you in a long distance relationship? Have any other tips to add?
Disclaimer: This post is written from my very privileged, Western perspective and I understand it is not indicative of all women's feelings, and especially those in other countries.
At the early age of seven, I vividly remember playing at school and being panicked by the thought that when I grew up, I had to get married, have a house and have kids. Although we live in a new generation, at that age, I had still internalized many of those gender norms. I remember thinking, do I really have to do that?!
As I grew older, I realized I didn't have to do any of that. To this day, I don't really aspire to any of those things; I don't want to get married, have kids or buy a house. While I may not be the norm, I feel incredibly grateful that women have so many choices.  Although women still make less than men (typically), we now have more opportunities. We are no longer relegated to a prescribed life that we may not want.
We have choices.
Along with all these choices, we are now seeing a shift in gender roles and a relatively new phenomenon: the female breadwinner. 
Women are making money, and in some instances making significantly more than their male partners. Some women are holding down the financial fort on their own.
My mom has been the sole income earner and breadwinner for the past 15 years. As I mentioned earlier, I am dating a musician, and because of the feast or famine nature of his work, I am the breadwinner in my relationship . I make more money and I provide health insurance for us (we can both be on it without being married!).
I have a partner that is not threatened by my successes, and is proud of me. He knows that this is a partnership and making money is one aspect of how we navigate life together. However, this dynamic can lead to a number of typical gender role reversals. For example, I work more hours at my job and with side hustling, so for us it makes sense for him to do the majority of the housework and cooking.
I don't have a get-out-of-cleaning-your-shit card, and I do my fair share of cooking and cleaning, but from a time/money perspective it makes sense. When I know he is working late, I try to have some food ready for him when he gets home. It's about working together with our resources, time and money, and making it work in the most effective way for both of us.
Our situation works well for us, but I also know that the situation can be stressful and uncomfortable for some. Money equals power; some men may not be comfortable making less money than their female partner. Some women may be uncomfortable or resent taking on the brunt of financial responsibility. I think navigating how a couple shares money, and housework can be delicate.
Last week, I spoke to a friend of mine who is going through a divorce. He was married to a woman who made double his income and in his words he "had it made". He didn't have to worry about money, and she let him do whatever he wanted, whenever he wanted. Then he told me something very revealing. He said, "After a while, I felt like she didn't need me. She didn't need me financially, and I had all the freedom and independence to do as I please.  I didn't feel needed, so the relationship changed."
While this is one specific story and isn't necessarily telling of all relationships with a female breadwinner at the helm, I think it is interesting to think of how the shift in dynamic could be shifting our relationships and emotions. Are men feeling like they are no longer needed? Do women have to feel bad for making more money? Where is the balance?
I think it all comes down to communication and values. I don't agree with my parents' situation, but it works for them. I have a situation that works for me. No two couples are exactly the same, which is why it's so important to communicate the needs of both parties in a clear manner. Instead of thinking that one person has more, and one has less, it's about sharing resources to make sure your life is working for you and moving forward the way you want. You are working together.
Are you a female breadwinner? Has it affected your relationship? If so, how?
P.S. Love you Mom! So proud of you.