The following blog post is part of The Road to Financial Wellness blog tour. The Road to Financial Wellness is a three-month, grassroots campaign promoting financial empowerment on a national level and encourages people to pursue their dream lifestyle. Find out more about local events near you.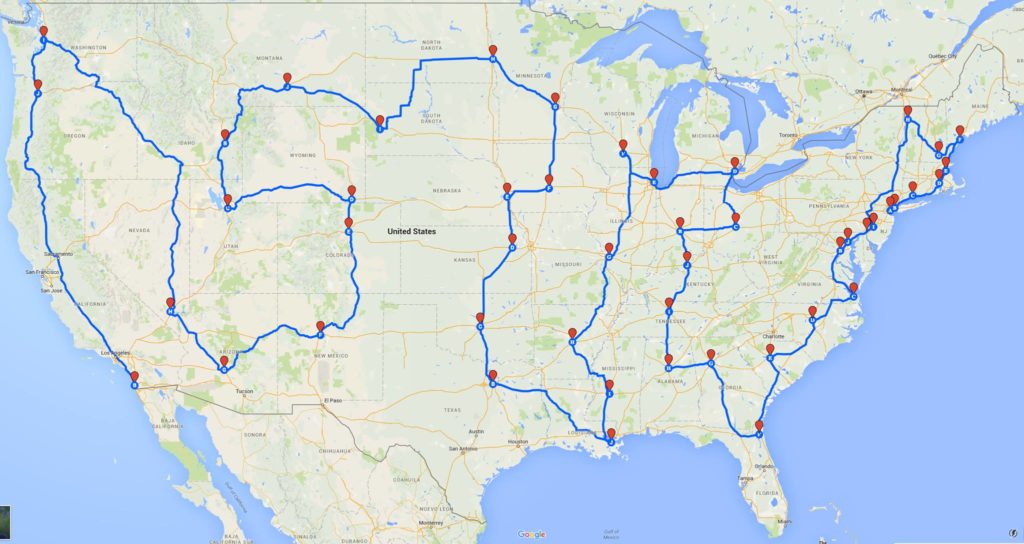 This is the second year in a row I am organizing the Road to Financial Wellness blog tour (there's still time if you want to participate!). This year, though, I'm also helping out with more events and will be going to NYC this weekend to help out with the launch.
I remember last March, Jason from Phroogal called me and told me his crazy idea of going around the country to talk about financial wellness. It was unprecedented. Bold. And quite frankly, a bit crazy. But I fell in love with the idea and got on board. This year we're doing it even bigger and better and going to 50 cities across the U.S.
Now that we're in our second year of doing The Road to Financial Wellness, we get a lot of questions about financial wellness. Namely, what is it?
You know we talk a lot about our physical health and conversations around mental health are starting to take place. But many people still don't talk about their financial health. Money is the last taboo. When things are out of balance with your finances, everything else is affected.
We realize that financial wellness is part of the bigger picture. It's part of making the other aspects of your life and health — physical, mental and emotional, work for you too.
Financial wellness is about aligning your money with your goals. Using money as a tool to live your dream lifestyle — making sure your money is actually working for you and helping you live a life you love.  
How to Boost Your Financial Wellness
There's no denying that many people live paycheck-to-paycheck. Millennials are saddled with high student loan debt and many are experiencing stagnant wages. But those stats don't need to put you in a box.
Despite all obstacles, you can work hard at financial wellness.
Step 1: Identify your goals.
What do you really want out of life? There are no right or wrong answers here. Forget what you've learned or what your parents want you to do or what society thinks you should do. What do YOU want?
Maybe you want to travel the world, or buy a house, or start your own business. Maybe you want to pay for your kids college so they don't have student loan debt. Maybe you want to move to a cabin in the woods or maybe you want to live the high life in NYC. Whatever you truly want, write it down.
Step 2: Look at your income and expenses.
Look at your income and expenses. Cut out things you don't absolutely love and see if you can negotiate some of your bills. It never hurts to ask.
When looking at your income, think of how it aligns with your values and your goals. Does the money you make help you reach your goals or just "get by"? In the past, I was just getting by and it was hard. I felt stuck and hopeless. But I began to side hustle, earn more and boost my income. Earning more helped me live my dream lifestyle — moving to Los Angeles, traveling to Italy with my mom, and doing work I love.
Financial wellness isn't about cutting back to the bone, but spending your money where it matters — on your big, crazy, audacious goals. On creating your dream lifestyle and using money as a tool.
Step 3: Identify what changes you need to make.
Just like physical health or emotional health, it's important to check in with yourself and identify what changes you need to make to reach financial wellness. Look at your spending triggers and what situations or emotions encourage you to spend.
For me, this means cutting out emotional purchases or things that don't make me happy in the long run.
Step 4: Commit to the process.
Financial wellness isn't a state that you reach — it's something you maintain. You have to work at it every day. Make sure you are saving enough for your present and future. Create not just an emergency fund but an opportunity fund to go after your goals.
Spend wisely and treat your money well and it will treat you well in return. Ask important questions when making a purchase. Read the fine print. Be your own financial advocate. And if you're feeling lost, get a financial wellness check up with a financial advisor, money counselor or coach.
You don't need to be alone. I hope you join the conversation on social media using #TheRoad2016. Share your financial wellness tips and learn more from other fantastic bloggers. Check out an event near you!
A few days ago, I was going on my semi-annual purge and getting rid of some stuff. I was sifting through the piles of paperwork on my desk. Check stubs, tax forms, I9s, and there it was…a check.
A check that I wrote to myself three years ago, when I was struggling to get by financially and emotionally.
The check, from me and made out to me, was for $50,000 and represented the salary I wanted to make. During that time, I was making $12 per hour in a seasonal job and had recently hit my lowest point — succumbing to food stamps to help me get by.
At the time I felt stuck. Stuck in someone else's life. This wasn't me. I was never "supposed" to be on food stamps with a master's degree from NYU. I wasn't supposed to be in a low-paying temp job.
But there I was, stuck in this situation. I was really depressed because I felt I wasn't myself. I felt I lost my potential and that I had wasted my (very expensive) education. My mind would run in circles and every day, on schedule, I'd break out in tears for a new reason.
It wasn't a pretty time. I found low-cost therapy so that I could chat with someone about my feelings. It helped a little, but I still felt stuck.
I remember calling my mom one day — one of the many teary phone calls over a period of two years — and she encouraged me to think of the future and stay hopeful. She said, "Write yourself a check of what salary you want to be making."
Reluctantly, I did. I made it out for $50,000 and kept it in my desk for safe keeping. Over the next couple of years, I'd look at it and think about just how far I was from that goal. Even when I had my full-time job, I was only making around $30,000.
When I wrote that check $50,000 felt like a million bucks to me. It felt so far out of reach. I thought it was a reasonable salary and one that I should strive for.
Just last week when I was cleaning my desk, I saw that check and I started to cry. Holy shit. It took me a little more than three years, but I did it. I am making $50,000 (if not more). I cried because I never thought this day would come.
My mom, one of my great supporters, always told me to not lose hope and keep up with the positive thinking. If you've ever been in a rut, or in a deep depression, you know just how hard this is. It feels like you are swimming upstream and drowning. Sinking. But you keep working harder, but it's freaking exhausting.
I'll be honest. For a long time I thought this positive thinking stuff was bullshit. I thought that you couldn't possibly change your life or your world from positive thinking. Things were good or bad and that's it.
I was very narrow-minded and stubborn. Cynical. I didn't believe in this new-agey nonsense. But even though I didn't believe it at the time, it was my life-preserver. I needed something to believe in — a little bit of hope. So even though I thought it was lame and weird, I started to think positively. I wrote that check to myself and tried to see the best in situations and not the worst.
Now, I see that check and feel like that positive thinking manifested itself into reality. I think the problem is we often think that positive thinking will have immediate results — but as I'm seeing, it can take years. It's about resetting your mental energy and attracting good things in your life.
So if you're struggling right now and feeling like nothing good is happening — like it's all worthless and pointless, don't lose hope. Know that you are worth more. Good times are ahead. Your effort to change will create something positive, eventually (even if it's years away). And remember, being in a bad situation doesn't mean you are a bad person. Keep on swimming.
When you first realize that you are in need of financial help and that something needs to change, it can be easy to wonder, "Where do I start?"
I remember when I first realized how much debt I was in, I felt so consumed by the number that I felt paralyzed. I wasn't sure how to move forward or where to begin. Luckily, I have a firm grasp of my finances now and have taken steps to keep my financial life in order.
But if you're feeling lost and want to get your financial life in order, here are six simple steps to get started.
Track Your Spending
The first step is so important! Track your spending for at least three months. Every. Single. Purchase. I know it sounds tedious, but tracking your spending offers huge insights into where your money is actually going. It's easy to think we know where our money is going. But the truth comes out when you track your spending.
You can do this the old-school way via receipts, pen and paper, or use an online tool such as Mint.com to track everything. I personally use Mint.com and I love it! This is an integral part of the process so you can see where your money leaks are. You may be shocked or surprised how much you spend on food or clothes, etc. It can be a painful truth to deal with but it's really eye-opening and can help you make changes going forward.
Calculate Your Net Worth
The next step in the process is to calculate your net worth. Your net worth is your assets minus your liabilities. Assets are anything that has a monetary value such as your cash, savings, investments, house, etc. Your liabilities are your debts such as student loans, mortgage, car loan, etc.
This is so important as you can see exactly how much money you have saved up and also get a bird's-eye view of your debt situation. I know for a long time I was in denial about how much debt I was in. I wasn't quite sure how much I actually owed. So sitting down and calculating everything was so eye-opening for me and gave me the boost I needed to change my situation.
One important note! Don't let your net worth serve as your self-worth. It can be easy to feel like crap after doing this step if you have a lot of debt like me. Don't let doing this exercise turn into a moment of self-hatred. Remember, your net worth is not your self-worth. You are awesome as you are, just try to get your finances in order, so you have a positive, strong net worth.
Check Your Credit Score
Your credit score is one of the most influential numbers in your financial life. It determines so much of your adult life. Your credit score determines if you get approved for that new apartment or rewards credit card and so much more.
To get your free credit score, you can use Mint.com, Credit Sesame or Credit Karma. Once a year, you should also check your credit report, which is a full outline of your credit history, at AnnualCreditReport.com.
You'll want to ensure there are no errors and also check in annually to see your improvements. Doing this can also help you identify potential identity theft and other issues. So, stay on top of monitoring your credit score and credit report!
Invest in Your Future
Yeah, we all understand the concept of YOLO, but I assume you don't want to eat cat food when you are old right? Yeah, neither do I. Start investing in your future, by contributing  to your 401K. This is especially necessary if you get an employer match. Hello, free money! You can invest in your employer's 401K, a Traditional IRA or a Roth IRA. Each one has its own benefits and advantages. The point is to get started.
You can also use something super simple like Betterment.com to get started with investing.
Protect Your Belongings and Your Family
This step is so crucial to protecting your finances. It's key to get the insurance you need to protect your belongings, your health, and your family.
Make sure you have health insurance, renter's insurance or homeowner's insurance, and life insurance.
Health insurance can help you when sickness strikes. I went nearly two years without health insurance and had to pay a hefty bill when I ended up sick. Renter's insurance or homeowner's insurance can protect your belongings in case of theft or other natural disasters. Just make sure to read the terms and conditions so you are super clear on what your plan covers — each plan is different.
Life insurance is also important if you have a family. If something were to happen to you, you want to make sure your family is taken care of financially and not stuck in a bind. To get the best price, compare life insurance quotes.
Being properly insured can save you lots of money down the line — it's easy to think that you don't need these things when things are going well — but once something happens, you'll be grateful you invested in these protective measures!
Spend on Your Values
Money is a tool that can be used for things that bring value to your life. Forget the Joneses and do you! Save money where you can, spend money where it matters and invest in your future. Don't get caught up with mindless crap, but spend money on things that bring value to your life. What do I mean?
Things that make your life easier or better. Or on once in a lifetime experiences. Money can help you live a comfortable, enjoyable life, but you need to use it on what serves you.
Use these six steps to get your financial life in order. Experiment and cover your bases. Compare prices. The key is to be conscious of your finances and not just get into a mindless rut (been there, done that).
You got this.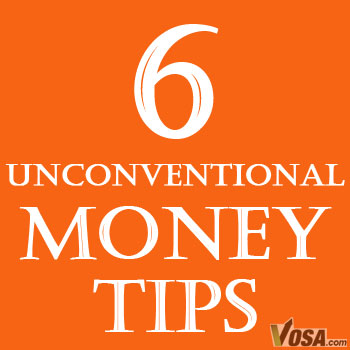 There is a lot of financial advice out there, and sometimes it's really hard to sift through all the voices. But the beauty of personal finance is that it's personal. You do what's best for you. While I respect the expertise of many in the community, I also like to do things in an unconventional way. Here are my 6 unconventional money tips:
1. Don't Buy a House
Many people think that houses are a great investment and will provide a large return in the future. This idea, coupled with the fact that we need a place to live seems to make home ownership attractive. Home ownership is also seen as part of the American Dream, and one of the rites of passage to adulthood.
Read more and share your tips at VOSA.com
In many ways, January seemed like a false start. It seemed to really just be an extension of the holidays. I had strong enthusiasm entering the new year, that quickly petered off as I saw things going nowhere.
I worked only two gigs this month, which for me is pretty bad. I rely on my side hustle income to reach my goals, because my current income doesn't afford my debt payoff dreams.
January felt long and slow. I felt sad and lazy. I felt left with no words, no motivation, trying to muster up all those goals I had so wistfully and thoughtfully outlined.
Then I got my first gig of the month just last week. And since then, it has dominoed into other gigs. I got a one-time writing gig, I got a Brand Ambassador gig, and I just confirmed working as part of the event staff for a crazy, artist created, miniature golf extravaganza.
Suddenly, February and March are booked up and it looks like I will be able to reach my goals! I'm so excited for new experiences, meeting new people, and more adventure.
I crave adventure and get bored easily. Routine is okay, but I like to mix things up. Side hustling offline gives me that.
So the next two months look pretty good, but this month kinda sucked. I made only $100 in side hustle income, out of my $400 goal. I meditated some, but could have been better.
I am happy to report I did do some guest posts, two in fact for Girl Meets Debt and CNA Finance. I also finished a book that I've had since grad school that was collecting dust.
So while I was lacking in some areas, others were just fine.
It's interesting to think about work and motivation. Now that I have worked lined up, I'm super pumped and excited and want to do MORE. When there was nothing going on, I felt like doing nothing.
Work inspires work, work begets work.
I have to remember to keep busy in the right ways and just keep moving.
Now on to the numbers….I was only able to put $1,007 towards my debt. Not quite my $1300 goal, but close enough considering I only made a little bit of extra money.
Grad loan: $35,174.50
Undergrad loan: $8,036.29
Total: $43,210.79
I can't wait to do my taxes. I really hope I can get a decent refund to throw a chunk of money toward this debt. I am desperate to see my grad loan in the 20's and my overall debt in the 30's. It seems so much more manageable! But I can't move in haste, as I have so very little cash to work with at the moment.
As Tonya once told me, it's about progress, not perfection. I just love that. We keep inching our way toward our respective goals, trying to do the best we can along the way.
How was the first month of the year for you?
I'm not going to lie, I've been a bit jealous lately reading everyone's end of year updates and New Year's goals.
My thoughts usually went something like this:
They make so much more money than I do! Sad face.
How were they able to pay off that much debt? I can't do that. Sad face.
They did X, Y, ZZeverything in 2013?! I'm such a loser, I didn't do half of that! Sad face.
This type of thinking is just plain sadistic, irrational and unproductive.
Jealousy is a pervasive and intricate emotion. It can really get under our skin and make us doubt the very core of our being. It can turn us into a real mean, ugly person. And who wants to be that person? I don't.
So what should you do, if like me, you find yourself festering in this most unpleasant emotion?
Cool Off
Remember that jealousy is a completely irrational emotion. It definitely isn't using the logical part of your brain so whatever you think during your spell of jealousy isn't true about you or the person you're jealous of.  Write in a journal, go for a walk, and help yourself release the negativity associated with jealousy.
Get Inspired
Jealousy usually occurs because someone has something that you want and you don't have. Maybe it's a certain lifestyle, an income, a person, a career, or skills that you wish you had. Whenever I cool off from being a jealous mess, I think why am I jealous of this person? What do they have that I want?  I write down the things that they have that I want.  I then choose to get inspired by it, instead of letting it plague me with jealousy. This is a simple and effective way of managing jealousy. Let it inspire you and motivate you to accomplish those same things.  If they could do it, so can you! They're just a person, and so are you. We aren't born with special skills, we learn them over time. It might be easier for some than others, but we all have the capacity to learn and grow.
Do Something
After making that mental shift, it's all about action. Do something. Get up, move, write, jump, create, sing, study, practice. After you're rid of all negative emotion, take it a step further and contact the people you might be jealous of. Be open to learning from them. Ask them how they got where they are and what steps they took to get there. Establish your goals, find a mentor and think of everything as a learning opportunity.
Be Realistic
There will always be people who are more successful than you, prettier than you, and make more money than you. The converse is true as well. That will never change. The good news? Just because someone is better at something doesn't invalidate all your skills, strengths and good qualities. It doesn't negate your potential for greatness.
Stop Comparing Yourself to Others
This is the hardest step in the process, and if you can master this one, I applaud you. We like to measure our success against our peers, but we can't see the whole picture. Jealousy makes you focus in on one point of someone's life, but you can't zoom out to see the big picture of their life, flaws and everything. Learn to appreciate yourself and continue to push yourself towards who you want to be. Just because you aren't there now, doesn't mean you won't be some day. Live your life for you, not in the shadow of others. Sometimes you have to beat to the rhythm of your own drum. Think of things you are grateful for. Gratitude has a great way of reeling us back in and centering us.
How do you deal with jealousy? Any other tips you'd add to the list?
I have a background in the arts, and have also worked in nonprofits my whole life, so I feel like I know a thing or two about being broke.
It's no fun.
While many people may glorify the starving artist stereotype or the nonprofit slave stereotype, it's not something that my partner or I aspire to be.
You've heard the stories about musicians living out of their cars, with the last $2 in their account, while writing the song that would propel them into wealth and fame.
Sometimes struggling can give you a different perspective on things and can create some beautiful art, music, etc.  It brings out that feeling of really being alive.
While there are many successes out there that have fostered their creativity in a period of great duress, I would argue that being broke stifles creativity.
I know there are many aspects of creativity, and for this purpose I don't want to merely focus on artistic creativity. I think there are many ways to be creative – thinking outside of the box, making things work with limited resources, using old things in new ways, etc. In fact, creativity is often born out of necessity. Don't have something? Figure out how to make it! Don't have the right ingredients? Figure something else out.
For me, I wish I could say my debt has made me more creative. I guess in a way it has, because it forced me to speak up and write about my experiences. I couldn't stand the solitude and shame anymore. In general though, I often feel creatively stifled. I don't want to sing, or write, or photograph – it all seems too luxurious right now while I am in hardcore debt repayment mode.
As a former arts educator in an area of extreme poverty, I used to wonder why none of the children were attending free art classes. FREE! Why weren't people knocking down the doors to attend artistically enriching, life changing classes? Oh right, because when you are worried about paying your rent, have three jobs, don't have a car, don't speak English, have 10 people living in the house and are worried about where your next meal is coming from, maybe free art classes aren't your first priority.
Granted my situation is not nearly as bad. I have shelter, food, and a job and I take advantage of many privileges I'm afforded. But I can't shake this heavy weight of debt. It stifles my spirit and wants to keep me silent. It wants to kill the humanity I have left inside of me. Sometimes I am so focused on paying off debt, calculating my expenses or looking for that very-next-gig, I can't see outside of that very narrow sphere. It's never ending and because of that I've spent less time on learning languages, writing, creating images, singing, etc. I don't want to hold myself back, but it's hard to think about anything else, when I want to be debt free more than anything else.
If you think about it, it all makes sense. Think of Maslow's hierarchy of needs, which pretty much states that you need to meet some basic needs like food, water and sleep before you can think about things like creativity and problem of solving.
I clearly don't want to shut a part of myself off for 4 years and be creative later on.  It just reminds me how many things have been on hold because of this debt. Dreams deferred and life goals on lay away, purchased for another day. Dreams seem like things that only happen in the future, but I am stuck with today.
I don't mean to sound too dark— on the contrary, I'd like your help with brainstorming ideas on how to unclog my brain to let the ideas flow; to let go of my fear, to strengthen my focus.  So far the only thing that has helped is meditation, which I need to be more disciplined about.
Let me know if you have any ideas. I also want to hear from you if you think being broke stifles or promotes creativity?
Last week, I got some seriously great responses to my post The Female Breadwinner and today I loved Erin's post stating that she doesn't want kids right now and her uterus is not up for negotiation. All of this got me thinking; sometimes you really just need to walk to the beat of your own drum.
Stop caring what others think about you and your life choices.
I mentioned in my article that I do not want a house, I don't want to get married or have kids. I know I am seriously in the minority here, but I've felt strongly about these things my whole life.
For my whole life, people have also told me it's a phase. I need to find the right guy, I need to wait for the right time, etc.
Newsflash: It's never the right time.
Life is a series of decisions and choices that you need to own, for better or worse. You better believe I have disappointed my own mother and de facto mother-in-law by stating I don't want to have kids. Their dreams of becoming grandmothers that spoil have been dashed and now they have to adjust.  Add to this the fact that both my partner and I are  only children and we are affectively ending the line here. That's a lot to process. I've felt guilty for it at times, but in the end it's my life and my choice.
Mind you, I don't have to adjust to my decisions, but others do. Why? Because it's expected that women want children.  No one has ever congratulated me and said, "You are making such a great financial decision. Good for you for not bringing a child into this crazy world!"
I hope I'm not sounding angry, because I'm not. I have absolutely no problem with houses, the idea of marriage, and I actually like kids – I just don't want those things for myself. I think it's important to really understand yourself and what you want out of your life, aside from what your family, friends and culture tells you.
Just because things have been done a certain way for a long period of time, doesn't necessarily mean it's the best or right way. We have a saying at work that we are always learning and if we think we have all the answers, we're closing up shop.
I like that. I want to always have the capacity to learn, grow, and expand and not become a total curmudgeon, set in my ways.
A lot of this stuff can also relate to personal finance. There are so many "experts" out there deciding what's best for you and your life; it can be hard to filter through all the voices. Let's be frank; most of them are shouting (inside joke: Shhhh, You're shouting!).
Don't buy lattes! Save 10% of your income! Don't travel if you're in debt!
A lot of these voices can make you feel like crap if you behave outside of their edicts. But you know what? It's your life! No apologies. You can use these as guidelines—what do you like about it, what would you change? Find what works for you. There is no one-size-fits-all scenario.
Maybe we are as unique as a snowflake (yay!)
On that note, I encourage you to find your inner rhythm. Stop apologizing for who you are or the choices you make. Own it or change it (if it could really be that simple). Find your people. Love fully. Be grateful. Do what makes you you, what feels good, and what feels right.