In my last post, I mentioned how I was working on something that was BIG. Bigger than myself, bigger than Dear Debt, and majorly scary and exciting.
For the past few months, the brilliant and amazing Emma Pattee aka Emma Lincoln and I have been working on a women + money retreat. We launched last week!
What's the name?
After many brainstorms and buying a few too many URLs, we settled on the Lola Retreat. Why? Because we wanted something fun, feminine, and unique. We had names that had the word "money" in it, but the thing is we want to attract all people — not just the personal finance choir.
So we got some feedback and we landed on Lola retreat.
I love it because when I think of the word "Lola", I think of someone ambitious, cool, fun, and confident. Also, I love the song from Damn Yankees with the lyric "Whatever Lola wants, Lola gets." In my mind, the women we want at this event are women that want to go after everything they want in life. They know that money can help them get there, and getting their finances in formation will help them achieve their goals.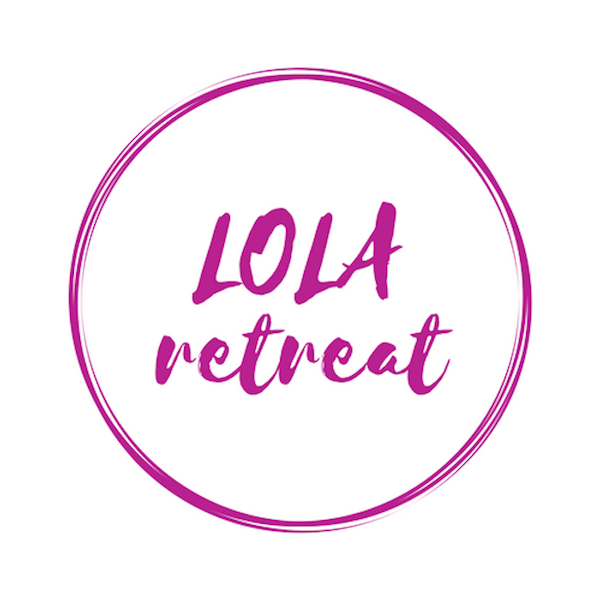 Where is it?
Funny thing. It's in Portland, Oregon! Yes, where I used to live! Emma lives there and it is an affordable, fun location.
When is it?
Friday, August 18 to Sunday, August 20, 2017.
Who should come?
Any woman who wants to take control of their finances. Girlbosses looking for support and friendship. Women looking to talk candidly with other women about all things money.
Do you have speakers/an agenda?
We just launched and are working on getting speakers and an agenda ASAP. I can tell you the four core things we are working on are:
Love + money

Money mindset

Earning more

Investing
If you'd like to apply to be a speaker, fill out this form.
How much does it cost?
Our regular tickets are $399. Our VIP tickets are $499. If you buy now until April 14 and use LOLAWANTS as the code, you'll get $100 off the ticket price. This includes all programming and we are covering most food and drink, so you don't have to worry about that.
Now, let me tell you something. Pricing an event like this was so hard. Like, so freaking hard. We want to provide affordability and value, but yes, we want to make sure we can pay for our expenses and support the event.
We realized we had to walk the walk and talk the talk. We would never ask you to undersell yourselves or undercharge, so we knew we had to settle on a price that made sense with everything we're offering. In my opinion, it's still a killer deal.
The networking and learning opportunities alone will be worth an education of a lifetime. And being able to have the conversations about women and money you can't have anywhere else? Priceless.
Why did you launch Lola?
Emma and I are feminists. There, we said it. We believe in the power of women and we believe women should be equal to men.
Not only that, but we believe that women should have equal access to opportunities as men. We want to fight the gender pay gap, prepare for uncertain times ahead (ahem), and empower women to get in control of their money so they can do whatever they damn please, whenever they damn want.
Money is all about freedom. Control. Access. Choices. Through the Lola retreat, we aim to empower and teach women about money. And there is no better time than now.
Will you join us? If you can't make it, feel free to share and suggest ideas. We're open to all kinds of support. xo
When it comes to personal finance, it feels like everything is about the numbers. And us personal finance bloggers are obsessed with them. Looking at the dirty details of someone's budget or net worth is like personal finance porn — we get hot for it. It's sexy to see how much someone saved, or get a peek at their budget. We congratulate people on paying off debt.
While I love consuming the numbers as much as the next person, I've come to realize that all the numbers are a lie.
The numbers are simply one-dimensional representations of what someone has done. These numbers work hard at making us feel either incredibly good about our situation or incredibly bad.
Usually, it's the latter. Maybe you thought you killed it this month, but then someone made twice as much as you. You thought you put a lot toward debt, then realize someone put your entire salary to debt. In these moments, it's easy to get sucked into feeling like you're not good enough.
But here's the thing: the numbers don't tell a whole story. There is absolutely no context to compare ourselves to others. After all, personal finance is not apples to apples. Yet we get sucked into these numbers thinking that if they can do it, so should we.
I implore you — look at the bigger picture. There are so many things that affect what you can ultimately do with your money. Things like:
Where you live (cost of living varies widely across the country)

If you're single or married

If you have children or do not

Whether you are healthy or not

If you're a renter or a homeowner

If you have pets or do not

Your state tax rate

Your race

(there I said it)

Your gender

(yep)

If you financially support a partner, spouse, sibling, parent, etc.

If you are a stay at home parent

Your employment situation

Your education, and more
I remember when I was paying off debt, I used to get jealous of what others were putting toward their debt. I've had people say the same thing about me. But our situations, inevitably, are always wildly different. I cannot compare myself to someone who is married and lives in a low-cost of living area, as that is not my reality. Someone struggling to find work and take care of a baby should under no circumstances compare themselves to me and what I've done.
You see, in personal finance context is everything. The numbers mean absolutely nothing without any context. We all have our privileges and setbacks that are uniquely ours. They can either help or hurt us on our financial journeys. Some we can change, others we cannot.
But it's important to acknowledge they are there. It's important to look at the big picture and avoid comparing your financial situation to others at all costs. Doing so will be the fastest route to misery and if I can make a guess, could sabotage your own financial well-being.
In your own quest toward financial freedom, it's important to find inspiration from others who have gone before you and have done what you want to do. But don't get paralyzed by empty comparisons — focus on what you can do with your own particular situation.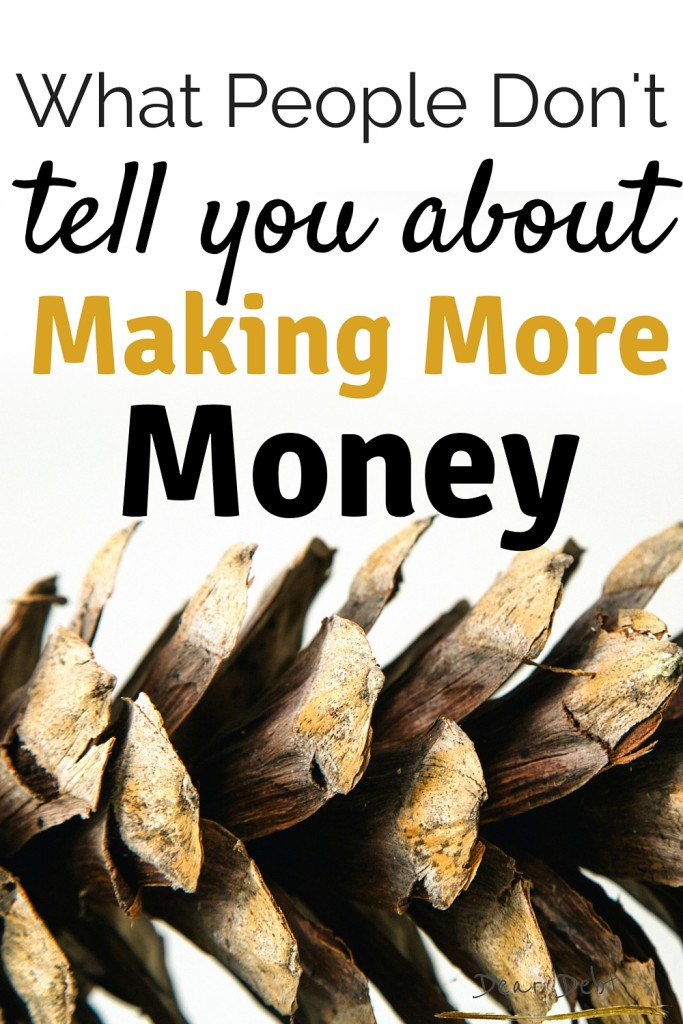 I used to think that making more money would solve all of my problems. I'd think, "If only I made more money, everything would be better!"
Prior to freelancing, I was a nonprofit die-hard — my highest salary being $38,000, six years ago. In the years since then, my income plummeted. I struggled to find work and my last nonprofit job left me with a $30,000 salary.
I had the crazy idea that I was worth way more than that and that working for myself would actually mean making more money. It didn't happen right away, but nine months into my freelance adventure, I started seeing a shift. Now, over a year later I can say I've more than doubled my income.
It's been great. But now that I make more money, I realize I have a whole new set of issues. I've been hesitant to write this post, as making more money is a GOOD PROBLEM and I realize that, but I want to write about it as the thoughts and feelings that have come along with it have been surprising.
1. I feel guilty for making more money
This may seem silly, but I actually feel some guilt for making more money. Even though I knew I deserved to make more money, I still feel guilty. I thought I was supposed to be the perpetual low-paid worker, the working-class warrior. Upon further reflection, I wonder if I feel guilty, because for so long I judged/was jealous of wealthier people. I thought they couldn't understand what real struggles were like and how embarrassing it is to take on any gig you can get, even if it means walking an invisible dog or cleaning someone else's underwear #truestory.
2. I feel like a total fraud sometimes
Last week I visited family in LA and it was awesome. I took advantage of having a flexible schedule and spent time with friends and family. While I was there, my mom remarked on how seemingly quick everything has happened for me. "Yeah, it has," I muttered.
Because of this, sometimes I feel like a total and complete fraud. My blog is a public record and you can go back to the start of my blog and read my lamentations of making $1,300 per month and struggling to find work. You can read about side-hustle fails and the crazy things I've done for money.
I'm in a better place now and I can actually turn down work. I can be picky. And it feels freaking weird. I'm still the same person I was, just a little smarter and tad wiser. But sometimes I feel like a fraud. Somehow being low-income felt under the radar — not noticeable (a very interesting observation indeed). Being more "successful" feels a lot more vulnerable. I have further to fall.
3. I'm terrified of things going back to the way they were
I've realized that reality is ever-fluctuating. We are always changing, growing. Life is full of ebbs and flows, successes and failures. A few years ago, I would do anything it takes to get by. I went on food stamps even though I was so ashamed of it, I worked as a housecleaner, and took every gig I could find.
It was honest, decent work. But I never want to go back to that place. Ever. The shame, fear, and depression I felt were so consuming.
Every day I work so hard, because I know that a loss of a big client, or a bruise on my reputation could lead me closer back to that place. And I'm scared. I don't want to ever go back there.
Then I feel guilty about that. What was so wrong with that work, that place? Who am I to judge? As I mentioned, there are a lot of complicated feelings around this money thing.
4. I feel like I always want to be more generous
When you're the broke friend, and your friends know it, they'll never expect you to pay for things or to go out of your way to spend money. Now that I know my financial situation is better than some of my friends (for the first time ever), I feel like I always want to be more generous and pick up their tab.
I want to do things I couldn't do. I feel like I should pay because I make more. I love being generous, but obviously that can't be a long-term, all-the-time strategy.
5. I have to work harder than ever before
Make no mistakes, making more money is hard work. I've had an insane learning curve the past year and had to make a lot of difficult decisions to get here. I've had to say goodbye to clients that are my friends, I've had to say no, when I felt like I should've said yes, and find the courage to speak up when I really wanted to hide.
Being your own boss and earning more is fantastic, but I'm a one-woman show. I'm customer service, client services, marketing, admin, and more all rolled into one.
I've learned that running your own business feels a lot like you're an elementary school student in college and you're studying your butt off to try and catch up.
Bottom Line
Don't get me wrong, making more money is fantastic. There's no way in hell I'd be able to put nearly $4,000 to debt last month without it. It's helping me reach my dreams and goals at a pace I didn't think possible.
I'm eternally grateful for this opportunity and realize the privilege of my current situation. Now that I'm at a different viewing point, I realize money can help solve a lot of problems, but not all of them.
Do any of these resonate with you?
When you first realize that you are in need of financial help and that something needs to change, it can be easy to wonder, "Where do I start?"
I remember when I first realized how much debt I was in, I felt so consumed by the number that I felt paralyzed. I wasn't sure how to move forward or where to begin. Luckily, I have a firm grasp of my finances now and have taken steps to keep my financial life in order.
But if you're feeling lost and want to get your financial life in order, here are six simple steps to get started.
Track Your Spending
The first step is so important! Track your spending for at least three months. Every. Single. Purchase. I know it sounds tedious, but tracking your spending offers huge insights into where your money is actually going. It's easy to think we know where our money is going. But the truth comes out when you track your spending.
You can do this the old-school way via receipts, pen and paper, or use an online tool such as Mint.com to track everything. I personally use Mint.com and I love it! This is an integral part of the process so you can see where your money leaks are. You may be shocked or surprised how much you spend on food or clothes, etc. It can be a painful truth to deal with but it's really eye-opening and can help you make changes going forward.
Calculate Your Net Worth
The next step in the process is to calculate your net worth. Your net worth is your assets minus your liabilities. Assets are anything that has a monetary value such as your cash, savings, investments, house, etc. Your liabilities are your debts such as student loans, mortgage, car loan, etc.
This is so important as you can see exactly how much money you have saved up and also get a bird's-eye view of your debt situation. I know for a long time I was in denial about how much debt I was in. I wasn't quite sure how much I actually owed. So sitting down and calculating everything was so eye-opening for me and gave me the boost I needed to change my situation.
One important note! Don't let your net worth serve as your self-worth. It can be easy to feel like crap after doing this step if you have a lot of debt like me. Don't let doing this exercise turn into a moment of self-hatred. Remember, your net worth is not your self-worth. You are awesome as you are, just try to get your finances in order, so you have a positive, strong net worth.
Check Your Credit Score
Your credit score is one of the most influential numbers in your financial life. It determines so much of your adult life. Your credit score determines if you get approved for that new apartment or rewards credit card and so much more.
To get your free credit score, you can use Mint.com, Credit Sesame or Credit Karma. Once a year, you should also check your credit report, which is a full outline of your credit history, at AnnualCreditReport.com.
You'll want to ensure there are no errors and also check in annually to see your improvements. Doing this can also help you identify potential identity theft and other issues. So, stay on top of monitoring your credit score and credit report!
Invest in Your Future
Yeah, we all understand the concept of YOLO, but I assume you don't want to eat cat food when you are old right? Yeah, neither do I. Start investing in your future, by contributing  to your 401K. This is especially necessary if you get an employer match. Hello, free money! You can invest in your employer's 401K, a Traditional IRA or a Roth IRA. Each one has its own benefits and advantages. The point is to get started.
You can also use something super simple like Betterment.com to get started with investing.
Protect Your Belongings and Your Family
This step is so crucial to protecting your finances. It's key to get the insurance you need to protect your belongings, your health, and your family.
Make sure you have health insurance, renter's insurance or homeowner's insurance, and life insurance.
Health insurance can help you when sickness strikes. I went nearly two years without health insurance and had to pay a hefty bill when I ended up sick. Renter's insurance or homeowner's insurance can protect your belongings in case of theft or other natural disasters. Just make sure to read the terms and conditions so you are super clear on what your plan covers — each plan is different.
Life insurance is also important if you have a family. If something were to happen to you, you want to make sure your family is taken care of financially and not stuck in a bind. To get the best price, compare life insurance quotes.
Being properly insured can save you lots of money down the line — it's easy to think that you don't need these things when things are going well — but once something happens, you'll be grateful you invested in these protective measures!
Spend on Your Values
Money is a tool that can be used for things that bring value to your life. Forget the Joneses and do you! Save money where you can, spend money where it matters and invest in your future. Don't get caught up with mindless crap, but spend money on things that bring value to your life. What do I mean?
Things that make your life easier or better. Or on once in a lifetime experiences. Money can help you live a comfortable, enjoyable life, but you need to use it on what serves you.
Use these six steps to get your financial life in order. Experiment and cover your bases. Compare prices. The key is to be conscious of your finances and not just get into a mindless rut (been there, done that).
You got this.
As you may know, I'm very passionate about women and money. As a breadwinner, and a daughter of a breadwinner, I know that women are taking over and are capable of so much. Yet, it seems that money is still tough to talk about.
I believe a part of it is because money is still so taboo and we fear being judged by our peers, our family, and our friends. Fidelity's Money FIT Women Study found that 8 in 10 women have avoided financial conversations—saying that talking money is "too personal" or "uncomfortable."
But there are other things at play, too aside from fear and judgement. The culprit? According to the study, it's confidence. They found that 57% of Gen Y women say they are nervous about their financial decisions, compared to 58% of Gen X and 41% of Boomer Women. I can relate to this — sometimes I'm scared to ask for what I want or deserve. I'm too concerned with people liking me or doing the "right thing." I'm wondering if I'm on the right track.
Luckily, Fidelity has come up with some awesome resources on how we can overcome this, take charge,  and unleash our inner #Girlboss:
Where can young adults start? My.Money.Fidelity.com is a financial education website developed with the young adult in mind who is eager to get educated and build plans for the future. On the site, videos, articles, and graphics help provide quick, easy-to-follow education on personal finance topics, such as budgeting, saving, investing, spending, borrowing, and preparing.
Check out the video:
Lastly, check out their couple's quiz, just in time for Valentine's Day! 🙂
Let's start a revolution! Let's talk about money and empower ourselves and others to take financial control. Who run the world? Girls. We got this. Go on with your Flawless selves.
It's a marketer's world, we only live in it.
Think about how true those words are.
Every single day we are processing an over abundance of advertisements and imagery. Our desires and interests are merely pawns in the game. Our insecurities are preyed upon.
It's easy to understand why we have so many financial issues, when we think we can buy our way to happiness through new shoes and buy status in the form of cars or houses.
It's easy to succumb to temptation, consumerism, and the like, because "everyone is doing it."
But whose life is this anyway? Who signed me up for this?
I don't know about you, but my version of happiness and the American Dream does not mean going into (more) debt to buy a house, have kids, or buy cars, that quite frankly I can't afford.
Except the world we live in tells us that everything we want is at our fingertips. It's so close you can almost taste it. Everything you want, you can have. For a price.
If there is one thing I've learned about personal finance, is that if you want to be a financial rockstar, you have to reject the status quo.
You have to reject the "shoulds". You have to reject the scornful looks of judgement. You have to say "no" while everyone is saying "yes". You have to play odd man out, in a sea of sheep.
Because let's face it. Being in debt is normal. Having a car payment, or a mortgage is normal. Working until you are 65, or until you die, is normal.
For so long we grow up and never question any of it, until one day the blindfold is ripped off and we can see everything clearly.
Everything is not as it seems.
It can be a bit unsettling once you realize that in order to live the life you want, you have to go against the grain. But to stay the same is to be a prisoner of consumerism — soon, you too will be a commodity.
Companies want you to be in debt. They are only interested in you for your interest.
By choosing to pay off my student loans early, I am imposing an act of rebellion.
I am rejecting the status quo. I am breaking through the barriers and the beliefs that you have to make a lot of money to do this.
There are others paving the way and showing people that you don't have to work until you die.
Showing people that maybe there is a better way.
But to find that way — to truly be a financial rockstar — you need to reject the status quo.
When I first started this blog, I wrote a post, it wasn't always this bad.
I recall when I was the Arts and Culture director of a now prominent nonprofit in Los Angeles. After some struggles finding a job, I had worked my way up quickly in the LA arts & nonprofit scene. I managed a group of 20 people as well as a departmental budget of $300,000.
I felt important.
Although I had student loans, I lived on my own in Silverlake, a cute, and now almost too-hipster neighborhood. I went out often and had a blast. Everything felt like it was in place.
But I was addicted to bettering myself. I thought grad school, at NYU no less, would make me better — take me to the next level of my career.
And here is where the downward spiral begins.
I feel like all of you know me in a certain place, a certain time in history…when I was broke, partially employed, sad, and struggling.
It wasn't always this way.
Somehow I feel like I've downgraded in status. The egotistical part of me wants you to know that I did indeed have a career job at one point and in my mind felt very successful.
But my story changed.
While it has been an utterly humbling and wild experience to have a career, go to NYU, move to Portland and be on food stamps, struggle to find work, eventually find work, then quit my job to work for myself, somehow I feel like who I come across is as this sad, indebted little girl.
Or maybe that's how I perceive myself? I am not sure, but sometimes I wish all this stuff never happened. I want you to see me in the good light. When everything was together — at least it felt together.
I hope to change my story right in front of your eyes like some sort of magic trick. Become someone else. Not a victim of circumstances, but a survivor. Someone who was dealt unexpected turns, like many people post-Recession.
It wasn't just about my choices or my failure. It was about so much more.
Now, at 30 I feel too old to deal with some of this b.s. By typical standards, I was more successful and making more money at age 23. That freaking sucks, let me tell you.
I can't go one day without thinking of money. I'm always thinking about when the next payment will hit. I'm an addict, waiting for my next fix.
And I wonder, will I ever be ok with money?
When I'm debt free and getting my life back on track, will I be ok then?
Will it ever be enough?
I want to see a day when money is part of my lifestyle, but not an obsession or paranoia. It's something I'm in control of, not controlling me.
So as I fight through this journey and wonder if I will ever be ok with my money, I have to ask, will I be ok with myself?
One of the things I love about the personal finance blogging community is just how many women there are. As women, I think it's important that we are in charge of our finances and have a key role in managing them. Let's face it — whether we are partnered or single — women are outliving men, so we need to be prepared to handle our business and keep our financial life in tact — which means we need to be educated and empowered when it comes to our own personal finance.
I feel like I have a pretty firm grasp of my finances. I check my online accounts every day, track my spending, live on a minimal budget, and try to increase my income every chance I get. Of course, I know I can improve in the areas of investing and building wealth. But overall, I feel like I have an active role in my finances.
I remember hearing horror stories of my grandparents' generation, when men worked and women stayed at home. Men paid the bills, women cleaned. Of course, I'm generalizing here, but I know of women personally who had to experience the shock of learning how to manage finances on their own, after their husband passed away.
Can you imagine not having a clear picture of your finances? Not knowing how to pay a bill? Not knowing the log-in information to your vital accounts?
It's a scary thought indeed and I'm sure personal finance bloggers are a step ahead of most people. However, I think there is always room for improvement.
As part of Fidelity's campaign to encourage women to #TakeAnHour and work on their finances, I'm challenging you to set some time this weekend and review your finances. Fidelity "found that nearly one-in-four women report that they don't take part in the decision-making around their finances at all—a huge concern given that most women will be solely responsible for their finances at some point in their lives."
This weekend start a conversation with a female friend. Let's talk about debt, baby. Learn about investing. Start investing. Save $5 a week for some fun money. Write down bad habits you want to change. Round up your debt payments. Max out your retirement. Make sure YOU are in charge of your financial situation, and no one else.
This weekend, don't forget to set back the clocks and #TakeAnHour to have a money date over some coffee or wine.
For more info, check out this nifty graphic on how you can #TakeAnHour.
p.s. I was not compensated to write about this at all — I just really dig the campaign. 🙂 Go to Twitter and tell everyone how you will #TakeAnHour
The personal finance world is chock full of helpful advice, money tips and a ton of expert knowledge. Much of this knowledge comes from bloggers and what I call personal finance deities. If you have any sort of penchant for personal finance, I am sure you have heard of Dave Ramsey and Suze Orman. Both of these personal finance experts have built an empire educating people on becoming debt free, saving money and taking financial control of one's life.
On the other end of the spectrum, bloggers like me often write experientially about these things. Most of us don't have any fancy certifications nor would we call ourselves experts. As someone who has followed personal finance blogs for several years, I love following the journey and hearing from real people. But as I said, we are not the experts, just people with a financial story to tell.
Read more at VOSA.com
Have you ever stopped and thought about how much money goes in and out of the vice economy, all in cold hard cash? I'm thinking the standard vices: sex and drugs.
The illicit nature of these industries makes it even more mysterious for outsiders, but it attracts a lot of cash on the inside. Cash, so it's not traceable.
I often think we are fully funded by the vice economy and that is really what is keeping everything together. People will pay for a cheap thrill and a good time, by any means necessary.
All of these "hustles" are not being tracked as jobs or income producing endeavors yet they are a huge part of what keeps money flowing in this world.
A few weeks ago, I read this article about the economics of stripping. Really fascinating stuff here.
Although strippers can make good money, looking good and being titillating ain't cheap. I was so intrigued to take a glimpse into this world. I'd be lying if I didn't admit to having wandering thoughts about it.
What if I just strip for a year and pay off all my debt? I have no qualms with nudity, but then again you aren't really selling nudity. You are selling sex. You are selling an illusion of something you can't offer. I always convince myself that it's a bad idea. My boyfriend agrees.
In this article, it's clear that some women are feeling short-changed by the whole set-up. Who really is getting the money? At what cost? I learned a lot from this little article in the local paper (p.s. did you know Portland has the most strip clubs per capita in the U.S.?)
On the other hand, some strippers blatantly disagreed with the tone of the article and talked up the merits of the vice economy.
"I am a Portland stripper. My employers have all of my pertinent information. I appreciate not signing a W-9 form. I file my own taxes and I pay 1/3 of what I should. I pay 10-40% of my income to the club and its staff every single shift. I worked full-time for three years and made $1600-$2200 a week. I worked my ass off. I do my own hair, nails and teeth whitening. I worked/work in clubs that have no say in regards to my heels, make-up or the tan that I maintain. I save my money, in CDs, an IRA and two savings accounts. I have excellent credit. This job is a tool that can be put to good use. I would love to see an article written by someone with more insight into this industry."
And this golden nugget:
"As a stripper, this was sort of a sad read. I know that one girl's experience is not another's and I would hate to be generalized in a lot of statements. She may work at an "upscale club" but some of Portland's most reputable and steady earning clubs are actually home-grown with talent and personality, who support their own business and not just trying to make a buck off their dancers, who they know, in fact, do not walk out with what one girl called, "the sky is the limit." I never ask any of the people who I see in their place of employment how much they make, I never ask them about their business expenses, and if at all applicable, I tip and I tip well. We have jobs that move money around, from big pockets to little pockets, but still how much I make is most people's way of justifying how much they dislike my job and "how little" I do. I agree, this can be an extremely shallow industry, and by the interviews, it comes off as extremely naive as well.. But Portland is full of smart, educated women who DO own cars, and DO own homes, and DO pay their taxes.. In fact, a lot of women strip as a SECOND income. If Portland could stop generalizing with simple experiences and the "woe is me" route, and take the time to get a **real story** going, our jobs would seem less of a novelty and more of what it is, women getting paid for their time. I'm not walking home with pockets full of cash when every tom, dick, and harry is only throwing up $1 bill because of the ongoing media stigmatization of my job and industry. I don't need pity, I need to pay my bills like everyone else."
Hot damn, you go girl. Shake your moneymaker and make it rain!
Anyways, I think the way people make money is fascinating and when you add the lascivious nature of vice and underground dealings it gets extra juicy.
What do you think about the vice economy? Do you know someone who has made money in these industries?