Hey everyone! Sorry I've been MIA here, but as I mentioned I'm in the midst of finishing up my book and also inundated with client work. #goodproblems.
I hope you have been enjoying the dear debt letters!
But if you want to catch me, join me for #CentSaiChat on Friday, February 12th at 1pm ET/10am PT. You can watch online here. I'm excited to host a Blab about Love Conquers Debt with my friends at Centsai — just in time for V-day. You can check out a previous Blab I've done with the Debt Free Guys.
Hope to see some of you there!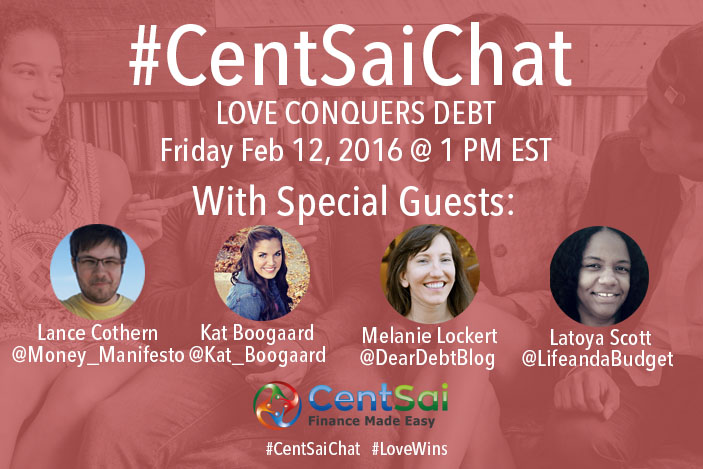 Paying off $81,000 in student loan debt is the toughest thing I've had to do. It took me many years, and a lot of blood, sweat and tears.
Now that I'm debt-free, I'm giving back each month to my readers, acting in my dream role of debt fairy godmother.
Last month I gave $50 to David in Brazil…this month, who knows?! But I do have some good news! I was recently interviewed by my good friend Shannon at Financially Blonde about getting out of debt. It's a feel-good shot of inspiration if you need it, so take a listen.
She was so inspired by what I am doing that she agreed to also contribute this month! So we're giving away $100 to someone. You can enter to win by commenting here and letting us know what BIG goal you are working toward this year. You can also tweet us your answer @blonde_finance and @deardebtblog.
Let us know what you're working toward this year!
Over the past month of being debt-free, I've sat in amazement that I reached my destination. The journey was tough and a wild rollercoaster, but I made it. Sometimes it still doesn't feel real.
Other times I laugh to myself, because I can see all those hard times as lessons now. They sure seemed tough at the time, but I was getting primed for self-employment. I was working my way from the bottom to the top and learning the hard lessons along the way.
When I think about my journey, I can't ignore the influence of this blog and my readers on my success. I could have started this blog three years ago and wrote in silence. But I found others that pushed me. Encouraged me. Helped me.
My blogger friends helped me launch my new career. I got a chance to start over, work for myself and pay off my debt faster than I imagined.
Now, I want to give back and create my ideal position. In my fantasy, I'm a debt fairy godmother that helps encourage you, support you and helps you pay off your debt.
So my plan is to really give back to this community that gave so much to me. I plan on donating a portion of my blog income each month to a reader in debt. It's not going to be a lot, or anything life changing, but as someone who was in debt for a long time, I know that every little bit helps. I don't make a lot of money on this site, as I've carefully chosen to limit any ads or sponsored posts on my site.
Having a site about getting out of debt and constantly pushing people to buy just doesn't make sense you know? But I'm determined to help others pay off their debt, even if it's just a small chunk of change.
In addition to helping one reader each month with a small amount of money to put toward debt, I'll also be giving away financial books, Starbucks cards and whatever I feel like will keep you motivated to keep going.
I know how hard it is to get out of debt and stay motivated which is why I want to be a debt fairy godmother (ha, I just like saying that). While paying off debt, I remember how a $10 Starbucks gift card changed my day or an unexpected $25 felt like $25 I didn't have to come up with to put to my debt.
So, how can you be one of the lucky readers? Keep reading. Comment. Share a post if you feel like it. I'll be choosing winners at my discretion each month.
This month it just felt appropriate to have my first winner be David from Brazil. He wrote a touching dear debt letter that I think resonated with a lot of people and gave us a new perspective on how people outside of the U.S. are dealing with debt.
I am so excited to give back to this community and have a little fun!
A lot of people have asked me if I am going to stop writing about debt or if I will change directions. For now, no. I'll be right here cheering you on. Pushing you. Encouraging you.
While I will still be writing about debt, I may be writing less on this site for the next few months. In case you missed my Year in Review post, I am in the midst of working on a book(!). It's exciting and exhausting trying to manage client work, my blog and this book. As much as I hate to say this, I'm not superwoman, so I have to cut back a little.
But don't worry, I'm not going anywhere. Heck, I'm writing a book BASED on this blog! Including some of the dear debt letters (score!).
Thanks again from the bottom of my heart for supporting me for the past three years.
I've been waiting to write this post since I started this blog. It felt like the day would never come, although I dreamed about it constantly. Every time I wanted to give up or every time I did yet another side hustle and stayed up too late, worked too hard, I remembered what I was working for: debt freedom.
After paying my student loans for nine years — seriously for the past four and a half — I am debt free! I am still letting my new reality set in, but almost immediately after I saw the balance at zero, I felt a huge weight off my shoulders. I cried, screamed and danced. And I plan to have a debt free party at some point soon to properly celebrate.
The journey has been long and intense. As long-time readers have known, I started this blog in January 2013, to keep myself accountable in the debt payoff process. At that time, I was in one of the lowest periods of my life. I had (with much resentment) moved to Portland, Oregon after being unable to find a job after graduating from NYU. While I was happy to be reunited with my partner, I found myself struggling even more. The interviews were scant and all I was able to secure was temporary work. Because of the lack of money coming in, I also found myself on food stamps.
After working so hard in graduate school — and getting into so much debt for it — my reality felt like a slap in the face. It was humbling and hard. I conflated my self-worth with my net worth and thought that because I couldn't find work and I was in so much debt, that I was worthless. All of these feelings led to a deep depression and constant lingering anxiety. I tried therapy (again), but it didn't help. It was one of those things where I knew I had to make drastic changes in my personal and professional life, but I didn't know where to start.
After crying every day, hitting my head against the wall, wondering, "What's next?", I finally decided I was sick and tired of feeling sorry for myself. So, I decided to start this blog to keep myself accountable. I wanted to turn my negative energy into something positive — an outlet for my time to do something that could keep my mind off of not really having a career or any viable options to pay off my loans.
In my very first post, I set a goal of being debt free within four years. At the time, it seemed like a brazen and bold goal, as I had $57k left. I was making $12 per hour and my contract was ending in a few months. How in the heck would I be debt free in four years? But something powerful happened when I set that intention. I set a goal — a BIG one — and even though I had no idea how I would actually reach that goal and even though it seemed so out of reach at the time, I made it happen. A year early.
Throughout the years this blog has launched my freelance writing career as well as my event planning business. Because of it, I quit the job that I eventually found, and more than doubled my income, which helped me pay off my debt even faster.
Now, you're probably wondering. How did she do it? How did I announce that I had $11k in debt just last week and now I am debt free?
Well, there are a variety of factors that led me here. As a personal finance writer, I am not proposing or recommending that anyone in debt do what I did — I just want to be transparent about how it happened.
Emergency Fund
I decided to dip into my emergency fund and take out $1500. I now have $1500 remaining. I plan on replenishing this once my payments hit in January and I would like to build it to $5,000 to $10,000.
Income
For the past month, I've worked my tail off. I added a few new well-paying clients and worked nearly every day in November and will probably do the same in December. From all my work, I received a good chunk of change in the first week of December. I decided to NOT save for taxes this month and put all my income to debt. Once again, as soon as January hits, I am replenishing my tax fund. I didn't take anything out of it, I just didn't add to it. I still have a few more payments coming in this month and plan to use those to live off of and also add to my tax fund.
Windfall
Whenever people write about windfalls, I always think, "Who are these people getting windfalls?" I have never once thought or expected that I'd have a windfall of money. But earlier this year my mom received a sizable bonus at work — and decided to share a portion with me.
I argued with her and told her no, absolutely not. She is the sole breadwinner in my family and works her butt off and she deserves every cent of it. But she was insistent. She wanted to share a portion of it, so that I could relax and stop working seven days a week. I reluctantly said yes and am forever grateful for her generosity.
For the past few months, the money has sat in a separate account and I've pretended it wasn't there. I knew deep down that I'd use it to get rid of the last of my debt. So I took the $4,000 and moved it to my account, and with my extra emergency fund money, and not saving for taxes I made my very last payment.
I know I technically "owe" myself money next month, but I know the money is coming in and know every cent I earn will be mine (or Uncle Sam's). I'll replenish my tax fund and emergency fund in the first week of January. And then I can start actually saving and investing for the long-term. If I'm as successful as I was with my debt, I'm thinking I can actually catch up for all this lost time.
I also have a lot of big expenses coming up — a lot of transitions. I plan on sharing all of these things in a future post, but suffice it to say, 2016 will not be a cheap year. I am so grateful I am making more money now and my debt is paid off. It will afford me so many opportunities and I can actually start building wealth, rather than paying for my past.
For all my readers still in debt, I want you to know being debt free IS possible. I feel like so many of us think it's out of reach, because we either feel like we'll never get out of debt, or if we try it will take forever. We're daunted by the "forever" and "never", but being debt free is possible. Even if it's five or ten years later, you can do this.
After all is said and done, I've probably paid close to $100,000 toward my student loan debt. I borrowed $81,000 and paid a lot in interest over the years. Sometimes I get sad, thinking how awesome it would be to have $100,000 in the bank, instead of having a net worth of basically zero. But I'm proud of what I've done. I've worked many long nights and shed a lot of tears to get here and it feels so damn good.
I appreciate every single reader and thank you for all your support and encouragement. I can confidently say I would not be here without you. You've given me a chance, a push, an opportunity at another career. I want to continue to inspire others who are in debt showing them that being debt free IS possible and you don't have to be rich to do it. You just have to be willing to work at it, like anything else worthwhile in life.
Thank you again — from the bottom of my heart.
Hey everyone! Apologies for the radio silence. You think that the holidays would be the slow time for freelancers, but I've found it to be anything but. I got slammed before Thanksgiving, worked pretty much everyday except the actual holiday and have been catching up ever since.
If I haven't been working, I've been trying to sleep or trying to keep my head on straight (and only succeeding very rarely).
So, what in the heck is new with me?
Well, I went home to LA for Thanksgiving and saw my amazing 93-year-old grandpa (check out this cutie on Instagram). He's just as charming as I remember. He's a WWII vet, cancer survivor, librarian and yoga teacher. In short, he's a badass and I'm proud to call him family. It meant so much to see him after not seeing him for six long years. It was also the first time my partner met him.
My grandpa actually went in to hug Ryan and said he's such a nice man (#tears). I also got a chance to boogie with him and share stories. Although I worked a lot in LA, seeing my family and friends felt so good.
The past couple months have been hard on me emotionally for a number of reasons and it's been so nice just to decompress with people who get you.
It is so nice to catch up with friends that you haven't seen in a while and just pick up where you left off, as if no time has passed at all.
Financial Update
On the debt front, I paid off another $3,000 last month and now have $11,000 in debt. I'm so close and am working on making some exciting moves forward!
Not only that, but I secured some raises for 2016. I did a lot of research about asking for raises in November, effective January 1, and I knew I wanted to make my mark. I didn't want to leave any money on the table.
In one case, I secured a 25 percent raise. That would NEVER be possible in the nonprofit world — or probably any job. The best part was that my clients all agreed I deserved a raise and were happy to pay it. No fuss at all. Hot damn, it really does feel awesome to have great clients that appreciate you and respect what you do.
If you're wondering how I did it, check out my workshop in January where I'll spill the beans on charging what you're worth and asking for more. I know it seems super scary, but this is your LIVELIHOOD at stake. You are the boss and no one will care more about your money than you do. Don't wait for things to happen, you have to ask.
Travel
I can confidently say that 2015 has been the year I've traveled the most (about half for work as an event planner). In January I went to NYC, in March I went to Vegas with Tonya, April I went to Spain and Portugal, September I went to Charlotte, October I went to LA and November I went to Denver and LA. And it's not over yet!
In a few short days, I'm headed to NYC again for a super rad #UnOfficeHoliday Party. If you're in the city, I hope to see you there. I'm so excited as I'm still deeply in love with NYC and hope to move back some day.
The Year Ahead
This year is just whipping by, so naturally I'm scheming and planning for the year ahead. I have some big plans that have yet to see the light of day, but they're there. They're happening. I'm just toiling away, hoping to make progress on my goals. Hopefully I'll be sharing some cool things soon, but aside from that I'm very excited for my workshop in January.
I LOVE teaching and enjoy chatting with others. I'm hoping that I can focus on doing more workshops and events in 2016 and less client work. Don't get me wrong, I love writing, but at my current pace, it leaves me little time to write here or have any notion of creativity left, so I want some 'free' time for my brain to decompress.
In addition, I'll be planning a blog tour about suicide prevention and debt. The searches about suicide and debt have surged and it breaks my heart. Some people have reached out to me and let me know my words have helped, which means the world to me. I cry like a little baby every time I read something like that (me? sensitive? NEVER!). I want to grow this blog into a platform for helping others — in whatever small way I can. Working in the nonprofit world I always felt like I was making a difference.
Sometimes it's less clear with a blog and writing, so it's nice to get that feedback. I don't want to write just to write or have my name on some website. I want to inspire people to dump debt and realize they are worth so much more than their debt. And that your life can change at any time, even if it feels like it will never happen.
So, yeah. Feeling jazzed and overwhelmed about what's ahead. What about you?
Last month I declared my big, crazy, audacious goal for all to see. I was fearful of pressing publish as so much can happen in a year. I didn't want to set myself up for failure. But I knew that I wanted to keep myself accountable to paying off debt.
Even if I "fail", I promise to always be honest and forthright with where I am at and what is going on.
I know I am not alone struggling with debt. Many of us are fighting tooth and nail just to survive and reclaim our money, time, and financial lives.
It's hard and it's a journey full of ups and downs. Now, with this goal, I find myself on another journey.
In my last debt update, I said starting June 1 I was going on a cash budget and giving myself $100 in fun money each month.
I am proud to say that I've stayed within my budget, but at some points it has not been easy. This past weekend, it was so nice out and my boyfriend and I just hung out at a park. We were driving back and I asked him, "Should we be bad and go to happy hour right now?" (a summertime favorite of ours).
Luckily, he had the strength to tell me "no." While I felt frustrated at first, the urge to go out waned as we settled back at home and relaxed.
Making any big change is all about knowing your spending triggers. I constantly want to go out on nice days. In Portland, it's gloomy so much of the year, my inner party-animal just wants to release.
But I'm learning to channel that energy in other ways with walks, and bike rides, and wine from the grocery store (lol). I am also trying out new recipes and making sure I always have food in the house. Half of the time when I want to go out, it's because there is no food in the house and I'm too lazy to go to the store. Now, I start monitoring the food situation, so I can anticipate when I need to go to the store and be proactive, rather than reactive.
This past month, I am also happy to say I have met my goal and put $2,000 to debt. I am actually hoping to put another couple hundred, but am waiting on some payments.
My current debt total:
Undergrad loan: $5,331.64
Graduate loan: $21,530.92
Total: $26,862.56
I love how close my graduate loans are to being in the teens! The good thing about paying this amount is that I actually see the progress I'm making. Even when I was paying $1,000 per month, it felt like the debt was not going down that much. Then again, at the height of my student loans, I was paying around $300 in interest per month.
Things are moving along and I am working hard to just take it month by month, day by day. I don't want to overwhelm myself, but I also don't want to lose sight of my goal.
I am so ready to be done with this debt.
How are you doing with your financial goals?
The beginning is always the toughest. The commitment to change. To try something new. To be bold, even in the face of rejection or failure.
But everybody has to start somewhere.
When you just start something, it can feel like you are the awkward, new kid on the block. You don't really know how things work or what you are doing, but you pretend with a smile, hoping nobody will notice.
Whether you are working to get out of debt, lose weight, start freelancing, go on an adventure abroad — or any other big goal, really, the biggest key is just to start and deal with the growing pains.
The act of beginning is an act of courage. Beginning is the opposition of fear and complacency.
While it's easy to be scared of having big goals, we all have to start somewhere. All things worthwhile in life aren't easy. Getting out of debt isn't easy, losing weight isn't easy, nor is making a big life change. It's easy to compare ourselves to others — people who are naturally gifted at being frugal, or have never experienced the torment of being overweight or X,Y, Z thing that makes us feel inadequate, jealous, and afraid.
But we all have our own struggles and we all have to start somewhere. Don't let the starting line intimidate you because your peers are half a mile ahead. Start where you are, in your own time, as best you can.
Let the fear of failure fuel you. Keep trying, even if you stumble. You build confidence through trying.
So, if you are paralyzed with fear, thinking about some big, crazy goal that is consuming you, the key is to just start and know we all have to start somewhere. We are not born experts. We don't become "the best" overnight. We get that way through trial and error and starting from our humble beginnings.
Start where you are and keep going.
What big goal are you trying to accomplish?
Hey party people! I hope you are doing well. I've been writing up a storm this week and have been busy organizing the blog tour for The Road to Financial Wellness. 
I'm so happy to be working with others that are also passionate about personal finance and spreading the message of financial empowerment.
I recently had the opportunity to chat with Andrew Schrage, who is also passionate about personal finance. He is co-owner of the wildly popular blog, Money Crashers. I got to talk to him about paying off debt and avoiding the comparison trap. I hope you enjoy!
1. What tips do you have for people who are sick and tired of paying off debt?
Create mini goals along the way of achieving your ultimate goal of living a debt-free life, and reward yourself when each one is reached. Staying motivated is one of the major stumbling blocks when paying down debt, but if you treat yourself to a meal at a nice restaurant each time you reach a benchmark, you'll be able to stay on track.
2. Do you believe in the debt snowball or avalanche method?
The debt snowball method is best for folks who need the motivational boost of crossing smaller debts off their list first and then attacking the others. For people who don't need this psychological lift, using the debt avalanche strategy where you address your debts in order starting with the ones with the highest rate of interest, saves you more money in the long run. It all depends upon your personal preference.
3. What are the first three steps people should take AFTER they get out of debt?
Commit to never carrying a balance again. Live by one simple rule – if you can't afford to pay for something by the time the bill comes in, then you just can't afford it. Get going on creating an emergency fund. Start with an initial goal of one month's worth of living expenses and make your ultimate goal at least six months. Use an online calculator to find out where you stand in terms of your retirement savings, and ramp up those contributions as necessary. Get yourself on a budget, reduce your monthly bills, and send in the surplus to your retirement fund.
4. What's the biggest money mistake you have made?
My parents did a good job of educating me on the importance of smart money management and how to do it from a rather early age. It took me a bit of time to get on a personal budget once I graduated college, though. I probably should have done that sooner, and I also should have begun saving for retirement at an earlier age.
5. How can people say no to the Joneses and be happy with who they are?
Stop worrying about what other people think as to whether you own the latest smartphone or have a 60-inch curved TV in your living room.  Live by your own rules. If you're happy with your current electronic arsenal and those items are functioning fine, stick with what you have. Remember – you'll be a lot better off in the long run with a solid emergency fund set aside, little to no credit card debt, and having your retirement goals within reach, compared to living from paycheck to paycheck

Andrew Schrage is the CEO and co-owner of MoneyCrashers.com, a financial education website dedicated to educating its readers and subscribers on ways to better handle their finances. The topics covered include how to create a personal budget, reducing and eliminating credit card debt, saving for retirement, the importance of an emergency fund, and much more.
One of the best things that happened to me on my trip was that I got really inspired to pay off debt.
Being able to really be alone and sit with my thoughts made me realize a lot. More than anything, I really want to be out of debt.
I started thinking of how I could be out of debt as soon as possible and not the 2-3 years I've been thinking of. After looking at my income and doing some soul-searching, I set a crazy goal of getting out of debt in one year.
My mind is still grappling with this goal as it seems so crazy and out of reach. My debt is currently at  $28,737.59 (I just recently put $2,200 to debt).
In order to accomplish this goal, I need to make 4k or more each month. I want to pay at least 2k to debt each month, live off of roughly 1k (see my low expenses here) and put 1k to insurance and taxes. If I make more, I will put more to debt and savings — and perhaps even investments. I'm getting the urge to dip my toes in the water and get started.
After a year of making 2k+ payments, I want to throw some of my remaining savings at debt and be done.
Once I did the math, I felt so motivated. Because my income was stalling for months, my debt free date was constantly 2-3 years away. But in March, I made some drastic cuts, and started focusing relentlessly on higher paying work. And I'm so freaking glad I did. Because for the past two months, I've made more than I have in my whole life.
If I can keep up at this pace, I'll be looking at a $48,000 or more salary. That may be a modest salary to some, but considering my salaries have all been low to mid thirties, this is a huge jump. A palpable jump. I can see the difference in my bank account and it's the only way I'm able to afford to put 2k to debt each month. It just reminds me that as much as I like being frugal and saving, sometimes it really is about earning more.
So how in the heck do I plan to make this happen?
Well, the move is off. I realized I cannot accomplish this goal if I moved to LA or NYC. At this point, both of the cities have lost their charm after my enchanting affair with European cities anyway. I'd love to move to Europe some day. But that's a story for another day. The point is, I'm staying put in Portland for at least another year, or more to get my financial life in order.
Secondly, I'm going to continue to work my butt off (while continuing to prioritize self-care and rest) so that I can keep my clients happy and also secure more work when I need it.
Also, starting June 1 I am mostly giving up credit cards and opting for cash. I say mostly because I will still have my insurance and other auto pay things on my card. But I don't want to be tempted at all to spend more, so I am sticking to cash for everything else.
I am also giving myself a strict $100 budget each month for fun. I plan on significantly reducing my restaurant and happy hour expenditures.
These are the strategies I am going to use to try to knock this debt out in a year. A year seems manageable. A year seems like if I work really hard and stay focused, I can be done with this forever.
I can start saving and investing 2k each month. I can travel for longer periods. I can rid myself of 99.9% of spending guilt.
Before I was burnt out and just surviving. Now I've had time to rest and really evaluate my priorities. I know money is a tool to help you get what you want out of life. I want freedom and travel and adventure. I know I can have all of those things, while still setting myself up for a nice future, if I get out of debt asap.
It feels weird and scary to share this goal. Especially because my income depends on me. I don't have a cushy job where I can sit back and make $50k. I have to work, hustle, pitch, edit, revise, and manage my work to make a buck. And I'm so grateful for that. But I know that things can change with clients — budgets change, directions change, etc. So much feels out of my hands, but I will do my best to continue to work hard and if things fall through, make something else work.
Self-employment is for the resilient.
So, there you have it. My big, crazy, audacious goal. I am nervous, but I'm ready for a challenge.
I will be debt free by May 21, 2016. Let the countdown begin.
What if you had a friend that was always begging you for money — hitting you up for $3 here, $10 there. You know, nothing big, but they were very consistent. You felt bad for them, so just kind of kept them around as your friend.
Now imagine this. Your new lover just simply adores you and cannot stop calling you. What you thought was love, is quickly turning into harassment. Unwanted calls and letters — you feel like you lost your sense of self and cannot escape.
Let's consider another situation. You go to a job and do all your duties, but when you get paid, you only get half of your check, because your employer thinks you owe them for giving you a job.
Would you put up with any of these situations?
I hope there is a resounding HELL NO.
And if that's the case, why are you putting up with the same crap from debt? Debt is personified in all of these scenarios. Debt is your conniving co-worker, your harassing lover, and your broke friend.
You wouldn't put up with that, so don't put up with the same crap from your debt.
It's time to DUMP DEBT.
Break up, already.
Debt is SO out of style.
Don't think about how you don't know what to do with your life without debt. You're so much stronger than that. Your life will mean so much more without debt and you'll finally be able to see all the beauty you alone possess.
I want to preach the gospel of getting out of debt, because I too am sick and tired of being in debt. I'm sick of feeling used and sick of seeing my hard work go to debt.
I know I can reclaim my life, my finances, and my future at the end of this journey. And so can you!
Are you with me?