This blog post is part of the Suicide Prevention Awareness Month blog tour in partnership with Debt Drop. If you are feeling suicidal, please call the National Suicide Prevention Lifeline at 1-800-273-8255 or text HOME to 741741.
No one likes to talk about what it's like to be suicidal or actually have suicidal thoughts. To someone who has never had thoughts like this it seems frightening.
Now, I do believe there is a difference between having thoughts and actually planning to do it. But the thoughts are scary enough and could lead to action if not treated properly.
As I learned from Lynette, this is called passive suicidal ideation. According to her post, "Passive suicidal ideation is the desire to die. It's not accompanied by a plan to end your life, but the thoughts are real and intense."
And those thoughts can be very real for people suffering under the weight of debt. People in debt may be more inclined toward suicidal thoughts. In fact, those who die by suicide are eight times more likely to be in debt. It's a correlation we can't ignore.
It's personal
I wish I could say i didn't have a relationship with suicide. But I do. My maternal grandfather committed suicide. So did my cousin. And I'd be a liar if I said I never thought about it.
The first time the thought enters your mind, it jars you a little.
The thought creeps in, unwelcome yet overwhelming. You wonder, "How could I even think this?"
I've written before that I've had these thoughts as a teenager. Unfortunately, earlier this year some of those thoughts returned. Every day was a battle and I was not doing well. I'd wake up with this overwhelming sense of doom and I couldn't shake the feeling that something terrible was going to happen.
As I learned, sometimes the scariest place to live is in your head.
Getting Help
I had no idea where these thoughts were coming from and why. I relinquished control and said, "I can't do this alone."
After trying exercise, meditation, healthy eating, therapy and more, I still wasn't where I needed to be. So I went on medication. It's been 10 years since I last touched medication, but at this point, it was something that I needed.
That month, I also decided to get my first tattoo to remind myself that I'm resilient and that my story isn't over yet.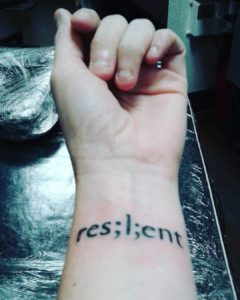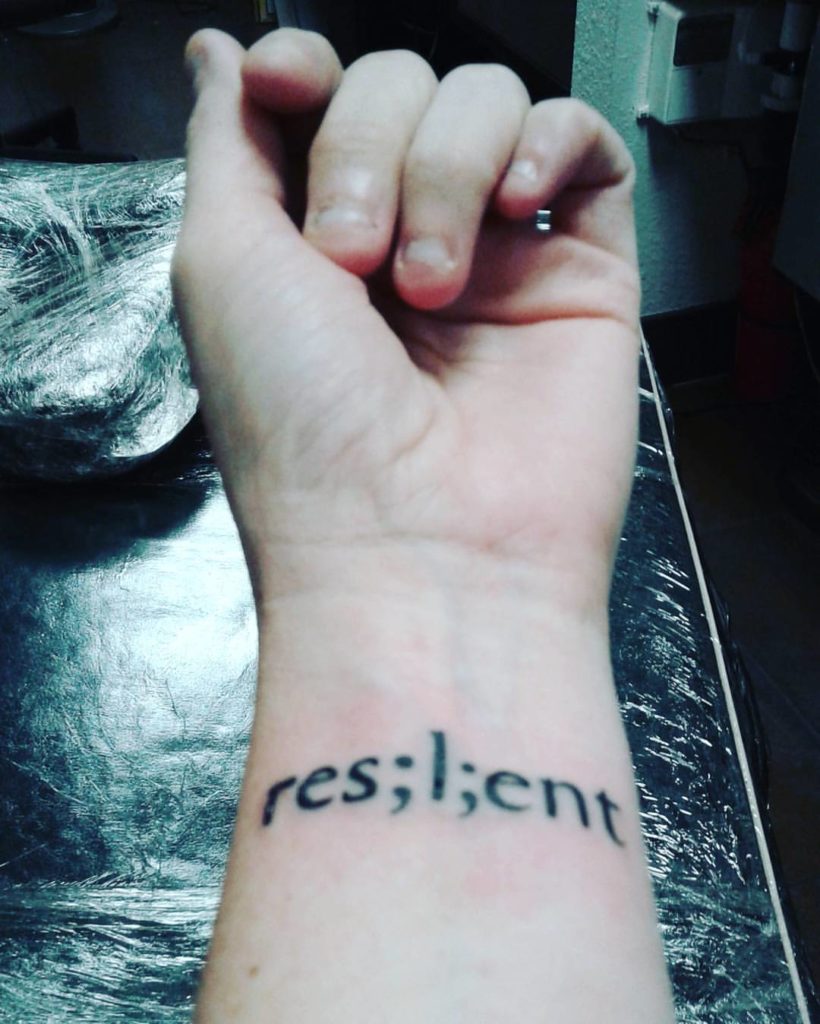 As you can see, I've replaced the "i"s with semicolons in honor of Project Semicolon.
Project Semicolon is a Suicide Prevention Awareness organization — the semicolon is used as a metaphor — an author uses a semicolon when they could have finished their sentence but chose not to. In this case, the author is you and the sentence is your life.
Your story is not over yet. I have to keep reminding myself of that still. Through therapy and medication, I can happily say those thoughts are gone and I'm in a better place. I asked for help and took action. I have a support network in place and am actively working on myself.  
It's a work in progress every day. If you are feeling this way right now, you're not alone. I've been there. And so have many others, too, which is why I want to #EndTheStigma. If you had a broken arm, you'd see a doctor.
If your mental health is suffering, you should get help and there is absolutely no shame in doing so. In fact, it could be the best thing you've ever done.
Just remember that there are resources out there.
You matter. You're important.
Your story is not over yet.
Resources
National Suicide Prevention Lifeline
Call 1-800-273-8255
American Foundation for Suicide Prevention
Hey debt fighters! We have a different kind of letter today from new blogger The Lady in the Black. LITB, aka Erica is a 40-something single mom, freelance writer, and published author. She was inspired to start her blog based on her ongoing struggles to manage her personal finances.
—
Dear Money,
I have been thinking about writing you for a while but I really wasn't sure where to begin. All I do know is that I've wronged you and you deserve an apology. However, I'll admit that the apology is not completely altruistic. Forgiveness would help me move on and my hope is that we could, one day, grow closer and have a more mutually beneficial relationship.
Truth is we have hurt each other a lot.
Looking far back into my childhood, I can see you and I got off to an extremely rocky start. You presented yourself to me first as shiny silver dollars. You were cherished little glittery gifts that I stashed safely away in my little miniature mailbox coin bank. I was infatuated with you. Not because of what you could get me but because you were beautiful and you were mine. That is, until the day you ran away with my sister to the video arcade. You traded yourself into dirty little quarters which granted my little sister hours of Asteroids and Ms. PacMan! How could you!?!? I was so hurt. I felt betrayed by you and my sister. Now, in hindsight, my sister was just a little girl who wanted to play and took something that wasn't hers. That's what little sisters do. And you? Well, I suppose you weren't responsible. You didn't abandon me. The child in me only remembers the loss. The child in me didn't appreciate my parents attempt to give me an allowance in such a special way to teach me of your value. I FORGIVE YOU, MY SISTER. I FORGIVE YOU, MY MONEY. 
As I grew, I felt ashamed how you seemed to avoid me and my family. You really weren't making yourself available to us. It was embarrassing to have to shop at the bargain stores when my girlfriends all gossiped about their weekends at the cool CrossGates mall. They sported their Jordache jeans and Sony Walkmans while I hiked up my no-name leg warmers and feathered my hair with the generic comb, tucked safely in the back pocket of my jeans from Caldor. Our family was "middle class" with a working dad, stay-at-home mom, and 3 kids (staggered 4 years apart.) Where were you? The child in me remembers the government chunks of Velveeta cheese and special reduced-priced lunch tickets. I remember wearing "high-water" jeans and scruffy sneakers. The child in me remembers feeling like "having money" wasn't something attainable for us. The child in me didn't appreciate how hard it must have been to budget a single-income and feed a family of 5, especially during dad's 18-month long union strike. I truly wonder how they did it. We were well-fed, well-mannered, well-educated children living the American dream. I FORGIVE YOU, MY PARENTS. I FORGIVE YOU, MY MONEY. 
When I was in college, reveling in the new-found independence of my first apartment and my first true love, you bailed on me with him-that-shall-be-not-named, when he dumped me and took off for Florida. I had nothing! You both broke my fucking heart and I was literally starving. I'd scrounge up $10 and buy a pizza from down the street. That pizza was my breakfast, lunch and dinner until it ran out. I had no phone (the old kind), no friends, tons of difficult schoolwork, and a broken heart. I binged watched China Beach on TBS and cried my eyes out for months. The victim in me put everyone to blame, especially you, Money. The victim in me didn't acknowledge that I was successfully scraping my way through college. I was tough and building up my resiliency. Most importantly, I didn't acknowledge it was temporary. I FORGIVE YOU, MY FIRST LOVE. I FORGIVE YOU, MY MONEY. 
And while I could continue on, elaborate the times in my marriage when you were such a hot topic, I really want to focus on what I feel like was the most profound disappointment you ever gave me. You know what a trial my divorce and custody battle was. You saw me fight with every fiber of my being to build a new life for me and my child. You saw me move 3,000 miles away to reclaim the person I believed I was but never felt comfortable being. You watched as I started a new job and suffered one of the greatest tragedies of my life. I'll admit you did support me a bit when I had to tuck my tail between my legs, admit defeat, and once again uproot my life for the benefit of my child. You knew it nearly broke me. And yet, when I was in exile in a desert land, miserable, lonely and afraid, you left. I got fired because I was miserable. I got dumped by the love of my life because I was miserable. And you were no where to be found. The victim in me felt punished for trying to be independent and doing the right thing. The victim in me didn't acknowledge that I put myself in that absurdly vulnerable position with no safety net or plan B. The amazing truth is that you did come back for me. You returned when I was at rock bottom. First, you were gifts from the man who loved me but couldn't "save" me. Then, you were a comfortable and loving place to stay while I got on my feet again. You were the great-paying freelance contract I landed straight out of the gate. You have spent the last year surrounding me, comforting me, rebuilding my life and my dreams. You've given me the strength to live life on my terms. I FORGIVE MYSELF. I FORGIVE MYSELF. AND I THANK YOU, MY MONEY. 
Since I'm now quite literally in tears, I suppose I'll just sum it up by saying that it was me that chose to remember you in a negative light. It was me who cast you as the evil villain and myself as the damsel in distress. You are just you, Money. I see that now. And now that I've pulled up my big girl panties and committed to truly taking care of myself in every possible way, I hope that you and I will have a very positive future together.
And even if you try to take off one day, I won't let you. You aren't everything to me, Money, but you are important and I plan on keeping you around.
Your Repentant Friend,
The Lady in the Black
This post contains affiliate links. 
The problem with debt is that it can become so normalized. Debt is a national pastime and it seems like nearly everyone has it.
Not having debt goes against the status quo.
All of this can add to the difficulty of paying off debt. Doing something that most people don't do can be isolating and tough, but let me tell you something.  
Being debt-free provides you with freedom. It provides you with more choices. Having that extra money allows you to pay for your future, not your past. It allows you to do the things you've always dreamed of, while also dealing with some of life's difficulties — without it being a crisis.
I've been debt-free a little over a year now. In many ways, I'm living my "debt-free dream". I work for myself. I moved back to Los Angeles.  I was able to go on the Italy trip my mom and I talked about for nearly a decade.
Just last week, I was able to whisk my mom away for her big 6-0 birthday bash. We went to New Orleans and had a ridiculous, joyous time. These are memories that will last a lifetime.
These things were all out of reach for me not that long ago. To be able to do the things I only dreamed of is so incredibly sweet. But debt freedom isn't just about the sweetness, it's about the sour, too.
Dealing with tough times
By being debt-free, I've also been able to better deal with the hard times instead of going into panic mode. It seems the year has just begun, but there's already been some tough times behind-the-scenes.
Some clients have put their content on pause or shifted their strategies, which directly affects my income. I'm putting my heart and soul into another project that is bigger than myself — but is also risky (launching soon!).
On top of that, I'm dealing with a health scare that is leaving me a bit frazzled and distracted. At some point, I might write about it, but I'm currently in it and simply trying to take care of myself.
All of these things have been incredibly stressful. Life can have unfortunate timing, especially when it comes to accomplishing your goals and dreams.
But being debt-free makes it so much more manageable.
As soon as I realized I would be going to the doctor more often, I put $500 in a Capital One Savings Account called "Medical". That amount happens to be my deductible through Liberty Healthshare. I didn't want to be caught off guard.
I've also been allowing myself not to worry about work as much, or hustling hard. And I'm grateful I can do that at this point, thanks to my emergency fund. If I was dealing with some of this stuff while paying off debt things would be much worse.
Debt freedom
My point with all of this is that life is going to happen, for better or worse. Your dreams and your freedom are right on the other side of debt.
As you can see, being debt-free isn't just some magical fairyland devoid of problems — life can still throw you some curveballs.
Being debt-free allows you to deal with crises on their own, without having a chunk of your paycheck already spoken for. It allows you the freedom to deal with what comes your way, without having the emotional and financial drain of debt.
I remember when I began my debt payoff journey, it felt like I would never get there. It seemed so far away, like a destination I'd never reach. But I did.
What was the shift that made it all happen? I started treating debt as a crisis.
I realized that debt was holding me back from my dreams. It was affecting my relationship. It took a toll on my mental health (feeling shame, guilt, depression, and anxiety) and my physical health (hustling all the time). It was this heavy weight that was always there.
I made the mental switch that there was no other choice but to become debt-free, NO MATTER WHAT.
I am now on the other side of debt, dealing with some other personal and professional stressors. But I am managing. If I had debt still, I'd be in straight up panic mode.
I want you to experience debt-freedom so you can have a chance at living your life to the fullest.
What people don't tell you is that you have to change your mindset first. Action follows thoughts and if your mind isn't in it, you're not going anywhere. Tell yourself there is no other choice but to become debt free and that you will do whatever it takes to get there — no matter the time frame.
This also means being uncomfortable. You will need to cut back on certain things that you probably see as a given in your lifestyle. It means hustling more and working more hours. None of this stuff is fun, I'm not going to lie.
In 4.5 years, I was able to pay off the $68,000 I had left after NYU — after already paying my loans for 5 years before that! Paying off that amount was hard and at times I wondered if I would ever live the life I knew I was meant to live. At that time, I did a lot of work I didn't want to do. I scrimped where I didn't want to.
It was all worth it though. And I want that for you. Now, I think it's more important than ever to get your financial ducks in a row and pay off that debt. We live in uncertain times and while money can't save everything, it certainly helps.
So I urge you. This year, commit to paying off debt. Start small and put your spare change toward debt. Make biweekly payments instead of monthly payments. Put $10 more to debt. Focus on slashing the big three expenses: housing, food, and transportation.
You can do this.
Need more inspiration? Check out my book! Want more personalized debt help? Set up a coaching call. Want to help others in debt? Check out #DebtDrop!
A year ago, after paying off all my debt I was looking for a way to give back. After all, my blog was just the fuel I needed to pay off debt and helped me launch a new career. To say I'm grateful for my readers and this community is an understatement.
So I started donating $50 per month toward my readers to help them pay off debt. Many of my readers email me desperate, scared, and sometimes suicidal. The weight of debt can be so heavy. I knew that small amount wouldn't pay off all of their debt, but I knew that this small gesture could mean a lot.
As the project went out, I had people offering to match my donations. Shannon matched one month and for most of 2016 J. Money matched my contributions too.
Throughout 2016, J and I brainstormed how we could do something even bigger and better. We enjoyed helping someone in need once a month, but we kept thinking about making it more impactful.
Based on many conversations, we decided to launch #DebtDrop and get more people involved. Our goal is to amplify what we've already been doing in a more official capacity.
You see, J. recently launched the Rockstar Community Fund, a philanthropic initiative aimed at helping others directly with financial contributions.
#DebtDrop is one of its signature projects that I am leading. Our goal is to help people pay off debt and feel less alone. To gather the strength of the community to make real financial change in people's lives.
To me, the whole goal of the Rockstar Community Fund is to show that a small financial contribution can have a big impact. Through the community fund and #DebtDrop, we can help others directly.
How do I get involved?
There are many ways to get involved in the Rockstar Community Fund. I love the #GivingCards project and think the Just-In-Time giving initiative is SO needed in the community. For #DebtDrop, we're looking to harness the power of community and pay off some debt!
Being in debt can take a major toll on your life and we want to help people who may be on their last thread of hope.
If you want to get involved, you can:
Match $50. You can give directly to the Rockstar Community Fund and ask to earmark your gift for #DebtDrop. If you're a blogger, you can also give directly to one of your readers – it doesn't have to go through the RCF. But please let us know about your contribution so we can keep track. We'd love to share your story and know how this is making an impact.
Nominate someone who needs us. If you know someone who could use a little help, specifically to pay off debt, let us know. You can email me and we will take it into consideration. (Bloggers – keep an eye out on the comments/emails you get from readers. You may have someone who reads your blog who could benefit from this!)
Once a month, we will be helping someone pay off debt — and hope to do it bigger and better than before. The best part is that the recipients aren't expecting help at all. They don't ask for it. We surprise them and many of them are shocked, moved and inspired to keep going. The feedback I've gotten in the past year has inspired me so much to give back. You really never know how a small amount of money can help someone who feels hopeless about their debt. I know that we can make a difference.
There are other ways to get involved with the Rockstar Community Fund as a whole, too.
Share the project and spread the love! 🙂
One year later.
365 days since I made my last payment on my student loans.
Two degrees. $81,000 in student loans. Nine years of repayment. Nine years of having my money pay for my past, rather than my future.
I paid the minimum on my debt for the first five years, but after graduating from NYU and taking on a lot more debt, I knew I had to get serious. I ended up paying off $68,000 in 4.5 years.
My journey into debt was easy. Getting out of debt? It was the hardest thing I've done (aside from building a business).
There were moments when I felt so overwhelmed by my debt. When I realized I had taken on so much debt, but no full-time job was in sight. I felt consumed by debt and felt that every choice I made was predetermined by what I owed.
The lack of choice felt so limiting, so constricting. Finding myself on food stamps shortly after moving to Portland was a personal low. The master's degree from a fancy private school — which I thought would be the key to career success — suddenly seemed meaningless.
I couldn't help but think that everything I had done up to that point was a mistake. I was stupid for quitting my job and going to New York. I was an idiot for getting a performing arts degree from a private school and taking on more debt than I ever made in any previous annual salaries.
I carried the shame, guilt, depression and anxiety with me. The burden was heavy and the financial cost, very real. At my highest, I paid over $300 a month in interest.
When I found myself feeling hopeless and alone — after trying therapy and dealing with daily bouts of tears and anxiety fits — I turned to writing. I started this blog on January 3, 2013.
In many ways, this blog saved my life. I don't say that lightly or with a hint of a hyperbole. It helped me climb out of the deep, dark place I found myself in.
It helped me acknowledge the feelings I had and made me realize I was not alone. I found cheerleaders, a community, and a creative outlet.
Through this blog, I created a new career as a freelance writer and event planner. How everything changed.
Making that last payment a year ago was such a surreal experience. I was in debt my entire adult life and for the first time, I was free.
Once I saw my balance at zero, I started to hyperventilate. It was not the reaction I was expecting.
But it felt like the last straw, the final "goodbye" in a love affair that was both exhilarating and tumultuous. Though I started a blog about breaking up with debt, actually breaking up with debt turned out to be far more emotional than I thought.
Who was I without debt? What would life be like without monthly payments? The fear of the unknown scared me. After about ten minutes of freaking out, I started to move toward excitement. I screamed and jumped up and down like a child on Christmas day. In twenty minutes, I went through all the emotions. Then, a breakthrough.
A feeling of lightness. A burden lifted. A breath of fresh air. I will never forget that feeling.
Over the past year, I have been able to keep that lightness and actually live the life I dreamed of. No longer was debt my master. I was in control of my choices.
This year, I finally got to act on what I wanted — I moved back to Los Angeles to be near family and be in a big city again. I celebrated and finally got to take my mom abroad to Italy. I traveled more than I ever have, both for business and pleasure. It was everything I wanted and everything I dreamed of. The guilt of spending money on things I wanted or needed was magically gone. I could use money for things I wanted. I started investing and saving for my future. My money belonged to me.
Though all my debt-free dreams did come true, it has still been a tough year in many ways. I had to start a new relationship with money. I had to figure out who I was without debt.
I increased my income even more and hadn't realized I went into another tax bracket. After dealing with the expenses of moving and going to Italy, I then found out I owed the tax man everything I saved up. My savings went back to zero and I had to start over. It felt like a financial setback, though I was grateful to at least have the money in my account and not go back into debt.
I also found myself as the sole income earner. We knew moving to LA was a risk, but it was worth it. Luckily, I have a job I can do from anywhere, but my partner has struggled to find consistent work. Things are starting to change, but as you can imagine this affected my finances.
On top of the financial stress of taxes and making sure bills are paid, I experienced so many business growing pains this year. The more successful I got, the harder things got. I've dealt with some setbacks that have made me rethink everything. Some things that have deeply affected me. All of this affected my mental and physical health, too. I don't think I've ever been so sick in my whole life as I was this year.
I am starting to make changes so that I can stay well and continue to thrive in my career and continue to be debt-free. There's no doubt, though, that my first year being debt-free had the highest highs but also the lowest lows.
In the end, it was all worth it. To be here. With this blog, this book, this community that changed my life.
For everyone still fighting the good fight out of debt, I want you to know that it is possible. Life is much sweeter after debt and choices open up for you. Getting out of debt is so hard, but once you do, your whole life is waiting for you.
When my friend Jason Vitug asked me to speak for the Road to Financial Wellness, more than anything I wanted to say "No."
I was full of excuses.
I don't have experience as a speaker.
I'm too busy.
I've worked behind the scenes on the road, not in the spotlight.
Saying Yes
But I also didn't want to be lame, so I said "Yes" instead. And I am so glad I worked through my fear and did it! I now want to pursue more speaking opportunities to share my story and inspire others to get out of debt.
Though I have a theatre background, I haven't been in the spotlight with just me up there for more than a few minutes at a time, so this was definitely a bit out of my comfort zone.
But it was a great way to connect with others and tell my story in a new way. Also, it was like a homecoming.
Some of you may know that I've helped out with the Road to Financial Wellness for the past two years. I've been inspired by the mission and love helping Jason make this project happen. I helped organize the NYC event, the Chicago event and am planning the San Diego finale this week.
So it was a nice change to be on the other side of the stage. I am so grateful for this opportunity.
My friend Patrice Washington recorded me. It's funny, I told her not to record it, because I was too scared. But since she knew it was my first public speaking gig she thought it would be good so I could get feedback. It's nice when friends do what is best for you, even when you're scared and just want to say no.
So, I'm getting out of my comfort zone even more and posted this on YouTube. We all have to start somewhere right? I hope you enjoy the video and it inspires you to get out of debt.
P.S. I'll be in San Diego this week at FinCon. If you see me, say hi!
This blog post is part of the World Suicide Prevention Day blog tour. If you or someone you know is feeling suicidal, please call the National Suicide Prevention Lifeline at 1-800-273-8255 or visit www.Suicide.org
—-
"I don't know how I can go on with all of this debt."
"I'm worth more dead than I am alive."
"I'm so stressed out, I'd rather die than deal with this debt."
Over the past couple of years, I've received numerous emails from people searching "I want to kill myself because of debt" and finding my blog. Some I never hear from, some leave comments, and some send me emails.
I spent a portion of my vacation in Italy responding to someone who was getting hounded by creditors and wanted to absolve his family of the shame of being in debt. Last Christmas Eve and Thanksgiving I responded to more emails as well. During the holidays, I see a spike in traffic.
I answer every single email, no matter what day or time it is. It doesn't get any easier to get these emails. My heart still hurts and I want to help. But why do I care? Because it's personal.
My relationship with suicide
I will never meet my maternal grandfather. I know him vaguely through photos and stories, but mostly I know him because what he did.
He committed suicide when my mother was five years old, leaving my grandma alone to raise six kids. Though I am happy to report that my mother and her siblings have become happy, healthy adults, this one event is a stain on our family history.
There's an emptiness. A hole. A branch of the family tree, abruptly cut off. We try to grow branches on our own, but come up short.
Aside from that, I had my own issues with suicide as a teenager. I was a depressed, awkward teenager and had trouble finding my place in the world. A puzzle piece that didn't fit.
Through pills and razors, I flirted with ending it all. It would be easier that way. Or so I thought. One of the toughest conversations I've ever had was telling my parents how I felt. I could see the horror on my mom's face, as she contemplated the potential of losing not only her father, but also her daughter to suicide.
I got the help I needed and got better. But even though I recovered from my suicidal feelings, depression has been a major character in the play of my life.
When I was deep in debt a few years ago, some of the thoughts came back. "It would be easier to end it all."
Paying off debt felt so enormous. I felt trapped, stuck, and mostly ashamed of getting myself into this situation.
But I realized that killing myself over debt wasn't worth it. It's a permanent solution to a temporary problem. Back to counseling I went and ultimately I created a plan to get out of debt.
I started this blog as a lifeboat. I began to side hustle. I chose to believe that my only option was to get out of debt. And I made it happen.
What to do if you're feeling suicidal because of debt
If you or someone you know is feeling suicidal because of debt, first let me tell you, you are not alone. You are not a loan. You are not crazy, you do not "deserve this" and you can overcome this.
I know how hopeless everything feels. The weight of debt is strong and the world looks bleak. Any ray of hope is hard to find. Your life feels like it's controlled by something else. You feel an inner turmoil so deep, it's hard to put into words.
But if you are really feeling hopeless because of debt, here's what you can do:
1. Talk to your creditors. Can you lower your payments? Lower your interest rate? Go on temporary deferment? If your debt is causing you financial stress and you are unable to pay, talk to your creditors first.
2. Consider a debt management plan. There are nonprofit credit counseling agencies out there that can work with you to help you pay off debt. Make sure it's a legit company. It could help.
3. Is bankruptcy or student loan forgiveness an option? I am NOT a financial planner, so I am not recommending these options but, they are something you should look into. I literally had someone tell me bankruptcy would be worse than death because of the shame. But I know several people who have filed bankruptcy, and they have moved on to have happy, productive lives. Your life isn't over. Will it be tough? You bet. But it's not over. Also, there are student loan forgiveness options for federal student loans through an income-driven plan or through Public Service Loan Forgiveness. If you have medical debt, call your lender and see if you can negotiate a payment plan or get some forgiven. As I mentioned in my book, I got an ER visit completely covered when I was uninsured.
4. Talk to a counselor. When I was deep in debt, finding myself in tears every day I went to therapy. There is NO shame in therapy. I honestly think everyone should go to therapy. Why? We all need a non-biased third party to help us see things differently. Our friends and family can help, but having someone else to talk to can offer a new perspective. I couldn't afford traditional therapy, so I went to the local graduate school and got low-cost counseling. I was able to negotiate the sessions to $5 as I was on food stamps. Look for help at your church, graduate schools, community centers, and more.
5. Realize you are not your debt. For so long, I hated myself because of my debt. It represented all my mistakes. It represented the past that I was trying to move on from. The number consumed me with shame and guilt. Then one day, I realized I am not my debt. With or without debt, I am still a good person. It's important to separate yourself and realize there's more to life than this one number. And it's important to enjoy your life now, even with debt on your shoulders.
"We have to connect with a new story and a new sense of self. We need to feel grounded in our life today, not waiting until the debt is paid off to start living." says financial therapist Amanda Clayman.
Debt affects us in many ways — but it doesn't have to be forever
Debt can feel all-consuming and take over our lives, affecting us in numerous ways.
"Living under the burden of debt affects us in numerous ways. We can break these down into regret, feeling trapped, and feeling like "our real life" is out of reach because of our financial obligations," says Clayman.
It feels like we are working only to pay off debt, so what is the point? The point is to conquer debt and continue to live your life. Realize that life goes on and debt does not have to be forever. That with help, a plan, and a budget you can overcome this difficult period.
It's important to remember, you are not alone. You are not a loan. Debt is NOT a death sentence.
Seek help, reach out, and don't suffer in silence.
Resources:
National Suicide Prevention Lifeline: 1-800-273-TALK (8255)
Info about Debt Management Plans
Info about bankruptcy
Directory for low-cost counseling
After many months, I have an exciting announcement: MY BOOK IS HERE! Can you believe it? If you would have told me three years ago when I started this blog that it would lead to a book deal, I'd laugh in your face.
I am really excited to share my baby with the world and hope it inspires people to dump debt and take control of their finances.
Instead of just mentioning my book, I thought I'd share the five best books to help you get out of debt. Sometimes you need a little extra guidance so here are some of my favorite resources to help you pay down debt and get your money in order. (p.s. these are affiliate links and I'll make a small commission if you purchase something, which helps support Dear Debt)
1. Dear Debt: A Story About Breaking Up with Debt
Okay, so shameless plug here but I do think my book is one of the best books to help you get out of debt. Why?
I paid off $81,000 in student loans. It was the hardest thing I've ever done, but I'm proof it can be done. The book chronicles my journey of getting into debt and how I managed to get out of it after struggling with low-paying jobs, making $10-$12 per hour after graduation.
The book is part memoir, part actionable advice and every chapter ends with a dear debt letter! I was so excited because I was able to share some of the killer letters that others have written in the book!
If you're looking for inspiration, motivation, and actionable advice on paying off debt, cutting back, and earning more, my book is for you.  And remember…you are not a loan. You are not alone.
2. Hustle Away Debt
You guys know I'm all about the side hustle. Side hustling pretty much changed my life and helped me get out of debt. Not only that, it led to a new career.
Everything you want to know about side hustles is in Hustle Away Debt by David Carlson. He shows you how you can pay down your debt using side hustles and provides guidance on how to find the best hustle for your lifestyle, how to fit it into your schedule, and how to make real money at it. This is an essential guide if you're looking to earn more!
3. You Only Live Once: The Roadmap to Financial Wellness and a Purposeful Life
I can't tell you how proud I am of my boy Jason Vitug! Jason wrote You Only Live Once (YOLO — get it?) to help inspire millennials to get purposeful about their money. Throughout the book Jason shares his personal story and experience and discusses the importance of knowing your money why.
Once you understand your money why and how it can serve you, Jason hands you the tools you need to reach it in this book. For Vitug, it's all about using your money to take you to the next level. He teaches you how to take control of your money through budgeting and strategic savings. With your money under control, you can move toward reaching your bigger purpose.

4. The Recovering Spender: How to Live a Happy, Fulfilled, Debt-Free Life
Ok, this book isn't even out yet, but I'm excited to read it. With a tagline like "how to live a happy, fulfilled, debt-free life" how could you go wrong? I'm putting this on the list as I know several blogger friends who've gotten a sneak peek at the book and they're raving about it. Also, Lauren is just cool.
Lauren Greutman speaks from her own experience with credit card debt and chronic overspending in this book. Using her personal story of financial recovery ($40,000 in debt, and an underwater mortgage) and its effect on her marriage, she shares the steps she took to get her money into shape, and stop the overspending. You can pre-order now! 
5. Your Money or Your Life
Early on in my personal finance journey, I read Your Money or Your Life, considered one of the personal finance Bibles. This book has endured and stayed relevant for over twenty years. Vicki Robinson and Joe Dominguez focus heavily on finding satisfaction and peace with both your money, and your contribution to the world.
They believe your money should be a tool to bringing happiness into every area of your life. With their big picture approach, this book is about radically shifting your thought process surrounding your money, and the direction of your life.
Some of the things I got out of the book include looking at your after-tax salary and what you really take home and also quantifying purchases in hours worked. For example, a purchase isn't just $20. It's trading one hour of your life to make $20, to afford that purchase. This book can really shift your thinking when it comes to spending and money management!
Have you read any of these books? Any others you'd recommend? 
Image courtesy of Death to the Stock Photo
For better or for worse, when it came to paying off debt, I was all in. Once I started this blog and publicly declared that I was going to get out of debt, I did everything in my power to make that a reality.
I started side hustling like crazy. I began to freelance, which later turned into my career. Once I doubled my income, I started throwing crazy amounts of money toward debt — $3,000 to $4,000 each month.
I saved a little, but not a lot. Just enough. I forgot about retirement. Didn't invest. And now I'm 31-years-old and am effectively starting at square one.
It's been five months since I paid off my debt and I should, in theory, have a lot of money to show for it. If I was putting that kind of money toward debt, wouldn't I have close to $15,000 saved and invested now that my debt is out of the way?
I should, but I don't.
I wish I could tell you that everything was balanced and I was able to stash cash like it was going out of style since becoming debt-free. But in my typical all-or-nothing personality, I decided to move to LA and go to Italy with my mom and write a book, all roughly at the same time. Not only that, but I got hit big time by Uncle Sam this tax season.
All of this money I thought I would have suddenly was tied up.
I had gone years without spending money on Big Life Changes and neglected every other area of my financial life in a single pursuit of becoming debt-free.
I know many of you were concerned with my strategy, and in my stubbornness, I ignored it…because I was going to be debt-free as soon as possible, no matter what.
And then, once my debt was paid off I changed everything. This has come at a cost that I'm realizing now, as I have barely anything to show for all of my hard work.
You may be wondering, how did this happen? Well, let's review:
In January, a month after becoming debt-free, I technically "owed myself" because I had dipped into my tax savings account as well as emergency fund to pay off all my debt. On top of that, I owed a little more than I thought for quarterly taxes (because I'm self-employed), which set me back a little further. In short, I didn't save much that month, because I had to replenish funds and pay the tax man.
February was a big month. I was actually able to save and invest $5,500 — $2,500 for investing, $1,000 in an emergency fund, $1,000 in an Italy fund and $1,000 for my moving fund. I felt proud. I felt rich, even.
Then March came, and it was hectic. Trying to move out-of-state is not cheap and definitely not fun. Towards the end of the month, when we were packing, our food bill got out of hand. At some point, you just sort of give up on cooking when you're preparing to move and all of your stuff is in boxes.
The move itself wasn't cheap either with a rental van, hotel stays, and gas. Once again, I was able to save a little, but the move cost more than I saved, which hindered my progress. Also, I owed the IRS about $3,000. Apparently, I made good money last year and didn't save enough.
April came and was the worst month yet. A financial apocalypse, even. My accountant and I were going through my income and expenses to prepare for my quarterly taxes. I had just gotten off the heels of paying federal taxes, but this was another bomb.
I had a five-figure tax bill. Once again, I didn't have enough saved and it wiped me out completely. Emergency fund? Gone. Tax fund? Depleted. Everything I had worked for was taken by the tax man. I have very few expenses that I can write off and apparently this year, I've been rocking the income and the IRS wanted their fair share. When I heard the news, I felt so defeated. It felt like a big setback.
Now my accountant is encouraging me to save not 30, not 40, but 50 percent of my income for taxes. WTF?! We're overestimating here as falling short has obviously been a pattern of mine. I don't want to owe the IRS, so I've continued to tap my savings. But now, as discussed, I'm literally saving half of my income for taxes.
To shake off this big blow, luckily I had Italy to look forward to. Italy was amazing, but spending two weeks there was expensive. Priceless, totally-worth-every-penny, but expensive. To make matters worse, I invoiced for half of what I usually make at the end of April. It was at that moment that I felt so low and frustrated with freelance life.
I work my butt off and have practically nothing to show for it. I pay 50 percent to taxes and can barely afford to take a vacation, because if I don't work, I don't get paid.
But then I started getting mad at myself…wondering how did all of this happen? How was I making so much money, but had nothing to show for it? I now realize that in my all-or-nothing debt payoff strategy, that I was screwing myself in other areas. I borrowed from savings and taxes. I also just assumed I could save the same amount for taxes and didn't realize the extent that my income had grown.
In some ways, I feel like a failure. A (now) high-income earning freelancer with hardly anything in the bank. I realized that even though I was able to pay off debt ahead of schedule, starting at square one set me back in many ways. Deciding to move and travel all at once perhaps wasn't such a good idea.
Also, taxes are a b!$%* if you're self-employed. So, I haven't made the progress I thought I would on my finances. I'm just recovering from the financial wipeout during tax season. I've replenished my emergency fund to $3,500. I have $3,000 invested. And am now saving a helluva lot more for taxes.
It's not great and I'm not proud, but I'm taking baby steps to get where I need to go. I realize now how my all-or-nothing strategy got me in trouble, so am trying to save and invest in a sustainable way.
I wish I could share with you how awesome debt-free life is and how I'm rolling in the dough, living a life of luxury. But it's been tough. It's been a hard breakup. Debt is still showing me who is boss and I'm trying to reclaim my finances as I effectively start over and move on.
Being debt-free is great, but it's not the end goal. It's a goal. And life continues. If you're working to get out of debt, don't forget other areas of your financial life. Perhaps don't make so many sweeping changes within months of paying off your debt. And if you're self-employed or freelancing, save your money! More than you think you need!
I'm hoping that this is just a rough patch in my financial life and that I can learn how to lower my tax bill, earn more, and still save and invest most of my income. This has been a huge lesson for me and one that I wanted to share with you.
Has an all-or-nothing strategy ever got you in trouble with your finances? Stay tuned to find out how I plan on overcoming this and get my finances back on track. 
Hey debt fighters! I'm in Italy with my mom, finally crossing my debt-free dream off the list. Feels so good and like all the hard work I did for years finally paid off.
I'm excited to get back to focusing on Dear Debt when I get back. After winning best debt blog and paying off my debt, I want to help others get out of debt. While I am doing what I can to financially help others get out of debt, of course I want to provide content that you will actually read and find helpful.
This year has been a bit insane from working on my book, moving out-of-state and traveling.
Even though life has been full of transitions and growing pains, this blog is still my baby.
So, I want you to tell me what you want, what you really, really want 😉
Do you want more content on how to get out of debt? More info on side hustles? How to start your own business? More emotional vomit from me? (ha!) More about overcoming money mindset issues? I want to hear from you! It's important to me that I don't just ramble in my own universe and I connect with readers.
So, comment on what you want to see or send me an email.
Ciao!