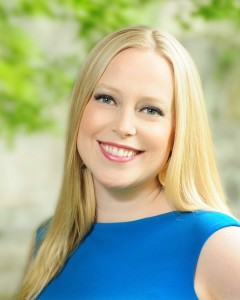 Oh yeah! Time for another How My Blog Changed My Life, this time from Shannon, the blonde bombshell finance expert over at Financially Blonde. I am so inspired by her wisdom, sass, and class and her star is rising fast! (I swear I didn't mean that to rhyme). Watch out world, she is about to take over!
More about her: Shannon McLay is a financial planner who left a "traditional" financial services firm to start her own company, NextGen Financial, to help clients in their 20s and 30s get financially fit. Through her blog, Financially Blonde, her book, Train Your Way to Financial Fitness and her partnership with Money Saving Pro, Shannon is committed to making financial fitness fun, easy and accessible for others.
1. What was the inspiration for starting your blog?
The blog started as a mini rebellion following my 13 year career in financial services. For most of my career, because of regulatory requirements, I always had someone from compliance or management reading my emails and sculpting what I could and could not write. I understood the need for the control based on the size of my companies and the industry I worked in; however, I longed to write and speak my mind.
While I was working for a large wealth management firm as a Financial Advisor, I wanted to send a monthly newsletter to my clients that I would call "Financially Blonde" because my male co-workers frequently called me the "Elle Woods of Financial Services." Elle Woods was the lead character in the movie Legally Blonde. This newsletter was of course struck down by compliance; however, I tucked it in the back of my mind and knew that I would dust it off one day when I could. Within a month of leaving to start my own company, the Financially Blonde blog was born.
2. What has been the most challenging part of having a blog?
For me the biggest challenge about having a blog is finding the time to devote to it because blogging is not my primary job. I spend most of my time working as a financial planner (or I call myself a financial trainer) helping my clients achieve financially fit and rewarding lives. I love what I do everyday and it frequently inspires many of the blogs that I write; however, I would love to spend more time working on my blog. I really enjoy writing and being a part of the pf blogging community, and I would love to make a number of improvements on my blog, but I just don't have the time to do it all.
3. In what ways, direct or indirect, has your life changed because of your blog?
Blogging has changed my life in so many ways that I am constantly shocked at how much it has. I wrote a post about this a few months ago, but the biggest way that it has changed my life is that it has introduced me to so many new friends. I was under the misinterpretation that when I first started blogging that it was an isolating activity since you accomplish it sitting alone in a room. I didn't realize that through blog commenting and stalking that I would meet and become connected to so many wonderful people.
One of my blog friends actually introduced me to the team at AOL, and I am now the Co-Host of the Finance Hub at AOL Jobs. In this role, I am responsible for helping to guide and mentor men and women in financial services jobs. I can't think of anything more cool than that. My blog has also led to other writing jobs as well as partnership opportunities like the one I have with Money Saving Pro.
4. What have you learned from blogging?
One of the best things I love about being a pf blogger is that I learn so much from other bloggers every single day. Even though I have a financial services job, and I have worked in the community for over 14 years, I am still learning new things all the time. Many of the tips and tools I have gotten from other bloggers, I incorporate in my client's financial plans. I am constantly inspired by the personal stories and journeys of everyone with a blog, and I truthfully never expected to feel this way when I first started my blog.
I have also learned an important lesson about blogging that applies to most things in life, and that is the harder you work, the more you will be rewarded. Like most new bloggers, the first few months of my blog, I only seemed to be writing for my family and friends. I commented on other blogs, but not regularly. Then I decided at the end of 2013, that I would make an active commitment to my blog. I did not officially join the Yakezie Challenge; however, I put the same parameters around my blogging, and after a few months of working nights and weekends on the blogging efforts, I started seeing results.
5. What advice would you give to new bloggers who are thinking of starting a blog?
I would tell someone who is starting a blog to plan to commit a solid six months of hard work and effort to building their blog and community around their blog. The first few months are frustrating and there will be many blogs that you will comment on that will not return the favor or not even post your comment for fear that you are not serious about your blogging. You have to take these rejections in stride and keeping working on building your community. If you work on it enough, people will come around. I have been blogging for almost a year now, and I love my blog friends and community. I look forward to engaging with them every day. Don't let a fear of hardwork and commitment rob you from the gift of community.
Thank you, Shannon!
Melanie is a freelance writer currently living in Portland, Oregon. She is passionate about education, financial literacy, and empowering people to take control of their finances. She writes about breaking up with debt, freelancing, and side hustle adventures at DearDebt.com.

Currently she puts more than 50% of her income towards debt, while living a frugal, fun life. In addition to her love of personal finance, art and music, she is also a karaoke master. Follow the adventure @DearDebtBlog.
Latest posts by Melanie (see all)