Hey everyone! We have a killer dear debt letter from Jen. Jen is an HR/Finance professional and frugal lifestyle blogger. Jen and her husband are working on a crazy goal of paying off $117,000 of student loan debt in just 3 years.  She writes about healthy eating on a budget, destroying debt, and living frugally on her blog Frugal Millennial.
Dear Debt,
I met you when I was just 18.  I thought I needed you. I knew you were bad for me, but I didn't think I could live without you. I didn't really understand how you would affect my life. I should have known better.
When I was 22, I decided I needed you even more and I decided to go to graduate school. I finished graduate school with $75,000 of student loan debt. I struggled to find a decent job and eventually settled for a temp job that paid half of what I had expected to earn.  
I needed a break from you, so I tried to ignore you for six months. When my grace period ended, I was forced to face you. I realized then that my monthly payments would be nearly as high as a mortgage. I became anxious and depressed. I worried about you constantly. You ruined my life.
You are the reason why my husband and I do not own a home, have not started a family, and haven't saved any money for retirement yet. You stole my dream of living a better life than my parents had.
But you will not win. I am no longer confused by you or overwhelmed by your tactics. I know how you operate, and I know how to beat you. I will not tolerate you for the next ten years.
In three years, I will break up with you and I will never see you again.
My husband and I are living with my parents to save money, side hustling like crazy, and living an extremely frugal lifestyle.  The sacrifices we make are difficult, but it is worth it to get rid of you.
I cannot wait until the day when I will never have to see you again.
Hello debt fighters and hustlers! Today we have a great dear debt letter from Heather, a 27-year-old preschool teacher who is battling student loan debt. Enjoy!
Dear Debt,
You and I have not always seen eye to eye. Some days you think I should owe more than I do. Some days I just casually forget to pay you, but you are always there, and I think it's time we consider breaking up. It's definitely you, not me.
I have taken out a student loan from the federal government every year since 2006. That's NINE LONG YEARS OF ACCUMULATION. Now, at  $73,421.30, I'd say I've collected enough of your junk. According to Navient, I can be rid of you by 2040 by paying the minimum due.
I will be 52 years old. Maybe I will get lucky and stay in this one non-profit job for the next ten years and be able to have the government waive the rest of my payments due. Provided I make 120 consecutive ones before hand on time, and assuming this type of loan forgiveness even exists ten years from now. Nothing like being 38 and paying off my student loans from 20 years ago.
Instead, I think I'll try something a little different.
Instead I want to try and pay off my student loan debt in five years. It's going to be difficult. I may need to do a little side hustle here or there, and I definitely won't be able to go to Dunkin Donuts on the regular, but it will be worth it.
I am worth living a debt free existence.
And in five years, I won't even be thinking of you.
Paying off $81,000 in student loan debt is the toughest thing I've had to do. It took me many years, and a lot of blood, sweat and tears.
Now that I'm debt-free, I'm giving back each month to my readers, acting in my dream role of debt fairy godmother.
Last month I gave $50 to David in Brazil…this month, who knows?! But I do have some good news! I was recently interviewed by my good friend Shannon at Financially Blonde about getting out of debt. It's a feel-good shot of inspiration if you need it, so take a listen.
She was so inspired by what I am doing that she agreed to also contribute this month! So we're giving away $100 to someone. You can enter to win by commenting here and letting us know what BIG goal you are working toward this year. You can also tweet us your answer @blonde_finance and @deardebtblog.
Let us know what you're working toward this year!
Hey everyone! We have another great dear debt letter today from Laura. She just moved to Austin, TX from Chicago with her husband. She works in Human Resources and her passion is finding fun and creative ways to make and save money.  Some of her faves include mystery shopping, teaching writing and being a contestant on Wheel of Fortune! Also a goal of hers for 2016 is to share her passion by running couponing workshops for the local community and writing more articles for money saving sites with the hope of starting her own blog in the near future! (YES!)
Dear Debt,
Our relationship used to be between just the two of us but then an innocent third party was brought into our doomed relationship, my husband.  My amazing, non-judgmental, debt-free husband has been dragged into this mess we have created and it pisses me off.  We have been dealing with you for the past few years but January 1, 2016 was my breaking point and I vow to be rid of you going into 2017.
How you have impacted our lives:
2009 –  I met my future husband and while getting to know each other we learned about each other's lives, hopes and dreams for the future.  While he talked about saving for a down payment on his first house at 25, I talked about paying off my credit card debt.   That was my first glimpse into how much you were truly holding me back.
2012 – My fiancé and I are trying to plan our wedding (without taking on any debt of course!) but you loomed in the background directly impacting our plans.  You made me so embarrassed that I just wanted to run off and elope so I would not have to face the fact that you were always in the back of my mind during every wedding decision.
2013 – My husband and I are married!  And you and I take our first step towards our divorce – all credit card debt is paid off and we paid for our honeymoon without going into any debt.  That feeling was amazing – to be able to truly enjoy myself without you nagging me.  But alas there is still a ways to go with the final break in our relationship – student loans.
2015 – My husband and I move across country and you come along for the ride.  While I am steadily, albeit slowly, getting out of our relationship, you did something that is going to speed along our relationships ending, you took something, not from me, but from my husband that pissed me off.  My husband works his tail off at his job – putting in long hours, working on most of his days off and being constantly available over holidays – for which he received a much deserved bonus.  Although his dream was to invest the money and for us to take a fun getaway, we instead heard your greedy voice over our dreams and gave you all of it….ALL $10,000 OF IT AND YOU STILL WEREN'T SATISFIED!!!  We made that payment on January 1st and all I could think about was how that money could have been better used during this year and vowed not to feel this way in 2017.
You have made it my mission to end our relationship for good in 2016.  How am I going to do this?  Put every extra penny towards you through every conceivable way – writing articles, completing surveys, couponing – I'm going to get imaginative because next year I don't want to be ringing in 2017 with you.  Instead I will be sipping champagne with my husband dreaming of all the exciting things to do with a well-deserved bonus.
Peace out debt!
Five women personal finance bloggers — all of whom have worked in creative professions — have joined to write this series about being an artist and making money. Please see the end of this post for links to other posts in the series.
When I was a theater major in college, one of my teachers begged us "If you can do anything else with your life, then do that…life in the arts is difficult and not very lucrative."
It was a stern warning for us and a reminder that in school we were in a safe bubble and that the "real world" was going to be tough.
As any artist or creative person knows, it's not that you choose it, but it chooses you. It's something you can't avoid, something you can't imagine living without.
Though I didn't become the next Meryl Streep or Whitney Houston as my childhood self had imagined, I couldn't shake theater completely. So I went into arts education as an administrator and later teacher.
Though I'm not teaching now, writing fills my creative void (yes, even if it's about money). It helps me think about things differently. It gives me an outlet for my thoughts. There are so many ways to tell a story. And surprisingly, through my creativity I've been able to double my income and break free from the 'broke' trap that I thought I was destined for.
I used to think that as an artist you had to struggle. Being broke was part of the deal and there was really no way out. I thought that money was evil because it was the great divide between rich and poor.
Over the years, my thoughts about money and being an artist have changed. I now realize that you don't have to struggle to make a living based on your creativity. I've also learned that being a creative person can actually help you make more money and make you better equipped at being your own boss. Here are a few lessons I've learned.
Working in the arts field, I've always had to juggle a lot of different tasks, which makes solopreneurship a little less intense. I'm used to it.

I've learned how to problem solve quickly.

I'm not afraid of talking to people — performing in plays and singing in public will force you to get over your fears!

I've learned how to use criticism to my advantage and not let it hold me back (okay, sometimes I do this)

I've developed an insane work ethic that people in the arts have to have in order to survive. It's served me well.

My creativity has opened up my imagination when it comes to ways to make money. I think creatively about how I can monetize opportunities. My creativity helped me pay off debt faster.
When I was younger, I used to worry how I would make a living (and I think my parents did, too). But I always figured it out. I made it work.
Now, more than ever, I can see that my creativity is my greatest asset. Being a writer means having to pitch new ideas week in and week out. It means coming up with a new angle or saying something differently than others. As a business owner, it means venturing out and doing other things that I think are awesome, like hosting unique events.
So, what am I saying with all of this? What I wish I knew earlier was how valuable my creativity is. How marketable it could be. How much you can leverage your skills into doing something else.
When I was a teacher, I told all my students that everyone is creative, because I genuinely think everyone is. Not in the same way, but we all have something we are good at — where we can express our ideas and flourish.
Whether you consider yourself an "artist" or not (because let's face it, that term comes with a lot of baggage), you are a creative person.
You are unique. No one has your story. No one has your voice. So cultivate it. Don't be shy. Don't let others silence the parts of you that speak the loudest. Don't be afraid to walk alone on a path — it means you are brave.
When it comes to creativity and money, I think the two are intertwined. It doesn't have to be one or the other. It doesn't have to be "selling out" if you're an artist and make money. It doesn't make you greedy or selfish to want to make money either.
These are the things I wish I knew before. But now that I know, I feel empowered to use my creativity, my voice, and my ideas to create, help others, and build wealth.
What else should young artists know about money? Check out the other posts in this series:
Dear Artists: You Can Profit From Your Creative Skills
Dear, Artist: A Little Goes a Long Way
Dear Artist: Vocation Does Not Equal Exploitation
Dear Artist: It's Not the Struggle That's Interesting
In the three years I've had this blog, this is my first end of month update where I'm not reporting my debt progress — because I'm debt free!
It still feels weird to be honest. Sometimes I log into my loan servicer's account just to make sure it's still at zero. It feels like a dream in a lot of ways. While I'm super excited about being debt-free, I really feel like I'm starting over. This year will bring a lot of transitions. It's time for a new life!
I'm also happy to report that my emergency fund and tax fund are back to where they started! So for those of you who thought I made the ultimate personal finance faux pas, it's all settled now.
I plan on continuing to pad my emergency fund and next month I will start investing! I'm so behind on that front (as evidenced from my pathetic retirement score), but I plan on using my same passion for paying off debt to now build wealth through investing. In addition, I am saving for my move to LA and also my trip to Italy. Even though I'm debt-free, life feels very expensive. But I'm grateful because these are things I've been putting off for years.
On that front, I've also spent a good chunk of change on my health this month. My health insurance premium went up now that I'm making more money and I scheduled a physical, eye exam, and massage this month. Some things aren't covered by my insurance so I had to pay out-of-pocket. It feels good to be prioritizing my health, though. Last year was amazing, but my mental and physical health took a toll from all the work.
Last year, my words for the year were bold, balance and adventure. I rocked everything except the balance. Failed, totally.
This year, the two words I'm focusing on are growth and wellness.
I'm continuing to grow and get out of my comfort zone. I taught my first live workshop (which you can get on-demand) a few weeks ago and it was awesome! I loved it! But I was so anxious beforehand. Once I got into it, I realized how scary things seem when you've never done them before, but how not-so-scary they are once you're in the thick of it.  
Think of any major moment in your life. It seems scary, but once you do it, it loses some of its power over you. You realize the world doesn't end. It's hard, but not so bad. You can do it, if you work at it.
This year I want to grow my business and do more workshops and events. I want to successfully launch my book. I also want to grow as a person and travel more, learn new skills, etc.
The key to growth is staying open to new opportunities and embracing the uneasiness of getting out of your comfort zone. I'm ready!
The second part is wellness. To me, wellness means I'm taking care of my body and mind, cultivating a healthy, balanced life and enjoying my relationships. Last year was my first full year as a solopreneur and I put everything behind my work. I'm not proud of that. Sure, I'm a hustler and workaholic, but what's the point if you ruin your relationships and your health?
Wellness right now means letting myself sleep nine hours per night if I need it. It means closing my computer at night and hanging with my boo. It means saying yes to friends, instead of saying "No, I can't, I'm so busy!" (ugh, that's the worst).
It also means taking days off. I realize that working all the time depletes your energy and creativity. I knew I had a problem when I had no new ideas and I hated everything I wrote. That's NOT a good feeling when you have to submit articles every day. Last week, I had a much-needed break in my schedule and took two days off and holy whoa it made a difference.
I saw a movie during the day and walked around town. Skyped with friends. Read. Slept. And finally, ideas were starting to come to me again. My motivation was back.
Days off are necessary to refuel your tank. When you're running on empty, your work and everything else suffers. So this year, I'm working toward wellness in all areas and really putting myself first. It's hard because sometimes it means saying no, or asking people to be flexible, or setting boundaries. At the end of the day, you have to put yourself first. But in order to achieve growth and wellness this year, that's what I have to do. 
How is 2016 treating you so far?
Hey debt fighters! Today we have an awesome dear debt letter from Jayme. Jayme is a freelance writer and blogger at sonotniche.com who has paid off more than half of $65,000 on a low income. She blogs tips on surviving as a family of five living below poverty level while still kicking debt's butt. 
Dear Debt,
I will no longer be the "other person" in my husband's life. I will no longer take a second place to you.
I know that you two had a relationship long before he and I met. Even though I am the better person, you still manage to occasionally seduce him with your 'feel-good' promises.
As my Gramma would say, "You ain't nothing but trouble."
For half a dozen years now, we've lived with you between us. Lurking like a dark temptress in the night, you take many forms.
You are past medical bills. You are our mortgage. You are the disembodied spirit of past marriages. You are things we had to buy out of necessity, and interest that accumulated over years of only being able to make minimum payments on past mistakes.
But…
Slowly, we have managed to remove parts of you from our lives. You are losing your appeal. My husband is learning to desire freedom more than things. To realize that he doesn't have to belong to you anymore. There is a way for you to break up forever.
I'm more attractive than you, Debt. I am more seductive. I am tempting my husband with promises of things you never allowed him to have, like fat savings accounts and delectable little luxuries bought with cash.
This is the big year. This year, you need to pack up your bag of tricks and get ready to buy yourself a bus ticket out of my town. In a few months, we will only deal with you through the bank, as we begin padding out our mortgage payments. That will be the only lingering trace of YOU in our lives. In less than three years, you will be nothing but a bad memory.
Will he miss you? Don't fool yourself. You aren't that great. In fact, you suck.
You've eaten our food, taken our holidays, and stolen away time we should have been enjoying our family. You've made us hang our heads in shame and try to hide the times we couldn't afford even basic necessities.
You've spit on us one too many times. Now its my turn.
As we speak, a check is going in the mail. One small piece of you is about to die.
I hope it hurts you like you have hurt us, you abusive piece of baggage.
Cheers,
Jayme
Hey debt fighters! We have a killer dear debt letter today from Sonia. Sonia is a freelance writer who writes for small to mid-sized businesses. She has also recently started to write fiction again, this time under a pen name, which she discovered gives her a sense of freedom that has been missing from her life for far too long. She has over $81,000 in debt that she is committed to paying off. You can follow her website/blog at soniaquinones.com.
Dear Debt,
Every couple of years I decide that I'm going to get rid of you once and for all. I force myself to sit down and tally up how bad you've gotten. And as I do, I remember (as if I could ever forget) every stupid decision that I made that got me into this mess in the first place.
I think about how money, the lack of it, where it was going and where it was not, caused so many fights when I was growing up. How it destroyed any love and faith my parents once had in each other until all that was left was burning resentment. So that all these years later (53 years of married life and counting) my parents are miserable, unhappy, bitter people who I desperately love but cannot help.
If I could kick the sh*t out of you I would.
I'm sick of crying over you.
I'm sick of losing sleep and getting ill, literally, over you.
I'm sick of lying to my family and friends about how little money I have and how much I owe.
I'm tired of trying to figure out what bills I can pay this month and which ones I can't.
I'm sick of worrying when that check will clear, or when that deposit will be released from a bank hold.
I'm sick of reliving the memory of how I created this mess.
I owe $81,138, most of that in student loan debt for an undergraduate degree that it took me until I was 40 to get and a graduate degree program that I never actually finished.
Student loans that some of my then-employers reimbursed me for. But did I use the check they gave me to repay the loan I took out that term? Oh no. I went ahead and spent it on stuff I don't even remember. Student loans that I've requested forbearances and deferrals on more times than I can count while I got my feet back under me whenever I've been unemployed or underemployed.
Student loans that overwhelm me when I compare then to what I actually take home in income. Last year I made exactly $26,275–total–on my freelancer's income. And that was before taxes. But then making good money doesn't make a difference.
Not when it's your mindset that's screwed up. Because back when I was making almost $90K a year as a full-time employee did I attempt to pay down my student loan debt in a serious way? Nope. Instead I paid the bare minimum. Why? Because even then I still felt "poor." I couldn't see the opportunity, the abundance that had entered my life.
I hate seeing the world through the poverty mentality/filter that I absorbed from my family. I'm angry at the idea that my dreams have become so small. That the idea of ever owning my own house instead of renting feels ridiculous, something other people get to do but not me.
I'm angry that the idea of replacing my battered 18-year-old car is out of my reach. I'm pissed that I can't imagine ever getting to travel to Europe, or go to events where I can meet the people I admire online in person.
I'm pissed that I can't take better care of my parents. That I can't move them out of the dump they have the nerve to call a senior residence and into a better apartment, or even an actual house, all because I have this debt that I foolishly allowed into my life. A debt that I signed up for without realizing how deeply it would stain my outlook on life.
I've had enough of feeling like a damn incompetent idiot. I'm sick of feeling like I can't breathe. Like I have no right to hold my head up like a responsible adult. Like I'm wearing a huge sign labeled "LOSER."
Enough. Enough. Enough.
I'm going to get rid of you no matter what the hell I have to do. I'm going to take my life, my business, my soul seriously and get you out of my life once and for all. I'm reclaiming my life and you won't ever get a chance to get your grubby hands on me again.
Sincerely,
Sonia
As a solopreneur, I'm used to wearing a lot of different hats — customer service, social media management, marketing, production and more.
As a small business owner, sometimes it can feel like you are simply putting out fires and moving from one deadline to the next, so it's hard to focus on the actual vision and mission of your business. I know I've been guilty of neglecting my business, because I'm so stuck in everything from day-to-day.
Luckily, there's a sweet new app by Staples, the ultimate office supply store, called Quick Wins. Aside from absolutely loving the name (yes, my life and biz need more quick wins), the app is also a great resource for those looking to ramp up their business this year.
Staples' Quick Wins App is downloadable in both Apple and Android. The app syncs users key business metrics in one convenient place. You can check in daily and get personalized ideas on how to make your business grow. Quick Wins gives users real-time, customized suggestions that will help them improve their metrics.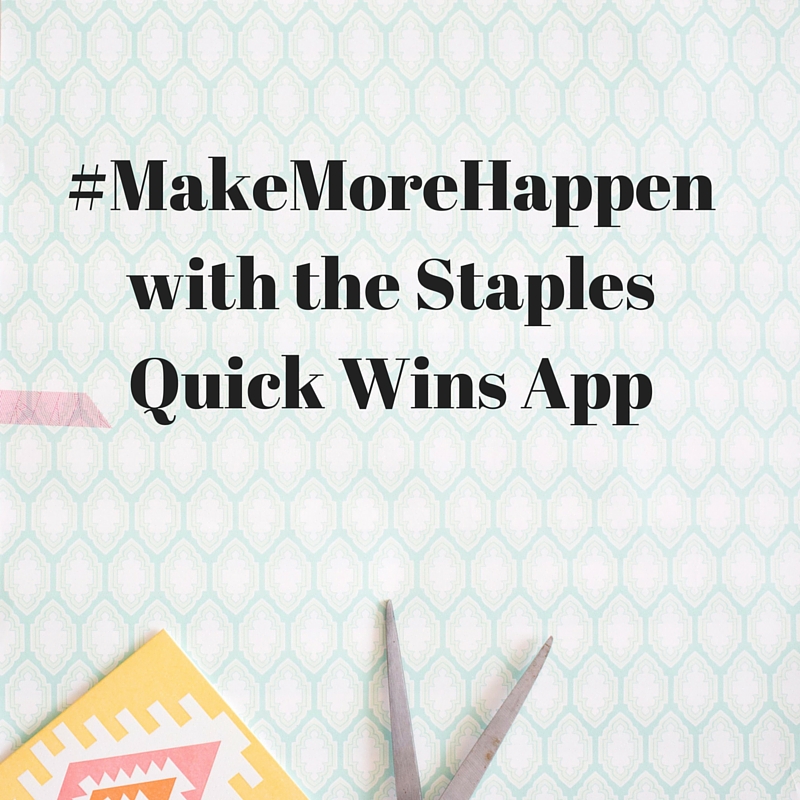 According to a survey by Staples 62 percent of small business owners would find it useful to have a single dashboard with all of their core business metrics in one place. The Quick Wins app is the go-to solution for small business owners who want to track everything from sales to social media engagement.
To get started, you can download the app in Google Play or the iTunes store. Create a profile by inputting your name, your biz, employees and sales. The app made it very clear they will not share your information, it's only used to give you accurate feedback on sprucing up your business and getting those quick wins.
The Quick Wins app is broken down into three sections:
Metrics
The Quick Wins app has an all-in-one dashboard to track your important business metrics. Users can sync their Facebook and Twitter accounts as well as their Google Analytics. Not only that but users can also sync their Shopify and Quickbooks accounts in order to track sales.
It is SO awesome to have key business metrics like engagement, followers, sales and more all in one place. The best part is that the Quick Wins app will recommend ideas to boost each of your metrics. For example, when syncing my social media and Google Analytics, some of the recommended ideas included reconsidering my keyword use and posting about trending topics.
For each item you sync, you can track your key metrics and also get suggestions on how to improve.
Having these sort of metrics in one place is great. I know that I either avoid looking at analytics or metrics, or completely get sucked down the rabbit hole for hours.
Community
As a solopreneur, it's crucial to have a community and support system so you can bounce ideas off of others or ask for help, tips, advice, etc. Using the Quick Wins app, you can connect with other small business owners and get feedback on your most pressing questions.
You can post questions, get feedback, or help others in the community section of the app. This is my favorite part of the app as I love seeing everyone's questions and responses and soaking up all the information.
Sometimes it can feel like you're in your own little business bubble, so having easy access to others that may be dealing with similar issues as you is awesome.
Ideas
Under the Ideas section, there are featured ideas to help you achieve quick wins in your biz and also where your saved ideas show up. When you are getting feedback in the metrics section, you can save their ideas to utilize later. You can even mark the ideas as 'tried it' or 'not for me' and also add comments to each.
If you're a solopreneur or small business owner — or even just a serious side hustler — the Quick Wins app by Staples could help you track your business metrics and get much-needed support from the community.
This post is sponsored by Staples and helps support Dear Debt and its readers. As always all opinions are my own.
Photo courtesy of Death to the Stock Photo 
Over the past month of being debt-free, I've sat in amazement that I reached my destination. The journey was tough and a wild rollercoaster, but I made it. Sometimes it still doesn't feel real.
Other times I laugh to myself, because I can see all those hard times as lessons now. They sure seemed tough at the time, but I was getting primed for self-employment. I was working my way from the bottom to the top and learning the hard lessons along the way.
When I think about my journey, I can't ignore the influence of this blog and my readers on my success. I could have started this blog three years ago and wrote in silence. But I found others that pushed me. Encouraged me. Helped me.
My blogger friends helped me launch my new career. I got a chance to start over, work for myself and pay off my debt faster than I imagined.
Now, I want to give back and create my ideal position. In my fantasy, I'm a debt fairy godmother that helps encourage you, support you and helps you pay off your debt.
So my plan is to really give back to this community that gave so much to me. I plan on donating a portion of my blog income each month to a reader in debt. It's not going to be a lot, or anything life changing, but as someone who was in debt for a long time, I know that every little bit helps. I don't make a lot of money on this site, as I've carefully chosen to limit any ads or sponsored posts on my site.
Having a site about getting out of debt and constantly pushing people to buy just doesn't make sense you know? But I'm determined to help others pay off their debt, even if it's just a small chunk of change.
In addition to helping one reader each month with a small amount of money to put toward debt, I'll also be giving away financial books, Starbucks cards and whatever I feel like will keep you motivated to keep going.
I know how hard it is to get out of debt and stay motivated which is why I want to be a debt fairy godmother (ha, I just like saying that). While paying off debt, I remember how a $10 Starbucks gift card changed my day or an unexpected $25 felt like $25 I didn't have to come up with to put to my debt.
So, how can you be one of the lucky readers? Keep reading. Comment. Share a post if you feel like it. I'll be choosing winners at my discretion each month.
This month it just felt appropriate to have my first winner be David from Brazil. He wrote a touching dear debt letter that I think resonated with a lot of people and gave us a new perspective on how people outside of the U.S. are dealing with debt.
I am so excited to give back to this community and have a little fun!
A lot of people have asked me if I am going to stop writing about debt or if I will change directions. For now, no. I'll be right here cheering you on. Pushing you. Encouraging you.
While I will still be writing about debt, I may be writing less on this site for the next few months. In case you missed my Year in Review post, I am in the midst of working on a book(!). It's exciting and exhausting trying to manage client work, my blog and this book. As much as I hate to say this, I'm not superwoman, so I have to cut back a little.
But don't worry, I'm not going anywhere. Heck, I'm writing a book BASED on this blog! Including some of the dear debt letters (score!).
Thanks again from the bottom of my heart for supporting me for the past three years.