Hi friends! I'm excited to feature Kathleen from Frugal Portland on How My Blog Changed My Life. This series highlights the many ways that blogging can change your life and open up opportunities you never thought possible. This is extra special for me as Kathleen was the one who encouraged me to start my blog and without her guidance I might not be here today.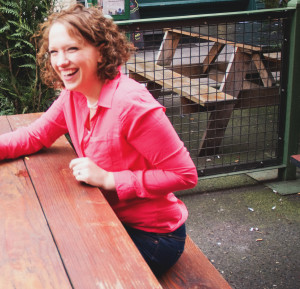 More about her: Kathleen O'Malley is the owner of Frugal Portland and For Profit Blogging. By day, she's the blog manager for The Center for Sales Strategy, and helps companies determine their best business blogging strategies. When she can be pulled away from her computer, she enjoys spending time with her fiance Brent (though wedding planning is not her strong suit!) and their dog Stanley.
In Kathleen's words…
Hi, I'm Kathleen. Melanie and I became friends when she asked if she could take me out to dinner one stormy night a year and a half ago. Her enthusiasm was magnetic and her dissatisfaction with her student loan debt consumed her. Since then, she's been part of our little ragtag group of Portland bloggers, and if I'm lucky, I see her around once a month. Relationships like this wouldn't have been possible were it not for the power of the written word online.
The Inspiration for Starting my Blog
I woke up on my 30th birthday, still in credit card debt. I'd made a series of bad decisions, and was tired of being broke. So I started reading personal finance blogs. At that time, there was a glitch in the Google universe and the people who were reporting their blog incomes were reporting 20 and 30 thousand dollar income streams every month. Shoot, I thought. I have a debt story, and I can write. I want a piece of that!
So, Frugal Portland was born. My blog grew traction just as Google was fixing that glitch, so I never saw that kind of money, but a funny thing happened. I started making friends with the voices inside my computer (and yes, in case you're wondering, that is how crazy starts). Turns out, an excellent subsection of humanity exists online!
The Most Challenging Part of Having a Blog
What's funny, I don't think of having a blog as a challenge. I suppose it is, in that I picked a hobby that completely sucked me in and there's no way out. I could have learned French, become an excellent tennis player, or gotten at least a green belt in karate given the amount of time I've put into blogging, but it doesn't feel like a choice anymore. It's a responsibility now. A way of life, even.
My Life Has Changed in Very Real Ways
I mentioned the happy hour group we have — those friends wouldn't have existed without blogging. I have friends all over North America. In addition, I started writing for Babble as a freelancer — something I never thought I'd be able to do, and an opportunity that I would have never heard about, were it not for my home on the internet. My day job now is a direct result of starting a blog! I'm a blog manager for a company. It astounds me that I work in an industry that didn't even exist when I was born. I'm learning all kinds of cool things, and I get to work from home!
I'm still not making $30,000 a month, and I'm not sure I ever will. That's not my goal anymore. My goal initially was to publicly announce my get-out-of-debt plan. Once I got there, I danced around in my living room, then got to work on the next thing. Now, we talk about real ways to save money, minimalism, frugality, and fun things to do in Portland, Oregon. I started a new blog to help people understand how to make money on the internet. It's called For Profit Blogging, and it's aimed toward people who need a little help. I believe that anyone can make money with their story, and I'm teaching tools for foundations, tricks with fun plugins, and more. If you're making money, any amount of money, on the internet, please contact me and I'll feature you!
Top 5 Things I Learned from Blogging
People who write blogs are very friendly, and almost none of them think they're better than you when you're just starting out.
Blog conferences are excellent, and provide inspiration.
Hanging out with other bloggers rarely involves talking about blogging.
If you compare yourself to others, you'll go crazy. People don't share mediocre stats online. They only share the really impressive numbers.
I struggled with confidence early on, and for most of the first year of blogging. I was "just starting out" or I was "just a little blog" and those statements are both self-fulfilling prophecies and limiting. Fake confidence until you are actually confident. Tell yourself every day that you are a writer, or a blogger, or whatever title you want to give yourself that sounds silly. You'll get there.
If you're thinking about starting a blog, I have seven pieces of advice (other than to read every post of For Profit Blogging!):
Start. Learn by doing. Get up in the morning and write, every single day. You don't have to publish every day, and I don't think you should. But start your day writing.
Make sure you pick a topic that sparks something inside you. You're in this for the long haul, so make sure you can write about your topic 2-3 times a week for life. I tried to start a Paleo blog, but holy smokes did I not care enough about the Paleo lifestyle that it just withered on the vine.
Don't worry about covering the same topic as someone else. Everything has already been written, right?
Find a group of people you can ask your questions to. There are groups in the personal finance world (such as Yakezie) and there are approximately one bajillion Facebook groups.
RESPOND to your commenters. Trust that there are humans behind those avatars, and that many avatars are actual representations of what those humans look like!
Don't be afraid to reach out to bloggers you admire, but be specific when you reach out. And be human. Do you want to meet for coffee? Great. Do you have a specific question about blogging? Ask away! Make sure you're not simply asking someone to "take a look" at your blog.
This one's just for Melanie: don't be anonymous! Connecting with people is more fun when they have a name, a face, and a Facebook profile that can be invited to happy hour. Melanie's note: So glad I'm not anonymous anymore!

Trust me, you can do this!

xoxo,
Kathleen