Time is starting to become this weird mystery to me. I only really know what time or day it is because of the meetings that string the hours together, but aside from that it's all been a blur as of late.
A few weeks ago, I went to the launch of the Road to Financial Wellness tour in New York City sponsored by Centsai. It was great to be back in my favorite city — the site where I accumulated the majority of my student loan debt.
The event was a success, but the trip was also exhausting. Fun, but so tiring. Just days before my trip I signed a lease on a new apartment, which meant as soon as I got back from my trip my life consisted of unpacking, cleaning, and getting settled.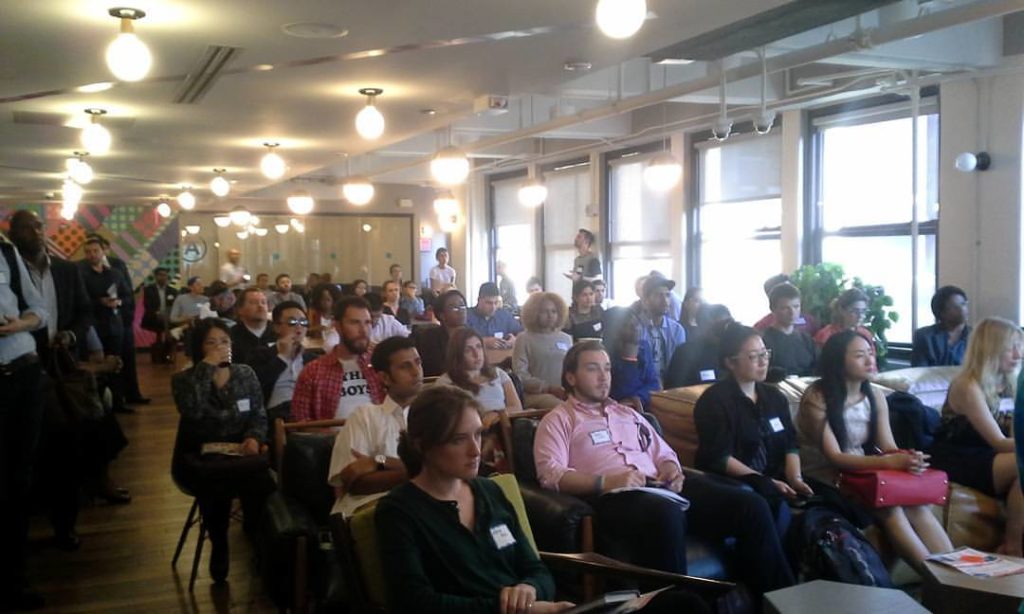 We're mostly there and it feels so good to finally have a space of our own. I am finally feeling like we live here again and aren't on some weird vacation.
While I'm so happy to have our own place again, this move hasn't been cheap. Now we're paying full-on rent (and not discounted parental rent) and getting renter's insurance, internet, desks, etc. It's amazing how many little things you need just to get started in a new place.
Financially it hurts, but I know I'll just be bleeding money for a month or two and things will level out.
But then again maybe I'm being too optimistic. I'm now going to Chicago for the Road to Financial Wellness pit stop (I love my job — if you're in the area sign-up!) in July, going to Portland for a wedding in August and will be headed to FinCon in September. Luckily, FinCon is in my home state but I know it will come with some expenses.
I'm trying not to panic about all the expenses, but also trying to be mindful of them and lower them where I can. In addition, I'm working a ton, which I hope will lead to a good income in the coming months.
Going Forward
I'm happy to report that after my post about the dangers of all-or-nothing debt repayment, I actually saved enough for taxes for June. It felt like a big victory, given the previous months. I'm still slowly building my emergency fund and adding money to my investment account, but the savings goals are not happening as quickly as I'd like.
Being on the go so much isn't a very good recipe for saving money. I'm happy with my experiences though and know that things will normalize soon.
Trying to remember what I had to do when I was getting out of debt — think of the big picture. Things can feel like they're moving incredibly slow and like it will never get better. But small, consistent actions can lead to big changes. I'm also beginning to think and grow rich, something that I've recently adopted from my friend Shannon. Sometimes shifting your mindset can really help.
So I'm hoping that even though things aren't perfect, that I'm still bettering my life financially every day.
How are things going for you?
This post is sponsored by Haven Life and originally appeared on the Haven Life blog.
Whether you've recently graduated or have been in the workforce for years, at some point, you may be thinking of going to grad school.
Grad school can be a great next step to boost your career or try your hand at something else. The only problem? Grad school can cost a pretty penny. I should know — I took out an additional $58,000 in student loans for my master's degree, which helped me fulfill my dream of going to NYU.
If you're thinking of going to grad school, you're probably aware that you may have to take on student loans to make your dreams a reality. When you're young and single, those student loans usually aren't a consideration for anyone but yourself (unless you needed a co-signer to get them.) But, if you're married and taking out student loans, you're potentially taking on a debt burden that would impact your spouse and children.
If you're single with a loan co-signer or married with children and taking on debt, did you know that you might need life insurance?
What happens to student loan debt when you die?
When deciding if you need life insurance to cover grad school debt, it all comes down to what happens to your student loan debt after you die? It's not a pleasant thought, but it's vitally important for you to know.
If you're single and need a co-signer for your student loans, that debt would likely fall to your co-signer if you were to die. And, If you're married and take out student loans during the course of your marriage, your spouse may be on the hook for your student loan payments, whether they co-sign those loans or not.
According to the website TheVirtualAttorney.com, "Not only do co-signers risk being left with hefty student loan payments, but the spouse of a deceased individual may also be put in a tough spot." This is especially true of couples that live in a community property state because typically both spouses are liable for debts incurred during the marriage.
Currently, there are nine community property states: California, Washington, Wisconsin, Arizona, Idaho, Louisiana, Nevada, New Mexico, and Texas.
You should always know what would happen to your debt if you were to die, whether you're married with financial dependents or single and carefree. But if you have financial dependents and are about to incur some serious debt, it becomes even more important to understand.
Different Lenders, Different Rules
If you're only taking out federal student loans, there is a death discharge that states that your loans will be completely discharged upon your death. Some people still decide to purchase life insurance as a way to provide "just in case" peace of mind and to replace the income they plan to make once they finish college. That's a personal decision though.
If federal student loans don't cover all of your tuition needs, you may need to take out private student loans, which is where things get a bit tricky.
Currently, there is no formal death discharge for private student loans. Some lenders may grant a death discharge, but there is no standard rule across private student loan lenders.
In addition, many private student loans require a co-signer. If your private loan isn't discharged upon death and if your spouse or parent is a co-signer, it is highly likely that he or she would be left with that debt if you died. And, if you're married, you must consider that your spouse would also need to maintain their day-to-day lives without your financial contribution or the added income your post grad school job maybe would have given you.
Should You Get Life Insurance?
Let's face it, thinking of your own death can be an unpleasant experience. It's something you (rightfully) think about rarely, if you're young and healthy. But life insurance is about thinking of the future and protecting your family.
So if you have financial dependents and are thinking of going to graduate school and student loans are part of that reality, a term life insurance policy is probably a good idea to help protect your family's financial future. Especially if you take on private loans.
Term life insurance is for a specific term length — and in this case, can align with your repayment term, if you only want to purchase a policy to cover the student debt. So let's say you borrow $80,000 in student loans and expect to pay it back over ten years. Whether you're single or married, to protect your family or co-signer, you could purchase a term life insurance policy with a term of at least ten years, with coverage to pay for any remaining student loan debt, funeral costs, and loss of income.
And term life insurance is very affordable. Assuming excellent health and that you get the best rate class, a Haven Term policy can cost a 35-year-old woman $22.67 per month for a 20-year, $500,000 policy. Find out how much it would cost you.
Having a life insurance policy in place helps protect your loved ones from burdensome debt when you die. This way, should the unthinkable happen, your spouse is financially protected and can pay off your remaining private student loans. If you're single with no kids or financial dependents and have federal student loans, a life insurance isn't necessary to cover student loan debt.
Grad School and Life Insurance
The last thing a grieving family should have to do is to unexpectedly deal with the financial burden of student loan debt.
If you're married and thinking of going back to school, good for you! It's never a bad time to invest in yourself. However, if you must take on private student loans to make it happen, a life insurance policy could be a sound investment to protect your spouse from the burden of debt.
Hey everyone! We have an awesome new dear debt letter from Alaya. Alaya blogs at Hope+Cents, and is on a mission to provide help and show others hope in their financial situations. After conquering her $74,000 of consumer debt in two years, she now coaches others as they dump their debt and take control of their finances.
—
Dear Debt,
It's been almost five years since we broke up, and I must say I do think of you from time-to-time.
Now, don't get excited — it's not in the way you think. I'm not pining after you or considering going back to you. What I think about is all the things you used to say to me and the promises you made. What I think about is how I just don't understand you (or them) anymore.
In the fifteen years we were together, you convinced me that life was not possible without you — that if I wanted to do anything at all, it had to be done with you by my side. Somehow, I believed you. I gave you so many precious years of my life without ever challenging whether or not you were good for me. I bought into your lie that I couldn't survive without you.
Looking back, I can see how you were able to deceive me so easily. I was naive. It never occurred to me that life without you was feasible. I didn't realize that I could challenge that myth, nor did I have the patience or discipline at the time to do so. Even my parents, who introduced me to you before I was even old enough to have a relationship with you, believed your lies. I cannot blame them or be too upset with them — they thought you could offer me a better life than they could.
Now that I'm on the other side of our relationship, I cannot comprehend your promises. My older and wiser self knows what you offer is attainable without you. It may not come instantly or as quickly as it does with you, but that's okay. My brain no longer can compute the benefits of cozying up with you.
You reached out to me a couple of years ago, and somehow, you managed to get under my husband's skin. He suggested I think about contacting you "just this once." Traitor! I couldn't believe that after everything we did to rid our lives of you, he would suggest seeing you again. He tried to explain the benefits of reaching out to you, but I just couldn't process what he was saying. He was speaking gibberish, and I didn't understand it. I just don't understand you anymore.
You are cunning, debt. You convince people that you are as essential as oxygen. You consistently reach out to my friends and family, and despite my warnings, some of them have started relationships with you. They are where I once was — captivated by your promises and unaware that they don't need you. My hope for them is that they too will soon reach a point of not understanding you.
So, goodbye again debt. I would say I have missed you, but I haven't. I'm sorry, but I just don't get you anymore.
Take Care of Yourself,
Alaya
The following blog post is part of The Road to Financial Wellness blog tour. The Road to Financial Wellness is a three-month, grassroots campaign promoting financial empowerment on a national level and encourages people to pursue their dream lifestyle. Find out more about local events near you.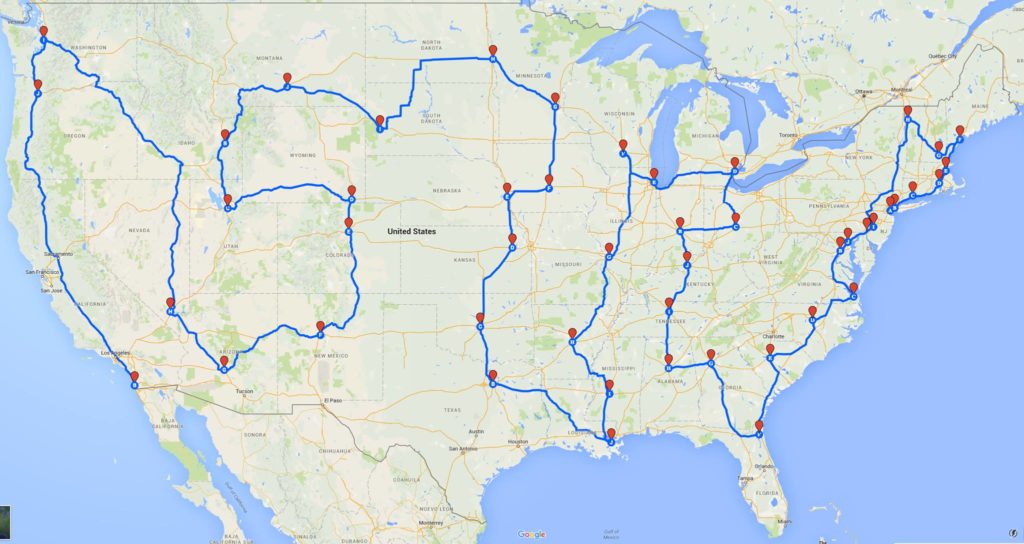 This is the second year in a row I am organizing the Road to Financial Wellness blog tour (there's still time if you want to participate!). This year, though, I'm also helping out with more events and will be going to NYC this weekend to help out with the launch.
I remember last March, Jason from Phroogal called me and told me his crazy idea of going around the country to talk about financial wellness. It was unprecedented. Bold. And quite frankly, a bit crazy. But I fell in love with the idea and got on board. This year we're doing it even bigger and better and going to 50 cities across the U.S.
Now that we're in our second year of doing The Road to Financial Wellness, we get a lot of questions about financial wellness. Namely, what is it?
You know we talk a lot about our physical health and conversations around mental health are starting to take place. But many people still don't talk about their financial health. Money is the last taboo. When things are out of balance with your finances, everything else is affected.
We realize that financial wellness is part of the bigger picture. It's part of making the other aspects of your life and health — physical, mental and emotional, work for you too.
Financial wellness is about aligning your money with your goals. Using money as a tool to live your dream lifestyle — making sure your money is actually working for you and helping you live a life you love.  
How to Boost Your Financial Wellness
There's no denying that many people live paycheck-to-paycheck. Millennials are saddled with high student loan debt and many are experiencing stagnant wages. But those stats don't need to put you in a box.
Despite all obstacles, you can work hard at financial wellness.
Step 1: Identify your goals.
What do you really want out of life? There are no right or wrong answers here. Forget what you've learned or what your parents want you to do or what society thinks you should do. What do YOU want?
Maybe you want to travel the world, or buy a house, or start your own business. Maybe you want to pay for your kids college so they don't have student loan debt. Maybe you want to move to a cabin in the woods or maybe you want to live the high life in NYC. Whatever you truly want, write it down.
Step 2: Look at your income and expenses.
Look at your income and expenses. Cut out things you don't absolutely love and see if you can negotiate some of your bills. It never hurts to ask.
When looking at your income, think of how it aligns with your values and your goals. Does the money you make help you reach your goals or just "get by"? In the past, I was just getting by and it was hard. I felt stuck and hopeless. But I began to side hustle, earn more and boost my income. Earning more helped me live my dream lifestyle — moving to Los Angeles, traveling to Italy with my mom, and doing work I love.
Financial wellness isn't about cutting back to the bone, but spending your money where it matters — on your big, crazy, audacious goals. On creating your dream lifestyle and using money as a tool.
Step 3: Identify what changes you need to make.
Just like physical health or emotional health, it's important to check in with yourself and identify what changes you need to make to reach financial wellness. Look at your spending triggers and what situations or emotions encourage you to spend.
For me, this means cutting out emotional purchases or things that don't make me happy in the long run.
Step 4: Commit to the process.
Financial wellness isn't a state that you reach — it's something you maintain. You have to work at it every day. Make sure you are saving enough for your present and future. Create not just an emergency fund but an opportunity fund to go after your goals.
Spend wisely and treat your money well and it will treat you well in return. Ask important questions when making a purchase. Read the fine print. Be your own financial advocate. And if you're feeling lost, get a financial wellness check up with a financial advisor, money counselor or coach.
You don't need to be alone. I hope you join the conversation on social media using #TheRoad2016. Share your financial wellness tips and learn more from other fantastic bloggers. Check out an event near you!
Hey everyone! We have a great new dear debt letter from Tyler Philbrook. Tyler runs the blog I Am The Future Me. He talks about his journey from being $29,000 in debt to becoming financially independent by cutting costs, making more money, and making good financial decisions.
Dear Debt,
What a song you and I have had. I remember the day we were formally introduced, my 18th birthday. Truth be told, I thought of you as my friend, one of my closest.
You helped me gain the respect of those my own age, and even those older. With the ability to go to every restaurant and even pay for everyone there. Giving me new clothes, and covering a bill or two along the way.
All year long I would spend and spend, and when tax time came, you would demand the refund for yourself, never leaving any for me.
The song was sweet perfection to me. I would get everything I wanted throughout the year and you would get what you wanted.
You helped me to impress my girlfriend, who later became my wife. And when she lost her job shortly after we got married, you paid the electric bill and car insurance. I was so appreciative that you were there to help.
But then the song turned sour. You wanted more — more than a simple tax refund could give. You wanted more than we had — more than I could give.
It was then that I realized that you are not a friend, you are a criminal. You beat me up every month, cause my blood pressure to go far beyond what one my age should have. You forced me to work longer hours, and even more than one job just so you could get what you want.
Instead of being a friend, you have caused pain wherever you are. My wife and I fight over you, I became unhealthy from working so much and eating so poorly. My wife even works extra now, and her health started to go because of you.
Not anymore debt, no, I refuse to allow you to have this much power, this much pull. We have set a plan to get rid of you. Instead of fighting each other, we are going to fight you together. All the effort we have put into anything else is all going towards getting rid of you.
As for our health, you don't control that anymore either. We have learned how to get healthy even with you hovering over our heads. And, debt, I have never felt better.
This song is coming to an end, debt — soon it will be no more. Unlike songs that I hear on the radio and think of times of my life, there will be nothing to remind me of you. No, debt, when this song is over, not only will you be gone, but the memory of you will be too.
Goodbye Debt, thanks for nothing.
Tyler
For better or for worse, when it came to paying off debt, I was all in. Once I started this blog and publicly declared that I was going to get out of debt, I did everything in my power to make that a reality.
I started side hustling like crazy. I began to freelance, which later turned into my career. Once I doubled my income, I started throwing crazy amounts of money toward debt — $3,000 to $4,000 each month.
I saved a little, but not a lot. Just enough. I forgot about retirement. Didn't invest. And now I'm 31-years-old and am effectively starting at square one.
It's been five months since I paid off my debt and I should, in theory, have a lot of money to show for it. If I was putting that kind of money toward debt, wouldn't I have close to $15,000 saved and invested now that my debt is out of the way?
I should, but I don't.
I wish I could tell you that everything was balanced and I was able to stash cash like it was going out of style since becoming debt-free. But in my typical all-or-nothing personality, I decided to move to LA and go to Italy with my mom and write a book, all roughly at the same time. Not only that, but I got hit big time by Uncle Sam this tax season.
All of this money I thought I would have suddenly was tied up.
I had gone years without spending money on Big Life Changes and neglected every other area of my financial life in a single pursuit of becoming debt-free.
I know many of you were concerned with my strategy, and in my stubbornness, I ignored it…because I was going to be debt-free as soon as possible, no matter what.
And then, once my debt was paid off I changed everything. This has come at a cost that I'm realizing now, as I have barely anything to show for all of my hard work.
You may be wondering, how did this happen? Well, let's review:
In January, a month after becoming debt-free, I technically "owed myself" because I had dipped into my tax savings account as well as emergency fund to pay off all my debt. On top of that, I owed a little more than I thought for quarterly taxes (because I'm self-employed), which set me back a little further. In short, I didn't save much that month, because I had to replenish funds and pay the tax man.
February was a big month. I was actually able to save and invest $5,500 — $2,500 for investing, $1,000 in an emergency fund, $1,000 in an Italy fund and $1,000 for my moving fund. I felt proud. I felt rich, even.
Then March came, and it was hectic. Trying to move out-of-state is not cheap and definitely not fun. Towards the end of the month, when we were packing, our food bill got out of hand. At some point, you just sort of give up on cooking when you're preparing to move and all of your stuff is in boxes.
The move itself wasn't cheap either with a rental van, hotel stays, and gas. Once again, I was able to save a little, but the move cost more than I saved, which hindered my progress. Also, I owed the IRS about $3,000. Apparently, I made good money last year and didn't save enough.
April came and was the worst month yet. A financial apocalypse, even. My accountant and I were going through my income and expenses to prepare for my quarterly taxes. I had just gotten off the heels of paying federal taxes, but this was another bomb.
I had a five-figure tax bill. Once again, I didn't have enough saved and it wiped me out completely. Emergency fund? Gone. Tax fund? Depleted. Everything I had worked for was taken by the tax man. I have very few expenses that I can write off and apparently this year, I've been rocking the income and the IRS wanted their fair share. When I heard the news, I felt so defeated. It felt like a big setback.
Now my accountant is encouraging me to save not 30, not 40, but 50 percent of my income for taxes. WTF?! We're overestimating here as falling short has obviously been a pattern of mine. I don't want to owe the IRS, so I've continued to tap my savings. But now, as discussed, I'm literally saving half of my income for taxes.
To shake off this big blow, luckily I had Italy to look forward to. Italy was amazing, but spending two weeks there was expensive. Priceless, totally-worth-every-penny, but expensive. To make matters worse, I invoiced for half of what I usually make at the end of April. It was at that moment that I felt so low and frustrated with freelance life.
I work my butt off and have practically nothing to show for it. I pay 50 percent to taxes and can barely afford to take a vacation, because if I don't work, I don't get paid.
But then I started getting mad at myself…wondering how did all of this happen? How was I making so much money, but had nothing to show for it? I now realize that in my all-or-nothing debt payoff strategy, that I was screwing myself in other areas. I borrowed from savings and taxes. I also just assumed I could save the same amount for taxes and didn't realize the extent that my income had grown.
In some ways, I feel like a failure. A (now) high-income earning freelancer with hardly anything in the bank. I realized that even though I was able to pay off debt ahead of schedule, starting at square one set me back in many ways. Deciding to move and travel all at once perhaps wasn't such a good idea.
Also, taxes are a b!$%* if you're self-employed. So, I haven't made the progress I thought I would on my finances. I'm just recovering from the financial wipeout during tax season. I've replenished my emergency fund to $3,500. I have $3,000 invested. And am now saving a helluva lot more for taxes.
It's not great and I'm not proud, but I'm taking baby steps to get where I need to go. I realize now how my all-or-nothing strategy got me in trouble, so am trying to save and invest in a sustainable way.
I wish I could share with you how awesome debt-free life is and how I'm rolling in the dough, living a life of luxury. But it's been tough. It's been a hard breakup. Debt is still showing me who is boss and I'm trying to reclaim my finances as I effectively start over and move on.
Being debt-free is great, but it's not the end goal. It's a goal. And life continues. If you're working to get out of debt, don't forget other areas of your financial life. Perhaps don't make so many sweeping changes within months of paying off your debt. And if you're self-employed or freelancing, save your money! More than you think you need!
I'm hoping that this is just a rough patch in my financial life and that I can learn how to lower my tax bill, earn more, and still save and invest most of my income. This has been a huge lesson for me and one that I wanted to share with you.
Has an all-or-nothing strategy ever got you in trouble with your finances? Stay tuned to find out how I plan on overcoming this and get my finances back on track. 
Hey everyone! Today, we have a fantastic dear debt letter with a different take on debt from Kathryn. Kathryn is an Assistant Public Defender in Richmond, VA. When not in the courtroom, she writes as one-half of the duo behind the Dames in Debt blog. The Dames are sisters working off their combined $250,000 worth of student loans and consumer debt. Representing both coasts of the United States of Indebtedness, the Dames blog about millennial budgeting, saving money without feeling deprived, and how to live first-class on coach funds.
Dear Debt,
I know it's been a while since we last talked, and I know you're probably really mad at me for spending so much of my time trying to get rid of you. Sorry, it's nothing personal – it's just that I feel like we've grown apart. But there is something I really need to tell you: Thank you.
From the bottom of my heart, thank you. Thank you for making my dreams come true. Thank you for bridging the gap between scholarships and grants and the cost of my college degree. Thank you for buying me that super expensive, business school textbook that wasn't on the syllabus that I had to pay two-day shipping for in order to receive it on time.
Thank you again for putting me through law school where the Cost of Attendance pales in comparison to what actual living expenses are for twenty-somethings. Thank you for paying my medical costs for those two years where I didn't have health insurance and for that time my car was making a funny noise and needed a new filter.
Thank you for being there for me when I desperately needed help with no one else capable of helping. Thank you for feeding me, clothing me, and supporting me from ages 18 to 25. Thank you for driving me two hours every day during the summer so I could take summer classes and graduate early. Thank you for letting a 19-year-old old buy a car by herself so I could actually do most of the things I've done in life, especially for allowing me to be a Girl Scout troop leader.
Our time together hasn't been amazing, but it wasn't the worst either. You didn't judge me when I soothed my dad dying with a rather large amount of food, and you were there, proudly beaming, when I graduated with my Juris Doctorate (something not everyone in my family can say). You were there for me whenever I needed you, and for that, I am truly thankful.
You've watched me grow from the person who worked two or three part-time jobs plus full-time school in to someone who can support herself entirely on a full-time salary and still save a little for the future. You've taught me the value of hard work and heck of a lot about compound interest. I'm happy to say that with all of your help, I've become a person that doesn't need you anymore, and I'm sure you'd tell me you're happy for me.
I know a little part of you will be with me for at least the next ten years (although we'll be drifting farther away each month). I'm sad to see you go because of everything you've stood for these past few years, but I know you're going to go help some other 18-year-old old make her dreams come true. You were worth every penny, and if I could do things over again, I'd totally take you out again.
I'm glad we met, and I'm thankful for our relationship over the past few years. Good luck with everything in the future – I know I'll be seeing you around at least for a little while, but I guess I felt I owed you an explanation for why we've been drifting apart. You were there for me for so many things, and even though the rest of you will be forgiven in the future, just know that I'll never forget you and all the things you did for me.
Love,
Kathryn
Hey everyone! I'm back from my once-in-a-lifetime, debt-free-dream trip to Italy with my mom. The trip was everything I'd hoped it would be.
We saw beautiful art, stunning architecture, ate ALL the food, drank lots of espresso and wine and generally had a wonderful time.
Here are some pics to prove it: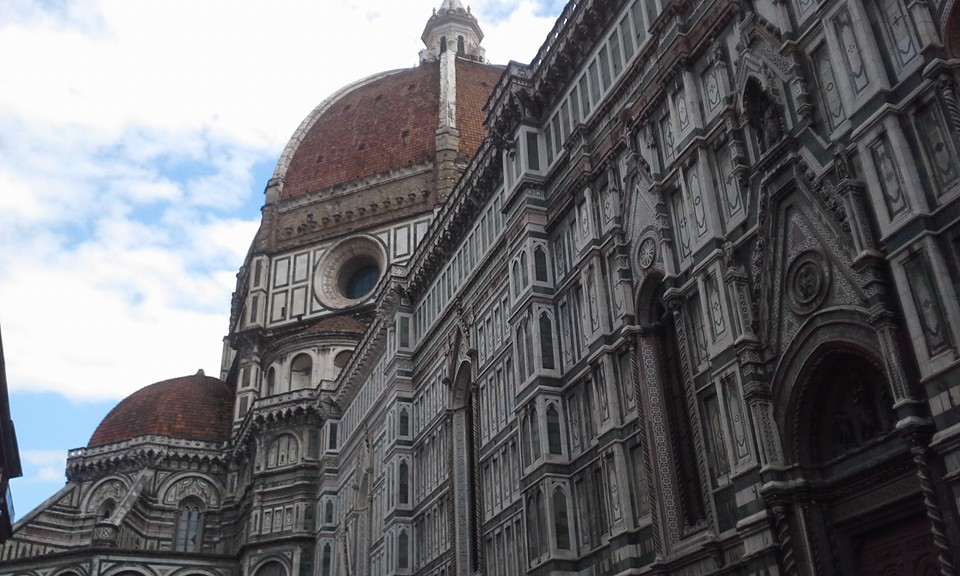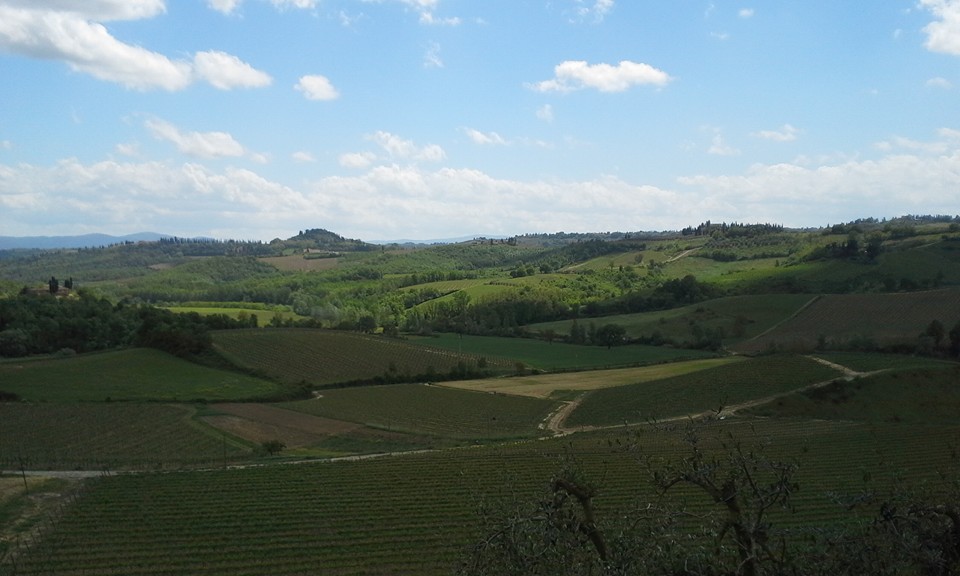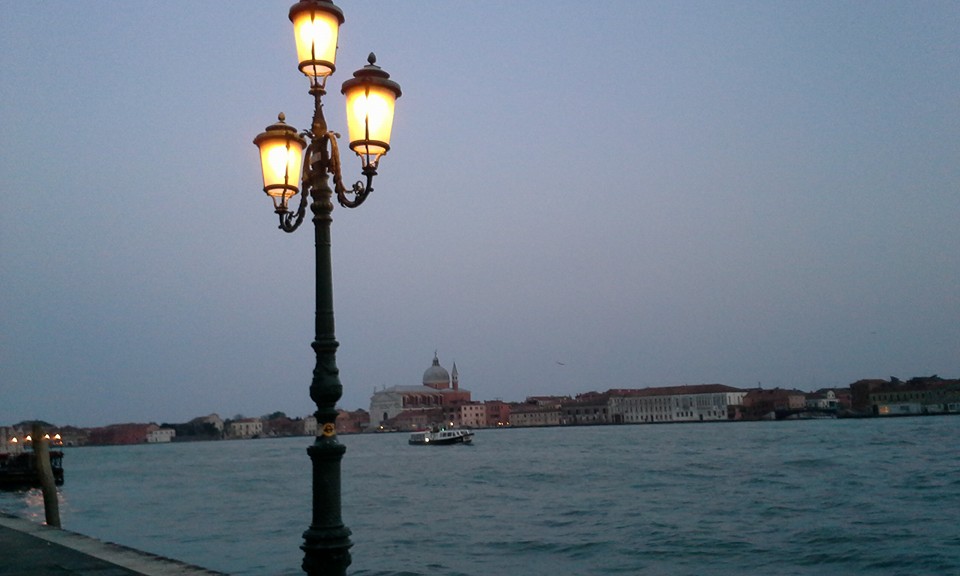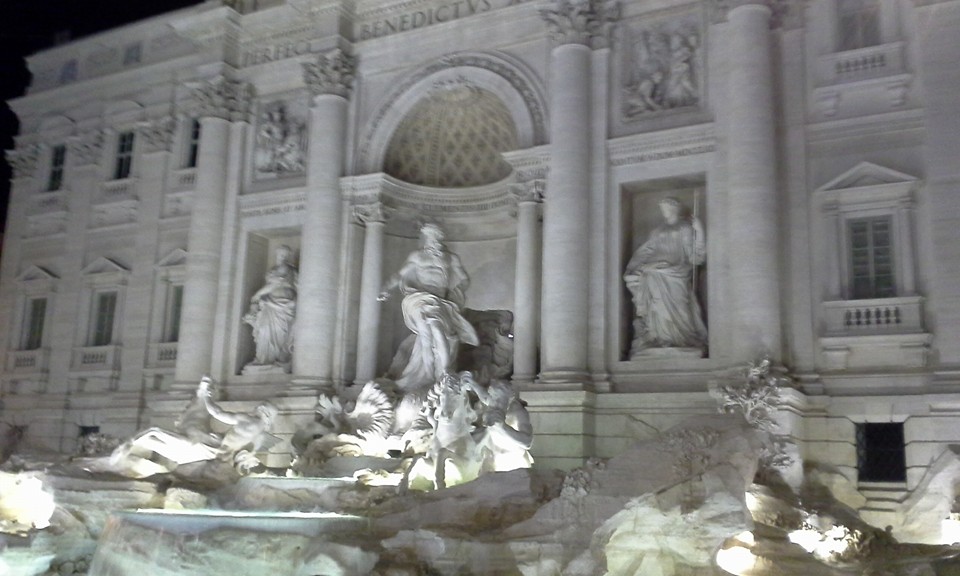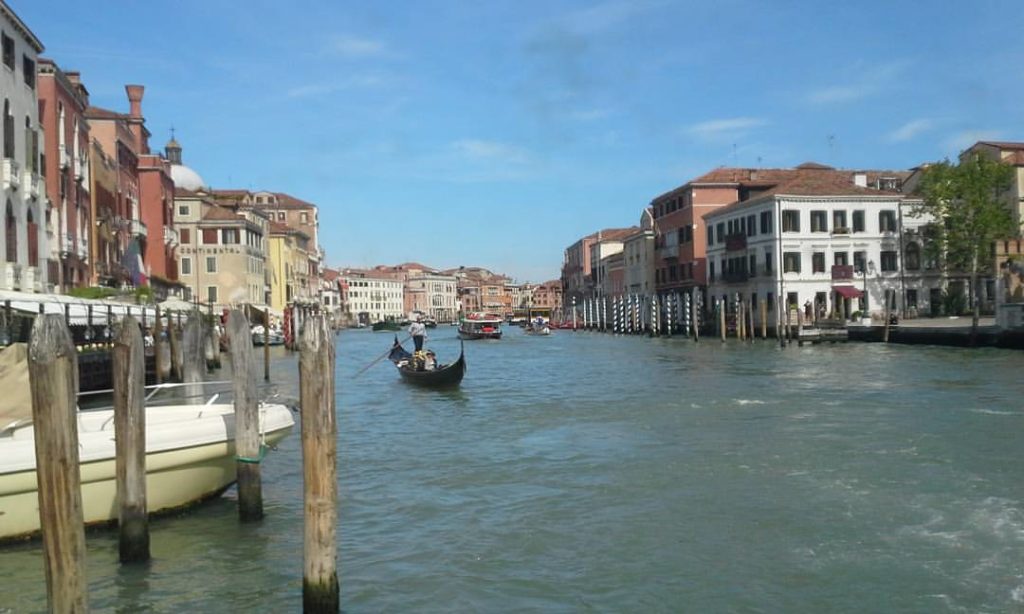 Unfortunately, right before my trip, and right after it, I got overwhelmed with work. That's what two weeks off will do to you — though, I actually did work some on the trip, as I just couldn't do four weeks of work in two weeks.
Aside from climbing out of my work cocoon, I'm also making headway on my book! We're finalizing the cover and the edits. It's starting to feel real. I can't wait to share it with you. The fact that this not-so-big blog turned into this crazy career and a book is awesome! I'm so honored and grateful.
I need to remember some of these accomplishments, as lately work seems hard. The more opportunities I get, the harder the work is. The harder the work is, the more I second guess myself. The more I start feeling like a fake-ass phony. But I'd take this over being unemployed and underemployed like I was when I started this blog.
Aside from that, still finding my footing here in LA. We don't have our own place yet, which presents its own challenges, but I'm trying to be patient and enjoy life, even though I do feel like a mild depression has crept in.
Speaking of which, I'm going to be part of a Blab this Friday at 1pm EST about the costly relationship between debt and mental health. It's #MentalHealthAwarenessMonth and this topic is so near and dear to my heart. I hope you'll join or at least watch the recap. I know how hard it is to get up every day and just live life when you're facing depression. Couple that with debt and it can be disastrous. But remember, you are not alone. You are not a loan.
Lastly, I'm also organizing the blog tour for the Road to Financial Wellness. I helped out last year and this year it's going to be bigger and better. If you'd like to participate and write about financial wellness and empowerment, comment here or send me an email.
That's about it for now. How are things with you?
Hey everyone, we have a great new Dear Debt letter from Pamela. Pamela is a personal finance blogger that likes to help other millennials eliminate their debts. Her professional and educational background is in accounting/finance, but she has not always been good with her own money. After some learning some life lessons, she and her husband embarked on a journey to pay off $120k of debt in 2.5 years. They now live debt free and are building their wealth while she blogs at her site, MyMoneyCounts.org. This witty letter comes from her experience with debt.
Dear Debt,
It's been a roller coaster ride with you, but it's time we part ways. I don't know how much more uncertainty I can take from you. You said you would always be there for me. I thought you had my back, but you lied to me.
There were so many secrets and lies you kept from me. How can a relationship grow that is built on lies? Like the time you said you had my back and convinced me to buy my living room furniture on credit. You told me we could afford it. You said we would be OK, so I listened. Or when you told me that you would take care of me once I was done with school and encouraged me to spend the little I had and more without giving a second thought. But I am done with school now and your words were just empty promises. Where is the help? Where were you when I needed you, debt?
Why am I even surprised? You were never satisfied with what I could give you. You always wanted more and more from me. The more I got for you, the more you wanted. I felt like I could never do enough for you. Like the time I got us the big screen TV and game system, but that wasn't enough for you. You wanted the new laptop and cell phone too.
Was it ever enough for you? Did I ever make you happy? You used to make me happy. I used to get so excited to see you. We had some of the greatest times together, you and I. Like the time we went on the road trip together or bought all those cool things together. You use to whisper sweet nothings in my ear. You had me wrapped around your finger. Then the trips, gifts and promises stopped coming. Then you stopped coming around. Now, when I look at you, I can't trust you anymore. You deceived me… so I am moving on.
I will just come right out and say it, I met someone else. His name is cash and he is so good to me. He never lies to me or deceives me. He always has my back and is satisfied with what I can give him. We are building new memories and going on our own adventures together, cash and I.
I want to say thank you though, because if it wasn't for you, I would never know how great a healthy relationship could be. Cash is the love of my life, and I have you to thank for it.
So long, and have a good life. Please change your ways so you don't mess up the next girl's life. Oh and don't forget to lose my number.
Your Ex
Pamela
Hey Everyone! We have a fiery new dear debt letter from Lindsay. Lindsay has always been the outdoorsy type, which is why she got two degrees in wildlife biology and conservation. After graduating, however, she was crushed when the only job she could get was as a lab animal caretaker. As her finances started tanking, she decided to learn more about how to manage her money. Eventually, she started a blog to document her journey, and then began freelance writing to start saving and work her way out of debt. She hopes to one day find her way back into the wildlife field, but will continue writing as long as she can. Check out her blog at NotoriousDebt.com.
Dear Debt,
F@<% off. It's time for you to go.
We used to have a great relationship. You convinced me that with your help, I could do anything I wanted. Because of you, I moved across the country just two weeks after graduating from high school to start my adult life and get two college degrees. Because of you, I bought a house and a truck to go with it. Because of you, I paid for a surgery when my husband got sick, and to fix my house when it needed major repairs.
But the truth is I didn't need you for any of this.
I could have saved the money I made while working through high school and college. I could have worked harder to get more scholarships. I could have saved up to buy a cheaper vehicle outright. I could have saved up money in an emergency fund and a health savings account so I could have paid for the doctor's bills and the home repair bills in cash. But instead of realizing this, I became more dependent on you.
I wanted more things, but I didn't know how to save up for them. Instead, I relied on you more and more when things went south. Over time, much like my little cousin Kelly*, you began barging more and more into every aspect my life. I couldn't just go out with friends; you wanted to come too. I've never been on a real vacation with my husband, because I had to stay and work to take care of you instead.
No more. It's over. You're not the savior I once thought you were.
Instead, I'm going to save up for myself, like I should have been doing from the start.
I'm working on saving up an emergency fund of three month's living expenses, so I don't need to rely on you when shit hits the fan. I'm saving up for my husband's education. I'm saving up to go on a real vacation this summer. I'm saving up to buy a car.
Truth be told, I'll still need you at some point in the future. I don't know if I'll be able to save enough to buy a car outright by the time I need one. I'm saving up for a down payment on a house, but I won't be able to buy it outright.
But you will no longer be my crutch. I'm standing on my own two feet now.
So get ready – because after I've saved up my emergency fund, I'm coming at you full-force.
Peace out,
Lindsay
P.S., Eat a d!<%.
*Name changed to protect identity and prevent awkward family reunions