What if you had a friend that was always begging you for money — hitting you up for $3 here, $10 there. You know, nothing big, but they were very consistent. You felt bad for them, so just kind of kept them around as your friend.
Now imagine this. Your new lover just simply adores you and cannot stop calling you. What you thought was love, is quickly turning into harassment. Unwanted calls and letters — you feel like you lost your sense of self and cannot escape.
Let's consider another situation. You go to a job and do all your duties, but when you get paid, you only get half of your check, because your employer thinks you owe them for giving you a job.
Would you put up with any of these situations?
I hope there is a resounding HELL NO.
And if that's the case, why are you putting up with the same crap from debt? Debt is personified in all of these scenarios. Debt is your conniving co-worker, your harassing lover, and your broke friend.
You wouldn't put up with that, so don't put up with the same crap from your debt.
It's time to DUMP DEBT.
Break up, already.
Debt is SO out of style.
Don't think about how you don't know what to do with your life without debt. You're so much stronger than that. Your life will mean so much more without debt and you'll finally be able to see all the beauty you alone possess.
I want to preach the gospel of getting out of debt, because I too am sick and tired of being in debt. I'm sick of feeling used and sick of seeing my hard work go to debt.
I know I can reclaim my life, my finances, and my future at the end of this journey. And so can you!
Are you with me?
This post is part of the TaxACT #BeatTheDeadline blog tour which shares tips on how to make tax time a smooth and easy process before the April 15 deadline. TaxACT provides the tools and guidance to help you confidently file taxes easy and fast. Do your own taxes today at TaxACT. You got this.
I absolutely love being my own boss and working on my own schedule. I can let my inner night owl do its thing, without having to be "on" at 9am. I can respond to things in my own time. And I can take afternoon naps. It's so lovely.
But one area that is drastically different and kind of a pain? My taxes. It was so easy to do my taxes when I had one W2 to deal with. This year alone, I had one W2 and about 10 different 1099s. It was also the first year that I had to do quarterly taxes because of my self-employed status.
If you are just starting out, learn from my mistakes and disorganization! Here are some tips to make the tax process a bit easier.
Save More
Luckily, I did one thing right and I saved a lot for my taxes. Being self-employed, I saved 30% of all my income. After all, when you work for yourself you have to pay your portion of social security and medicare. It turns out I saved more than I needed to, because I'm not actually in the 30% tax bracket. But I'm happy to have the money in my account and ready to pay! It's much better than the converse. I'd much rather have the money in the bank, rather than scrounging up money to pay my tax bill.
If you are self-employed, always save more for taxes than you think you need to. If you saved more than you need to, you can always use it elsewhere, or just carry it over until the next quarterly payment.
Keep Your Receipts
I have a bad habit with receipts — for my whole adult life, I've considered them trash. I would immediately crumble them up and throw them away. Now that I'm self-employed? I need to change my habits. I can deduct my business expenses, which means I need to keep proper documentation of my expenses, with receipts.
As a business owner, you can deduct many things from your taxes. If you work online like I do, you can deduct your internet, part of your phone bill, and computer expenses. Luckily, I was smart enough to keep my receipt when my computer crashed last fall. All of your expenses can help lower your tax liability, so keep your receipts! You can go old school and keep your receipts in an envelope or a folder, or use something like Expensify.
I know that I missed out on a lot of deductions — i could have deducted blogger happy hour expenses and FinCon expenses as part of my business, but I didn't keep good records of it. This year, I am doing a much better job of keeping my receipts!
Get a Business Checking Account
Something that I am in the process of doing asap is getting a proper business checking account (I know, I know, I'm late to the party). At first I thought it was cool to just keep getting paid in my personal account — I was growing my business and not making that much in the beginning. But now I'm making more and if I want to take myself and my business seriously, I need a business checking account. Not only that, I am now seeing firsthand how much easier it makes it to track your income and expenses. I had to comb through my PayPal and my personal account to make sure all my income was accounted for (side note, if you have an affordable bookkeeping software you love, let me know).
It was such a pain. I admit that I feel confident in what I offer as part of my business, but I am just not very good when it comes to administrative stuff. It's the last thing on my mind and I'd rather focus my energy elsewhere. But this year I've learned so much and realized I do need to have systems in place to make sure my taxes are not a nightmare and that I have money in the bank to pay my quarterly tax bill.
If you are self-employed, or even have a side business, make sure you are saving enough for your taxes, keeping proper documentation of your expenses and income, and that you are reporting all your income.
What other tips do you have to add for self-employed folks doing their taxes?
Beating the tax deadline doesn't have to be stressful. With TaxACT, everything you need to confidently prepare and e-file your taxes is right at your fingertips. You got this. File your simple or complex federal return FREE today with TaxACT Free Edition.
p.s. My boyfriend ended up using TaxACT this year and it was super user-friendly and easy!
I can't believe I quit my job 8 months ago to work for myself. When I quit in July, I would not have anticipated some of the cool and crazy things that have happened. Working for yourself is hard work, but there are moments of blinding goodness that just make everything worth it (like sending invoices from a Las Vegas bar, which I did last week). There are also times when you feel like giving up because you put so much of yourself into your work — it can be a really vulnerable place.
But I haven't regretted my decision one bit and I'm quite happy with the flexibility this lifestyle affords me.
As a solopreneur, hustler, and all around workaholic, I love getting to peek into what other people use to manage their life, money, and business. So, I thought I'd share with you some of my favorite things that help me live happy, save money, and rock my business.
While I can't be like Oprah and give you lots of swag, there are some sweet bonuses I can offer.
Postmates
I had never heard of Postmates until a few weeks ago and I have to say that I'm in love. I found out about the service from someone I follow on Twitter and was happily surprised that Postmates just recently came to Portland and Phoenix. Postmates is a food delivery service that brings your favorite food straight to your doorstep. Want Chipotle delivered when you are sick in bed? Done. Working on an intense deadline and can't leave the house or cook? Get some food delivered.
Now, I know food delivery isn't the most frugal thing in the world. BUT Postmates is always having various promotions giving out free things — sometimes with free delivery. I signed up for the app and was immediately sent an email for free bagel delivery — 2 bagels with cream cheese, delivered straight to my door. I thought it was too good to be true, but it wasn't. The delivery fee was waived and the food was free. Of course, I tipped the guy, so it wasn't 100% free, but it was still worth it.
While my frugal (or cheap?) self has mostly milked the promotions, I like having options when I'm sick, busy, etc. Also, while they deliver mostly food, you can also order every day items like toilet paper or contact lens solution. I think Postmates is going to blow up, so get in while this biz is good — and for my side hustler friends, consider becoming a Postmate. You can make up to $25 per hour!
Use my referral code, rbyva, for $10.00 in delivery fee credit. Get the app here: http://postmates.com
Capital One 360
My finances would be a disaster without my targeted savings accounts for all my goals. Capital One 360 lets you open up to 25 savings accounts! If you want to be really clear about your money and savings goals, set up a saving account for each. You can nickname them whatever you want, so have fun with it. I recently created a saving account and named it the GTFOPDX fund (I stole this idea from Carrie). In addition to my moving fund, I also have savings accounts for my emergency fund, taxes, travel, and FinCon15.
If you open up a savings account with $250, you'll get a $25 bonus! Or get a fee-free checking account and get a $50 bonus.
Swagbucks
As someone who lives on the internet and works as a writer, I am always looking things up from spelling and grammar, to definitions, sources, etc. If you want to get paid to search the internet, take surveys, and more, Swagbucks is where it is at. Swagbucks saved me in Las Vegas — after a few frugal fails on day 1, I was looking for an affordable breakfast in Las Vegas. Luckily, I had enough Swagbucks to get a $15 Starbucks gift card. Woo hoo, free coffee and food (even though it was still way overpriced in LV).
Start making money today!
Chase Sapphire Preferred
So how in the heck did I fly to Vegas for free? With the Chase Sapphire Preferred card. I love this card because you get double points for eating out (which is my one weakness aside from travel). This card is super flexible — you can book within their system or transfer your points to a partner airline. This card is a huge favorite in the personal finance world and now I know why.
It was kind of hilarious – a few weeks ago, I went to a blogger happy hour in Portland and we ALL laid down the Chase Sapphire Preferred when it was time to pay lol. Quite amusing for the waitress.
If you want to get 40,000 bonus points with Chase Sapphire Preferred®,  apply here. Spending minimums may be required. Also, this should only be considered by those who pay their cards in full each month. In NO WAY am I trying to promote credit card debt, ya know? So even though travel hacking is nice, don't drink the kool aid if it's not for you.
Gradible
I want my student loans gone, like, yesterday! Don't you? I recently found out about Gradible, a web-based platform that can help you pay off your student loans faster. You can take surveys, shop, and perform various tasks and earn LoanCreds which go directly to your student loans. If you use my link, you'll get 20 LoanCreds and so will I. BOOM! How much is 20 LoanCreds worth? $2. You won't get rich from the site, but anything helps! Sign up and dump that debt.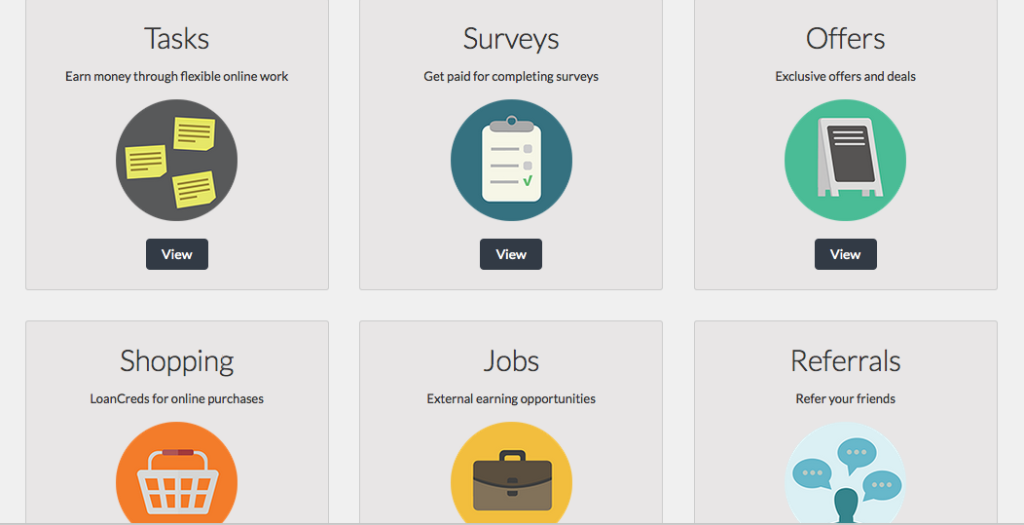 YouGov
One thing that I hate about taking surveys is that they are usually boring as $%&!. I have never felt that way when taking a YouGov survey. They are pretty easy and their point accumulation is nice and can be redeemed for gift cards. I have to thank Michelle from FitNPoor for this one!
RescueTime
When I first quit my job, it was the first time in my life I didn't have someone lurking over my shoulder telling me what to do. It was liberating…and kind of confusing. I didn't know what to do with myself! I've always been self-motivated, but it was a huge shift for me. You have to have remarkable discipline to be your own boss and stay on task. I've gotten a lot better with time management and minimizing distractions, but a few months ago, I downloaded RescueTime to help see where my time was going.

Think of RescueTime like the Mint.com of time. If you want to know where you are spending your time online, this free app can help you do just that. I was shocked to find out I was spending 11 hours a week on email and 5 on Facebook (ugh). Now that I realize where some of the time sucks are, I'm making adjustments. If you get their premium version, you can even block some of those distracting sites. RescueTime sends you weekly reports so you can see how much time you are spending online, which has been a huge eye opener for me. If you want to track your time, sign up for free!
These are a few of my favorite things (in my best Julie Andrews voice). What are your favorite things?
**There are referral links in this post — you'll get a bonus and so will I. I don't share things that I don't love, because…why? I hope you enjoy these things as much as I do!**
Hey debt fighters! I'm so excited to share this dear debt letter as it offers a fresh perspective on debt. AND you must congratulate Kate as she has recently paid off the last of her debt!
Kate from Goodnight Debt graduated from law school with $45,330 in student loan debt. She made her final student loan payment on March 27, 2015, paying them off in only 15 short months. 
—-
Dear Debt,
Can you believe we've known each other for nearly 5 years? I guess stress and life events make time fly by.  It feels like we met just yesterday.
It has been a good ride, but we can't see each other anymore. I don't mean to be rude, but it's time we went our separate ways. Did you really not see this coming?
I can't say that I'm going to miss you, but I want you to know that I appreciate everything you have done for me. You've done a lot.  Sometimes I feel like you don't get the recognition you deserve.
So, I just want to say…. Thank you.
Thank you for helping me gain my independence to stand on my own two feet.
Thank you for letting me pursue opportunities that were low or no pay but were pivotal in finding my right path.
Thank you for getting me through law school. Without you, I would have needed to divert my attention from what was important to make ends meet.
Thank you for being there after I graduated. Things got really bad for a while and without you, who knows what kind of mess I would have been.  (Likely: An emotionally unstable, unemployable mess.)
Thank you for pushing me into new opportunities when the time was right.
Thank you for helping me grow closer to my Husband.  (Do you remember him? You two hung out a lot like 10 years ago.)
Hopefully, we can see each other again in a few years. I'll need your help with a few things…. How are you at home improvement projects?
Thank you again,
Kate
When it comes to personal finance, it seems that many people are not taking the right steps to keep the money that they have worked hard for. Many of us, myself included, can blow money on unnecessary expenses and justify wants as needs. But by acknowledging these traps, you can try to avoid them.
Here are some of the most dangerous traps to avoid with your personal finances.
First, make sure that you do not get caught up in large monthly payments for large assets — there is a reason I don't have a car!
Large monthly payments such as those for an automobile loan do nothing but take away from your net worth and cars depreciate faster than the time it takes to get approved for a loan. You must budget so that you can pay off large assets as quickly as possible. You will avoid interest payments that take away from your wealth building potential by doing this.
Second, avoid saving after everything is paid.
If you pay all of your bills and only save what is left over, then you are very likely to end up saving nothing at the end of most months. People use the excuse of an unexpected expense or emergency in order to completely forgo saving any money for that month. Setting aside money to save should be the first "bill" that you pay every month. Pay yourself first!
Third, when you need to borrow money, do not leverage your assets or go to a check cashing place.
There are many financial tools that simply should not be used — think about it, do these places really have your best interest at heart? Check cashing businesses usually come with incredibly large interest rates that are never worth the expense over time. If you have any unexpected emergencies, there should be a cash fund or an emergency credit card by your side in order to take care of those. Emergency funds can make or break you! You have to make sure that you have a good standing current account where you can keep your emergency cash when needed. You should never leverage your car title or any large assets in a short-term move to get cash.
Fourth, do not believe that investing is only for the pinstriped suits on Wall Street. It's for regular folks like you and me and is the best way to build wealth.
The concept of investing is an everyday thing that should be considered by all people. There's a myth that you need a lot of money to invest, but that is simply not true. Now with the rise of robo advisors, you can get started with investing a small amount of money and pay a small amount of fees.
There are many other things that you can do in order to create a strong financial future for yourself, but the above list will certainly get you started on the right track.
There are a number of ways to make money in your spare time, but one of the most potentially lucrative is entering the world of corporate training. A corporate trainer may have a background in education, business, marketing, or communications, or they may have other specialized skills that a business is in need of. It can be a rewarding side job that puts you in the driver's seat. However, it's helpful to first take a closer look at what this entails and how to start out.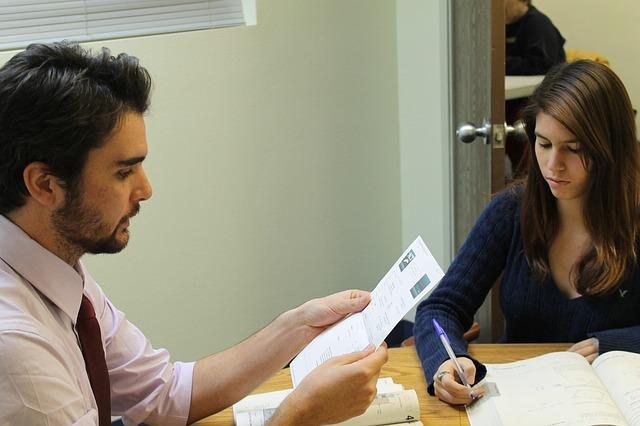 Image Source: Pixabay
Teach what you know
To begin, you'll need to determine what you'll be teaching. The difference between a regular tutor and a trainer is merely that trainers tend to offer skills that are more business-related rather than academic. Do you have any specialist skills from your day job that you could teach others on the side? Whether it's project management or programming, focus on your specialty.
Boost your existing knowledge
Even if you excel in a particular subject, to become a corporate trainer you might need to brush up on the teaching side of the equation. You can develop your skills as a trainer with a short course in training and assessment, or enter into a longer degree program. A good trainer is able to understand not only the skills that need to be transferred, but also the business's needs and the latest training techniques.
Seek out contract work
Some corporations have an in-house training department, but many now choose to outsource this task instead. The human resources department tends to handle training and assessment, so that is a good point of contact as you begin. A good first port of call is a professional training and development organization, like the ATD.
Become an online trainer
Another option is to offer your services online as you start out.  You can create your own training academy, using videos, webinars, and other interactive platforms with your clients. This lets you work on your own time, tailoring your content to your clients' needs. The other benefit of online training is that you can package your content and sell it in different formats, including podcasts and downloadable manuals.
Become an adult education instructor
Do you have a local community center or college that offers evening and weekend courses for adults? This could be another good part-time outlet for your skills, offering a way to get your foot in the door and gain some hands-on teaching experience.
Keep up with technology
There's always a strong need for trainers who are knowledgeable with the latest technology. Be sure to keep your own computer software skills up to date if you want to pass these skills on to others. Other areas that you should watch closely include public speaking, management techniques, and legal policies affecting the business world.
If you like the idea of empowering others with your expertise while earning a nice side income, becoming a trainer may be a good prospect for you. These are a few tips to keep in mind as you hone your own skills and find a receptive audience.
Are you interested in becoming a corporate trainer? Or do you have experience with corporate training?
I can't believe the end of March is approaching and in just a few days I fly to Vegas to see Tonya for 48 hours and then in a month I am going to Spain and Portugal. Say what? All because of travel hacking, too.
I have to say that things have been increasingly busy here and ever-changing. I've gotten some new opportunities that I'm really excited about and I've moved on from some others. It's been a time for change and growth for me — getting uncomfortable and trying new things, letting go of things that were safe and comfortable.
In addition to giving you a brief update about my life, I want to share with you the state of my debts. I regret not posting updates sooner, and quite frankly it's because I haven't loved my progress.
Life has gotten in the way in some cases, but it just feels like an excuse. Just because I don't love my progress doesn't mean I shouldn't share it with you, right? I know that paying off debt is a journey. There are stops and starts, setbacks and times of great momentum. I guess lately I've just been so incredibly bored by the idea of debt. Like, oh, I'm going to bed next to you AGAIN?
Dear debt, put some spice back into my life. I think my upcoming adventures will do just that and I'm really proud of myself that I have money saved and am essentially flying for free.
Anywho, last time I updated you, my debt was at $33,740.36.
It is currently at $32,343.80.
Although nearly $1,400 is nothing to sneeze at, that took me 2 months to do. I'm still getting used to this freelance payment schedule where things seem to come at the end of the month, or sporadically throughout the month. I will say it has made my payments more difficult, but I'm committed nonetheless.
Luckily, my income is growing and as it grows, so will my debt repayments. Because I want these things gone, yesterday. Even though I say I'm bored with my debt, I'm still passionate about being debt free. I don't want you to think I'm giving up, despite my recent musings about how tough life is.
Things are better and it just reminds me how quickly things can change. What a difference a day makes (one of my favorite songs by jazz goddess Dinah Washington). I've also come to realize that hard work largely is invisible while you are in the thick of it. Then ONE thing can happen that affirms that you are doing the right thing and headed in the right direction.
So, the point is, have faith. Keep going. Work hard and continue trying. You may not see the results, today, tomorrow, or even in a year. But you are building something. And it will rise, and weather the storm.
What's new with you?
p.s. need some more debt motivation? Check out Fruclassity from my dear friends Laurie and Ruth.
This past weekend I worked a women's expo as one of my main side hustles: a brand ambassador. I was looking forward to the gig as it wasn't a typical event and it would be around a bunch of awesome women.
When I was in line to get my vendor pass, I saw the women lined up outside waiting to get into the expo. There was already a huge line waiting to come inside.
The slogan for the expo was "love yourself first."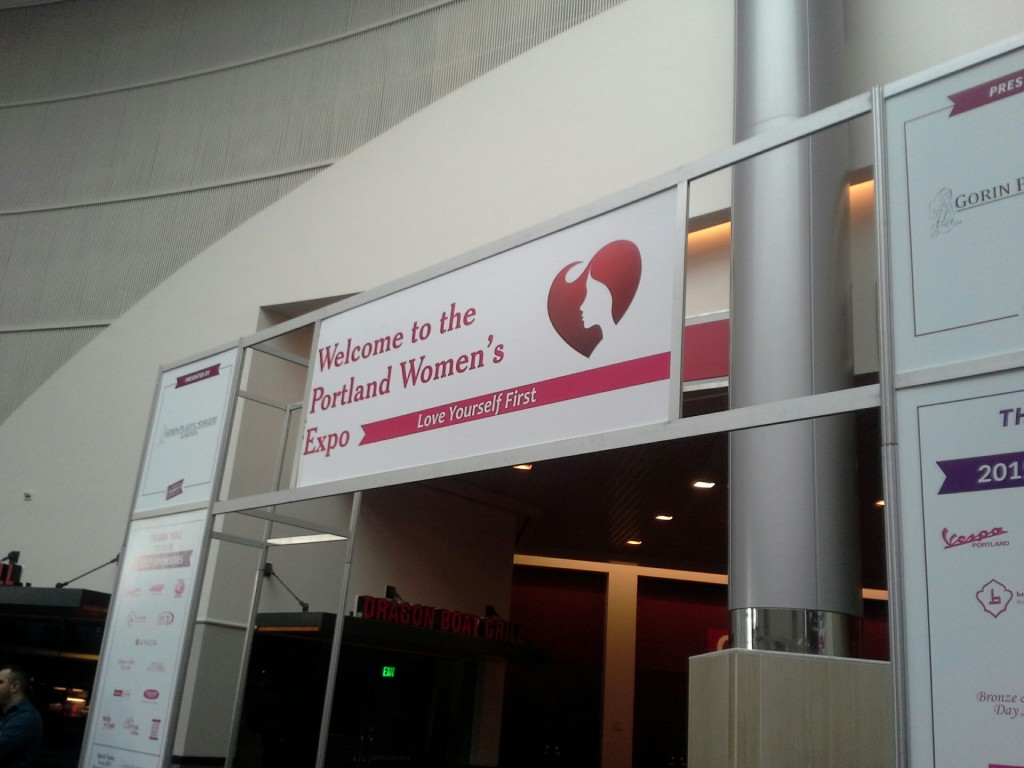 "I can dig that," I thought. We do need to love ourselves first.
So I get set up at my booth and throughout the day, I made the rounds to look at the other booths. After all, I wanted to see what other cool things were going on at the women's expo.
My research proved to be so disappointing. Over 90% of the booths were somehow about weight loss, skin tightening, waxing, makeup, and sexy outfits.
I don't know what I was expecting at a women's expo, but it sure wasn't this. "Love yourself first?," I thought. Yeah, right.
Love yourself after you lose 10 pounds, wax your vag, straighten your hair, and tighten your wrinkles. It felt like an expo that was supposed to be about loving yourself first, was really about buying products to make you look better and feel better.
This is the kind of marketing that we've been dealing with for years in traditional media and I guess I was just sort of hoping for something different. Something that didn't put all of our power into our looks or our youth, but more into our contributions to the community and our families.
All of this got me thinking: is this really what women empowerment looks like?
I think you know my answer.
So, if that's not it,  what does women empowerment look like? I started to think about what my ideal version of the expo would be. I would want to see classes on negotiating, how to start a business, relaxation techniques, and more community based products and services. I'd want to have more classes, products, and workshops that enhance our social network and respect our buying power, without just focusing on superficial stuff.
And I do have to say, I like some of the superficial stuff too. There is a time and place for that. But to have a whole expo that was mostly focused on beauty just felt like a disservice to the power and potential of women. I know a bunch of money was thrown into this thing and that many people probably made a bunch of money as well.
As more and more women become breadwinners, I think it's so important that we find avenues to support each other and ourselves. But we have to get rid of the old, tired model and stop marketing to our insecurities.
I know this is a big question, but: what does women empowerment look like to you? (in an ideal world, it's okay to be ridiculous)
Hello debt fighting rockstars! I have a great dear debt letter for you from Ryan Bonaparte, who is part of a cool site, TheNewTutor.com. Check out their resources and his awesome breakup letter to debt. If you want to write a breakup letter to debt, contact me.

Dear Debt,
We've known each other for 10 years, and we've been pretty serious for the last five. It's been fun — we've gone to school together, rented our first apartment (which was pretty nice by the way), and picked up a few gadgets and a car or two along the way.
Unfortunately, I don't think we can last. I've given up more time than I can count trying to work with you, to pay you off, and yet you're still here. We've tried to work through our problems, and when I lost my job, you took a little break. But you were right back at it when I got my new job. And don't get me started on that trip to the hospital a few years back.
Really it's kind of a pain to keep you around. You take and take, but it's been a long time since you've given me anything in return.
One day, I know you'll be gone, and I'll be able to live my life and enjoy the freedoms I want to experience. One day, I'll remember you as a distant memory with the ups and downs we had. Mostly downs, really.
We still have a ways to go, more years than I'd like to admit. But piece by piece, I'm untangling the way you've woven yourself into my mind, heart, and soul. We've already started to distance ourselves from each other, especially this year when I saved money and worked hard as a tutor to let go of what little you control you still had over my credit cards. That was an amazing feeling, and I can't wait to push you out of other parts of my life. Soon, you won't be riding with me every time I go for a drive.
I know we'll probably run into each other every now and then. You might be there for my wedding, when I buy my first home, and maybe my next car or two. But really it's for the best that we don't make it a habit. You go your way, and I'll go mine.
Can't promise you I won't warn all my friends to stay away from you, though. Just saying.
It's been real.
Ryan
Time is just flying by. I can feel the year whizzing by me as I blink and realize it's Mid-March. This year has been a blur, filled with hard work and hustling, good times and bad. Things are starting to settle, ever so slowly, as I attempt to search for that elusive balance.
One thing that is perpetually on my mind these days is the move. Though we have six months to sort out all the details, it feels weird to have a date set. Everything could change for all I know, but as of now, we will be leaving Portland.
It feels so weird, because I've been ready to go. But now that little voice in my head keeps popping up.
Is it the right time?
Do you really want to move somewhere more expensive?
Are you ready for even more change?
But then some semblance of rationality creeps in.
There is never a good time.
I have to remember this as I try to convince myself otherwise. Like so many big decisions in life, there is never a good time.
There is never a good time to have kids, or to quit your job, or to move across country. If we all waited for the right time, then I'm afraid that day would never come.  If I waited for the right time, I would have never left LA or gone to New York, or gotten my master's degree. I would have never quit my job.
Sure, there are better times to do things than others — like when you have a fully funded emergency fund or are debt free. But I firmly believe I can't hold back all of my life decisions for a few more years until I'm debt free.
I'll make myself miserable and Lord knows I haven't been the happiest of campers lately.
All of this got me thinking. What else in my life am I waiting for that right time? Like that e-book I said I would write, or that novel filled with stories this blog will never see. But I haven't written a word on those things, because I've been paid to write other words for other people. And for that, I'm so grateful, but I have to say no to this good time business, because the time is now.
I want to make sure I am living life to the fullest and reaching my full potential. Isn't that what being your own boss is all about? I don't want to feel like I'm still just working for others, using it as a means to an end, towards debt freedom. Because at that rate, I'm bound to have (yet) another existential crisis once I'm debt free.
There has to be more and it has to be now. Time only goes forward, not backward, so I want to grasp these moments and make them mine. Be content with my decisions and embrace all life's messiness and not be paralyzed with fear about what will happen.
Because no one knows. Our life is a book that has yet to be written. I want to make sure I keep turning the page and not let my book collect dust.