Hey debt fighters and money mavens! It's been a wild ride in 2015 and we're not even at the three-week mark. I've experienced the good, the bad, the ugly, along with the strange and unfortunate — it's been a whirlwind.
I'm so grateful I took that time off to be with family and friends for 2 weeks in LA over the holidays.
But aside from everything that is going on, you know that I'm committed to paying off debt right? I'm so excited to say that in the last month, I put $1,000 towards my debt! It's been a while since that happened, so I'm super jazzed about it.
My student loans are now at: $33,740.36
Woo hoo!
I look forward to getting rid of more debt this year, so I can accomplish my financial dream. What is my financial dream — or life after debt? It means more traveling and less worrying, more generosity and less fear, and more security. Later this week I'll be talking about WHY I want to get out of debt, so stay tuned.
In the meantime, come join me and LaTisha Styles for a fun and inspiring Twitter chat this Wednesday, January 21st at 8pm EST/5pm PST. The chat will be with Payoff, an awesome company that focuses on uplifting people and empowering them to think about life after debt. They merely don't want to focus on debt payoff but life after payoff.  We'll be chatting with the CMO, Carey Ransom, who is a pretty rad guy. We'll be talking about making progress on your financial dream in 2015 and how dumping debt can get you there.
We're hoping the later time will help folks who work during the day be able to attend — and you won't want to miss it! It will be great fun AND we are giving away $125 in prizes (SUH-WEET!).
If you can attend, please RSVP here (you can still attend if you don't, but it is suggested): http://goo.gl/forms/fFlaFlPkyx
If you can't, would you mind sharing? Thanks debt-fighting friends. May all your debt free dreams come true.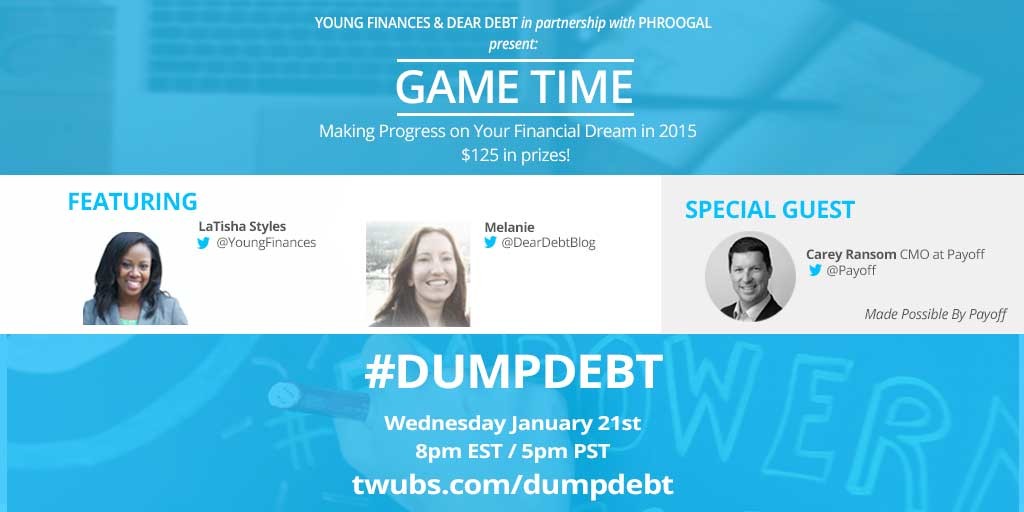 It's Game time!
This post is part of the TaxACT How I Save blog tour which teaches you ways to keep more money in your pocket. Last year, TaxACT saved America over $240 million on tax preparation. How much can you save? To learn more about tips and strategies on saving, click here.
If you are anything like me, one of your goals for this year is to save more money. Saving money can help you get off the debt roller coaster and cushion your finances when an emergency occurs. Not only that, but saving money means more possibilities — things like quitting your job, traveling the world, and saving for your first house.
But let's face it: saving can seem like a chore. Spending is often seen as the sexier, more fun option. However, there are easy ways to save money on just about everything.
Saving, like anything that you want to master in life, requires persistence and practice. Saving money will stop being something that you force yourself to do, and will become a lifestyle.
For me, I had to learn early on how to save money. As a perennial nonprofit worker turned freelancer who also happens to be fighting off the beast of student loan debt, saving money was always part of my lifestyle — especially because I didn't have a credit card until I was 28, so I relied solely on the money I had.
Here is how I save on nearly everything:
Housing
Housing costs can often eat up a large chunk of your budget. When I lived in LA and NYC, I could feel it with my rent costs inching up to 50% of my income. I now live in an area with a lower cost of living in a modest studio apartment with my partner. As we have gotten older, we have said "no" to lifestyle inflation. While many of our friends are buying houses and enjoying large 2 and 3 bedroom apartments, we are content with our small, yet cozy space. We save thousands of dollars each year by choosing to live in a modest space.
I know living in such a small space won't work for everyone, but here are some tips to save on housing:
Ask yourself, what do you really need space wise? Can you afford to downsize?
Consider moving to a lower cost of living area
If you are in a larger city, consider a cheaper neighborhood or living with roommates
Live close to work
Food & Drink
This year, I plan on saving more money than ever by eating at home more and drinking less. Eating at restaurants is my Achilles' heel, but eating and drinking out is just so expensive. I am looking up cheap recipes on Pinterest, doing more meal planning, and buying mostly fresh produce and beans in bulk. We don't eat much meat, which also helps the bottom line.
If we do go out, it is often with some sort of coupon or for happy hour. Also, we like to have a rule that we either go out to eat, or go out for drinks, but not both. We've learned that doing both can quickly lead to a hefty bill.
To save money on food and drink:
Transportation
Ever since leaving LA, I have been carless, and it's been fabulous. Between insurance, gas, repairs, and potential car payment, cars are money-hungry beasts. I am saving thousands of dollars per year opting to bike, walk, and take public transportation everywhere.
If going carless is not an option for you, consider being a one-car household, or commit to taking public transportation a few days per week. Buy used, instead of new and use sites like GasBuddy to find cheap gas in your area.
To save money on transportation:
Go carless
Take public transportation
Walk or bike if possible
Carpool
Become a one-car family
Buy used instead of new
Compare prices on insurance
Entertainment
Because I am in serious debt pay off mode, my entertainment budget is abysmally small. As much as I'd love to go to more concerts, more movies, and see more live art, it's a luxury I often can't afford.
But I still do manage to have fun and get my fill of culture on the cheap. I save money on entertainment by:
Going to museums on 'pay what you can' days
Attending my local art walk
Using Netflix over cable
Attending free movie screenings
Volunteering to be an usher to see a live show
Business
Now that I'm a full-time solopreneur, I'm always looking for ways to save money. This means that when possible, I prefer checks over PayPal, or even better, direct deposit. I know PayPal fees are the cost of doing business, but it doesn't hurt to ask your client if they offer another method of payment.
In addition, I make sure to keep track of business expenses, like computer repairs, so I can deduct them from my taxes. After all, you want to save as much money as possible on your taxes, so be sure to keep your receipts and stay organized with your finances!
How I Do It
After saving so much money in all aspects of my life, I make sure to pocket that money and not go out and spend it. Remember, it's not how much money you make, but how much you keep. I am a firm believer in targeted savings accounts, which can align with your financial goals.
Personally, I automate my savings so that money is deducted from my checking account each month to fund my goals. That way I don't have to think about it and there are no excuses. I use targeted savings accounts to fund all my short, medium, and long-term goals such as my emergency fund, travel, taxes, and retirement. This way, I know exactly what that money is for.
As you can see, saving money doesn't have to be hard or even painful. You can still live an awesome life AND save money. Start by saving as much as you can (10-50%+ of your income) and choose to spend on your values, while cutting out the rest.
Use these tips to start saving today so that you can rock your goals this year. If you want to save even more money by saving on your taxes, enter to win a free copy of TaxACT below:
How will you save money this year?
Photo credit: http://deathtothestockphoto.com
Hey party people, happy Monday! I am thrilled that today we have a very special How My Blog Changed My Life. If you're new here, this series was born after my realization of just how much my own life has changed because of this blog — which spurred me to reach out to others and showcase how this unique medium can truly be a life altering experience. This is especially true for today's guest, J.D. Roth, founder of Get Rich Slowly.
J.D. has gone from being deep in debt to being a renowned personal finance expert who has built one of the most popular personal finance blogs around.  I am inspired by everything he has accomplished and am grateful to call him a friend.
Read more about his journey below and on his blog, jdroth.com.
What was the inspiration for starting your blog?
I started "Get Rich Slowly" to share what I was learning about saving and investing. I'd already been blogging for NINE years when I started the site (I was blogging before "blog" was even a word), so I had a handle on how to write for the web. But I was just learning about personal finance. I was deep in debt and trying to figure things out. I'd written a popular post at my personal site about how it wasn't possible to get rich quickly, but it WAS possible to get rich slowly. Based on the response to this article, I decided to start what I thought would be the first-ever personal-finance blog. Little did I know that folks like Jim and Harlan and Ramit had already been doing this for a couple of years. In time, this new hobby became my main blog — and then my main job.
What has been the most challenging part of having a blog?
Blogging can be challenging in many ways.
For one, there's the decision about how public and/or private to be. How much information is TOO much to share with readers? And how opinionated should you be?
Some folks are so scared of stalkers that they try to be completely anonymous. That's fine, but I think anonymity makes it more difficult for an audience to connect with you. They want to know who you are and what you're like. It's perhaps no surprise that the most successful bloggers I know are the least anonymous. And, in fact, here's a little secret that we very public folks seldom reveal: The blog posts in which we bare our souls the most are often the most successful. When I write something vulnerable that I'm scared to share, that's what usually makes my readers most excited and loyal.
It can also be tough to know which opinions to share — and how strongly. Obviously, you have to share your opinions on the subject you cover. What's a financial blog without a position on debt reduction or investing? But what about your private life? Should you share your political views? Your religious views? Your views on sex and dating? Some people would argue that it's good to share your opinions, even if you make people angry. These folks argue that controversy grows an audience. I see their point, but I'm not sure it's necessary to take a stand just to spark interest. I've always tried to be very even-handed, only taking a stand when I'm moved on a particular issue (not an entire platform). For instance, I rarely discuss my religious and political ideals, but I have no problem saying that the U.S. health care system is FUCKED UP and as imperfect as it is, nationalized medicine is a better option. See? I'm taking a stand on an issue, but not revealing my complete political leanings. (For the record, I'm a small-l libertarian. IN GENERAL, I'm an economic conservative and a social liberal — very Oregonian — but that's not always true. Like, I support socialized medicine.)
One other ginormous challenge is keeping a blog fresh without it becoming a chore. Blogging is work. Too many people jump into blogging with the belief that they'll make money online quickly. Well, guess what? To do well, you have to be able to write well. You have to be able to network. You have to be able to market yourself. You have to exercise a lot of self-discipline and develop skills in many areas in order to succeed. I believe strongly that MOST bloggers would profit from taking a writing course from their local community college. Learn to tell a story. That's the best way to make your content relatable for other people.
In what ways, direct or indirect, has your life changed because of your blog?
My life has changed completely because of Get Rich Slowly. Ten years ago, I was fat, deep in debt, and increasingly unhappy with my marriage. After getting out of debt, I sold Get Rich Slowly, and that took my financial well-being to another level. (I often say that I no longer need to save for retirement. I still have to work to cover my day-to-day expenses, but my retirement is taken care of because I sold the site.) My financial success gave me confidence to lose fifty pounds and to start traveling the world. And, ultimately, it gave me the courage to make some deep changes with my personal relationships. Plus there are all of the great people I've met (like you, Melanie!) and the places I've been able to go as a result of my blog. And the opportunities, such as writing a book and magazine column.
What have you learned from blogging?
Because of my blogging success, I've become MUCH more confident (and extroverted) than I was when I was younger. I've come to believe all of those obnoxious self-help tropes: If you don't try, you can't succeed. You make your own luck. It's hard work that creates change (see: http://i.imgur.com/xWzjHUQ.jpg). Etcetera. Etcetera.
Here's one important lesson, especially as your blog audience grows: Never assume anyone reads your blog; but, at the same time, always assume everyone reads your blog. What I mean by this is that you can't assume that your friends and family read what you write. You can't assume that your colleagues read what you write. Maybe they do, but maybe they don't. When you see folks in real life, don't be offended if they haven't been following you online. (My girlfriend doesn't read my blog, for instance.) On the other hand, EVEN IF YOU BLOG ANONYMOUSLY, you should assume that everyone reads your blog. You shouldn't publish anything for which you're unwilling to accept the consequences. I've heard tons of real-life examples from friends and colleagues who thought it was safe to grouse about a person or organization only to have their comments create terrible drama.
What advice would you give to new bloggers who are thinking of starting a blog?
When people approach me about starting a blog, my advice is to start small. Don't dive in thinking you're going to post three articles a week. Don't place any expectations on yourself at all! Write when you feel like writing. Write what you feel like writing. Do it for love. Don't do it for the money.
If you're doing it for the money, you're most likely going to give up in a few months (or a few weeks). But if you're motivated by some other passion — you just want to write, you want to share what you know with a certain audience — you'll be much more motivated to continue. You'll also make better decisions, decisions that are more in line with the interests of your readers. Usually folks who blog for money do desperate things to enhance income, which simply discourages their readership from growing.
Thanks for sharing your story, J.D.! I also wanted to share with my readers J.D.'s awesome Get Rich Slowly course, which offers one lesson each Monday for an entire year, to master your money and build wealth. I am an affiliate and will make a small commission if you purchase from the link above. As always, I only share things with you that I think are worthwhile, because I don't believe in wasting time or money! 
Make 2015 your best year yet and learn how to save, pay off debt, invest, and more — and learn from the best! You can get the basic course for as low as $39, which is a total steal for 52 weeks of lessons. 
Hey debt fighters and money mavens! I have another kick ass dear debt letter for you. Get inspired and kick debt to the curb in the New Year. Today's letter is from Liz, who blogs about DIY and personal finance at www.fridaynightshenanigans.com. If you'd like to dump debt and write a dear debt letter, get in touch!

Dear Debt,
We've known each other a long time now. I suppose we kind of grew up together in a way. We first met when I was 18 and had just moved across the country to go to college. I was young and naïve and it was fine because we were really just casual friends then. But when I was 20 and went to law school I ended up seeing a lot more of you. Truth be told I didn't realize then just how much of you I would see or for how long our relationship would last. For years I went about life just assuming I'd always be stuck with you in my life, the guest from the party that just never leaves.
However, living without a roommate this past summer forced me to take a good hard look at my finances and I realized just how much you were costing me. I thought back to when I was in high school and my plan had been to meet up with you in school, spend my 20's living on the cheap and paying you off by the time I was 30. Granted I could not have predicted the recession and how it affected my job prospects, but looking at things now, I'm no longer willing to just let you hang around for forever. So from now on I'm going to keep you close. You know what they say, keep your friends close and your enemies closer. Guess what debt – I just became your best frenemy.
I'll walk next to you for a good long while still, I'll eat lunch with you and remember to wear pink on Wednesdays, but all the while I'll be doing everything I can to bring you down. I'll be making frequent extra payments, cutting you down one loan at a time, until you are no longer relevant in my life. Because honestly debt, you'd be nothing if it wasn't for your high interest rates on high balances and my poor decisions. Well I'm making better decisions now and they are going to impact the other things you've got going on. You are going down.
XOXO,
Your Best Frenemy
Two years ago today, I published my very first post. I shared my story, my struggle with student loans, and my desire to get out of debt.
At that time, my blog was not so much a form of self-expression — it was a lifeboat. It was an outlet, to have someone, anyone, listen to these thoughts that were driving me insane.
You see up until that point, I thought I did everything right. I went to college, worked hard, had a career, and went to a prestigious graduate school. I thought the world was my oyster. I played by the rules. While I have always opposed debt, I thought education was different. I truly believed that education would lead me to the biggest, and best opportunities out there.
But it didn't quite happen that way. After graduating from NYU, I stayed in the city for six months looking for full-time work. After 30 interviews, I was exhausted of being on the merry-go round. So I moved to Portland, Oregon to be with my love, after miraculously surviving a long-distance relationship.
I thought I'd arrive in Portland as a big fish in a small pond, but then I realized that Portland is more like an aquarium. The job market was even worse — there was hardly any funding in the arts, or nonprofit sectors, and for the year and a half I looked for full-time work, I had a total of 5 interviews.
So I jumped from temporary job to temporary job, doing anything to get by. It was also the time I did what I previously thought as unthinkable. I went on food stamps.
To have a master's degree to being on food stamps was a startling and humbling jump. Every day I felt like I was drowning in debt. Without a career, I didn't know who I was. My career and my identity were so inextricably linked, I felt lost and wandering. What did all of this mean? Who was I without a career? Who was I with all this debt?
I felt like one sad sap. Every day, I would cry and complain about my situation. After crying one too many times to my family and my partner, I sought professional help. Since I was on food stamps, I couldn't afford much. Luckily, the local counseling graduate school had low-cost sessions as part of the students' training, so I negotiated $5 therapy sessions.
Therapy was great in that it gave me someone to talk to. But after six months of treatment, I felt like I was rambling in circles. I hardly felt any better.
After a few months of continuing to feel this way, I was absolutely sick and tired of myself. I was selfish, sad, and lost in debt, unable to truly see the great things around me. So I started searching for some answers.
How could I get out of debt? How could I turn my life around? And so I started lurking and became an avid reader of personal finance blogs. I felt like I found a community. Every day at my seasonal job, I would sneak around  to read the latest posts. I loved it.
After lurking for a few months, I finally got the guts to email Kathleen and invite her to dinner. I was thinking about starting a blog, but I was scared. I didn't know what to do. At that time, I was so embarrassingly inept with technology, having a blog sounded like mechanical engineering.
A few days later Dear Debt was born. But the first iteration was called Do or Debt, because for me, it felt like a do or die situation. I had to get out of debt. My blogger friends make fun of me now, because it looks like door debt. For the first seven months of blogging, I fell in love, but also felt like I wasn't exactly myself. I was talking in vague notes and petrified of people knowing who I really was. After all, I was on the job search too, and didn't want people to find me whining about my debt and not finding a job.
Funny enough, I finally found a job, which allowed me to loosen up a bit. I started to think of ways I could recharge my blog and make it more me.
I'm a sucker for relationships of all kinds, and I truly believe many of our financial decisions are deeply rooted in our emotions. From this, Dear Debt was born, and I started writing break up letters to debt.
I've been astounded with the feedback and grateful for the people who have participated in the project, by submitting their own dear debt letter.
I want to empower people to express themselves and break up with debt, once and for all. Flash forward another year, and I quit that job that I was desperate to find. In the end, it wasn't a place that was right for me, and I was on a different course. My talents weren't being utilized to their full advantage.
And so with that, I've been a full-time freelancer for six months and I can't believe it. This year has brought so much joy, so many opportunities, and so many friendships.
This blog has turned into so much more than just a place to keep myself accountable. It's turned into a place of friendship, community, hope, love, support, and guidance. I've been mentored by some great people in this community and I've received some truly heartwarming feedback from people who have told me my writing is helping them get out of debt and feel less alone.
In my first post 2 years ago, my total debt was: $57, 426.14.
Today it is at $34,640.53, which means in 2 years, I've paid off $22,785.61 or roughly $949 per month on average. Before that, I had already paid $23k over six years by paying slightly over the minimum, which accounts for my $81,000 total. It wasn't until I graduated with my M.A. that I realized I had to do things differently this time.
While I wish my debt pay off number was bigger, I have to remember that I've been able to do this on a very small salary. When I started this blog, I was making $12/hr. Through hard work, pay increases, cutting back,  and depleting my savings I've been able to do this.
And of course, with all your generous support. I would have given up blogging long ago if it weren't for the bright stars in this community guiding me towards debt freedom.
So whether you are a new reader, or have stuck with me since the beginning, thanks for your support. It really does mean the world to me. I found a place where I felt like my voice mattered.
Thank you and may all your debt free dreams come true.
Happy holidays everyone! I'm in Los Angeles, basking in the sunshine and nice weather. I'm forcing myself to slow down. This year has been one wild ride and I want to stop and reflect on all the crazy things that happened — you know, the good, the bad, and the ugly.
I have decided to take some time off from this blog for the holidays, but have some great Dear Debt letters for the new year! I promise to "bring it" in 2015!
I want to take a break as I've been writing so much lately, I feel creatively zapped — or just exhausted. I firmly believe one of the best ways to be a great, or at least interesting writer, is to live an interesting life. So that is what I'll be doing — living. Enjoying my family, my friends, and being "home." It's such a weird feeling to be home, this place I grew up in, but was so happy to leave nearly 5 years ago. Now the pull to come back is calling me and I'm wondering if I really feel that way or if it's simply nostalgia? Time will tell I'm sure. But there are many things I miss about Los Angeles.
This holiday season, I encourage you to take a break too! Rest and relax, be nice to yourself, show people you care, and eat, drink and be merry. I also know that this time of year can be really tough on people. I think it is okay to feel that way, and many people do. Let's not forget about each other. Let's show some compassion and give time.
You can make more money but you can't make more time. Spend it wisely, my friends.
So from my heart to yours, wishing you a happy holiday, whatever you believe in. Thanks for your time and support!
p.s. If you need some reading, check out the conversation that's brewing here and use these 12 simple actions to improve your finances in the New Year. Also, if you are a new investor or want to get started (like me), this is a fantastic resource!
I don't know about you, but I'm exhausted. I've been working hard to get my client work done, side hustle, and try to get things done early before the holiday.
The past two weekends I worked as a brand ambassador for one of my favorite companies, Columbia Sportswear. I worked for them three years ago in NYC and got tons of free clothes, and was pleasantly surprised to get more free clothes. I hate shopping and never buy clothes, so it was a nice bonus. I'm very happy as the $500 I will get from this gig will go straight to my Spain fund, and now I have $400 in free clothes, which includes a nice jacket, boots, scarf, hat, and a shirt. I'm telling you, I love being a brand ambassador.
I have also had some fun writing opportunities that deviate from the normal blog posts. I wrote a video script for a financial literacy nonprofit (using my theater degree, woo hoo!) and also did some copy writing for a friend. I love tinkering with words, and am looking for more projects that are outside of the box.
Aside from that, I also just confirmed a sweet opportunity that I'm beyond excited about. I'll share the details once everything is ready to go, but it was a nice, early Christmas gift.
This weekend, I am working an epic 11-hour shift for a holiday event, and then Monday I fly to Los Angeles for the holidays.
I will be in SoCal for a whopping 2 weeks. I'm excited and nervous. It will be the first time that I'll really be utilizing my location independence to work and I'll be staying with my partner's family. I love them to pieces, but I will also need to carve out some personal time.
We are flying down, but we are taking the train back up to Portland! 31 hours of train time — that may sound insane, but I love trains. I love that time stops and that you have nowhere to go. It forces you to be in the moment. Last year, I applied for Amtrak's writers' residency and they rejected me — so I'm creating my own!
Aside from all this, debt repayment is going okay, but I keep chugging along.
In the past month, I've paid $827 towards my debt and my current debt totals are:
Grad loan: $28,725.93
Undergrad loan: $5,819.42
Total: $34,545.35
I've paid off about $10k in debt this year, on a minimal salary! Every month it feels like I'm barely progressing, but when you look at the totals, I am! It's always important to look at the big picture.
Lastly, I know I haven't been writing here as much as I'd like. It makes me sad and I want to try to change that. I've just been dealing with client work, some ups and downs, and an intense need to take care of myself first. I didn't want to force writing here because of some self-imposed schedule and deliver content that didn't have any heart or soul in it. Dear Debt is still my baby and I have big plans for 2015 — but I'm still figuring things out!
If you do want more things to read, check out my work elsewhere:
4 Non-Traditional Ways to Increase Solopreneur Income and Productivity via Careful Cents
3 Questions to Ask Yourself Before the New Year via Retire by 40
5 Ways You Are Sabotaging Your Finances via Personal Income
21 Tips to Overhaul Your Finances for the New Year via The College Investor
Hobby to Business: How to Grow Your Hobby into a Serious Income Source via NarrowBridge Finance
How Your Relationship with Money Affects Spending and Earning via Money Ning
3 Steps to Avoid Financial Infidelity in Your Marriage via The Savvy Duo
How Not Having a Smartphone Cost Me Money via Cell Phone City
Also, I got with the program and am now on Pinterest and Instagram. Still figuring it all out, but you can find me there!
What's new with you? What are your plans for the holiday?
A notice popped up on my apartment door a few months ago. Our apartment building was upgrading our utilities and would now include wifi.
Our apartment building covers our garbage and water, while we have paid for our internet, gas, and electricity. We were able to find a local internet provider for $42/mo — with an initial, cheaper, bonus offer.
So I was thrilled to receive this notice that our wifi was now going to be included in our utilities! But along with the notice, came a large packet of terms and conditions.
Hmmm. This is a lot of info, I thought.
As I was paging through the packet, I was carefully absorbing all the information. In order to benefit from the free wifi, I was asked to sign a waiver accepting specific terms and conditions.
Don't harass people online.  Me? Never!
Don't engage in illegal activities. Good there.
Do not defame others or engage in fraud. Check.
Do not participate in websites of a sexist or racist nature. Sure.
You will not use the internet to participate in terrorism. No problem.
No adult or pornographic website use. Huh?
Now, hear me out. I don't care for porn as I find it terribly male centric and boring — but isn't half the internet porn? It's a billion dollar industry that extends its reach to nearly every corner of the web.
I was honestly shocked that this was on the agreement. I understand that from a liability standpoint, my management company is offering a free service — one with dangerous implications. People use the internet every day for evil things, or simply to participate in the vice economy.
But I imagined porn to be so widespread and common as checking email. Not only that, but I do think people should be free to watch what they want, so long as it's legal.
My boyfriend and I laughed a little a bit and asked, "How many people do you think will give up porn for free internet?"
We started looking at the numbers. Our internet bill is $42 per month, which comes out to $504 per year. Wow, that's a lot of savings!
After really thinking about it, we realized we had nothing to lose by giving up our internet and using the free one. We even tried out the free internet for a month to make sure the connection was strong (because, hello, I live on the internet now) and that none of our websites were blocked (because it seems even soft-core porn is on mainstream websites).
We even found out what happens when you go to a blocked site. My boyfriend was looking at the Willamette Week, because his band was featured in it, and like most weekly online outlets, there were questionable ads. One accidental click and he got this: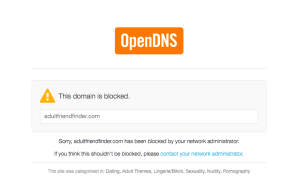 So while I don't necessarily agree with the company on banning porn, I don't need it and I just found $500 in my budget!
Hello frugal friends and debt-fighting warriors! I'd like to cordially invite you to another awesome #DumpDebt chat, co-hosted by myself and LaTisha from Young Finances. Our guest this week is Jackie Beck from The Debt Myth, who paid off $147,000 in debt! Talk about an inspiration!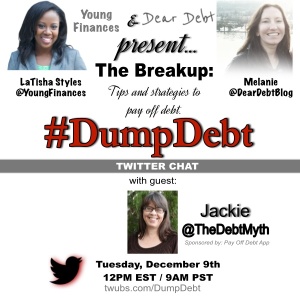 Here are the deets:
Are you ready to #DumpDebt? Join us on Tuesday, December 9th at 12pm EST for strategies, tips, as well as success stories from those who have made the commitment to dump debt!
RSVP here: http://goo.gl/forms/fFlaFlPkyx
Then follow @DearDebtBlog, @YoungFinances, and
@TheDebtMyth to join in on the conversation!
To participate in the Twitter chat other than using Twitter by searching keyword #DumpDebt; you can use
http://twubs.com/dumpdebt. Sign in using your Twitter account for an easy way to keep up with the chat.
During the chat, you'll have a chance to win a free copy of the Pay Off Debt app!
Share the info and send out a tweet to share how excited you are to participate in the #DumpDebt chat on Tuesday. Ex. "I'm ready to #DumpDebt on Tuesday @ 12PM EST w/ @YoungFinances, @DearDebtBlog, and @TheDebtMyth"
If you can't make it, please share via social media, or invite a friend! Thank you!
Even though I am deep in debt, saving money is still a very important part of my financial plan. Now that I'm self-employed, it's more important than ever that I stash money aside to prepare for all the unknowns in the world.
Not only that, but it's important that I plan for all the things going on in my life. In the next year alone, I will be saving up for FinCon and Spain/Portugal.
Saving has always been a part of my adult life after I graduated college and became self-sufficient. I didn't get my first credit card until a year ago, which meant that everything I bought had to be purchased with cash that was in my account. Nothing will inspire you to save like not having a credit card!
But for the longest time, I would just have all my money in one lump savings account. As long as it wasn't in my checking, it was fine right? When I started to actually withdraw money for my goals, things started to get a little blurry. It was hard to keep the integrity of one savings goal, when it was jumbled with all the others in the same account.
Think of it this way. Let's say you go to the grocery store to buy food for the week, but you also buy food for a special camping trip. If you don't come home and separate what food is for the camping trip, you are likely to eat it along with the rest of the food.
By separating food (and funds), you are setting your intention and clearly marking its purpose.
Several years ago when I found out that Capital One 360 allowed multiple, targeted savings accounts, I was thrilled! I have been with Capital One 360 (formerly ING Direct) since 2007, so have been a long-term saver. But this added function has completely revolutionized the way I save!
From the screenshot, you can see I have multiple targeted savings accounts. One for Emergency Fund, Travel, Taxes, Spain, Contact Lenses, FinCon, and Credit Card Payments. Yes, you can create whatever savings account with whatever amount you need. The best part is you get to name them, which really solidifies the goal!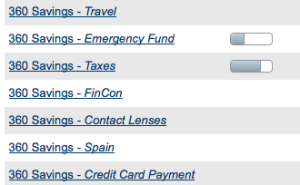 I love that there are no fees and no minimums. Bonus: you can even create a savings goal, which creates a nifty bar graph to show you your progress.
To make it easy, you can create an Automatic Savings Plan, that is linked to your checking account. I have all my savings accounts linked to my checking, and have automatic withdrawals throughout the month — even for as low as $20. Because everything helps!
More than anything I believe in the power of automation. I was able to save $14,000 before going to grad school because I automatically saved $600 a month. After a while, I didn't even miss it. Heck, I didn't even notice it. You better believe I was thrilled to have a decent cushion when I left my job and moved to NYC for grad school.
It's because of automation that I haven't had to deal with my own mental roadblocks that can so often get in the way of savings.
Can I afford this? Should I just save later? Oh, I'll just wait a few days.
Do those thoughts sound familiar? Yeah, I've been there. But with automating, it's just so easy. But if automation really isn't your thing, you can transfer manually.
As 2015 approaches and you are planning your goals, consider targeted savings accounts. Separate the funds so that you know exactly what they are being used for. Trust me, it's really easy to make excuses about why we can't save. If all your money is lumped together, as soon as one thing pops up, you will use all that money on that specific thing and your goals go out the window.
Try a different approach! I've been so happy with Capital One 360 as a saver that a few years ago, I dumped CitiBank and opened a checking account with Capital One 360. At first it felt weird to dump a brick and mortar location for something that is only online. But they have made strides in their online app, which makes it easy to upload checks, and there are many ATMs in the area. I've also had nothing but good experiences the few times I've called their customer service line.
So if you are looking to overhaul your finances, try out targeted savings accounts. Also, if you are bombarded with overdraft or other types of fees, then try out Capital One 360's checking account too. No fees and no minimums.
I currently get a .75% APY on my savings account and .20% APY on my checking, which brings in a few extra bucks a month. The extra money is nice!
Keep on saving my frugal, debt-fighting friends!
Note: I wasn't paid to write about Capital One 360 (although if someone works there and wants to extend the opportunity, I'd be happy to

). I truly believe that my finances have been a lot more organized because of targeted savings accounts. I also love that there are NO FEES and NO minimums. However, this is my referral link, so we will BOTH get a small bonus if you open up either a checking account, or a savings account with $250.