Welcome back to another edition of How My Blog Changed My Life! Today, I'm super excited about featuring Michelle, who is pretty much a legend in the personal finance sphere. She's amazingly successful, good at what she does, and makes good money doing it. Essentially, she is an inspiration to everyone.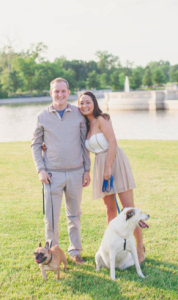 More about Michelle: Michelle Schroeder left her day job in 2013 to pursue a career as a freelance writer and website manager. She writes about many topics such as personal finance, entrepreneurship and traveling on her websites Making Sense of Cents and Diversified Finances. She has a popular extra income series in which she details how she makes over $10,000 a month by freelancing online.
1. What was the inspiration for starting your blog?
I started my blog in August of 2011. I graduated from college a little over one year earlier and I had a lot of student loan debt. I started reading personal finance websites such as DailyWorth so that I could get a better grasp on my finances. I then decided to start my own personal finance blog so I could talk about what was going on in my life and to track my progress. I quickly got addicted to blogging and the whole community and everything just grew from there.
I'm glad I started because my blog eventually led to me side hustling, and then my side hustling eventually led to freelancing full-time.
2. What has been the most challenging part of having a blog?
I think the most challenging part of having a blog is continually coming up with new content. Sometimes I feel like I have many, many ideas for new content, but then there are other days where I try to write and just nothing will happen.
For the most part though, I love everything about blogging. Even though some areas may be challenging, I know it's all worthwhile.
3. In what ways, direct or indirect, has your life changed because of your blog?
Oh my, where do I even start? My blog has greatly changed my life for the better. Before I started blogging, I was living paycheck to paycheck. Even though I had two college degrees and a good job as a financial analyst, I was not good with money. I had a poorly managed budget and I spent all of my free time spending money it seemed like.
After I started my blog, I found many other blogs out there who detailed their side hustles and the income they made from it. I decided that instead of spending my time doing nothing productive I would use it to make an extra income and start putting it towards my student loans.
With this side income, I was able to pay off my $40,000 worth of student loans (which included my loans from when I earned my third college degree one year after I started my blog) within months of turning 24.
I felt so free after I paid off my student loans that I started making a plan to pursue full-time self-employment. I left my day job in October of 2013 and haven't looked back once.

4. What have you learned from blogging?
I've learned that blogging is a lot of fun, but it is still work. Too many people think blogging is an easy way to make money and a way to get rich quick. That is just not true at all. I spend many hours everyday working on my freelancing business, and I also know quite a few people who have left the blogging business because they found it wasn't for them.
5. What advice would you give to new bloggers who are thinking of starting a blog?
I have plenty of advice to give

- You won't know if you like blogging unless you start. I receive this question all the time from people thinking about starting a blog. You honestly will not know unless you try. You can even try for free if you need to.
- Start on WordPress if you can. Blogger has its positives, and I even made the mistake of starting on there. However, I quickly made the switch to WordPress and it has been one of my best blogging decisions ever. When I was on Blogger, Blogger actually deleted my website for a day just because they can. Most people never get their website back but I begged and begged and they gave me my website back. After that, I knew I had to switch. Now, I am on self-hosted WordPress and my website can never be taken away from me.
- Blog publicly or anonymously, it's up to you. I started out anonymously and it was great while it lasted. However, I knew if I wanted my blog and my business to grow any further I would have to become public. It has helped my business grow significantly!
Thanks, Michelle for taking part in the series!
As a freelancer, it's more important than ever to streamline your workflow and make your time count, especially when you are just getting started. Time is money after all.
In the beginning, I was so slow and everything seemed to take forever. As I got more clients, I started to feel so disorganized at keeping everything in order. There were so many little details I needed to remember.
I've (luckily) become more organized and smarter about the way I do business, so that I can spend time creating and not on the ever-pervasive follow-up (which is still necessary as a freelancer). Here are 4 tips for new freelancers to help streamline your work, stay organized, and work efficiently.
1. Set up a Google Alert for your name and your blog
Although I check my Google Analytics as well as my referrers in WordPress, I can't keep track of everything. In order to stay on top of what is being posted about me or my blog, I created a Google Alert for my full name and my blog name. This is helpful, so you can keep track of what is being posted. Even if you don't have a blog, this is useful for anyone to monitor their identity on the internet.
To get started, go to the Google Alerts page. Then enter the terms you want to be notified about. Then enter your email address and start getting alerts when those terms show up on a page.
2. Use a spreadsheet to keep track of clients, forms of payment, due dates, etc.
All clients are different and expect something different from you. To stay organized, I created a spreadsheet to keep track of my clients, how much they paid, due dates, how they prefer to pay, how they would like me to send an invoice, etc.
Instead of trying to remember how each client prefers something, I've just kept track of it in my spreadsheet. Some people are flexible with deadlines, while others have firm dates. Some people prefer to use PayPal, while others write checks. I need to keep track of these details, so I can follow-up and get paid and so that I have all the important details in front of me when I need them.
3. Ask important questions upfront
Goodness, how many emails went back and forth when I just started freelancing? I'd have a million questions and think of them at different times, resulting in a million different emails.
That's annoying. Your clients are busy and so are you, so don't waste anyone's time. Ask important questions upfront. Here are questions I ask when taking on a new writing gig.
- How many articles are you looking for per month? What are the deadlines?
- Do you prefer to receive articles in a Word doc, Google Doc, or via WordPress?
- How many words are you looking for?
- Do you want me to pitch topics to you or just write what I want? Or do you have ideas in mind?
- What is your budget and how do you pay? PayPal or Check?
- How and when would you like me to send an invoice?
These are my standard questions, but there are other questions you should consider as well. Where will your writing end up? Who are you writing to — i.e. who is the audience? Do you need to source an image? Will you get a link to your site or just credit? These are also important things to consider when starting out.
4. Create a separate tax savings account & save 30%
This year was the first time in my life I owed money to Uncle Sam. Fun times. Right after that, I vowed to save 10% of my freelance income. Well, I hate to say it, but I was naive. I need to be saving about 30% to cover my butt from any crazy tax bills. I also need to start looking into paying taxes quarterly. Save yourself the trouble and just save more for taxes. If you don't need it all, you can use it elsewhere later. It's a good practice to get into.
These four tips have helped me streamline my work as a freelancer and get to the point when taking on a new client. It also puts my mind at ease, because I am empowered with information so I can do my job well.
I hope some of these tips are helpful for you, too! Feel free to use or modify as you see fit!
In my lifelong quest at improving my finances, I am always trying to look at my moments of failure.
In what cases do I fail?
Why do I fail?
What could I be doing so that I set myself up for success and not failure?
A lot of that has to do with how we manage our money and how we spend it. In most ways, I'm on the path to recovery. I've got the targeted savings accounts down, I'm paying off debt, and I'm pretty frugal. However, there are moments when I am more inclined to spend money. For example, in certain situations, or with certain feelings your brain triggers a response for you to spend money on something.
These are your spending triggers.
Read more at VOSA.com
I'm so excited to see my blog lookin' all sexy and fresh! So fresh and so clean. I haven't been thrilled about any of the blog designs I've had – but if you read my quote about fashion, you would know I can be quite utilitarian. But it was time for a change!
Your website is often the first impression someone has of you. I knew the previous designs didn't reflect my personality, at all. I want to make sure people feel welcome here, enjoy being here, and understand a little about who I am.
But money, I thought!
I'm trying to pay off debt!
Then, thanks to Debt Busting Chick, I realized that you can buy pre-made themes on Etsy for $20. Say what? After getting lost in the abyss that is Etsy, I found my designer.
Not just a designer. A chef, even. The Master Chef at Graphic Cookies. Mr. Tautvydas Gaudesius is a pretty rad dude (with a pretty rad name). I was going to get a pre-made theme for $20, until I realized a custom design was only $100. I was flabbergasted by the price. How could I say no?
He was so wonderful to work with and so accommodating. I was a real pain in the a$$. I didn't know what I wanted, hadn't really thought about color and was extremely picky. He was patient, generous, accommodating, creative and so fun to work with! He has a great eye for things, too.
My new design cost me $100 and took 3 weeks. I couldn't be happier! He even installed it for me, so I didn't have to lift a finger to make it happen.
If you're looking for a new design, I highly recommend him.
Here's some other things I love and highly recommend:
Carrie from Careful Cents. I think she's a rockstar babe. Full disclosure, I do work with her and help her out with some editing and writing. But she has been more than a boss to me. She has been an incredible mentor and friend to me and I can't even express my gratitude. I wouldn't have pursued this crazy adventure without her support and guidance. I'm so excited that she is offering 30-minute sessions to pick her brain — so you can get started on pursuing all your wildest dreams, too. That's how it started for me, so be ready.

I really dug this post by Lauren at The Write Budget. I used to waste so much time doing client work, but using a timer has really set me straight.
Also, Kassandra's post on how she is saving 50% of her income! You go girl! I can't wait to follow in your foot steps.
Tell me. Do you judge people by how much money they make?
Lastly, if you enjoy my content, would you consider nominating me for a Plutus award? I'd love to be considered for Best Debt Blog or Best New Blog (i.e. blogs created in 2013 or 2014). You can use this simple link that is already filled out to nominate me (and others!). You do NOT need to be a blogger to vote.
Thanks for reading! I don't generally do roundup posts anymore, now that I retired Sunday Worship, but I do still want to spread the love. By the way, there are no affiliate links in here, just sharing content I think you'll find useful. But if you do use any of these resources, let them know I sent you?
What things are you loving lately? How is the start of your week?
This is a bit late but I wanted to share my juicy news first!
July was pretty great on all fronts, but also stressful. I had to tie up loose ends at my old job and keep everything together, giving 100% to my job and my freelance work, which I have to say was tough.
Side note: During the last week of my job, I got stopped by a street fashion blog during my lunch break. MY RESPONSE WAS PRICELESS.
I got a little break though right after I left, as my parents came to town and we all went to Seattle. It was nice to have an adventure that didn't cost a lot of money.
I successfully started my cash challenge and the results were shocking — my spending went down 30%!  I am going to keep up with it for a while as it really worked. Kinda bummed that apparently I suck with credit cards, but I think I will ease back into it and will just use it for necessary things, like my new health insurance (which is only $218 btw).
Now for a glimpse at the money…
This month I put:
$1,180 to student loans
$500 to EF
$100 to retirement
$75 to targeted savings
My student loan totals are now:
Undergrad $6,504.27
Grad Loans $31,471.48
Total: $37,975.75
I'm finally starting to feel like I'm making progress! This is a far cry from the $81,000 total I had amassed (23k undergrad, 58k grad).
Usually I'm a fan of the avalanche method of debt repayment, which means I focus on my high interest debt first. Considering my grad loans are a mix of 6.8% and 7.9%, and my undergrad loans are at 2.5% it seems like a no-brainer. At my highest, I was paying $11 a day in interest (UGH!). But, I saw that one of my undergrad loans was chillin' at $636.25. I saw that and my inner debt huntress emerged.
I AM GOING TO SLAUGHTER YOU! (I swear I'm not that violent usually)
So I paid it off and felt GREAT!
Another win for me is my retirement. OK, I'm kind of embarrassed to admit this. Considering that I'm 29-years old, my retirement is pathetic. I started it at 26 in graduate school, added $20/mo, then stopped when I graduated and couldn't find substantial work. Also note, NOT ONE of my jobs has ever had a retirement match, so I was never encouraged to start saving early. Even though, of course, now I wish I did. All this to say, my retirement account now has over $2,000! As I said, I know this is nothing to celebrate, but considering I've mainly focused on paying off $43,000 in debt, this was a nice milestone!
I've been saying for months I want more balance in all aspects of my life and this includes my finances. I can't just focus on debt, so as I mentioned a few months ago, I'm putting $100 per month towards retirement. I can't wait to be debt free and max it out!
July was such a great month and now I'll be changing things up yet again. I have a fairly good idea of what my income will be in August as a freelancer. But everybody pays at different times, so I need to see when I actually receive payments to see how the budget shakes out.
My number one priority is getting out of debt, but I hope you understand that a close second will also be saving, so my EF is flush and also my retirement. I feel more balanced and happier this way.
Even though I may have to tone down some of the payments, I am already seeing a noticeable difference in my happiness. I am sleeping more, spending more time with my partner, and feeling a little more sane.
I also have a lot of ideas on where I want to go and projects I want to accomplish.
First one? Getting a site redesign! You will see the new and improved Dear Debt in the next few weeks…something that reflects my personality a bit more.
Lastly, I have to thank everyone for all the supportive comments about my new adventure in the freelance world. It truly means the world to me. It feels awesome to have people rooting for you and WANTING you to succeed. You all inspire me so much!
Here's to a great August my friends! Let's hustle and make that money! Pay off debt! Save! Live life to the fullest!
p.s. I won't be around much this weekend as I'm working as a Brand Ambassador 8-hours a day, Friday, Saturday and Sunday! MONEY! It's a pretty easy job, but there is a special sort of exhaustion with standing on your feet all day and chatting with people. Luckily, it's a food festival, so I'll get tons of free samples. HA!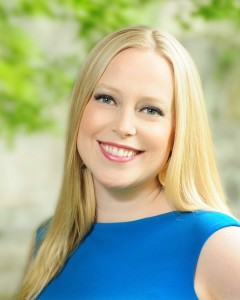 Oh yeah! Time for another How My Blog Changed My Life, this time from Shannon, the blonde bombshell finance expert over at Financially Blonde. I am so inspired by her wisdom, sass, and class and her star is rising fast! (I swear I didn't mean that to rhyme). Watch out world, she is about to take over!
More about her: Shannon McLay is a financial planner who left a "traditional" financial services firm to start her own company, NextGen Financial, to help clients in their 20s and 30s get financially fit. Through her blog, Financially Blonde, her book, Train Your Way to Financial Fitness and her partnership with Money Saving Pro, Shannon is committed to making financial fitness fun, easy and accessible for others.
1. What was the inspiration for starting your blog?
The blog started as a mini rebellion following my 13 year career in financial services. For most of my career, because of regulatory requirements, I always had someone from compliance or management reading my emails and sculpting what I could and could not write. I understood the need for the control based on the size of my companies and the industry I worked in; however, I longed to write and speak my mind.
While I was working for a large wealth management firm as a Financial Advisor, I wanted to send a monthly newsletter to my clients that I would call "Financially Blonde" because my male co-workers frequently called me the "Elle Woods of Financial Services." Elle Woods was the lead character in the movie Legally Blonde. This newsletter was of course struck down by compliance; however, I tucked it in the back of my mind and knew that I would dust it off one day when I could. Within a month of leaving to start my own company, the Financially Blonde blog was born.
2. What has been the most challenging part of having a blog?
For me the biggest challenge about having a blog is finding the time to devote to it because blogging is not my primary job. I spend most of my time working as a financial planner (or I call myself a financial trainer) helping my clients achieve financially fit and rewarding lives. I love what I do everyday and it frequently inspires many of the blogs that I write; however, I would love to spend more time working on my blog. I really enjoy writing and being a part of the pf blogging community, and I would love to make a number of improvements on my blog, but I just don't have the time to do it all.
3. In what ways, direct or indirect, has your life changed because of your blog?
Blogging has changed my life in so many ways that I am constantly shocked at how much it has. I wrote a post about this a few months ago, but the biggest way that it has changed my life is that it has introduced me to so many new friends. I was under the misinterpretation that when I first started blogging that it was an isolating activity since you accomplish it sitting alone in a room. I didn't realize that through blog commenting and stalking that I would meet and become connected to so many wonderful people.
One of my blog friends actually introduced me to the team at AOL, and I am now the Co-Host of the Finance Hub at AOL Jobs. In this role, I am responsible for helping to guide and mentor men and women in financial services jobs. I can't think of anything more cool than that. My blog has also led to other writing jobs as well as partnership opportunities like the one I have with Money Saving Pro.
4. What have you learned from blogging?
One of the best things I love about being a pf blogger is that I learn so much from other bloggers every single day. Even though I have a financial services job, and I have worked in the community for over 14 years, I am still learning new things all the time. Many of the tips and tools I have gotten from other bloggers, I incorporate in my client's financial plans. I am constantly inspired by the personal stories and journeys of everyone with a blog, and I truthfully never expected to feel this way when I first started my blog.
I have also learned an important lesson about blogging that applies to most things in life, and that is the harder you work, the more you will be rewarded. Like most new bloggers, the first few months of my blog, I only seemed to be writing for my family and friends. I commented on other blogs, but not regularly. Then I decided at the end of 2013, that I would make an active commitment to my blog. I did not officially join the Yakezie Challenge; however, I put the same parameters around my blogging, and after a few months of working nights and weekends on the blogging efforts, I started seeing results.
5. What advice would you give to new bloggers who are thinking of starting a blog?
I would tell someone who is starting a blog to plan to commit a solid six months of hard work and effort to building their blog and community around their blog. The first few months are frustrating and there will be many blogs that you will comment on that will not return the favor or not even post your comment for fear that you are not serious about your blogging. You have to take these rejections in stride and keeping working on building your community. If you work on it enough, people will come around. I have been blogging for almost a year now, and I love my blog friends and community. I look forward to engaging with them every day. Don't let a fear of hardwork and commitment rob you from the gift of community.
Thank you, Shannon!
Melanie, you are crazy.
What have you done?
You are in so much debt.
You don't have a fully funded emergency fund.
You are the breadwinner in the relationship.
You have no idea what you are doing.
Do you remember how long it took you to find a job?
Are you not grateful for what you have?
What if you are making, yet another, BIG mistake?
Thoughts like this have been swimming in my head for the past few weeks, as I've adjusted to my new freelance lifestyle. I quit my job and left quietly and without a peep, sharing details with only a handful of people. Truth be told, I was a little ashamed. I was scared of being judged. I didn't want to share my thoughts or experiences with you and have the anticipation of leaving colored with positive and negative feedback.
I wanted to make this (very difficult) decision on my own.
Since February, I have been working the equivalent of two full-time jobs or more. I've been running myself ragged and I wasn't giving 100% to anything. Not my job, not my blog, not myself. I felt like I was barely getting by. But deep down I was having fits of depression, anxious meltdowns, and a face full of tears that wouldn't wash away. I was doing too much, trying to be too much.
I know, I know. It's all my fault. I let that happen. I bit off more than I could chew. That's not a reason to quit a job. Not a reason to quit a job you searched two years for. Not a reason to quit a job that you got after beating out 200 other people, after not having any of the technical requirements for the position.
No, that wasn't it. There was definitely more to it. I started to realize that after a year with the organization, I wasn't going to grow in a direction I wanted. I wasn't going to grow much at all, actually. And what's the opposite of growth?
I also started to compare my freelance income to my low nonprofit salary. The gap was very small. I thought to myself, what if I could free up eight hours a day and work on my own stuff? I was convinced that I could make more money, doing things I love, in the comfort of my own home. Now, I know freelancing is not a stroll in the park. I still have deadlines and still have to hustle for work.
But I'm confident, for one of the first times in my life, that I will be okay. Why? Because I'm not putting all my eggs in one basket. My income is diversified and comes from many different places. As soon as I let a few key people know I was leaving, I got more writing work and more brand ambassador work.
For the past few months, I've finally ramped up my EF, so I have at least three months of expenses saved up. My current income will pay my bills, but my student loan payments may be fluctuating. I want to continue to increase my savings rate, while paying off debt.
Don't you worry, my priority is still becoming debt free, as soon as possible.
But I still have so much to learn and prepare for, as I figure all this stuff out. I am astonished with how much things have changed in a year and a half. I started this blog when I felt like I was at the end of my rope, making $12/hr at a seasonal job, eating from food stamp money, and feeling like I had no future to speak of. I was stuck, ruminating on past failures, possibilities of things that never happened, and replaying times in my life I was more successful.
My therapist asked me, "Do you want to live on the shelf of regret? Look how many things you have there."
Up to that point, I felt like everything I had done was a mistake. Leaving my job was a mistake, going to grad school was a mistake, moving to Portland was a mistake. WTF was I doing? Everything felt meaningless.
This blog very well saved my life. It sure as hell saved my relationship, too. And now it's turned my life into something else completely. Something unexpected and new. An adventure.
And that's how my blog changed my life.
Hey party people! It's Friday. [cue Montell Jordan, stat!] I had a lovely lady email me a few days ago saying that my How My Blog Changed My Life series inspired her to start her blog. Très cool, right? I asked her to send me her blog once it's up and running and so she did.
She's in a boatload of debt like me, working hard to find her way out. In the time it would take you to comment on this post, will you pay her a visit and give her a warm welcome to the PF world? We all know how supportive and awesome this community is, so let's show her! I remember first starting out and having no readers (ok, sorry mom, you count) and feeling so scared, nervous, and confused.
So stop by and say hello to Brandy at Busted Budget and follow her on Twitter.
Lastly, I have some juicy end of month updates that will have to wait until next week as I'm currently freelancing all over the place — writing, brand ambassadoring, etc. You know. The hustle.
Keep it real and have a lovely weekend!
Hey there folks! Gather 'round for the latest dear debt letter, hot off the press! Err, interwebz? Anyways, I'm so excited to feature Free to Pursue, who is writing a dear debt letter AFTER becoming debt free. People in debt like me need to read these stories. Some days it just feels like I will never be debt free and I need to mentally and emotionally know that it is possible. In short, I'm super grateful for her perspective. I also had a chance to meet her at the WDS FinCon meetup here in Portland! I love meeting other bloggers and readers.
More about her: F2P was able to leave a demanding position in the corporate world a year and a half ago, free to pursue various interests, including writing, blogging, reading, lifestyle coaching and travel (the latest trip was to attend WDS). Along with that list of pursuits, she spends her days walking her dog, spending time with friends and family, practicing a few sports (currently working on olympic lifting) and dreaming up how to get the next item crossed off her bucket list (next up: An African Safari).
I can't believe it's already been five years since we parted ways. Time sure does fly when I'm living it on my terms and not yours.
Despite your constant pleas for us to be reunited, I have to tell you that I don't have any interest in rekindling the relationship now or at any point in the foreseeable future. To be blunt, you are dead to me. I've turned to my positive net worth for comfort instead. The security it provides me feels like a warm fuzzy blanket on a cold winter's night. It gives me a soft place to land anytime I encounter expenses that I didn't anticipate or life-enhancing opportunities that I don't feel I should pass up.
Please don't ever try to be a part of my life again. Because I don't miss:
Your constant reminders that I was not free by using words such as obligation, minimum payment, terms and conditions and the like.
My life feels completely different now. I enjoy:
The comfort of living in and using a home, a car and other day-to-day things that are entirely mine (ok, and my husband's too).
So, you see, there's no room for you anymore. Go find someone else to latch on to. There's no hope for you here because I'm taking care of myself and I feel good with what I have.
I've moved on and am not including a forwarding address. 
Forever not yours,
I don't know about you but I hate buying things with lots of chemicals in it. For this reason, I generally steer clear of beauty and cleaning products.
In the past few years I've found some natural remedies for things that I need. Here are 5 uncommon uses for common household products.
Salt to Remove Blood Stains
A few years ago, I was at a friend's house and stepped on a piece of glass with my bare foot. We took out the piece of glass, but I was gushing blood on her light-colored couch. Instead of focusing on my pain, I was mortified. I didn't want my blood to stain her couch! My friend got a wet washcloth and some salt. She put some salt on the stain and started rubbing. To my amazement the blood was coming right out! I was so relieved. The key is to act fast and get water and rub a nice amount of salt on the affected area. And voila!
Coffee Grounds for Cellulite
If you are looking to exfoliate and tighten up your thighs, try using used coffee grounds. Cellulite is essentially pockets of water between fat (I think) and the caffeine helps dehydrate the area and make it look more firm. I usually do this treatment once a week and exfoliate my thighs. Yes, it's a bit messy, but it works. It is temporary though, it's not a permanent solution. Exercise and healthy eating should help.

Baking Soda for Cleaning
You can add water to baking soda and use it as a scrub for cleaning. Easy to make and use, without all the smell.
Olive Oil for Dry Skin
In the winter, my face was perpetually dry. I tried moisturizer and face cream but my skin still looked parched and flaky. I decided to try some olive oil after hearing about the benefits. It did wonders for my skin and made it luminous! If your prone to acne, keep it light. It's also good for hands and the bottom of your feet.
Turmeric for Teeth Whitening
This one totally blew my mind. I read that turmeric was a great natural teeth whitener. I thought "no way!" How could something so yellow and something that stains nearly everything in sight remove stains from your teeth? I decided to try it. I took a dash of turmeric on my finger and put a little water on it. I applied it to my teeth for 2 minutes. At this point I was freaking out. My teeth were bright yellow. This shit better work, I thought. And it did! My teeth looked whiter and it had removed superficial coffee and wine stains (items I practically live off of). You can do this with a toothbrush instead of your finger but it will stain it!
These are household items I already have in my house so I spent no additional money. I love finding new ways to use things you already have.
What's your favorite natural remedy?