Hey guys! Happy Friday. Today we have an awesome dear debt letter from Jason Hull. Jason Hull, CFP® is the CTO of myFinancialAnswers, a comprehensive, online financial planning service. He is a graduate of the United States Military Academy at West Point, holds a MBA from the University of Virginia, and is a member of the U.S. national supporters group the American Outlaws. He and his wife (who brought no debt to their relationship but lovingly accepted his situation) paid off over $300,000 of debt and reached financial independence in under 10 years.
"I'm not crying because of you; you're not worth it. I'm crying because my delusion of who you were was shattered by the truth of who you are." –Dr. Steve Maraboli
Dear Debt,
High school reunions are filled with stories of people who knew each other in high school, liked each other, never took that next step, married the wrong person, got divorced, saw each other at the reunion, and voila! Flame rekindled.
Or they go on Facebook, reconnect, and suddenly love blossoms.
Well, that's never happened with you.
Thank God.
I remember there was once a time when you and I cohabitated pretty peacefully. I used you. I thought you were convenient. Sure, there was the occasional hiccup when you'd refuse me when I was making some purchase, embarrassing me, making me use cash, but then you'd call me and tell me that our relationship had expanded, had grown deeper.
You encouraged me to date your sisters, and that it was OK to have more than one lover in our relationship. The more cards in my wallet, the deeper our love.
Somewhere deep down, I knew our relationship wasn't sustainable. Like the brief summer fling that has a tempestuous passion but is, intrinsically, never meant to be, such was our relationship.
However, few of those summer flings of passion are so parasitical. You, debt, were a parasite, getting much more out of me than I ever got out of you.
You told me that it was OK to live beyond my means. I was living in Germany, single, and young. When would I ever get a chance to travel like I could, and to make memories that I did when I was in bed with you?
"You deserve this lifestyle," you whispered. "Live a little. You'll get pay raises. You can pay me off later."
I listened. It's hard to avoid that pillow talk when you're so deep in the throes of lust.
At one point, we broke up. I'd moved back to the States. I sold things. I had my combat pay. I had money in hand. I got rid of you.
But, you kept calling. And I finally answered the call, and once I did, we reunited lustfully to make up for lost time.
Instead of saving up and preparing for graduate school, where I'd have no income except for summer internships, you told me that I was going to make a lot more when I graduated. I could break up with you then, but we could have a wild time in those intervening 3 years.
Fortunately, I met another lover who was a jealous lover. She never had debt. She was interested in a beneficial relationship between us, would take care of me when I was old, would love me unconditionally for as long as we were together, and didn't cause me to feel guilty about my relationship with her. She was someone whom I could actually marry, happily.
But, she refused to let me have another lover on the side, so you and I had to break up. Sure, you sneaked back in the side door with your not-so-nefarious cousins, student loans and a mortgage, but even then, I realized quickly that despite the perceived benefits we were better off cutting off the relationship entirely.
It took 10 years from the time that my now wife told me that I had to break up with you, (Not So) Dear Debt, before we became completely financially independent. It was hard work. It required sacrifice, although not nearly as much as you told me that it would require.
I have never looked back. I've never had a flame burning for you. It is an amazingly empowering and freeing feeling to know that we can choose the life we want, don't have to worry about money, and certainly will never be tempted to listen to your siren call.
The experiences we purchase now with cash are much more enjoyable than any of the trips I took with you. Food tastes better when bought with cash than it ever did when you and I used to go to restaurants. Having no mortgage or no student loan means no encumbrance of the soul, like I used to experience with you, your sisters, and your cousins.
You were the worst lover I ever had. It wasn't love. You were a parasite on my soul, lying to me all of the time about how good you were for me.
I'm glad I had the affair with you. It taught me what to look for, what I wanted, what was important to me, and gave me a hunger to live a life without you.
I'm never looking back. I'm stronger for our relationship, but I hope others never fall prey to your cute little charms, for underneath, you're simply one word:
Medusa.
Not so much love,
Me
Can someone please explain to me how it is already October? Where has this year gone? Where did September go?
This year has been an epic whirlwind and so many good things have happened. It all feels surreal and weird and awesome at the same time. But it's not all fun and games, that's for sure. This past week, I've definitely felt some of the extreme lows that you can feel when you are your own boss.
Solopreneurship is so very rewarding when you can see an idea you had come to life — and be appreciated by others. But when things don't go well, or when things feel overwhelming, you're the only one to deal with it. But as Tess Vigeland from FinCon said, I'd rather be on a roller coaster than a merry-go-round.
I'm feeling better now but have had some mood swings lately. I'm blaming it on the moon.
In other news, September was my BEST debt repayment month yet. I'm in the home stretch!
Last month I put $3,946.92 to debt. My original goal was to put $2,000 a month to debt, so this is nearly double my original goal. My current numbers are:
Undergrad: $4,883.59
Grad: $12,322.92
Total: $17,206.51
I keep thinking about all the different scenarios of how I can reach debt freedom as soon as possible and to be honest, I'm not sure all of them are healthy. In the past week or two, I've thought about:
Completely draining my emergency fund (the plan is to draw from it a little toward the end and replenish the very next month — but not all of it)
Borrow money from myself that is set aside for my self-employment taxes (ugh, probably not the best idea, but taxes aren't due again until January. What if I can make it up by then?)
Selling some of my FinCon swag (is that terrible? Anyone need a selfie stick, ha?!)
Like I said, I'm in full on problem-solving mode and I just want this gone, yesterday! I never imagined being this close. For so long, I was paying off debt at a snail's pace. When you make $1300-$2,000 each month, it's very hard to make any progress on a large balance of debt. I'm now putting more to debt than I ever made in a month and it's kind of mind-blowing.
It's crazy to me, because here's the thing. This blog isn't the most popular nor does it have a lot of traffic. I'm not the most talented writer out there. I don't think many people would consider me traditionally successful. But I'm still doing the damn thing! What makes me different?
I've never stopped hustling, ever
I've tried many things, failed, learned
I've built genuine connections with people
I've cut things out when I outgrew them (which can be quite painful actually, when people you like are in the picture)
I learned to say no to working for free. Exposure doesn't pay the bills
I've learned how to be bold
I think about ways to turn everything into an opportunity
Taking a different approach has given me a new lease on life — and a shorter debt repayment. Soon, I'll be saving and investing and will finally dump debt for good. I can't wait.
As most of you know, I'm climbing my way out of $81,000 in student loan debt. I'm nearing my way towards the end of my debt journey and when all is said and done, I'll have paid closer to $100,000 due to the additional interest.
That number still makes me sick, but it's a triumph to overcome such a large debt load on a minimal to average salary. It's been a hard journey and not a particularly short one either.
I've been serious about paying off my student loans since I first started this blog in January 2013. At that time, I had $57k left.
But the six years prior, I made the mistake of paying the minimum toward my student loans when I could've afforded more. I also was convinced that student loans were the "good debt" so I didn't care about paying them off that much.
My mindset has changed — I now know that the only way to overcome debt is to pay (way) more than the minimum and stop justifying it as good or bad.
One thing I wished I had more of along the way is education. I feel like there is so much misinformation out there, or just plain confusing information that it's hard to get what you need to help you get out of student loan debt.
Luckily, I have some good news! Liberty Bank for Savings, based out of Chicago, is sponsoring a free webinar, Wipe Out Student Loan Debt to help borrowers eliminate or reduce student loan debt.
The webinar is completely free and will feature Laura La Belle, a certified financial planner and money coach. You can access the webinar via your laptop or smartphone at libertybank.com.
When: Wednesday, Oct.14 at 7pm CST
Where: From your home computer or smartphone
Registration required: libertybank.com
Cost: Free!
Laura will cover the steps you need to take to get out of student loan debt and also present various repayment options. This is an important webinar for so many people looking for tangible steps to eliminate their debt.
The webinar is one hour long, which includes time for questions and answers. So if you have a burning question about how to pay off student loan debt, you'll be able to get the answers you need, for free. Topics on the webinar include:
how to apply for certain repayment options
how to avoid student loan default
how to avoid wage garnishment
a look at debt forgiveness programs — which are legit, which ones are a scam?
Liberty Bank for Savings — currently celebrating its 117th anniversary — is offering this free webinar as a community service to help indebted student loan borrowers.
To register online or learn about more webinars visit libertybank.com.
This blog post is in partnership with Liberty Bank for Savings. All opinions are my own.
Today's dear debt letter, as part of the #DitchYourDebt challenge, comes from Asherah, a 40-year-old wife and mother of 2, who resides in New Jersey and is seeking to be debt free.
Dear Debt,
We met at a time in my life when I needed you to be there for monthly necessities and it grew into me becoming dependent on you for seven years. While we have been involved for a long time now you seem to be lingering around with no positive effect on my life.
I have gotten tired and frustrated of living this way and I have been re-evaluating my life. God told me there is no room for you here. I am sorry but this endless relationship has to end now. Thanks for being there but you are no longer needed.
Asherah
Today's dear debt letter, as part of the #DitchYourDebt challenge, comes from Kim.
Dear Debt,
We are through.  I am ready, willing and able to move on.  Initially it wasn't so bad having you around, but you've lingered and over stayed your welcome.  Over the years you have ignored my subtle clues.
The clues that were barely audible because my voice wasn't strong enough or loud enough to break free.  I can shout now.
WE ARE THROUGH!!!
I will not be passing you along to others. I will share our story so that you end up exactly where you belong-alone. I once heard someone say that "just beyond crazy is fabulous". Debt you were my crazy.
You were the vortex that I found myself in when I was bored, lonely, uninspired, lost or overwhelmed. You made me believe that you could help me escape my problems but the truth is you only added to them and  then proceeded to become the biggest problem of all. I'm moving on to fabulous. From now on I will use my money as a resource to enrich my life not to bandage the hurt.
Good bye debt, I am slamming the door on our toxic relationship and I will not look back.  We are through.
Kim
For the past week, I've been trying to recover from the Financial Bloggers Conference, aka FinCon. I came back last Sunday with absolutely no voice and throbbing feet from several nights on the dance floor.
I know I mentioned that last year was a dream come true, but this year was ten times better.
Last year, I had just quit my job and didn't really know what I was doing. I felt like the new kid on the block, just soaking everything in. I had a blast then, too and did my fair share of networking — most of which elevated my career this past year.
This year? I wasn't necessarily looking for work, I WAS working. My colleague Tonya Rapley and I hosted two awesome events at FinCon with financial brands that I LOVE. We've been working behind-the-scenes for months to make these events happen and it felt so good to see the fruits of our labor pay off.
Right before FinCon started, we hosted a lovely Women and Money Tea sponsored by Fidelity. Imagine a room of 30 powerful and engaging women talking about money in an intimate setting. It was so great to sit down with people I admire and talk candidly about our relationship to money and our unique struggles.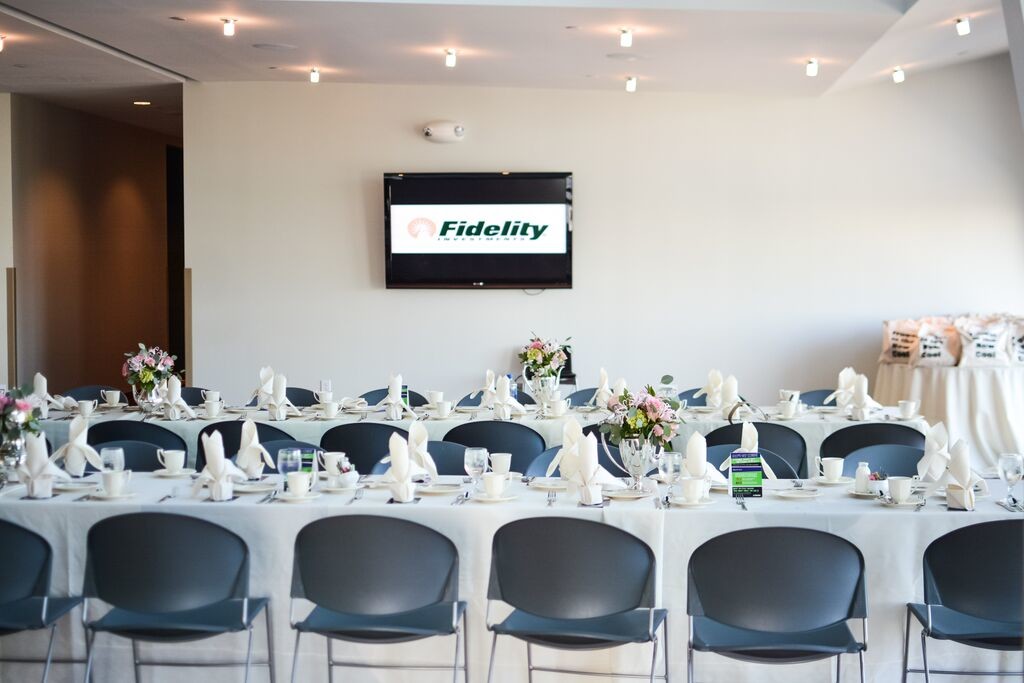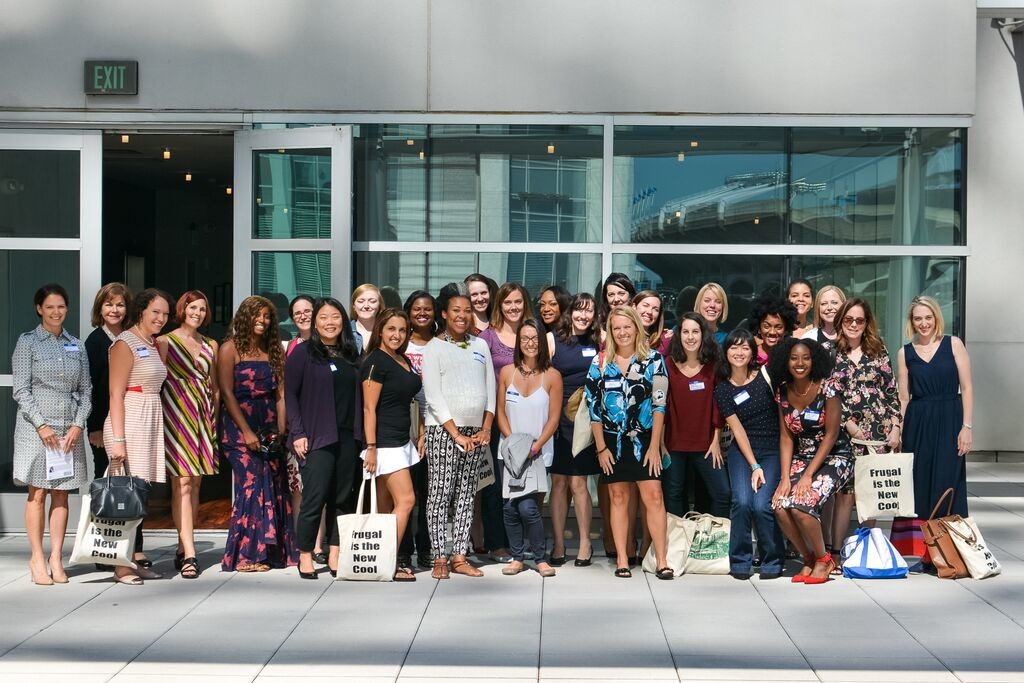 FinCon could have ended there and I'd be happy. Everything about that event was simply perfect and I cried happy tears afterward.
The next day we also hosted an event with SoFi, pretty much the coolest student loan refinancing company around. We invited everyone to hang out and bowl. I'm proud to announce I'm still a terrible bowler, but a good time was had by all.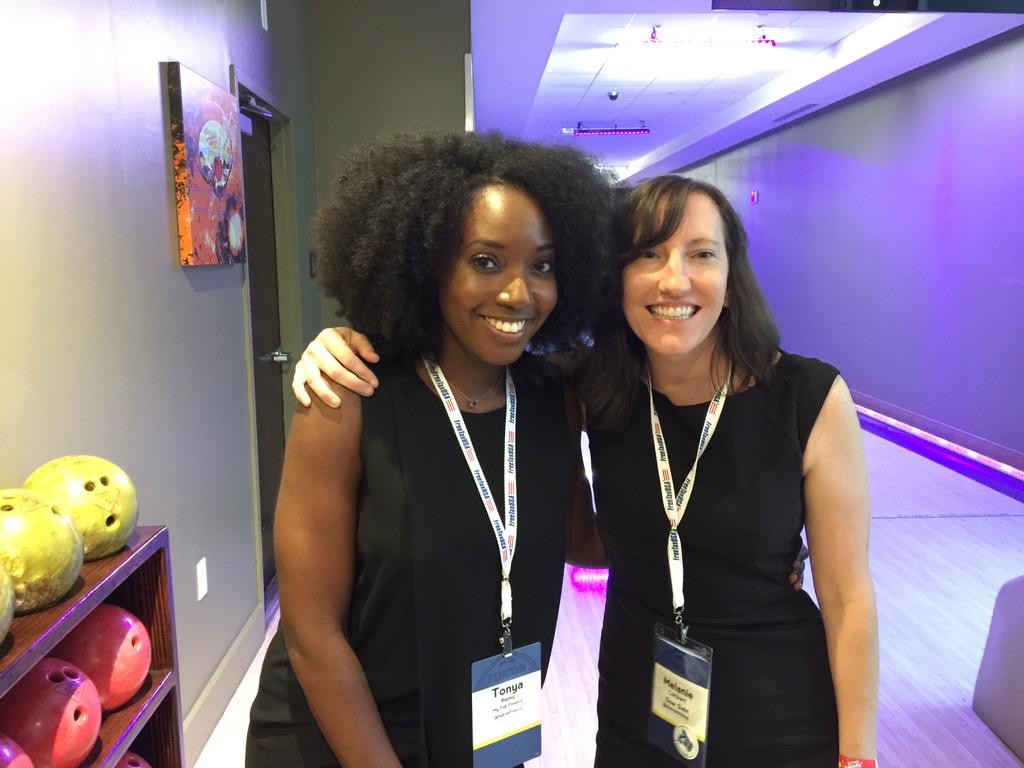 On Saturday, the happy hour crew recorded Martinis and Your Money live and I shared my most embarrassing money mistake. It was so great to connect with all the ladies in-person.
THEN, Saturday night blew my mind even more. This little blog of mine WON best debt-focused blog! I ran up there, jumping up and down like a crazy person. I was so excited. Thank you to all my readers and those that voted. You rock.
Dear Debt is my baby. Dear Debt, in many ways, was a lifesaver for me. In that moment of winning, I felt like everything I've worked hard for did matter. It's nice to have those moments where you feel like other people get what you are trying to do.
Then I kept screaming like a crazy person because Shannon won best podcast, Tonya won best video, Jason won best collaborative project for Road to Financial Wellness (which I coordinated the blog tour and several in-person events for) and more.
Aside from the events, the podcast, and the award, I did attend some sessions that were really inspiring. In addition, I networked my face off and met with as many people as I could.
But the absolute best part of FinCon? The people. Last year I met Shannon for the first time and we were insta-BFFs. This year we were roommates and oh man it was like we were in college. We shared our dreams, our struggles, and our goals for the future (and stayed out way too late). And I'm so proud to call her a friend and colleague.
I loved seeing Erin from Journey to Saving again and catching up about our crazy freelance journey. I enjoyed meeting my debt accountability partner, Even Steven Money, who is always making sure I'm working hard to pay off that debt. I loved meeting the ladies at Payoff in person. I had a great time meeting some of my clients for the first time.
There are simply too many people to name, but I had an outstanding time reconnecting with old friends and meeting new ones. As an extrovert, FinCon gave me SO MUCH LIFE.
I'm a die-hard FinCon fan and you bet your bottom dollar that I'll be in San Diego next year for #FinCon16. Will I see you there?
Were you at FinCon15? What was your experience? Did we meet? If so, say hi!
Fidelity photos by Joshua Galloway
Hey debt fighters! Over the next couple of weeks, I'll be sharing some awesome Dear Debt Letters! I've partnered with Belinda Rosenblum of OwnYourMoney.com for the #DitchYourDebt challenge. Belinda is on a mission to help 10,000 people get out of debt and as part of the challenge, participants are writing breakup letters to debt! It's not too late to sign up for the FREE challenge. Today's letter comes from K. Show your support and let's inspire people to get out of debt!
—
Dear Debt,
I actually managed to elude you for quite some time. Do you remember when I paid for everything with cash because no one would give me a chance at credit? Do you remember those times being humiliated at the front of a Marshalls or TJ Maxx and my store credit requests were always declined?
I remember having no idea that those inquiries and declines would affect my credit score but in my mind that 15% off was the best thing since breakfast for dinner? (Isn't all store bread sliced? I never got that one)
Do you remember the time that the hubby and I finally said, let's buy a home? Do you remember that exorbitant mortgage that we were pre-qualified for? Scratch that, do you remember what hubby pre-qualified for?
I was just riding the train but the bank wanted my information in order to get us into the home that I really wanted. Do you remember, how horrifying it was that they pulled my credit report at the bank and it was filled with old unpaid cell phone, cable and hospital bills?
Do you remember that was my first time ever seeing my credit report? Do you remember me paying everything off within 30 days only to go back to the bank, actually qualify by the skin of our teeth only to learn that an offer had been accepted the night before? Do you know that I randomly think of that day?
Do you remember how excited I was when my daughter was accepted to an awesome university? Do you remember how nervous I was signing my name on the dotted line for a multitude of loans?
Do you know, how accomplished I felt after being a young mom, without a traditional education? Do you know, my mind told me that all of those loans for school for your daughter would probably cost me more than I imagined?
Do you know that I felt vindicated because the naysayers couldn't say that I didn't educate my child? Do you know those loans were the push that started the avalanche of credit offers?
Do you know that I finally had credit cards to rent a car to go and see my daughter at said university? Do you know that credit cards allowed me to purchase books until my daughter was able to secure a job?
Do you know that I still haven't paid for that very expensive dinner for the family after her graduation? Do you know that seeing her walk across the stage was priceless? Do you know that I haven't paid a single thing late in 3.5 years?
Do you know that I couldn't do anything that would jeopardize a need that she may have had?? Do you know that I know what my credit score and utilization are right now?
Do you know that I used you as much as you used me? Do you know that I'm no longer afraid? Do you know that in writing this letter I realized I didn't love myself enough to do it for me? You do know that this is it right? You had to realize a few lines in that this in indeed a Dear John letter. *sashaying away*
K
This blog post was written as part of a sponsored program for ConsumerInfo.com, Inc., an Experian Company. All views expressed are entirely my own and were not influenced or directed by Experian. This article is provided for general guidance and information. It is not intended as, nor should it be construed to be, legal, financial or other professional advice. Please consult with your attorney or financial advisor to discuss any legal or financial issues involved with credit decisions.
Several years ago, credit was as vague to me as quantum theory. I wasn't sure how it worked, why it mattered, and how it impacted me.
Now that I've decided to learn all there is about personal finance, I've learned a lot about how credit works.
Credit illustrates your ability to borrow money and pay it back on time. Your creditworthiness is illustrated by your credit score, which is a numeric average that helps lenders determine if you're legit — what's the likelihood you'll actually be paying your loan back? Throughout the past few years, I've learned some interesting things about how student loans can affect your credit score and thought I'd share with you.
Student Loans May Help Your Credit Score
Credit can sometimes be used as a bad word in personal finance, but in actuality, if used correctly, can be a very good thing. Having a diverse credit mix with different types of loans can actually help your credit score, as it shows you are a responsible borrower.
A student loan, which is an installment loan, can add to your credit history. If you make consistent, on-time payments, this will reflect positively on your credit score. For me, having a student loan was what actually put my credit score on the map.
As some of you may know, I didn't get my first credit card until two years ago when I was 28 years old. In other words, I didn't have any other credit aside from my student loan. Due to my positive repayment history, I've maintained a Good to Excellent credit score throughout my adult life. While student loan debt is no fun, it can help build your credit if you make on-time payments.
Defaulting on Your Loans Can Tank Your Credit Score
Lee Siegel made headlines this year with his story of defaulting on his student loans and pretty much encouraged others to do the same.
The article made me cringe as it didn't discuss in detail just how dire defaulting actually is and how it affects your financial life. Not only can your wages be garnished by the government, but your credit score will tank and your loans could be put into collections, getting charged even more fees on top of your loans.
Not a pretty picture. If you have student loans, it's important to make the minimum payments each month. If that's too much, talk to your lender immediately. Defaulting on your student loans can seriously hurt your credit score, which is a surefire way to cause trouble for yourself down the line.
Your credit score can help you rent an apartment, apply for a credit card, car loan and more. If your credit score is low, doing these things may be difficult.
Paying Off Your Loans May Have an Impact on Your Credit Score
Want to know something interesting? A few weeks ago, I got a notification from an app that one of my credit accounts had closed and my credit score changed. Paranoid and uncertain, I swiftly logged into my account. While I was typing in the password, I was scanning my mind. "Did I close a credit card? I don't even know what this is for – what happened?"
In actuality, I had paid off one of my student loans (yay!). Technically, your student loans are a type of credit account and because one of my credit accounts was now closed, my credit score went down a little. Why? Because I don't have that much revolving credit history (with my credit card) and this was now a change in my credit mix (i.e. my types of loans — installment, which is my student loans and revolving, which is my credit cards).
My credit score only went down a few points, so it was nothing to worry about, but still a surprise nonetheless. In the end, paying off debt is a good step in your repayment history and will ultimately reflect positively on your credit score.
As you can see, your student loans can affect your credit score in a variety of ways. Did anything surprise you? Do you have any other questions on how student loans can affect your credit score?
Hey debt fighters! Are you ready to dump debt? Reclaim your life and finally kick debt to the curb? Well, we have a great dear debt letter for you today from Shirria. Shirria is the personal finance blogger behind www.goaldiggingtohappiness.com.  She's a new blogger so show her your support and say hello! Follow her personal journey to financial freedom, early retirement, and happiness, just one goal at a time!
Dear Debt,
When we met fourteen years ago, you were the thing of my dreams. You provided me with nice belongings, took me nice places, and made sure my needs were met, especially in emergencies. You were there every step of the way during college and on into adulthood.  You provided me with nice cars and even a house that I adore and love!
However, you've become a burden. I am tired of you having "first dibs" on the income I work 40 plus hours/week for. I'm tired of thinking of you all the time and how I can get rid of you. You have begun to drain me, my paycheck, and my life. I no longer wish to have the gifts that you provide because I'm aware that it requires me to give more than you have ever given me. I'm so unhappy with you.
As a result, I'm cutting all ties to you.  I know it'll take time but I'm committed and focused!
Sincerely,
Soon to be free from you!
P.S. Did you know I could have had everything that you've given me without you? Go figure!
You never know where something will lead. I believe this as one of the core tenets of my business and try to treat every opportunity and connection equally.
I know that the best things in life rarely come from constructed opportunities or scripted events. They just happen, in an unlikely place, in an unlikely time.
The path is the road less traveled. The unconventional way. But the chance for making things happen is even greater, because it's less cluttered.
When I first started this blog, I  couldn't find a full-time job for the life of me. I tried all the traditional avenues. I applied relentlessly to full-time jobs and kept sending shot after shot in the dark, hoping someone would give me a chance and realize that I wasn't some sort of loser.
Now that I'm a full-time writer, blogger, and brand connector, I've seen how things can shift by trying a new approach. A few examples:
I reached out to Kathleen and she encouraged me to start this blog. I may have never met her as well as a whole other slew of great people in Portland if I didn't start this blog. I've pretty much written for nearly all the local Portland bloggers in some respect and they are all dear friends.
I met one of my business partners on Twitter. We connected over the fact she lives in Brooklyn, where I used to live. I dug her work. That simple connection has now launched a different aspect of my business.
A few months ago in the FinCon Facebook group, there was a post looking for freelance writers. I responded and applied. I got it. They're now one of my best paying clients.
I got an editing job in another Facebook group I'm in.
I pitched a company in my niche and said I love their content…there was just one problem. There were no female voices. I boldly sent an email and said I'd love to add my voice to the mix. Now I'm a writer for their site.
Last year at FinCon, I met someone for approximately 10 seconds. I was on my way out, but we both joked that we should "network" and exchange cards. So we did and I didn't think about it that much. But after FinCon, I spent hours sending every single person a unique follow-up email. This 10-second connection in-person turned into one of my largest partnerships.
One of my writing clients saw that I enjoy Twitter and asked me to manage their social media. I happily obliged and got an increase in pay.
I got a consultant gig from a company that I followed on Twitter. I sent a simple message that said, "I love your mission!". A relationship formed and now we are great colleagues.
Instead of ignoring a press release, I responded and pitched an idea. It worked and now I have an exciting opportunity ahead.
Aside from these professional successes, I even found love the unconventional way when I was set up on a blind date by a friend. To be honest, I was not really into the idea. I could have said no, but I'm so glad I didn't.
My whole point with this is that so often we think we are doing things the "right way" but they are clearly not working. Try to step outside of yourself and see what you could be doing differently.
Your approach is EVERYTHING. I cannot emphasize that enough. Your approach is everything. If your current approach is not working, stop beating a dead horse. Try something new.
Be bold, ask for what you want, and be confident in what you can deliver. We all have to deal with the perils of Impostor Syndrome coming to rain down on our parade, but get an umbrella and keep going.
You never know where a connection will lead. You never know where your next gig is coming from. Opportunities are right around the corner.
The key is to keep at it and put yourself out there, everywhere. Be unabashedly yourself. I know for a fact that my freelance business took off once people could "see" me — both literally and figuratively. I stopped hiding behind the mask of anonymity, put a picture up and started writing about things in my own voice that felt authentic to me and not veiled under fear.
If you're looking to start a business, get a new job, fall in love, etc. and what you are doing isn't working, try something new. Keep putting yourself out there on social media and follow-up with everyone you meet. Everyone.
Your network is your net worth, so foster your connections. Be yourself and believe there is something out there for you greater than yourself.