I don't know about you, but I'm exhausted. I've been working hard to get my client work done, side hustle, and try to get things done early before the holiday.
The past two weekends I worked as a brand ambassador for one of my favorite companies, Columbia Sportswear. I worked for them three years ago in NYC and got tons of free clothes, and was pleasantly surprised to get more free clothes. I hate shopping and never buy clothes, so it was a nice bonus. I'm very happy as the $500 I will get from this gig will go straight to my Spain fund, and now I have $400 in free clothes, which includes a nice jacket, boots, scarf, hat, and a shirt. I'm telling you, I love being a brand ambassador.
I have also had some fun writing opportunities that deviate from the normal blog posts. I wrote a video script for a financial literacy nonprofit (using my theater degree, woo hoo!) and also did some copy writing for a friend. I love tinkering with words, and am looking for more projects that are outside of the box.
Aside from that, I also just confirmed a sweet opportunity that I'm beyond excited about. I'll share the details once everything is ready to go, but it was a nice, early Christmas gift.
This weekend, I am working an epic 11-hour shift for a holiday event, and then Monday I fly to Los Angeles for the holidays.
I will be in SoCal for a whopping 2 weeks. I'm excited and nervous. It will be the first time that I'll really be utilizing my location independence to work and I'll be staying with my partner's family. I love them to pieces, but I will also need to carve out some personal time.
We are flying down, but we are taking the train back up to Portland! 31 hours of train time — that may sound insane, but I love trains. I love that time stops and that you have nowhere to go. It forces you to be in the moment. Last year, I applied for Amtrak's writers' residency and they rejected me — so I'm creating my own!
Aside from all this, debt repayment is going okay, but I keep chugging along.
In the past month, I've paid $827 towards my debt and my current debt totals are:
Grad loan: $28,725.93
Undergrad loan: $5,819.42
Total: $34,545.35
I've paid off about $10k in debt this year, on a minimal salary! Every month it feels like I'm barely progressing, but when you look at the totals, I am! It's always important to look at the big picture.
Lastly, I know I haven't been writing here as much as I'd like. It makes me sad and I want to try to change that. I've just been dealing with client work, some ups and downs, and an intense need to take care of myself first. I didn't want to force writing here because of some self-imposed schedule and deliver content that didn't have any heart or soul in it. Dear Debt is still my baby and I have big plans for 2015 — but I'm still figuring things out!
If you do want more things to read, check out my work elsewhere:
4 Non-Traditional Ways to Increase Solopreneur Income and Productivity via Careful Cents
3 Questions to Ask Yourself Before the New Year via Retire by 40
5 Ways You Are Sabotaging Your Finances via Personal Income
21 Tips to Overhaul Your Finances for the New Year via The College Investor
Hobby to Business: How to Grow Your Hobby into a Serious Income Source via NarrowBridge Finance
How Your Relationship with Money Affects Spending and Earning via Money Ning
3 Steps to Avoid Financial Infidelity in Your Marriage via The Savvy Duo
How Not Having a Smartphone Cost Me Money via Cell Phone City
Also, I got with the program and am now on Pinterest and Instagram. Still figuring it all out, but you can find me there!
What's new with you? What are your plans for the holiday?
A notice popped up on my apartment door a few months ago. Our apartment building was upgrading our utilities and would now include wifi.
Our apartment building covers our garbage and water, while we have paid for our internet, gas, and electricity. We were able to find a local internet provider for $42/mo — with an initial, cheaper, bonus offer.
So I was thrilled to receive this notice that our wifi was now going to be included in our utilities! But along with the notice, came a large packet of terms and conditions.
Hmmm. This is a lot of info, I thought.
As I was paging through the packet, I was carefully absorbing all the information. In order to benefit from the free wifi, I was asked to sign a waiver accepting specific terms and conditions.
Don't harass people online.  Me? Never!
Don't engage in illegal activities. Good there.
Do not defame others or engage in fraud. Check.
Do not participate in websites of a sexist or racist nature. Sure.
You will not use the internet to participate in terrorism. No problem.
No adult or pornographic website use. Huh?
Now, hear me out. I don't care for porn as I find it terribly male centric and boring — but isn't half the internet porn? It's a billion dollar industry that extends its reach to nearly every corner of the web.
I was honestly shocked that this was on the agreement. I understand that from a liability standpoint, my management company is offering a free service — one with dangerous implications. People use the internet every day for evil things, or simply to participate in the vice economy.
But I imagined porn to be so widespread and common as checking email. Not only that, but I do think people should be free to watch what they want, so long as it's legal.
My boyfriend and I laughed a little a bit and asked, "How many people do you think will give up porn for free internet?"
We started looking at the numbers. Our internet bill is $42 per month, which comes out to $504 per year. Wow, that's a lot of savings!
After really thinking about it, we realized we had nothing to lose by giving up our internet and using the free one. We even tried out the free internet for a month to make sure the connection was strong (because, hello, I live on the internet now) and that none of our websites were blocked (because it seems even soft-core porn is on mainstream websites).
We even found out what happens when you go to a blocked site. My boyfriend was looking at the Willamette Week, because his band was featured in it, and like most weekly online outlets, there were questionable ads. One accidental click and he got this: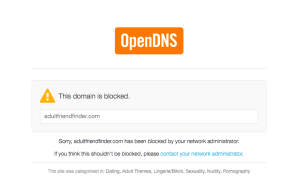 So while I don't necessarily agree with the company on banning porn, I don't need it and I just found $500 in my budget!
Hello frugal friends and debt-fighting warriors! I'd like to cordially invite you to another awesome #DumpDebt chat, co-hosted by myself and LaTisha from Young Finances. Our guest this week is Jackie Beck from The Debt Myth, who paid off $147,000 in debt! Talk about an inspiration!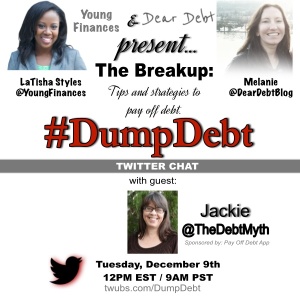 Here are the deets:
Are you ready to #DumpDebt? Join us on Tuesday, December 9th at 12pm EST for strategies, tips, as well as success stories from those who have made the commitment to dump debt!
RSVP here: http://goo.gl/forms/fFlaFlPkyx
Then follow @DearDebtBlog, @YoungFinances, and
@TheDebtMyth to join in on the conversation!
To participate in the Twitter chat other than using Twitter by searching keyword #DumpDebt; you can use
http://twubs.com/dumpdebt. Sign in using your Twitter account for an easy way to keep up with the chat.
During the chat, you'll have a chance to win a free copy of the Pay Off Debt app!
Share the info and send out a tweet to share how excited you are to participate in the #DumpDebt chat on Tuesday. Ex. "I'm ready to #DumpDebt on Tuesday @ 12PM EST w/ @YoungFinances, @DearDebtBlog, and @TheDebtMyth"
If you can't make it, please share via social media, or invite a friend! Thank you!
Even though I am deep in debt, saving money is still a very important part of my financial plan. Now that I'm self-employed, it's more important than ever that I stash money aside to prepare for all the unknowns in the world.
Not only that, but it's important that I plan for all the things going on in my life. In the next year alone, I will be saving up for FinCon and Spain/Portugal.
Saving has always been a part of my adult life after I graduated college and became self-sufficient. I didn't get my first credit card until a year ago, which meant that everything I bought had to be purchased with cash that was in my account. Nothing will inspire you to save like not having a credit card!
But for the longest time, I would just have all my money in one lump savings account. As long as it wasn't in my checking, it was fine right? When I started to actually withdraw money for my goals, things started to get a little blurry. It was hard to keep the integrity of one savings goal, when it was jumbled with all the others in the same account.
Think of it this way. Let's say you go to the grocery store to buy food for the week, but you also buy food for a special camping trip. If you don't come home and separate what food is for the camping trip, you are likely to eat it along with the rest of the food.
By separating food (and funds), you are setting your intention and clearly marking its purpose.
Several years ago when I found out that Capital One 360 allowed multiple, targeted savings accounts, I was thrilled! I have been with Capital One 360 (formerly ING Direct) since 2007, so have been a long-term saver. But this added function has completely revolutionized the way I save!
From the screenshot, you can see I have multiple targeted savings accounts. One for Emergency Fund, Travel, Taxes, Spain, Contact Lenses, FinCon, and Credit Card Payments. Yes, you can create whatever savings account with whatever amount you need. The best part is you get to name them, which really solidifies the goal!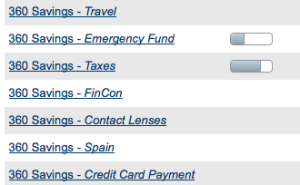 I love that there are no fees and no minimums. Bonus: you can even create a savings goal, which creates a nifty bar graph to show you your progress.
To make it easy, you can create an Automatic Savings Plan, that is linked to your checking account. I have all my savings accounts linked to my checking, and have automatic withdrawals throughout the month — even for as low as $20. Because everything helps!
More than anything I believe in the power of automation. I was able to save $14,000 before going to grad school because I automatically saved $600 a month. After a while, I didn't even miss it. Heck, I didn't even notice it. You better believe I was thrilled to have a decent cushion when I left my job and moved to NYC for grad school.
It's because of automation that I haven't had to deal with my own mental roadblocks that can so often get in the way of savings.
Can I afford this? Should I just save later? Oh, I'll just wait a few days.
Do those thoughts sound familiar? Yeah, I've been there. But with automating, it's just so easy. But if automation really isn't your thing, you can transfer manually.
As 2015 approaches and you are planning your goals, consider targeted savings accounts. Separate the funds so that you know exactly what they are being used for. Trust me, it's really easy to make excuses about why we can't save. If all your money is lumped together, as soon as one thing pops up, you will use all that money on that specific thing and your goals go out the window.
Try a different approach! I've been so happy with Capital One 360 as a saver that a few years ago, I dumped CitiBank and opened a checking account with Capital One 360. At first it felt weird to dump a brick and mortar location for something that is only online. But they have made strides in their online app, which makes it easy to upload checks, and there are many ATMs in the area. I've also had nothing but good experiences the few times I've called their customer service line.
So if you are looking to overhaul your finances, try out targeted savings accounts. Also, if you are bombarded with overdraft or other types of fees, then try out Capital One 360's checking account too. No fees and no minimums.
I currently get a .75% APY on my savings account and .20% APY on my checking, which brings in a few extra bucks a month. The extra money is nice!
Keep on saving my frugal, debt-fighting friends!
Note: I wasn't paid to write about Capital One 360 (although if someone works there and wants to extend the opportunity, I'd be happy to

). I truly believe that my finances have been a lot more organized because of targeted savings accounts. I also love that there are NO FEES and NO minimums. However, this is my referral link, so we will BOTH get a small bonus if you open up either a checking account, or a savings account with $250.
I'm not going to lie. When I first heard about travel hacking (getting miles through credit card sign-up bonuses), I gave it one big eye roll and a hefty sigh.
Yeah, right!
I just didn't believe it was possible. Or I did, and I thought that you had to spend too much money.
You see, I live on a pretty bare bones budget. I don't even spend $1,000 per month on basic expenses, and I can't pay my student loans with credit cards, so I thought that the spending requirements were out of reach. Also, let's not forget that I got my first credit card a little over a year ago.
But I kept reading post after post about people going on vacation for what seemed like an absurdly cheap amount.
You guys know that my number one priority is getting out of debt. But a close second priority is traveling. My initial goal was to travel abroad once a year, but then life happened and it's been about every other year. Something to note, is that I'm a frugal traveler and don't travel unless I find sweet deals. I also always stay in hostels. My trips have usually cost around $1,500. Even so, that's still a chunk of change — roughly two months of debt repayment. So I've tried to quell my thirst for travel, but if I'm honest, I think about traveling every day. I have an insatiable wanderlust and if I die tomorrow, I would regret not traveling more.
But I am trying to manage my debt and become debt free asap, while also still enjoying life. At $35,000 left to go, I still have several years of debt repayment, unless I can double or triple my income, which I hope to do at some point

So after realizing that I don't want to compromise my debt repayment (too much) and that I still want to travel, I had to figure out how to do both, creatively. So I reluctantly applied for another (rewards) credit card. I knew my spending was low, so I took the slow and steady route.
I applied for the American Airlines card that required spending $1,000 in 3 months, to get 30,000 bonus miles. I was able to do that, and then after flying to New Orleans for FinCon on AA, and spending a little bit more, I had 40,000 miles.
A mere 40,000 miles was enough for me to go abroad off-season! It took me a while to find a flight as Portland is not a hub (ahh, sometimes I really miss living in LA or NYC!), but I finally found one. It's not the best, but hey, I'm going to Spain for peanuts.
I'm flying from Portland to Seattle, then to Dallas, then to Madrid! Yikes. But for the price of some airport taxes at a mere $63!

I'll be going for 2 whole weeks in late April to early May! I'll be flying into Madrid, which is where my love of travel first hit. When I was 21, I saved up for a year to study abroad in Spain for the summer. It was amazing. So I'm happy to get back and visit it 9 years later!
The real reason I'm going to Spain though is because one of my best friends in Portland is teaching English there until June, which means I have a limited time to visit her.
Her teaching placement is crazy. She is in a ridiculously cute location in Nerja. Every time I see her pictures on Facebook, I get excited about seeing this place in person!
Also, because I'll be in Spain, I've decided to check something off my bucket list and go to Lisbon, Portugal! If you listened to the very end of my podcast interview with Shannon, you know that this was on the top of my list!
I'll be traveling solo as my partner just got a better paying job at a music nonprofit (yay!), which is a step up from a music store. We want to grow his career a bit, and travel together again at some point.
I plan to keep it as frugal as possible and will side hustle my way there through brand ambassador work and any work that is not related to writing or editing.
So there you have it! A newbie travel hacker booking her first flight abroad. But I would like to share this post, with one big caveat.
Travel hacking isn't for everyone. I repeat, it's not for everyone. Some people write about travel hacking like everyone should be doing it, and that you're an idiot if you don't.
But the thing is, not everyone is good with credit cards. Even though I've paid off my balances in full every month, I've seen some credit card creep in my own life that I had to manage. It's a slippery slope and I can totally see how rewards cards can encourage more spending. What works for other people, may not work for you. And if you are in credit card debt now, then definitely don't try this at home, folks.
I think it's important to be honest that yes, travel hacking is possible, but it's still not a great idea for everyone. If you're bad with credit cards, why would you put yourself through that? If you knew someone was an alcoholic, you wouldn't recommend they get a drink, right? So I don't want to recommend things to people that might just be a bad idea, but rather share my own experience with travel hacking.
The slow and steady route…I don't ever see myself having a dozen cards, but I do want to be smart with my credit card spending, and try to pay off debt and reap the "rewards".
What are your thoughts on travel hacking? Know anyone in Madrid or Lisbon I can stay with?

p.s. Michelle so eloquently stated why I prioritize travel.
I absolutely love this time of year! Everything slows down to a cool simmer and we can all reflect and relax a bit. This year has been extra special to me, and I've met some amazing folks along the way. I have so much to be thankful for this year.
My health, my apartment, my love, and my new career.
All of this wouldn't be possible without the help of others. Not even close. So I'd like to thank some people.
I want to thank…
My parents for believing in me and actually pushing me towards being self-employed. Thanks for your support, help, love, and everything this year!
My boyfriend for keeping me sane, and understanding me. For pushing me, and being my number one fan. For being my sometimes editor, and confidence booster.
The readers of Dear Debt. You keep me going. You inspire me more than you will ever know.
Kathleen for meeting with me and inspiring me to start a blog and being a great friend.
Tonya Rapley for being a light of encouragement and fountain of opportunity. This year was unreal because of you. I am so glad we met and am so inspired by everything you do!
The other Tonya who keeps me laughing and is always so supportive of everything I do.
Erin for being a great friend to talk to and share my deep dark fears.
Carrie for being my mentor, whether she intended to be one or not.
Kali for answering all my crazy questions about self-employment and being so helpful in every way!
Shannon for being a badass babe and awesome friend! Your support, love, and personality have given me so much.
Cat for being a great resource and amazing person! I don't know how you do it!
Kayla for listening to me and cheering me on.
LaTisha for inviting me to the first ever #DumpDebt chat. Excited for more collaborations with you!
J Money for listening to my crazy ideas and never judging me, yet always supporting me.
Erin, formerly of Red Debted Stepchild for being a fantastic friend, who patiently answers my neurotic questions. I would not be where I am today without her friendship.
Laurie, for being a complete debt fighting rockstar and always inspiring me to do better. I appreciate your support and never ending friendship.
Michelle Jackson, for always keeping it real and taking part as the FIRST ever dear debt letter writing participant. You are beautiful inside and out and I'm so glad you are a friend!
For Wendy, who has shown me what it's like to pay off debt with courage, class, and sass and for being a great supporter.
Anna for sticking around since the early days and being a great friend, confidante, and supporter.
Kassandra for your unwavering support and showing me that being debt free is possible.
Lisa for being a friend and supporter, and all around cool gal.
Brittany for the dance parties, karaoke dates, coffee conversations and fun times!
Natalie for blazing the trail towards debt freedom and being a true inspiration!
Stefanie for being a role model and showing me it's possible to be in the arts and in this crazy personal finance world.
Stephanie for entertaining me with your fabulous comics and always keeping it real.
Brent for being one of the first people to give me a chance with my writing, and supporting me along this freelance journey.
The rest of the PDX blogger crew, including Eric, and Joe! You guys are so crazy smart and fun to be around. (and I love writing for you!)
The friendly folks at ReadyForZero for letting me share my voice and consistently supporting me and the dear debt letter project.
For my clients who have helped me on this journey and continue to give me work, push me, and validate why I do what I do.
I know I'm probably missing quite a few people, but I truly am thankful for everyone's support and encouragement. Each share, each comment, each opportunity fills me with so much joy.
Because of this community, I am reminded that I am never really alone. My debt can feel so isolating, but you guys are cheering me on. And for that, I'm forever grateful.
Wishing you and your family a happy holiday.
May all your debt free dreams come true!
Hey everyone! I have a very special dear debt letter from Zina Kumok, who JUST paid off her debt! This letter was submitted beforehand, but since that time, she has made her last payment and is now debt free! Please congratulate her and enjoy her dear debt letter — you could feel how close she was to being debt free, and now she is.

More about her: Zina Kumok writes about paying off $28,000 worth of student loans in three years. She has been featured in ReadyforZero, RetailMeNot, DailyWorth, Fox Business and Time. Follow her on Twitter and Facebook to get more advice on budgeting, saving and paying off debt.
Dear Debt,
I'm ready for this to be over. I've been ready for three years – three years of waiting, wondering and worrying. Three years of living on less than I had to – including one year of living on less than 50% of my salary.
Debt, you have made me CRAZY.  If our relationship was a movie, it would be "Fatal Attraction" or for a more recent example (because Debt, I keep forgetting, you're only a toddler), the 2009 thriller "Obsessed" starring Beyonce and Idris Elba.
Remember when I was calling the Nelnet hotline every month to see how long it would take to pay back my loans? Remember when I would check my balance every week, just to see how much interest I had accrued? Or when I would sit at home with my financial calculator and see how much of a difference $50 would make if I made a few more cuts in my budget?
Do you know what I've given up for you? Do you know how many earrings I have not bought on your account? How many sushi dinners or handcrafted cocktails I have given up? How many movies and books I got from the library just so I could save an extra $10 to put toward your stupid existence.  Do you even care?
Sometimes it would feel like this day would never come, that you would be the baggage I would carry around forever, just another mole on my otherwise perfect financial complexion. Once I might have been content to let this go on for years, but not anymore. This isn't a healthy relationship anymore. For neither one of us.
Dear Debt, your time is up.
It's a marketer's world, we only live in it.
Think about how true those words are.
Every single day we are processing an over abundance of advertisements and imagery. Our desires and interests are merely pawns in the game. Our insecurities are preyed upon.
It's easy to understand why we have so many financial issues, when we think we can buy our way to happiness through new shoes and buy status in the form of cars or houses.
It's easy to succumb to temptation, consumerism, and the like, because "everyone is doing it."
But whose life is this anyway? Who signed me up for this?
I don't know about you, but my version of happiness and the American Dream does not mean going into (more) debt to buy a house, have kids, or buy cars, that quite frankly I can't afford.
Except the world we live in tells us that everything we want is at our fingertips. It's so close you can almost taste it. Everything you want, you can have. For a price.
If there is one thing I've learned about personal finance, is that if you want to be a financial rockstar, you have to reject the status quo.
You have to reject the "shoulds". You have to reject the scornful looks of judgement. You have to say "no" while everyone is saying "yes". You have to play odd man out, in a sea of sheep.
Because let's face it. Being in debt is normal. Having a car payment, or a mortgage is normal. Working until you are 65, or until you die, is normal.
For so long we grow up and never question any of it, until one day the blindfold is ripped off and we can see everything clearly.
Everything is not as it seems.
It can be a bit unsettling once you realize that in order to live the life you want, you have to go against the grain. But to stay the same is to be a prisoner of consumerism — soon, you too will be a commodity.
Companies want you to be in debt. They are only interested in you for your interest.
By choosing to pay off my student loans early, I am imposing an act of rebellion.
I am rejecting the status quo. I am breaking through the barriers and the beliefs that you have to make a lot of money to do this.
There are others paving the way and showing people that you don't have to work until you die.
Showing people that maybe there is a better way.
But to find that way — to truly be a financial rockstar — you need to reject the status quo.
I have been blogging for almost two years, and only recently did I create an email list along with a newsletter.
Why did it take me so long?
I was stubborn and insecure. Who would sign up for my newsletter? What do I have to say? How can I make it interesting and unique, and not just a copycat of my blog?
It wasn't until month after month, I'd hear how nearly every blogger had wished they started collecting emails sooner, that I finally took action.
I realized I didn't want to let my stubbornness get in the way of building a community online.
The first step I took was signing up for a free MailChimp account. The second, and most powerful step I took, was installing SumoMe, a nifty (free!) app that integrates seamlessly with WordPress to provide killer data, and helps you boost blog traffic and increase email signups.
SumoMe, is the brainchild of Noah Kagan, the taco lovin' innovator who once worked for Mint.com. I thoroughly regret not rubbing elbows with him at FinCon during one of the breakout sessions, but alas, now I'm a convert and a disciple of his products.
Within a few days of adding SumoMe, I had started to get email signups….get this… from people I didn't know! I've written here before that I have questioned who I write for. I love and appreciate all the comments I get from personal finance bloggers, but it's tough for me to gauge if I'm actually reaching anyone else that isn't already drinking the kool-aid.
I remember my lurker days, pre-blog, when I was too nervous to comment on the blogs I was reading, so I have to remember that people are looking at your blog and reading what you have to say — they may not want to be public about it and that's okay.
But I realized that an overwhelming majority of the people signing up for my newsletter were non-bloggers, or people I didn't recognize. I was instantly overjoyed as I felt like I unlocked the potential of my blog and could finally connect with others. It was the first time I got confirmation that people were stumbling upon this little ol' blog of mine and wanted to hear what I had to say. Seeing that information changed the way I think about this blog and how I write — it gave me more information.
So, why email? Think about it. Email is the one way you can directly reach someone, and connect on a more personal level. You'll be hard pressed to get someone's email address if they don't find value in what you do. Trust me, I was a telemarketer, no one wants to give that info away if they suspect one ounce of spam from you.
If someone signs up for your newsletter, they are vouching for you — they are into what you are doing. They want to hear from you. So as community builders in the online space, why wouldn't we want to utilize that to our advantage and spread the gospel of personal finance, freedom, and breaking up with debt.
For me, it's all about connecting with others. In my previous jobs at nonprofits, a large aspect of my job was building community — around art, education, or travel. I do miss that aspect of working, and I want to transfer that over into the online space.
Using SumoMe has helped me a ton — they have a cornucopia of fun things to help take your blog to the next level. You can use things like their List Builder, Smart Bar, and Scroll Box to build your email list, or Heat Maps and Content Analytics to gauge where people are clicking and how much people are reading. This is excellent information to have, to see where people's eyeballs are drawn to, and to gather more information about viewer behavior.
If you want something that is free and easy-to-use to build your email list and traffic, SumoMe is the way to go.
Do you use SumoMe? Why or why not?
Happy Friday everyone! I have another absolutely inspiring dear debt letter from one of my favorite bloggers, Sandy from Yes, I am Cheap. I had the chance to meet her at FinCon and she is so lovely! So happy she is on the blog today, declaring her independence and fighting back. Get ready and get inspired. This is a good one.
First, a little background: Sandy calls herself the guinea pig of debt reduction strategies.  She's determined to prove that you can repay a six figure debt on a regular salary by sharing her own debt reduction strategies.  She writes at Yes I Am Cheap where she's just shared how she repaid $50,000 in less than two years after being unemployed for six months and working as a temp for nine months.
Dear Debt,
I'm leaving you.  It's not you, it's me…no, no, that's a lie.  We've both changed and it's just not working anymore.  I'd like to say that it's been fun, but no, it's been pretty dang painful. I'm not sad to see you go either.
It wasn't like I wasted money on some stupid shopping sprees or even that I was an irresponsible spender to end up with you as a life partner.  I went to school and earned a few degrees like good kids were supposed to do, but I hadn't counted on student loans coming along for the ride for so long. I hadn't planned on my business drying up leaving me with even more of your cousins sitting on my credit report, but it's all good because you can take them with you too.
I don't know how it happened that you grew to more than $120,000 before I even noticed.  I was so ashamed that you had consumed so much of my life that I just didn't know what to do.  You seriously just paralyzed me with fear, 'cause honestly honey, how do you fight a monster that's so big?
You know what happened debt? We had a bad thing going for so long that you got comfortable; you started taking me for granted.  I went to work every day but you sat at home getting happy and lazy.  You got fat while I was working hard, trying to make ends meet and I just didn't know how to pry you off my couch.
It's okay though, because I got smarter.  I educated myself about money and finances but you didn't like that, did you?  You liked me being ignorant about credit and debt and about how I could make my money work for me.  The smarter I got and the more debt busting techniques I put into place, the more panicky you got.  Maybe you realized that I was slipping out of your grasp when I started to hang out on the websites of my finance friends, soaking up as much knowledge as possible.  Or maybe the final nail in the coffin was when I hit the button to pay off $50,000 in less than two years.
So long you life sucking vampire.  Let's never do this again.
Sandy