Dear Debt,
We're done.
Like, so over.
I am sick and tired of your excuses. You are lazy and soul sucking and can't do a damn thing yourself.
I'm tired of holding your hand and getting nothing in return.
I'm tired of even looking at you.
When I look at you, I feel consumed by you. I can't see myself any more. Who was I without you?
I told myself that I was doing the right thing by being with you. I believed all your little lies. I was going to change my life for you. I even thought about having kids, the white picket fence, marriage — all those things, just for the opportunity of being with you.
Now, I have to defend myself when people ask why we're together. People think I'm an idiot. It's like I can see it in their eyes.
You were with him?
They know I'm too good for you and I still found myself in this mess.
But with blog as my witness, you will never see my face again. I've made my decision.
I'm ready to #DumpDebt
Your soon-to-be-ex,
Melanie
——
Melanie's Note: Come join me and LaTisha Styles from Young Finances  for my first Twitter chat!
Are you ready to #DumpDebt? Join us this Thursday from 12-1pm EST for strategies, tips, as well as success stories from those who have made the commitment to dump debt!
RSVP Here: http://goo.gl/forms/fFlaFlPkyx
Then follow @DearDebtBlog, @YoungFinances, @ThomasBrightGuy, and @ClearPointCCS to join in on the conversation!
To participate in the twitter chat other than using Twitter by searching keyword #DumpDebt; you can use http://twubs.com/dumpdebt. Sign in using your Twitter account for an easy way to keep up with the chat.
(http://www.tchat.io/rooms/dumpdebt is also an option)
On the chat, learn how you can win $10,000 from @ClearPointCCS.
Try it out by sending out a tweet to share how excited you are to participate in the #DumpDebt chat. Ex. "I'm so excited to join the campaign to #DumpDebt on Thurs @ 12PM EST w/ @YoungFinances and @DearDebtBlog"
Hope to see you there!
It seems that many people feel lost as to what they should do once they become debt-free. After accomplishing such a huge goal, it's easy to wonder what's next?
Although I'm not debt-free yet, I know exactly what I will do with my money, once that day comes.
For those in debt, or recently out of debt, check out my latest post and join the conversation on Investor Junkie:
What's Next? A Guide to Setting Long-Term Goals After Paying Off Debt
As a blogger, our personal story is often at the crux of our writing. Not only that, but oftentimes we share intimate details about our lives with the world wide web, essentially opening up ourselves to criticism and judgement.
It is a form of writing that is both brave and narcissistic. We put ourselves out there to tell our story in hopes that others can relate or learn something. But then, why should people care about my story over anyone else's? Am I any more or less "special"?
I have never really thought of blogging as narcissistic until recently.
A few days ago, my boyfriend felt like I was neglecting him because I was "working on the blog." I admit, in the three months I have been a full-time freelancer, I have given my all to this blog, to my writing, and pursuing opportunities. I'd be lying if I said I didn't lose part of myself in it. This became clear after my boyfriend said:
"All you ever do is talk about your blog and your work — you never talk about anything else."
Ouch. That stung a little. Ok, a lot. The statement stopped me in my tracks. Have I been neglecting the most precious thing I have in order to be available at all times? Have I given up other interests in exchange for mornings and nights glued to the computer? I also admit that I've come too close to equating my self-esteem with the amount of comments and page views I get.
I start to wonder, is there something wrong with me if an article didn't get any comments? Am I bad a writer? I suppose therein lies the narcissism right there. A level-headed person wouldn't think such a thing, but maybe blogging turns us all into narcissists.
Now, narcissism shouldn't be confused with arrogance or even confidence — those things I am not. But I do think I've grown to be more narcissistic since blogging.
But the question is how to separate? How to care, just a little less? How to "turn off"?
I realize as I write this, I am engaging in more narcissism. After the dust settled after our quibble, I thought "That's a great blog post idea!" (ugh). So of course, I asked my partner if he'd be ok sharing this personal part of our lives. He said yes as he is still a huge fan of this blog. I just need to learn how to have blog time and how to have relationship time.
I have to remember that I have a whole slew of interests that don't involve writing, talking about myself or my money, or blogging. I need to remember the beauty of the sky outside and get some more fresh air.
I still think blogging is very brave — it's a way to share our stories with the world. But I can see how it can turn into an all-consuming hobby and profession that ever so slowly leads to a special kind of narcissism.
So, it's something I'm working on…
What do you think — are bloggers narcissistic? Have you had similar moments in your life?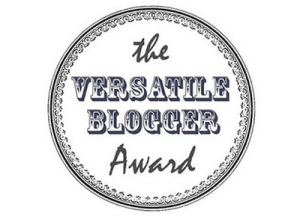 Happy Friday everyone! I'm so honored to be nominated by Shannon and Jordann for the Versatile Blogger Award.
I'm never really good at this kind of stuff, but thought I'd give it a try.
But first, I'd like to announce the winner of my Starbucks pay it forward love: Megan from Megan and Eggs! Congrats!
This was picked totally by random, by asking my boyfriend to pick a number.
Enjoy!
Back to the award…Being nominated for the versatile blogging award means sharing 7 unique and interesting things about me, so here you go.
I'm very inquisitive
I would describe myself as a curious person. I often wonder, what happens biologically when something itches? What happens when you die? I'm fascinated by psychology, philosophy and consciousness. I'm always asking questions.
I've met David Lynch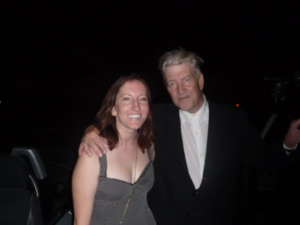 A few years back, David Lynch had an art opening at a gallery in LA. At the time, he would also introduce the weather on an LA radio station – when giving the weather update, he'd also hawk his new line of coffee. When I went to the gallery, everyone was flocking to him, stroking his ego and washing him with compliments about his art. Because I sometimes like to create awkward situations, or be a little silly, I thought of something that I thought was brilliant and hilarious.
So I went up to him, this acclaimed video director and artist, at his own gallery show and said, "David, I absolutely LOVE your coffee!" Without skipping a beat, he said "Thanks a million!" I think he was a bit confused, but he was nice.
I'm terrified of dying
It feels weird to be consciously aware that we are but a blip of time on this earth. We too will be gone. A memory. This is a fear that I will need to get over, but I'm still pretty scared of death.
I love languages
I am proficient in Spanish and my abilities have helped me get my previous jobs. I've worked closely with Latino communities and I simply love the language. I studied abroad in Spain and Mexico, and have visited Argentina and Uruguay. I need to get back into practice, but I love being able to speak and understand Spanish. For a brief time, I also studied Portuguese and French, which were much harder – but similar enough to Spanish where I understood a few things.
I was on the swim team
In high school, I desperately wanted to avoid the P.E. requirement, so I signed up to be a part of the swim team for two years instead. What I thought would be a shortcut, really turned out to be more work than I thought possible. I swam 4 hours a day and I always smelled like chlorine. At one swim meet, I disqualified my team as I didn't have all ten fingers touching the wall. My team never forgave me and people reminded me of this all throughout high school. After two years, I decided to be done with it since I didn't have to do it anymore. I believe doing this really taught me some discipline and perseverance though.
I'm a nail picker
Ok, I know this is gross and I need to just quit it. I'm not a nail biter, as I'm too OCD to put my fingers in my mouth, but I'm a nail picker. I have been since I was about 4. I'm turning 30 soon, folks. This has been my one long-standing addiction. I've tried everything. The only thing that works is wearing mittens, except I can't really type like that! Now that I'm turning 30, it's really time to retire this childish habit.
Lilies are my favorite flower
Forget roses, it's all about the lilies. They are just so beautiful! They are vibrant and open to life, just how I want to be. Their range in color and smell delight me. My boyfriend usually gets me lilies twice a year: my birthday and Valentine's Day. We're not big on gifts, but I enjoy this simple form of appreciation.
What unique thing would you like to share with me?
Today, I'm super jazzed about the latest edition of How My Blog Changed My Life. If you are new here, I started this interview series after I realized my own life had changed tremendously because of my blog. Because my favorite part of blogging is the community, I thought it would be fun to interview others about how their blogs have changed their lives. These people are my inspirations!
Today, we have Stefanie who is insanely talented and someone I deeply admire. More about her: Stefanie O'Connell is a New York City based actress and freelance writer. She chronicles her struggle to "live the dream" on a starving artists' budget at thebrokeandbeautifullife.com.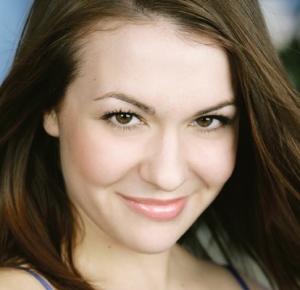 What was the inspiration for starting your blog?
I'm a professional actress by trade and a personal finance junkie out of necessity.  During one of my first tours I read Suze Orman's, "Money Book for the Young, Fabulous, and Broke".  From that point on, money became my hobby – "Millionaire Mind", "Investing for Dummies"- I read anything and everything finance and became obsessed with tracking my own in my spare time.  When I saw how nonchalantly other actors would treat their limited funds, I shook my head in silence.  When I heard them subsequently complain about having no money, I decided to do something and start my blog.
What has been the most challenging part of having a blog?
There are a lot of challenges surrounding blogging, more than I think most people realize, but I think the hardest is having no idea what I'm doing- seriously.  There are so many things that go into a blog that I never realized, it's really overwhelming when you start out, and I've found it doesn't really get any less overwhelming, but you get better at dealing with it.  There's always some new thing to do or learn for the sake of your blog that you have absolutely no idea how to implement.  If you want to be a blogger you have to be a self-starter.
In what ways, direct or indirect, has your life changed because of your blog?
I used to have to do things I hated just to get by- waiting tables, personal assisting, babysitting, trade show hostessing, pretty much any random side jobs you can think of- then I'd have to be up at the crack of dawn the next morning to audition.  It was soul sucking and exhausting.  Now my "survival job" (as we call it in "the biz") is freelance writing- something I absolutely adore and can do on my own time.
It might sound like a minor change, but I've gone from being miserable and negative 99% of the time to feeling truly happy and content 99% of the time.  It's the first time in my life where I'm not waiting for my next acting job to make me feel fulfilled.
What have you learned from blogging?
The more opportunities you create for yourself, the luckier you get.  As an actor, I'm all too familiar with rejection and how much luck matters.  Rather than focusing on what I can't control, I've decided to empower myself through blogging — constantly creating more opportunities for success, even in the face of rejection.
What advice would you give to new bloggers who are thinking of starting a blog?
I do coaching for beginner bloggers so I could write pages on this, but if I have to narrow it down to one thing… know who you are, who you're writing for, and what mission you're serving.  Okay, that's like three things, but the more clarity you bring to those fundamental answers, the more focused and effective you'll be as a blogger.
Thank you Stefanie! I want to follow in your footsteps

It's October! My favorite month, ever.
I love fall so much. I love pumpkin everything, crisp weather and the change in seasons.
It's also my birthday month. In a little over 2 weeks I turn the big 3-0. WOW.
I am happier than ever though. I remember just six months ago thinking to myself that I was itching for a huge change by my 30th birthday. Well, I got what I wanted.
I quit my job and have been getting more opportunities since FinCon, which was so worth it. How did I do it? I followed up with every single person I got a business card from. Sometimes it's just a matter of telling people that you are looking and are open to new opportunities.
September was quite busy work wise, but I also had some fun adventures thrown in there. I went camping for 48 hours and completely disconnected from technology and I also went to New Orleans for FinCon and managed to work only 2 hours while there (though I was working furiously the days prior, working many late nights).
I am so happy to report that even with taking 7 days off in September, my income increased 10% from August.
My income breakdown is as follows:
58% Writing
7% Virtual Assisting
3% Sales (sold some books)
27% Event work (includes brand ambassador work and my part-time job at a Jewish congregation)
2% Side Hustle Coaching
3% Advertisement
As you can see, my income doesn't come from one place. I like it that way. It will be interesting to see how this shifts in the next few months as brand ambassador work slows down – but as I mentioned, I have some new opportunities, which will hopefully put me in a better place. The goal is to steadily increase my income every month.
Now on to the debt…
But first, a confession. At the risk of getting verbal stones thrown at me, I have to let you know I committed a cardinal personal finance sin.
I withdrew $1,700 from my already pathetic retirement account to pay off one of my loans. Yep, I borrowed from my future to pay for my present. What prompted this?
I wrote this article on Joe's site and asked the readers what I should do regarding balancing my retirement and student loans. Joe has a great group of readers, but because Joe's site is about retirement I thought people would pat me on the back and say "great job on being more balanced and putting more to retirement!" Nope. The overwhelming response was to pay off my crazy high interest debt.
Before you think I did anything too rash, I sat on it for a while. I looked at the numbers.
Do you know how much my retirement has made this year?
Interest Paid Year to Date: $9.93
My student loan payments cost me hundreds of dollars in interest per month, which results in thousands per year of interest. The math looked at me right in the face. I couldn't deny that my money would do more going to debt.
I understand I'm looking at a 10% penalty for this, but what's done is done and I still think it will work out financially. If you want to read some great information on Roth IRAs, check out this post at Finance Girl.
This debt journey has its ups and downs and moments where things change — moments where I make big decisions that seem both right and wrong. Although I was previously craving more balance, I realize that for now I really want to focus on my emergency fund and debt. I have changed my retirement contributions to $20 per month, mostly so I can keep the habit. I think automation is great for creating positive habits to achieve financial success.
So there you have it. My confession. But look at what a nice number I put to debt:
$2,341.51 to debt.
Current balance:
Undergrad loan – $6,317.52
Grad loan – $29,429.73
Total: $35,747.25
My graduate loan is now under $30k! I want to scream from the rooftops about it. For some reason, psychologically, being in the twenties seems much more manageable. It feels like I'm making progress. This is a far cry from when I graduated in May 2011 and I had a balance of $58k on my graduate loans.
Here's to hoping that I continue to grow my work and can continue to put more to debt, without getting out money from other places.
I am motivated and inspired!
Also, someone anonymously gifted me a Starbucks eCard. Literally, I got an email that said, "Anonymous has given you a Starbucks card!"
I thought it was a scam at first, but I looked at it cautiously. There was even a note. It said, "Melanie, Just because you are awesome and wanted you to have a special day!" By golly, that was one of the sweetest things someone could do. It did make my day! To anonymous, thank you!
Kayla had a great idea of paying it forward! So if you comment on this post, I'll randomly choose someone this Friday and give out a $5 Starbucks gift card too. Go get your pumpkin spice latte on.
How is October going so far?
Update: Thanks to some friends who are smarter than me, apparently I won't have to pay a penalty as I withdrew from my Roth IRA. I swear I read a lot of info on the matter when I made my decision, but the language wasn't very clear, thus my confusion. Either way, I'm not a financial expert as you know — just someone sharing my journey out of debt.
Hey friends! I've been hustling pretty hard since FinCon, so haven't had as much time to say hello here or on your blogs. Please know that I'm reading and will be back soon. If you want to check out something cool, in the meantime, listen to my first podcast interview with the awesome ReadyForZero folks! I'm no longer a podcast virgin. You can also check out my first post at the College Investor about jumpstarting your student loan payments.
Aside from that, enjoy this awesome dear debt letter from Carly. I love what she has to say here. Carly is a millennial military spouse who writes about delicious food, military spouse life, and getting out of debt. She is a full-time graphic designer and lifetime foodie. Carly is currently working her way through $44,000 in debt while her husband is deployed with the US Navy. You can follow her debt journey & more at www.TheMilspouseFoodie.com.
Dear Debt,
I daydream about the day that you'll leave me; the day that I'll kick you out.
In my dream, I'm free.
I'm screaming and shouting at the top of my lungs that, "I'm FINALLY debt free!"
I'm serious this time; I'm ready to kick you out. You've been hiding behind my big TV and in the shadow of my fancy private school degree.  You've been hiding in Christmas gifts, behind my bedroom set, and in my new barbecue. You've been in hiding in my wardrobe, in my washer, and in my dryer too.
It's not just that you're leaving, either, it's that you'll be gone for good. I'll have safeguarded my life against you – with plenty of savings and investments, too!
Don't get too comfy, know that our remaining months together are few. I'm on my way up and you're on your way out.
That's A Promise,
Carly
In the personal finance world, it can seem like everyone is quitting their job to pursue the freelance dream. But here's the thing: You don't have to quit your job just because it seems like everyone in the personal finance world is. You don't even have to want or even like entrepreneurship at all. It doesn't inherently make you a good or interesting person.
For me, I had no clue about entrepreneurship or making money online before blogging. I thought it wasn't possible. When I first got my full-time job here in Portland, I was ecstatic! I was never so happy in my life to have a 'day job'. I had struggled for so long looking for this very job and got the chance of a lifetime, beating out 200 other people. Unfortunately, things changed at that job and fortunately I had carved out some work for myself that I am happy doing.
While I am happy with the route I chose, I fear that many people will think quitting your job is easy. Or that quitting your job is something you should want or aspire to do.
Don't drink the kool-aid, my friends.
There is nothing wrong with loving your job. Some people aren't meant for entrepreneurship, just as some people aren't meant for day jobs. It's ok for you to choose either one.
If you LIKE your job or even are lucky enough to LOVE your job, don't buy this be-your-own-boss and live happily ever after crap. Because if you like or love your job, that is a damn near fairy tale in this day and age. Enjoy it!
Conversely, if your day job is making you sick, you are ending up in the hospital because of stress, are partaking in destructive habits just to make your job bearable, maybe it's time to go. Think about self-employment or start looking for another job.
Yes, the world of work is changing. It's exciting and thrilling. But it doesn't mean that you should feel guilty about being a 9-5er.
Focus on what your heart and body are telling you. Not what some freelance guru is selling or some 9-5 prisoner who wants everyone else to hate their job is selling too.
Whatever your work situation is, own it. Love it. And if you don't love it, work hard to change it. I know it's not that easy, but start taking the steps.
Now, WORK IT.
I recently had the pleasure of reading Shannon's (aka Financially Blonde) book, Train Your Way to Financial Fitness. I was so excited to read it as I've been a fan of Shannon's for a long time — and now I can officially call her a friend.
Shannon is so likeable and personable – and she really wants to help people too. In the book, she recalls feeling restricted in her old job where she had to manage clients who had a certain amount of wealth. After realizing there's a whole group of people (raises hand) that aren't wealthy, but desperately need financial guidance, she decided to go out on her own and help people of all financial backgrounds. And that is why she rocks.
So, who is this book for?
The book is a great guide for people looking to assess their financial fitness. It's jam-packed with personal stories, including Shannon revealing her struggle with her weight a few years back, as well as actionable tips to help you overcome your budget woes.
The best part of the book? There is a quiz to help determine if you are financially fit, financially skinny, or financially fat. Don't worry, you can't fail!
Where do I end up? Well, I'm financially skinny. I'm doing alright, and in Shannon's words, this is where most people are at, but I could be doing better. I'm not saving enough and my retirement is at laughable levels.
In the book, Shannon describes financially skinny people like myself: "At first, you were probably excited to see your type; after all, who doesn't want to be skinny? From a financial perspective, though, Skinny people have a number of challenges. I call this type "Skinny" because you liter­ally live paycheck to paycheck, and you are barely getting by financially. Just as it is not good for your body to be deprived of food, it is not good to deprive your bank account of cash. You have a difficult time saving and getting ahead because of various challenges in your financial life."
Um, hello student loans! You suck!
Anyway, I loved the metaphor between financial wealth and physical health. They both require a lot of care and maintenance – and it's important to find balance.
I have never been very good at balance. I'm a highly emotional creature and this book has reminded me of some of my spending triggers that I need to be aware of, so that I can stay on track and rock my budget.
I highly recommend the book for everyone. It's a fun and engaging read.
For more information, check out Financially Blonde, or buy the book!
Hey friends! I have another awesome dear debt letter from my friend at Even Steven Money. I have to admit you guys are rocking my socks off lately — I completely fell in love with this letter. My whole blog is about our relationship(s) to debt and this letter just took it to a new level. Enjoy!
Dear Debt,
I have welcomed you into my home for the last 14 years. I have had many members of your family come to visit and in some cases even stay a long time. It all started with your friendly brother, student loans, he told me he would only be around for a couple years. He even said that I needed him, if I wanted to go to school, graduate and become a major success. 14 years later he is still staying at my house. He takes money from me every month in the form of payments; these include principal aka the promise to leave, and interest, aka the promise to make my working days last 12,000 days.
That is just the beginning; I met your sister Credit Cards shortly after letting student loans enter my home. I dated your sister and to me she is one of the worst people I have ever met, some people say there are good ones out there if you find the right one, but I have been damaged and beaten down by her, I don't think I will ever find the right one. It did not help that I didn't know how to treat a woman so early in my financial life, but she made things painful. She charged me a high interest rate, fees, and told me I had to pay at a certain time otherwise the interest rate and fees would go even higher. It was like when I would pick her up one minute late, she would make me feel guilty the whole time we were together and it would cost me.
You must have a lot of sisters because this is not first or the last one I have ever met. Sometimes they are nicer, offering you low interest rates, but they are all the same eventually they go back to the high interest rates and fees because they have you locked in, they know nobody wants your sorry minimum payment of a relationship or maybe it is everyone wants your minimum payment relationship, but they don't really care about you. I quit them all together a couple years ago; I was through jumping from girlfriend to girlfriend of credit cards. I held on to one and gave her extra money to go away. Finally it worked your sister(s) left for good. Despite others saying how attractive she is I refuse to date her, I found what I like to think is my new girlfriend, Cash. We have been getting along great and she doesn't expect things from me, she's not secretive and manipulative, she's honest and I can see myself with her for a long time.
During my time with your sister, credit cards, I also came across your Uncle, the car loan. I didn't see him until I was out of college, but man is he a talker. He saw that I needed a car and had no problem showing me the most expensive car I could afford, a nice Mercedes Benz. He didn't even care I wasn't making much money; he just wanted to stay at my house with his expensive car loan. He told me things to get me on board: you worked hard throughout college, you have been in the same car since high school, you have a real job now, get the car loan, that's what everyone does. The good news about your Uncle is he did not stay long, I was able to sell the expensive car he talked me into getting and thinking I deserved and I kicked him out, but not before hurting me with car maintenance, gas, insurance, expensive monthly payments, loss of car value that I had to pay, and to make matters worse I used your sister to pay for all of these except the last one because I didn't have any Cash. I have not had your Uncle in my home in over 4 years and not having your Uncle, made getting rid of your sister that much easier, funny how that works.
The last family member that is currently staying at my house is your child, the mortgage. They say having a kid is a great thing, that kids are the good kind of debt. I'm not sure I agree. When you already have a whole family living of debt staying in your house it makes caring for your child that much harder. Your child is going to grow up with us for 30 years is what they told me, assuming I make all the payments on time. The good news is I will not be raising your child for you; I am making extra payments on my own and even have come to an agreement with a couple other families to help pay off this debt, only then can this child go out into the world on his own. If I have your child stay in our house for 30 years I'm not going to be able to make all of the choices I want, I want freedom; I want to be able to live a debt free life. I'm sorry debt that's just the way it is.
I've made a plan to kick out your friendly brother, student loans in April 2015, he's just annoying. He won't go away, he's not hurting me financially, but I don't want him living in my home anymore. I have 2 of your children staying at our home, but I don't plan on them staying long. One will be gone in December 2016 and the other in July 2020. That's the day the home is really mine, the day I can kiss your family goodbye. The day I can declare financial independence  and I don't plan on ever asking or inviting your family to come visit again. I don't care if you write letters or send emails, advertise on my favorite website, or talk to me when I'm going to grab some Cash; the answer is a loud NO! Our time is soon to be over, I may have had some fun with your family, but it was short-lived. The foolish thought that you would help me was my own fault, I should have known better. I'm sick of taking care of your family like it is one of my own. I'm ready to never see you again, it might not be tomorrow but I have plans to kick them out forever.  Debt I'm going to share my story with others so they know about how terrible your family is and how they are using almost everyone out there to drag them down, I hope they will read this and realize Debt, your family is the worst.
Gone Forever July 2020,
Even Steven Money